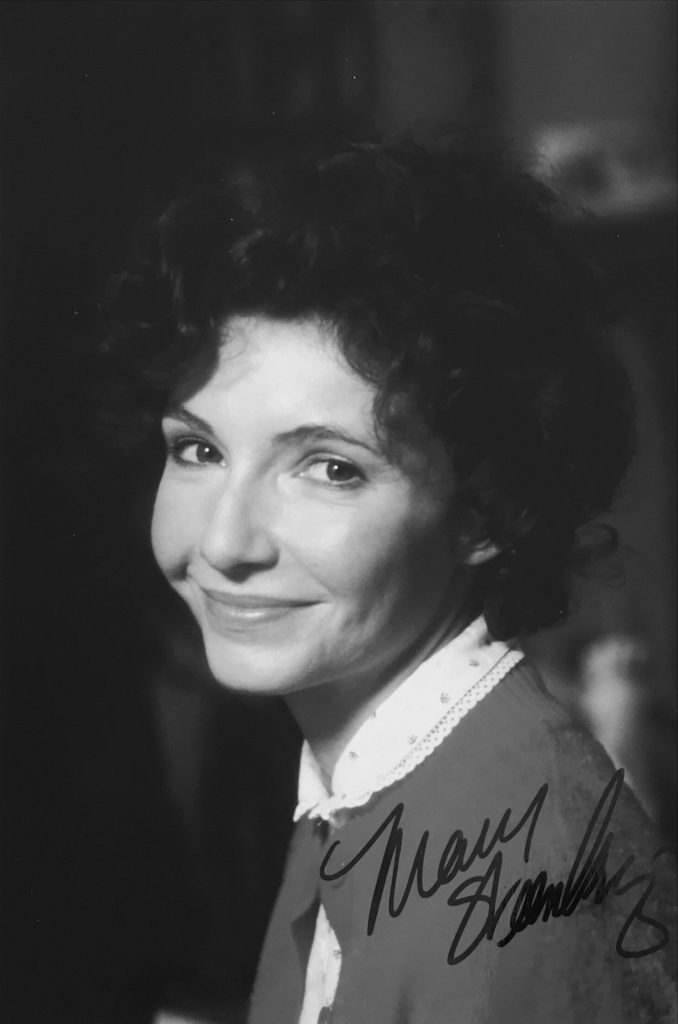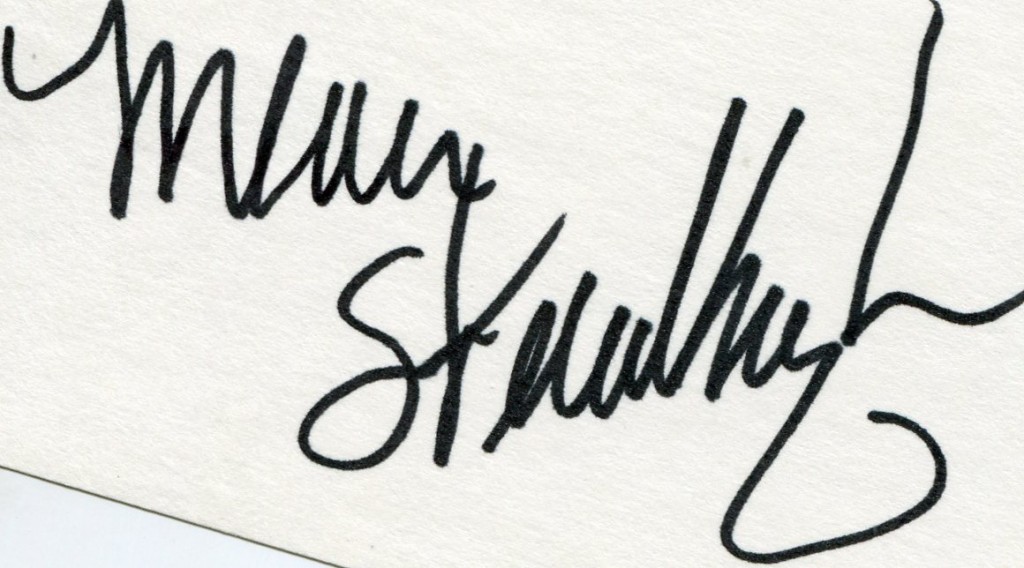 Mary Steenburgen was given a lead role in her very first movie.   She was an actress in New York working as a waitress when she  auditioned for Jack Nicholson for the movie "Goin South".
TCM Overview:
Soft-spoken and endearing, Mary Steenburgen first achieved a measure of fame with her debut role in the Jack Nicholson-directed Western "Goinâ¿¿ South" (1978), before winning raves and a Best Supporting Actress Oscar as Melvin's flustered but caring wife in Jonathan Demme's "Melvin and Howard" (1980). She starred alongside Steve Martin and an all-star ensemble cast in the Ron Howard family comedy "Parenthood" (1989), prior to falling in love with time-traveling Doc Brown in "Back to the Future III" (1990). She had a rare turn as an unlikable character when she reteamed with Demme for the heart-wrenching drama "Philadelphia" (1993), acting opposite Denzel Washington and Tom Hanks. After a small, but memorable role in Oliver Stoneâ¿¿s political docudrama "Nixon" (1995), she later began what would be a steady string of appearances as herself â¿¿ along with her celebrated husband Ted Danson â¿¿ on the hit comedy series "Curb Your Enthusiasm" (HBO, 2000- ). Increasingly cast in the role of family matriarch, Steenburgen infused these roles with an effervescence and wit that resulted in fully realized, eminently likable characters. She brought something extra to the role of James Caanâ¿¿s neglected wife in the Will Ferrell Christmas comedy "Elf" (2003), and showed an inordinate amount of patience as Ferrellâ¿¿s mother in "Step Brothers" (2008). Pulling off a feat few actresses could manage, Steenburgen successfully transitioned from charming waif to elegantly mature actress over the course of 30-plus years, without any signs of slowing down.
Born Mary Nell Steenburgen in Newport, AR on Feb. 8, 1953 to parents Maurice, a freight-train conductor, and Nell, a school secretary, Steenburgen grew up in the town of Little Rock. Expressing an early interest in theater from a young age, Steenburgen was active in her schoolâ¿¿s drama department until graduation. After high school, she enrolled at Hendrix College in Conway, AR where she continued to study her craft. Near the end of her first year Steenburgen acted upon the advice of one of her drama teachers and applied to New Yorkâ¿¿s respected Neighborhood Playhouse. After traveling to Dallas, TX for a regional audition, Steenburgen was accepted, and soon moved to New York City to study acting fulltime, much to the dismay of certain family members and friends. A few years later, Steenburgen and several other Neighborhood Playhouse alums formed the improvisational troupe Cracked Tokens. The following years were spent supporting herself as a waitress and auditioning for roles that she never landed. That was until Steenburgen was noticed by Jack Nicholson in the waiting room of the Paramount Studios office, where she was on yet another long-shot casting call. The rest was history. The aspiring actress landed her first film role opposite Nicholson in his Western comedy "Goinâ¿¿ South" (1978), which also starred a pre-famous John Belushi. Although the feature was a disappointment at the box office, it opened the doors for the winsome Steenburgen, who soon became a sought-after actress in Hollywood.
For her follow-up motion picture, Steenburgen starred opposite Malcom McDowell in "Time After Time" (1979), in which McDowellâ¿¿s H.G. Wells follows Jack the Ripper (David Warner) into the future, only to fall in love with a liberated woman (Steenburgen) in 20th Century San Francisco. Art imitated life, when Steenburgen married co-star McDowall in 1990. Next came "Melvin and Howard" (1980), the exceptional comedic drama about Nevada milkman Melvin Dummar (Paul Le Mat), who claims to have met â¿¿ and been left a fortune by â¿¿ reclusive millionaire Howard Hughes (Jason Robards). Only her third film, Steenburgen won an Academy Award as Melvinâ¿¿s loving but exasperated wife Lynda. She appeared next in director Milos Formanâ¿¿s melodramatic look at turn-of-the-century America, "Ragtime" (1981), which would mark Hollywood legend James Cagneyâ¿¿s final onscreen performance. Steenburgen's other 1980s-era credits included Woody Allen's "A Midsummer Night's Sex Comedy" (1982), director Martin Ritt's Academy Award-nominated "Cross Creek" (1983) as writer Marjorie Kinnan Rawlings, and the critically panned â¿¿ and unimaginatively titled â¿¿ "Romantic Comedy" (1983), opposite Dudley Moore.
In 1985, Steenburgen co-starred as F. Scott Fitzgerald's heroine Nicole Diver in the British-produced miniseries "Tender Is the Night" (Showtime). She returned to film in the quirky Arthur Penn-directed thriller "Dead of Winter" (1987), alongside veteran genre actor Roddy McDowall, as a struggling actress lured to a remote house under mysterious circumstances. Steenburgen made a television appearance as Miep Gies, the woman who shielded the Frank family from the Nazis in "The Attic: The Hiding of Anne Frank" (CBS, 1988). The following year, her Southern upbringing lent authenticity to Steenburgenâ¿¿s interpretation of a former Mississippi beauty queen in the impressively cast dramedy "Miss Firecracker" (1989). That same year, she played Steve Martin's wife in Ron Howard's "Parenthood" (1989), although her real-life marriage to McDowall would end a year later. In "Back to the Future III" (1990) Steenburgen joined Marty McFly (Michael J. Fox) and Doc Brown (Christopher Lloyd) for one final entry in the hugely popular time travel franchise as Clara, Docâ¿¿s love interest from the Old West. She later voiced Clara for the two-season run of "Back to the Future" (CBS, 1991-93), the animated series based on the beloved films.
Steenburgen continued to take on notable roles in projects like "What's Eating Gilbert Grape" (1993), starring as an unhappy small town housewife having an affair with Johnny Deppâ¿¿s Gilbert Grape. The same year, she reteamed with Jonathan Demme for "Philadelphia" (1993), appearing opposite Denzel Washington, as an attorney representing a law firm accused of discriminating against one of their own firm members (Tom Hanks) due to his HIV-positive status. Steenburgen made her Broadway stage debut in the title role of playwright George Bernard Shaw's "Candida" in 1993. She co-starred with fellow Democrat and political activist Danson â¿¿ whom she married in 1995 â¿¿ in the poorly received road movie "Pontiac Moon" (1994), about a family in crisis who take a whimsical cross-country trip inspired by the 1969 moon landing of the Apollo XI. Despite having little to work with, Steenburgen proved radiant as a kindly teacher in the naïve, yet impassioned fable "Powder" (1995), alongside Sean Patrick Flanery and Jeff Goldblum. She also received strong notices as the pious Quaker mother of the President-to-be in Oliver Stone's interminably longwinded "Nixon" (1995). Steenburgen and Danson once again appeared together as husband and wife in the hit miniseries "Gulliver's Travels" (NBC, 1996), before going on to co-star in the short-lived sitcom "Ink" (CBS, 1996-97), as a divorced couple who work as journalists for the same newspaper.
In addition to projects with her husband, Steenburgen kept her active solo career flourishing with notable roles in the telepic "About Sarah" (CBS, 1998), playing a mentally retarded mother who becomes the responsibility of her adult daughter (Kellie Martin), as well as a turn in the TV adaptation of the William Inge play "Picnic" (CBS, 2000). Beginning with its first season, she made frequent appearances as herself, along with husband Danson, on real-life friend Larry Davidâ¿¿s acerbic and largely improvised comedy series "Curb Your Enthusiasm" (HBO, 2000- ). Steenburgen also had a brief supporting role as a doctor in the schmaltzy Sean Penn dramedy "I Am Sam" (2001). The following year, she began a fruitful collaboration with writer-director John Sayles when she appeared with Gordon Clapp as a pathologically perky chamber of commerce member in a small Florida town as part of an impressive ensemble in "Sunshine State" (2002). She immediately reteamed with the filmmaker to portray one of six American women trying to establish residency in a South American country in order to adopt in Sayles' "Casa de los Babys" (2003). The same year, Steenburgen had a supporting role as the chagrined wife of Will Ferrell's biological father (James Caan) in the holiday laugh-fest "Elf" (2003), in addition to joining the cast of the family drama "Joan of Arcadia" (CBS, 2003-05), as Helen, the Girardi family matriarch whose daughter, Joan (Amber Tamblyn), begins to unexpectedly have one-on-one conversations with God.
The ever busy Steenburgen took on a small role in the David Lynch surrealistic thriller "Inland Empire" (2006) prior to a run of back-to-back matriarchal roles, beginning with the outrageous sibling rivalry comedy "Step Brothers" (2008), as man-child Will Ferrellâ¿¿s enabling mother. The same year she appeared as the mother of a kidnapping victim in the black comedy "Nobel Son" (2008), and later as Ryan Reynolds's supportive mom in the hit romantic comedy "The Proposal" (2009). Near the end of the decade Steenburgen had a turn as the gun-toting wife of local sheriff Sam Elliot alongside Hugh Grant and Sarah Jessica Parker, a Manhattan couple on the run from killers, in the box-office bomb "Did You Hear About the Morgans?" (2009). Following a brief turn in the indie coming-of-age drama "Dirty Girl" (2010), Steenburgen took part in the critically-acclaimed box office hit "The Help" (2011) as book editor Elain Stein who gives aspiring writer Skeeter Phelan (Emma Stone) her first break with a tell-all about the harsh realities of African-American maids in the South of the 1960s. That same year she enjoyed more screen time opposite Danson as the alluring singing coach of eccentric womanizer George (Danson) in several episodes of the crime-comedy series "Bored to Death" (HBO, 2009-2011). On the hit sitcom "30 Rock" (NBC, 2007-2013), Steenburgen garnered big laughs as woman who shared an undeniable chemistry with TV exec Jack Donaghy (Alec Baldwin) â¿¿ a situation made all the more awkward by the fact that she was also the mother of Jackâ¿¿s wife, Avery (Elizabeth Banks).
The above TCM Overview can also be accessed online here.