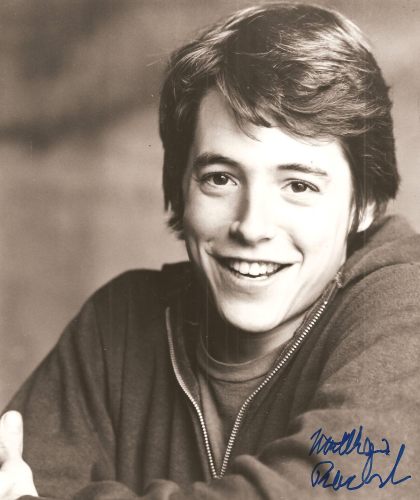 "Matthew Broderick is second-generation show business, but that is not the usual albatross, since he does not look at all like his father James, who was – after all – a character actor, one if distinction, if not a star, like Henry Fonda, or a well-known leading man like Lloyd Bridges". – David Shipman – "The Great Movie Stars – The Independent Years". (1991).
Matthew Broderick was born in 1962 in New York City. His father was the actor James Broderick. Matthew first made an impact on stage in "Torch Song Trilogy". In 1983 he made his film debut in "Max Dugan Returns". His other ealry films include "Ladyhawke" and "War Games". He had an enormous success with "Ferris Bueller's Day Off" and in 1989 he garnered rave reviews for his part in the American Civil War epic"Glory". His more recent films includes "The Producers". He acts frequently on the stage on Broadway. Matthew Broderick is married to the actress Sarah Jessica Parker. He has a holiday home in Donegal, Ireland. Interview with Matthew Broderick here.
TCM overview:
Stage and screen actor Matthew Broderick was already a Tony Award-winning Broadway actor when film audiences fell in love with his 1986 performance as a highly evolved high school truant in "Ferris Bueller's Day Off." Apart from his onscreen successes, Broderick was one of the most respected musical and comedy stage actors of his generation, with highly acclaimed starring roles in "Brighton Beach Memoirs," "How to Succeed in Business Without Really Trying" and "The Producers." On the big screen, he enjoyed occasional success with broad comedies like "The Cable Guy" (1996) and "Bee Movie" (2007) – as well as his first big hit, the nuclear thriller "Wargames" (1983) – but Hollywood often failed to find a solid place for the mild mannered, bookish-looking New Yorker and he was usually more memorable in independent, character-based films like "Election" (1999) and "You Can Count on Me" (2000).
The son of stage and screen actor James Broderick and playwright and artist Patricia Broderick, Matthew Broderick was born in New York City, NY on March 21, 1962. He grew up downtown in Greenwich Village where he attended liberal, arts-oriented private schools and hung out with his father backstage at theaters and movie sets. Broderick loved the atmosphere of the theater from an early age, but the shy kid could not imagine mustering up the nerve to perform, so he thought one day he might have a career as a set designer or a stage manager. But during his teen years at the Walden School, he still ached to be an actor; enough that that desire eventually overcame his fright. Jumping into his new passion, he took a starring role in a school production written by Kenneth Lonergan, the future Oscar-nominated screenwriter, but at that time, his then 15-year-old best friend. Broderick's father believed in his son's talent, and starred opposite him in Horton Foote's "On Valentine's Day" Off-Broadway. The teen graduated from high school and began taking acting classes with famed coach Uta Hagen, and in a very short period of time, was making a name for himself on the New York theater scene.
In 1981, Broderick won acclaim for his portrayal of David, the adopted gay son of drag queen Arnold Beckoff (Harvey Fierstein) in the Off-Broadway production of "Torch Song Trilogy." Sadly, after only a few early preview performances in his first big show, Broderick's father and acting inspiration died from cancer. The devastated son soldiered on and a glowing review of his performance in The New York Times brought him wider attention and a starring role on Broadway in Neil Simon's semi-autobiographical "Brighton Beach Memoirs." For over a year, Broderick portrayed Eugene Jerome – a Brooklyn teenager and aspiring author – in this Depression-era coming of age tale, winning a Tony Award and Theater World Award for his endearing performance.
Not surprisingly, Hollywood came calling. Broderick was flown to L.A. to film his first feature, the forgettable "Max Dugan Returns" (1982). His follow-up, however, the thriller "War Games" (1983), proved to be a huge summer smash that earned Broderick a following for his portrayal of a teen computer hacker who breaks into a military computer system and unwittingly begins a dangerous face-off between U.S. and Russian nuclear defense systems – a film timely in its premise, in that it was prior to the end of the Cold War.
Following his first big screen success, Broderick returned to Broadway where he reprised the role of Eugene Jerome in "Biloxi Blues," which found Neil Simon's character joining the Army during World War II. He was tapped to reprise his first stage role in the 1986 film version of "On Valentine's Day" (broadcast on PBS as "Story of a Marriage, Part 2") and also appeared Off-Broadway in "The Widow Claire." In one of the most memorable roles of his film career, the 23-year-old actor went on to charm audiences as a resourceful high school student who orchestrates a highly complex day of hooky in John Hughes comedy classic "Ferris Bueller's Day Off" (1986). Audiences loved the baby-faced actor as the clever school rebel they all wished they could be, but despite the impact of the film, Broderick rarely returned again to that type of "cool" character.
In the midst of all his newfound fame, Broderick's happiness was shattered after a painful incident occurred which changed his life overnight. In August 1987, the actor and his fiancée, actress Jennifer Grey – who had played his sister in Ferris Bueller's Day Off — were vacationing in Northern Ireland when Broderick caused a fatal collision that killed 63-year-old Margaret Doherty and her 30-year-old daughter, Anna Gallagher. Broderick was driving a rented BMW when he swerved into oncoming-traffic lane. Anna Gallagher, who was driving the other car, and her mother, were killed instantly. Broderick suffered a broken leg, concussion and collapsed lung. Jennifer Grey escaped with minor injuries. Initially charged with reckless driving, Broderick later plead guilty to a lesser charge of careless driving and was fined the equivalent of $175 in U.S. dollars. Not surprisingly, the victims' family considered the light sentence a miscarriage of justice. Stunned by what he had caused, Broderick would move on in life, but never forget that part of his life.
In 1988, Broderick appeared opposite Harvey Fierstein in the film version of "Torch Song Trilogy" (1988); this time not as his character's son, but as his lover. The same year he helped make a Mike Nichols screen adaptation of "Biloxi Blues" a hit, finally bringing Simon's beloved stage character to film audiences. From that light comedy, he delivered a strong dramatic performance as the young commander of the first Black Union regiment in the acclaimed Civil War drama, "Glory" (1989).
With his clean-cut looks and bookish demeanor, Broderick was well-cast to play the unwitting son of a crime family in Sidney Lumet's drama "Family Business" (1989), but despite a dream cast including Dustin Hoffman and Sean Connery, it proved to be a critical and commercial miss. Broderick fared slightly better as a naïve Vermont transplant to New York University in "The Freshman" (1990), which also starred Marlon Brando as a con man who disrupts the hapless student's life. Sporting a beard, the baby-faced actor joined an ensemble of bright young talents for the forgettable romantic comedy "The Night We Never Met" (1993), but went on to score huge success as the voice of the adult Simba in Disney's animated blockbuster "The Lion King" (1994). The period drama "The Road to Wellville" (1994) failed to score with audiences or critics, but Broderick was redeemed by his association with another vintage offering based on the career of writer Dorothy Parker, "Mrs. Parker and the Vicious Circle" (1994), which was nominated for the Palm d'Or at the Cannes Film Festival.
After too many years away from the medium he loved, Broderick returned to the stage in the acclaimed 1995 Broadway revival of "How to Succeed in Business Without Really Trying." In the original production, Robert Morse interpreted what would become his signature role as an outwardly simple soul who lucks into good fortune. In contrast, Broderick made his character a bit more knowing and openly ambitious, and that characterization – combined with his vocal mettle – earned the actor a Tony Award for Best Leading Actor in a Musical. Broderick took a leave from the show to film "The Cable Guy" (1996), where he played a hapless customer whose life becomes a nightmare after he becomes the object of obsession of Jim Carrey's title character in Ben Stiller's black comedy. When he returned to "How to Succeed" in early 1996, he was teamed with his future wife Sarah Jessica Parker in the female lead. Switching gears, Broderick made his film directing debut in "Infinity" (1996) a biopic of Nobel laureate Richard Feynman (whom he also played) in a script authored by Broderick's mother. The following year Broderick and Sarah Jessica Parker were married in a small ceremony in New York.
In a rare big budget actioner, Broderick was tapped to play a scientist in 1998's "Godzilla." That same year, he rejoined the cast of an earlier blockbuster hit in the direct-to-video sequel "The Lion King 2: Simba's Pride" (1998). He finished out a run of high profile, big budget offerings with a starring role in the family film "Inspector Gadget" (1999), where he played the tool-laden detective from the classic animated series to the tune of over $100 million dollars at the box office. But for Broderick fans, the actor was at his big screen best in the indie comedy "Election" (1999), where he played a high school teacher in a mid-life lull who is intent on stopping a perky, overachieving honor student (Reese Witherspoon) before she takes over as class president and surely g s on to enjoy a level of success that he was never able to attain. He again mined the depths of the middle-class, middle-American man trapped by his middle-of-the-road life choices in "You Can Count on Me" (2000), childhood pal Kenneth Lonergan's brilliant and Oscar-nominated study of small town siblings on wildly different paths. On the New York stage, he appeared in the National Actors Theatre revival of "Night Must Fall" in 1999 and in Elaine May's comic misfire "Taller than a Dwarf" in 2000.
In 2001, Broderick was back on Broadway in a Tony-nominated turn as Leo Bloom, Nathan Lane's sidekick in the 2001 musical adaptation of Mel Brooks' "The Producers" (1968). The production was a sensation and Broderick and Lane's electric pairing was credited with a widespread renewed interest in Broadway musicals. Broderick took a break from the show to shoot an ABC television version of the perennial favorite "The Music Man" (2003) and a Frank Oz-helmed remake of the cult classic "The Stepford Wives" (2004). This satirical-minded take of Stepford cast the actor alongside Nicole Kidman as an upwardly mobile couple whose lives are suddenly overwhelmed by their all-too-perfect community. He returned to Broadway to complete his run of "The Producers" and reprised his voice role in the direct-to-video sequel "The Lion King 1/2" (2004). After a 10-week engagement off-Broadway in Larry Shue's comedy "Foreigner," Broderick re-teamed with Nathan Lane for a big screen adaptation of "The Producers" (2005). The film was a moderate hit at the box office though critics were split, as well as confused about whether to judge it based on the original film or the recent Broadway production.
Lane and Broderick were back on stage the next year, reigniting Broadway in a revival of Neil Simon's "The Odd Couple" where Broderick essayed the role of fussy Felix Unger. In 2006, Broderick co-starred opposite Danny DeVito as warring neighbors in the Christmas comedy "Deck the Halls" (2006) and the following year he voiced the sidekick of Jerry Seinfeld's lead in his animated "Bee Movie" (2007), a box office success despite backlash over its aggressive marketing. Broderick again played midlife crisis with aplomb in Helen Hunt's directorial debut "Then She Found Me" (2008) and went on to enjoy a heavy year of film releases including Peter Tolan's comedy "Finding Amanda," where he played a floundering TV producer who sets off to rescue his niece (Brittany Snow) from a life of sin in Las Vegas, as well as "Diminished Capacity" and the slated Kenneth Lonergan drama "Margaret."
The above TCM overview can also be accessed online
here.