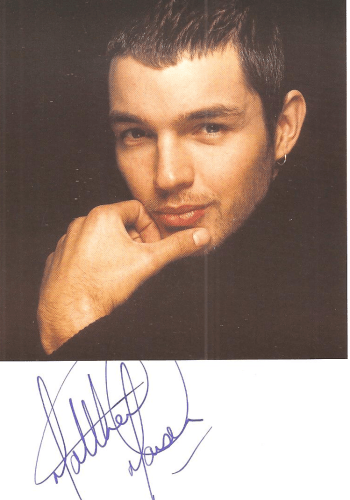 Matthew Marsden was born in 1973 in West Bromwich. In Britain he was Chris Collins in "Coronation Street" in 1997. When he left the series, he spent some time as a singer. He then went to the U.S. and resumed his acting career with parts in "Black Hawk Down" and the remake of "Rambo".
"Metro" interview:
Matthew Marsden, 40, has appeared in Emmerdale, Coronation Street, Transformers: Revenge Of The Fallen and Rambo. He also had a brief pop career in the 1990s. He now in action adventure film Bounty Killer.
What were the challenges with making something as low budget as this? It was an 18-day shoot. It was full-on. It was only $1million and it all went on screen. In the movies I've done before they'd spend $1million on one action sequence so getting this all done for $1million is a testament to the producer and director.
There's one scene where you can see a sandstorm in the background and we had to get it done before it hit us; we didn't have the time to stop. With a budget like that there aren't any fancy trailers and you have to do it all in one or two takes. You have to come together as a team – there's no time for prima-donna moments.
You've done lots of action films – what's been your worst injury? I got electrocuted when I did Anacondas. We were doing a night shoot, I was pretty tired, it was 5am and I was a bit dazed, they shouted action, and I got out of my chair and put my hand up to knock the light hanging over me out of the way and got electrocuted.
When I did Transformers I was on the movie for the whole shoot doing different stunts and none of them made it into the final movie. There were action sequences that were cut from that that would be the centrepiece of any other film.
A helicopter was on a line and supposed to be crashing into us but it started early – it was rapidly coming towards us, I ran and my gun lodged into a wall and smacked me in the mouth and I lost a tooth. I watched the monitor and the helicopter missed me by a few feet. It's two seconds in the movie and I thought it would be this big slow-motion shot and it wasn't.
Who have you learned the most from? Ridley Scott is a genius – he's a gentleman. He's one of the greatest directors of all time and he's still humble. I went for dinner with him at The Ivy and he had fish and chips. That's the kind of guy he is.
Michael Caine – I asked him to give me some pointers and he said: 'You're doing just fine.' I heard later that he doesn't give actors notes because someone once told him to pack it in. He's technically brilliant and totally down to earth.
Michael Bay – he's the best action director on the planet, to see him work with seven cameras going is incredible.
Sylvester Stallone – his work ethic is insane. He was writing the script in the car on the way to the set. He got a bit of bamboo stuck in his arm, it nearly ripped his bicep off, and he just carried on. He knew everything about different sniper rifles.
Do you miss anything about Britain now you live in Los Angeles? I miss the people. In Hollywood it can be difficult because people aren't as sincere, shockingly, as in Britain – people tell you how it is back home. I miss going to West Bromwich Albion games and that camaraderie of walking there with all the other fans, I watch all the games on TV – I haven't missed one yet.
It's really difficult to get a good Indian meal here. When I was in Emmerdale I went to a pub there and had a Yorkshire pudding with beef in it with gravy – you can't get that here.
Beyoncé did backing vocals on one of your singles – have you kept in touch? I did for a while but I haven't seen her for a very long time. When we did the single together she was very reserved – she wasn't like Sasha Fierce but I told someone in the studio she'd be the biggest star in the world because she was beautiful and über-talented.
I look at my entire career and it's a pinch-yourself moment. You look at Hugh Jackman, who was discovered doing Oklahoma. Most of us who have had theatre training know that work is so s**t you better be able to sing so you can do musicals if you have to. I was offered a recording contract way before I went into Coronation Street.
There are so many cases of people who have no background in music cashing in on being in a soap so I understand the scepticism that came with that but it's strange to look back and say I sang a song with the most gigantic, massive female artist. The same as doing Top Of The Pops.
Who was on it when you did it? Eagle-Eye Cherry and B*Witched. I wanted to have a long career in music, which is why I signed with Sony and they said they'd develop me as an artist. We saw it as a long-term thing then the guy who signed me left the label. It was a great couple of years going around Europe singing.
I'm just a working-class kid from a council estate who dreamed of being an actor and singing. The whole thing is surreal.
What are your ultimate career ambitions? As you get older different challenges come along – the roles you get are more serious. I'm known for doing action but I'd love to do more comedy.
I did a little bit on Two And A Half Men but I'd like to do more. I'd like to direct. I've already sold a screenplay. I want to keep challenging myself as an actor. My wife keeps saying I should do Downton Abbey – that's her ambition for me.
Bounty Killer is out now on DVD and VoD, and on Blu-ray on Monday.
The above interview can also be accessed on "Metro" on line here.