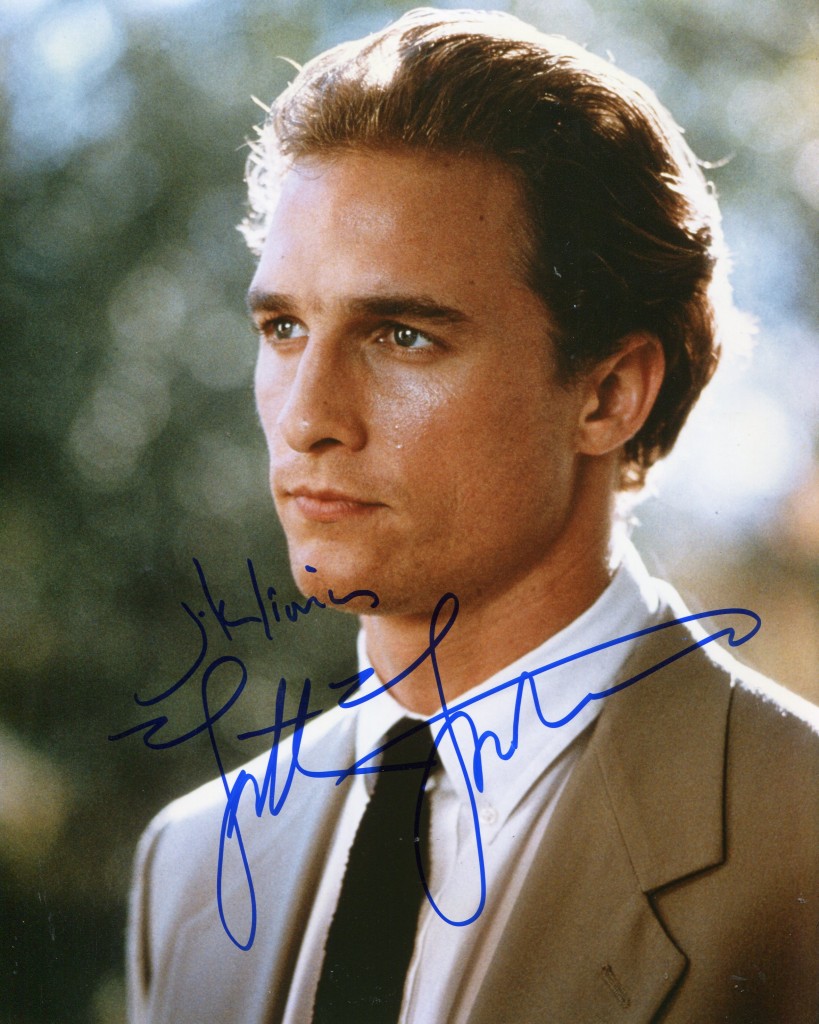 Matthew McConaughey. IMDB
This Texan actor came into his own with his part as the Southern lawyer in John Grisham's "A Time to Kill" with Sandra Bullock. He then went on to make Spielberg's "Armistad" and two very succesful comedies "The Wedding Planner" and "How to Lose A Guy in 10 Days". He won the Oscar for Best Actor in 2013. Article on Matthew on "Time" can be accessed here.
IMDB Entry:
Matthew McConaughey was born in Uvalde, Texas. His mother, Mary Kathleen (McCabe), is a substitute school teacher originally from New Jersey. His father, James Donald McConaughey, was a Mississippi-born gas station owner who ran an oil pipe supply business. He is of Scottish, Irish, English, German, and Swedish descent. Matthew grew up in Longview, Texas, where he graduated from the local High School (1988). Showing little interest in his father's oil business, which his two brothers later joined, Matthew was longing for a change of scenery, and spent a year in Australia, washing dishes and shoveling chicken manure.
Back to the States, he attended the University of Texas in Austin, originally wishing to be a lawyer. But, when he discovered an inspirational Og Mandino book "The Greatest Salesman in the World" before one of his final exams, he suddenly knew he had to change his major from law to film. He began his acting career in 1991, appearing in student films and commercials in Texas and directed short films asChicano Chariots (1992). Once, in his hotel bar in Austin, he met the casting director and producer Don Phillips, who introduced him to director Richard Linklater for his next project. At first, Linklater thought Matthew was too handsome to play the role of a guy chasing high school girls in his coming-of-age drama Dazed and Confused (1993), but cast him after Matthew grew out his hair and mustache. His character was initially in three scenes but the role grew to more than 300 lines as Linklater encouraged him to do some improvisations.
In 1995, he starred in Texas Chainsaw Massacre: The Next Generation (1994), playing a mad bloodthirsty sadistic killer, opposite Renée Zellweger. Shortly thereafter moving to L.A., Matthew became a sensation with his performances in two high-profile 1996 films Lone Star (1996), where he portrayed killing suspected sheriff and in the film adaptation of John Grisham's novel A Time to Kill (1996), where he played an idealistic young lawyer opposite Sandra Bullock and Kevin Spacey. The actor was soon being hailed as one of the industry's hottest young leading man inspiring comparisons to actor Paul Newman. His following performances were Robert Zemeckis' Contact (1997) with Jodie Foster (the film was finished just before the death of the great astronomer and popularizer of space science Carl Sagan) and Steven Spielberg's Amistad (1997), a fact-based 1839 story about the rebellious African slaves. In 1998, he teamed again withRichard Linklater as one of the bank-robbing brothers in The Newton Boys (1998), set in Matthew's birthplace, Uvalde, Texas. During this time, he also wrote, directed and starred in the 20-minute short The Rebel (1998). Later, in Jonathan Mostow's U-571 (2000),
McConaughey portrayed the officer Lt. Tyler in a WW II story of a daring mission of American submariners, trying to capture the Enigma cipher machine. Matthew also took a part in comedies such as The Wedding Planner (2001), opposite Jennifer Lopez and How to Lose a Guy in 10 Days (2003) in which he co-starred with Kate Hudson. He played a role as Denton Van Zan, an American warrior and dragons hunter in the futuristic thrillerReign of Fire (2002), where he co-starred with another young actor, Christian Bale. Later in 2006 he starred as head coach Jack Lengyel in We Are Marshall (2006) along withMatthew Fox, and in 2008 played treasure hunter Benjamin "Finn" Finnegan in Fool's Gold(2008) with Kate Hudson. After playing Connor Mead in Ghosts of Girlfriends Past (2009) co-starring with Jennifer Garner,
McConaughey took a 2 year hiatus to open different kinds of opportunities in his career. And for many, that change came in 2011 in his first movie after that pause, when he portrayed criminal defense attorney Mickey Haller in The Lincoln Lawyer (2011), that operates mostly from the back seat of his Lincoln car. After this performance that was considered one of his best until then, Matthew played other iconic characters as district attorney Danny Buck Davidson in Bernie (2011), the wild private detective "Killer" Joe Cooper in Killer Joe (2011), Mud in Mud (2012), male stripper club owner Dallas in Magic Mike (2012) starring Channing Tatum. McConaughey's career certainly reached it's prime, when he played HIV carrier Ron Woodroof in the biographical drama Dallas Buyers Club (2013), that was shot in less than a month.
Matthew won the Best Actor in the 86th Academy Awards for his portrayal of Ron. Meanwhile, he starred in HBO's True Detective (2014), as detective Rustin Cohle, whose job is to investigate with his partner Martin Hart, played by Woody Harrelson, a gruesome murder that happened in his little town in Louisiana. The series was highly acclaimed by critics winning 4 of the 7 categories it was nominated at the 66th Primetime Emmy Awards. Later in 2014, Matthew starred in Christopher Nolan's sci-fi film Interstellar(2014), playing Cooper, a former NASA pilot.
– IMDb Mini Biography By: Tzvetislav Samardjiev, tzvetislav@abv.bg and Marcelo Gaia