Maximilian Schell obituary in "The Independent".
Maximilian Schell was born in Vienna and raised in Switzerland and is the younger brother of the actress Maria Schell.   He made his Hollywood debut in 1959 in "The Young Lions" and won surprisingly the Best Actor Oscar in 1961 for his performance in "Judgement at Nuremberg", arole which he had recreated earlier on U.S. television.   He has continued to act on stage and in film both in the U.S. and Europe.   He died in 2014.
Chris Maume's obituary in "The Independent":
Apart from being a fine actor, Maximilian Schell was a respected director, screenwriter and musician. A fugitive from Hitler, he became a Hollywood favourite and won an Oscar for his role as a defence lawyer in Stanley Kramer's star-studded film Judgment at Nuremberg. He died in hospital in Innsbruck following a short illness. The German lawyer Hans Rolfe was only his second Hollywood role, but Schell's impassioned but unsuccessful defence of four Nazi judges on trial for sentencing innocent victims to death – on the grounds that all Germans bore a collective guilt – won him the 1961 Academy Award for best actor.
Based on the third Nuremberg trial, the film had begun life on television in 1959 as an episode of Playhouse 90. An all-star cast, including Spencer Tracy, Burt Lancaster, Marlene Dietrich and Judy Garland, was drafted in for the big-screen version – all on nominal wages, such was their desire to see the film made – but Schell's performance had been so compelling that he was one of only two actors – Werner Klemperer was the other – asked to reprise their roles.
Far from being a straightforward account of Nazi thugs meeting their come-uppance, it was a morally complex piece of work. Three of the four judges defended by Rolfe were clearly culpable, but one of them, Lancaster's Ernst Janning, was a distinguished legal scholar who had hated the Nazis. Rolfe argued that had he left his post he would have been replaced by a more brutal Nazi apparatchik.
Thanks to his passionate performance, Schell became Hollywood's go-to man in numerous films dealing with the Nazi era or its legacy – Sam Peckinpah's Cross of Iron, for example, in which he played an army captain, and Ronald Neame's The Odessa File, in which he was an SS officer. He earned a best actor Oscar nomination for The Man in the Glass Booth, in which he played a Jewish businessman with a shadowy past in a film inspired by the trial of Adolf Eichmann, and a supporting actor nomination for his performance as a man who assists the German underground in Julia, which also starred alongside Jane Fonda, Vanessa Redgrave and Jason Robards.
"There does seem to be a pattern," he acknowledged of his CV. "I think there's an area of subject matter here that has to be faced and seriously dealt with."
He did manage to play some roles without a Nazi element. In 1992 he received a Golden Globe for his supporting role as Lenin alongside Robert Duvall in the 1992 HBO miniseries Stalin. He was an ageing cardinal in the 1996 sequel to The Thorn Birds, and a Swiss master-criminal in Jules Dassin's Topkapi (1964), about a jewel theft in Turkey; more recently he was in The Freshman, a 1990 Mafia comedy, and the disaster movie Deep Impact (1998).
The son of a Swiss playwright and an Austrian stage actress, he was born in Vienna and raised in Switzerland after his family fled the Anschluss. He followed his older sister Maria and brother Carl into acting, making his stage debut in 1952. He appeared in several German films before moving to Hollywood in 1958. By then, Maria Schell was an international star, having won the best actress award at Cannes in 1954 for The Last Bridge.
Maximilian made his Hollywood debut as a German soldier in Edward Dmytryk's The Young Lions (1958) a Second World War drama starring Marlon Brando, Montgomery Clift and Dean Martin. In 1960 he returned to Germany to play Hamlet on television, a role he would later play twice on stage. He recalled that playing Hamlet for the first time, "was like falling in love with a woman … not until I acted the part of Hamlet did I have a moment when I knew I was in love with acting."
He later worked as a producer, starting with an adaptation of Franz Kafka's The Castle, and as a director. Adapted from the Ivan Turgenev novella, First Love, which Schell wrote, produced, directed and starred in, was nominated for an Oscar as best foreign film in 1970. Three years later his film The Pedestrian, in which a car crash causes a German businessman to consider his wartime past, was nominated in the same category.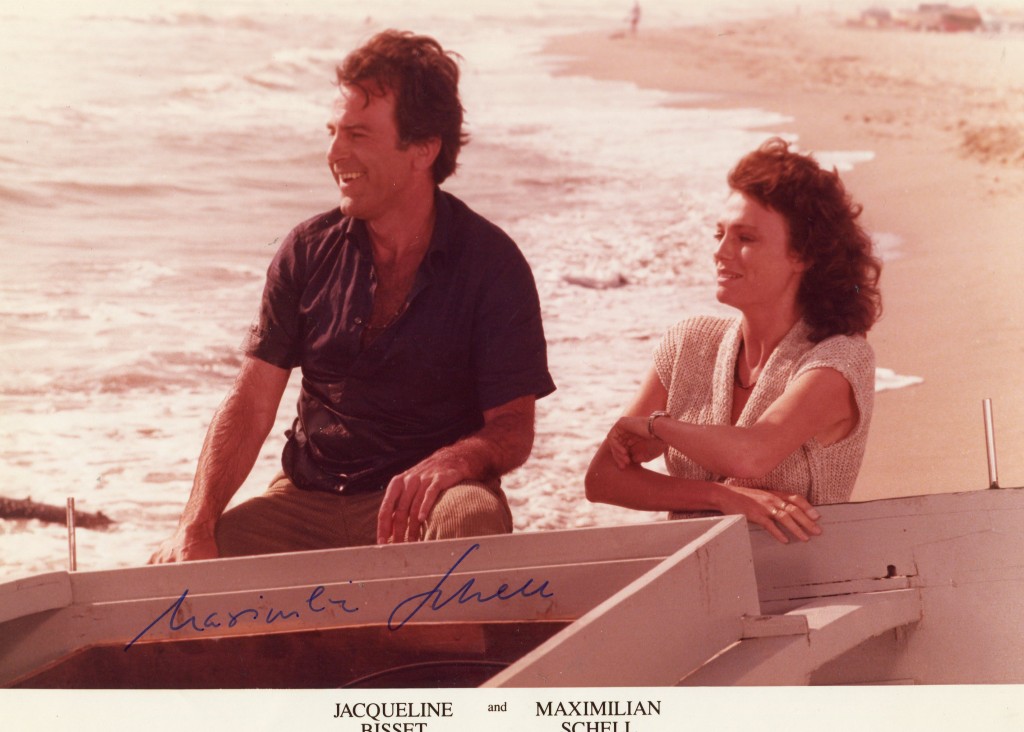 Perhaps Schell's most significant film as a director was his 1984 documentary about Marlene Dietrich, Marlene, which was nominated for a best documentary Oscar. Dietrich allowed herself to be recorded but refused to be filmed, bringing out the most in Schell's talent to penetrate images and uncover reality. In a documentary entitled My Sister Maria, Schell portrayed his loving relationship with his sister, who died in 2005.
A man of remarkable all-round talents, Schell was a successful concert pianist and conductor, performing with Claudio Abbado and Leonard Bernstein, and orchestras in Berlin and Vienna. He also directed and produced operas.
In 1985 Schell married the actress Natalya Andrejchenko, who he met when they were making the NBC mini-series Peter the Great, in which he played the Russian Tsar. They divorced in 2005, and last year he married the German-Croatian opera singer Iva Mihanovic.
Maximilian Schell, actor, director, producer, screenwriter, pianist and conductor: born Vienna 8 December 1930; married 1985 Natalya Andrejchenko (divorced 2005; one daughter), 2013 Iva Mihanovic; died 1 February 2014.
This review can be accessed in "The Indpendent" website here.