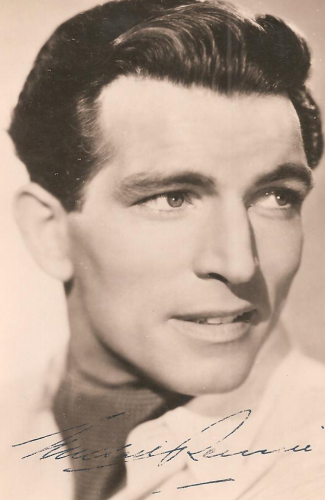 Michael Rennie's best known role was as the visitor from space Klaatu in the science-fiction classic "The Day the Earth Stood Stlll" in 1951.   Pervious to that most of his career was in British film.   His most frequent co-star was Jean Simmons.   During the 1950's he was under contract with 20th Century Fox and starred in many of their epic  dramas.   As his film career waned he moved into acting on television.   He died in 1971.
"Wikipedia" entry
Michael Rennie (25 August 1909—10 June 1971) was an English film, television and stage actor best known for his starring role as the benevolent space visitor Klaatu in the 1951 classic science fiction film The Day the Earth Stood Still. Eric Alexander Rennie was born in Idle, a village near the West Yorkshire city of Bradford (subsequently, a Bradford suburb) and educated at The Leys School, Cambridge. During the late 1930s, Rennie served his apprenticeship as an actor, gaining experience in acting technique, while touring the provinces in British repertory. There is evidence that, at the age of 28, he was noticed by one of the British film studios, which decided to appraise his potential as a film personality by arranging a screen test. The 1937 test, which exists in the British Film Institute archives under the title "Marguerite Allan and Michael Rennie Screen Test", did not lead to a movie career for either performer. In Secret Agent, he was primarily a stand-in for leading man Robert Young, and his own on-camera bit was so small that it cannot be discerned in the preserved final version of the film. He also played other bit parts and later, minor, unbilled roles in ten additional films produced between 1936 and 1940, the last of which, "Pimpernel" Smith, had a belated release in July 1941, while Rennie was already in uniform, serving in the Royal Air Force during World War II. Second leads and then leads in seven other British films produced between 1946 and 1949 followed, including what may be considered Michael Rennie's only role as one of two central characters in a full-fledged love story. In the 47-minute episode, "Sanatorium", the longest among the Somerset Maugham tales constituting the film Trio (released in London on 1 August 1950), the mature-looking, lightly-mustached, 40-year-old Rennie and twenty-years-younger Jean Simmons are patients in the title institution, which caters to victims of tuberculosis. Michael Rennie, along with Jean Simmons and The Wicked Lady leading man James Mason, was one of a number of British actors offered Hollywood contracts in 1949-50 by 20th Century Fox's studio head Darryl F. Zanuck. The first film under his new contract was the British-filmed medieval period adventure The Black Rose, starring Tyrone Power who became one of Rennie's closest friends. Fifth-billed after the remaining first-tier stars Orson Welles, Cecile Aubry and Jack Hawkins, Rennie was specifically cast as 13th century King Edward I of England, whose 6′ 2″ frame gave origin to his historical nickname, "Longshanks". Rennie's second Fox film gave him fourth billing in the top tier. The 13th Letter, directed by his future nemesis and love rival Otto Preminger. Rennie's next film dramatically moved his billing up to first and assured him screen immortality. The Day the Earth Stood Still was the first postwar respectably-budgeted "A" science fiction film. A serious, high-minded exploration of humanity's place in the universe and our responsibility to maintain peaceful coexistence, it has remained the gold standard for the genre of the era. A unique aspect of the film is the participation, within its fictional structure, of four top newscasters and commentators of the period—Elmer Davis, H. V. Kaltenborn, Drew Pearson and Gabriel Heatter. The story was dramatized in 1954 for Lux Radio Theatre, with Rennie and Billy Gray recreating their roles and Jean Peters speaking the dialogue of the Patricia Neal character. Seven years later, in October 1961, when The Day the Earth Stood Still had its television premiere on NBC's Saturday Night at the Movies, Michael Rennie appeared before the start of the film to give a two-minute introduction. Convinced that it had a potential leading man under contract, the studio decided to produce a version of Les Miserables as a vehicle for him. The film, released on August 14, 1952, was well-directed by All Quiet on the Western Front's Lewis Milestone, and Rennie's performance was respectfully, but not enthusiastically, received by the critics. Michael Rennie's next film was the last under his five-year contract with 20th Century Fox. The Rains of Ranchipur, released on December 14, 1955. In 1959 Rennie became a familiar face on television, taking the role of Harry Lime in The Third Man, a British-American syndicated TV series very loosely based on the character created by Orson Welles. During the 1960s he continued his TV career with guest appearances on such series as Route 66 (a moving portrayal of a doomed pilot in the two-part episode, "Fly Away Home"); Alfred Hitchcock Presents; Perry Mason (one of four actors in four consecutive episodes substituting for series star Raymond Burr, who was recovering from surgery); Wagon Train, The Great Adventure; Lost in Space (another two-part episode—as an all-powerful alien, "The Keeper", he worked one last time with his Third Man co-star Jonathan Harris); The Time Tunnel (as Captain Smith of The Titanic, in the series' September 9, 1966 premiere episode); Batman (as the villainous Sandman in league with Julie Newmar's Catwoman), three episodes of The Invaders (as a malign variation of the Klaatu persona), and two episodes of The F.B.I.. Both of Michael Rennie's marriages ended in divorce. He was first married to Joan England in 1938. His second marriage was to actress Maggie McGrath. Their son David Rennie is a UK circuit judge in Lewes, Sussex. Michael Rennie was also briefly engaged to the ex-wife of the Hollywood director, Otto Preminger. It was rumoured that Preminger, who not surprisingly hated Rennie, was the prime instigator in Rennie's fall from stardom. John Rennie, the designer and builder of the original Waterloo Bridge, is presumed to have been his great-great grandfather. His final seven feature films were lensed in Britain, Italy, Spain and, in the case of The Surabaya Conspiracy, The Philippines. Less than three years after leaving Hollywood, he journeyed to his mother's home in Harrogate, at a time of family grief following the death of his brother. It was there that he suddenly died of an emphysema-induced heart attack, nine weeks before his 62nd birthday. Upon cremation, his ashes laid to rest in Harlow Cemetery, Harrogate.
  Detailed biography on "Wikipedia" can be found here.