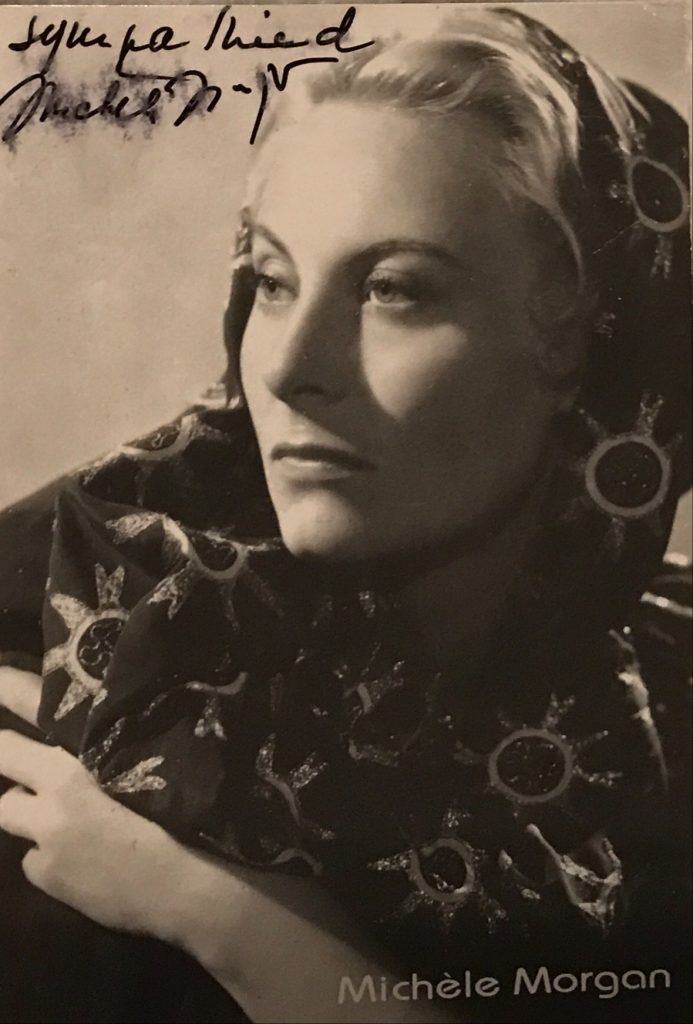 Daily Telegraph obituary in 2016.
Michèle Morgan, who has died aged 96, was one of France's top film stars of the 1940s and 1950s; said to have the most beautiful eyes in cinema, her career might have been still more stellar had a studio wrangle not caused her to lose the lead in Casbalanca to Ingrid Bergman,
She shot to fame at 17 with her first important role in Gribouille (1937) as a young woman on trial for murdering her lover. Its impact was such that RKO offered her a Hollywood contract but Morgan preferred to stay in France. Marcel Carné's proto-noir Le Quai de Brumes created even more of a stir the next year, pairing runaway waif Morgan, in a beret and trenchcoat, opposite Jean Gabin's deserter.
"You know you have beautiful eyes," he says. "Kiss me," she replies. By the time of Remorques (1940), she and the newly-divorced Gabin were an item on and off-screen and they left for America together after the German invasion. There he left Michèle Morgan for Marlene Dietrich and she discovered that RKO did not know what to do with her.
"Hollywood crushed my personality," she said later. "They tried to make me look like everybody else – and then they photographed me badly." Yet even so her clear blue, Garboesque gaze had got her noticed. Hitchcock wanted her for Suspicion but her poor English counted against her ("I said 'crying trees' for 'weeping willows'"). She was also first choice for Ilsa Lund in Casablanca but Warners refused to pay the loan fee that RKO demanded.
She did get to star with Bogart in the forgettable Passport to Marseille (1944) and in Frank Sinatra's acting debut, Higher and Higher. In 1942, she married another singer-turned-actor, William Marshall, but when they separated after only a few years she returned to France with their son.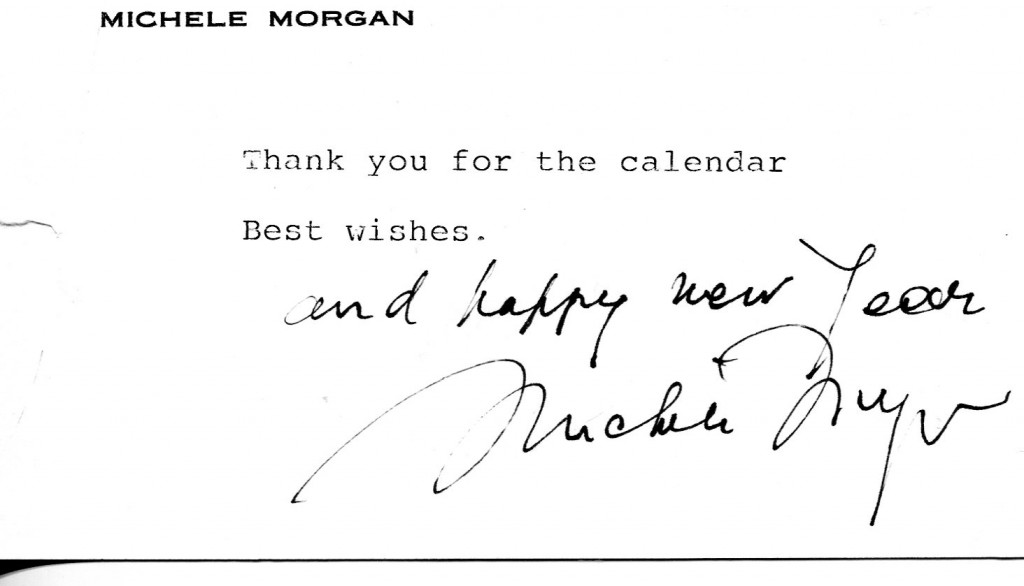 Marshall later married Ginger Rogers. Meanwhile in 1946, Michèle Morgan re-established her réclame by being named best actress at the first Cannes Film Festival for her role as a blind orphan in La symphonie pastorale. She also featured as the girlfriend of butler Ralph Richardson in Graham Greene and Carol Reed's The Fallen Idol (1948).
Two decades later, the French-style farmhouse house that she and Marshall had built in Los Angeles was the site of the murder of the pregnant Sharon Tate, Roman Polanski's wife, and four others by members of Charles Manson's gang.
The eldest of four, Michèle Morgan was born Simone Renée Roussel at Neuilly-sur-Seine, Paris, on February 29 1920. Her father was a perfume company executive but the crash of 1929 ruined him and the family moved to Dieppe. There he opened a grocer's. This soon failed and at 15 Simone ran away to Paris to live with her grandparents. They paid for acting lessons and she changed her name in 1937, saying she did not have the body of a Simone.
She was at the peak of her fame in the 1950s, and was 10 times voted France's most popular actress. She played a series of historical heroines – Joan of Arc, Josephine Bonaparte, Marie Antoinette – before showing towards the end of the decade in Marguerite de la Nuit and The Mirror has Two Faces that she could portray darker figures.
The advent of the New Wave largely ended her career and she concentrated thereafter on painting and briefly on a tie-making business. Her last role of note was in Claude Lelouch's Cat and Mouse.
"I have never had the opportunity to play sexy women," she reflected. "I must believe that my charm was not in my arse."
She was predeceased by her third husband, the director Gérard Oury, and by her son.
Michèle Morgan, born February 29 1920, died December 20 2016