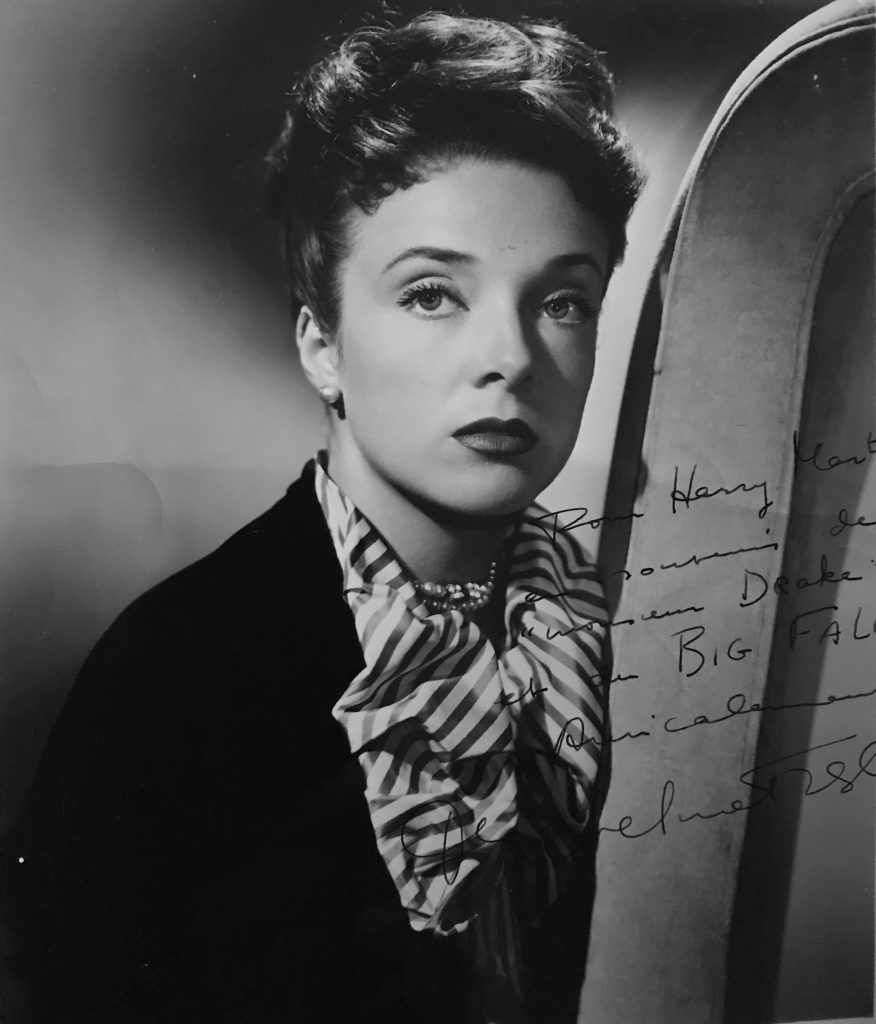 Micheline Presle. IMDB.
Micheline Presle was born in Paris in 1922. She made her film debut in 1937 in "La Fessee". She went to Hollywood in 1950 when she signed a contract with 20th Century Fox". The U.S, films she made were "Under My Skin" with John Garfield and "An American Guerrilla in the Phillipines" with Tyrone Power. She was back in France in 1954 and quicly resestablished her position in French film making. In 1962 she returned to Hollywood to make "If A Man Answers" as Sandra Dee's mother. She continues to act on film and her most recent appearance was in "Venus Beauty Institute".
Gary Brumburgh's entry:
Dark-haired, Paris-born Micheline Presle (better known in the States as Micheline Prelle) was the daughter of a businessman and took acting classes as a teen. She was discovered by Georg Wilhelm Pabst and cast in Young Girls in Trouble (1939) (Young Girls in Distress) and Four Flights to Love (1940) in which she played a dual role.
She proceeded to make films during the Occupation, and by 1947, was deemed an important young French star, with Devil in the Flesh (1947) (Devil in the Flesh) gaining her world-wide attention. Her marriage to American actor-turned-producer William Marshall in 1950 led her to attempt Hollywood pictures. None of her pictures, which included Under My Skin (1950), American Guerrilla in the Philippines (1950) and Adventures of Captain Fabian (1951), the last one produced and directed by husband Marshall, endeared her to American audiences; however, despite co-starring opposite top Hollywood stars John Garfield, Tyrone Power and Errol Flynn. Divorced by 1954, she never adjusted to the Hollywood way of life and returned willingly to Paris with her daughter, actress/directorTonie Marshall.
She continued to reign supreme in French films and has appeared frequently on the stage as well. Some of her post-Hollywood films include House of Ricordi (1954) (House of Ricordi), Royal Affairs in Versailles (1954) (Royal Affairs in Versailles), Her Bridal Night (1956) (The Bride Is Much Too Beautiful), Demoniqque (1958), King of Hearts (1966) (King of Hearts), Donkey Skin (1970) (The Magic Donkey),Le journal du séducteur (1996) (Diary of a Seducer) and Les Misérables (1995).
– IMDb Mini Biography By: Gary Brumburgh / gr-home@pacbell.net
2013 Video clip of Ms Presle here.