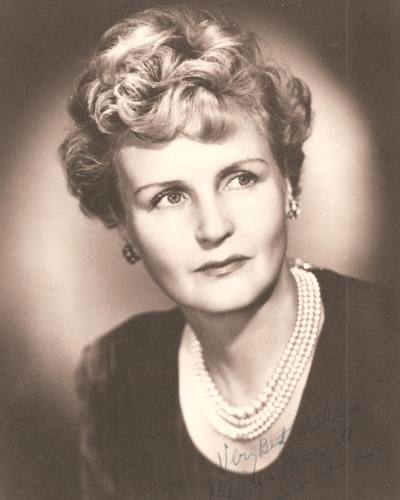 Moyna MacGill was born in Belfast in 1995. She was the daughter of a solicitor. She acted on the London stage and in British films. In 1940 she was a widow and to protect her children from the London bombings she moved with them to New York. She then went to Hollywood where she worked as a sterling character actress in such films as "Green Dolphin Street", "The Picture of Dorian Gray" and on many television programmes. She died in 1975. Moyna MacGill was the mother of Angela Lansbury. Blog on Moyna McGill can be accessed here.
"Wikipedia" entry:
Born in Belfast, she was the daughter of a wealthy solicitor who was also a director of the Grand Opera House in Belfast, a position that sparked her interest in theatrics. She was still a teen when she was noticed riding the London Underground by director George Pearson, who cast her in several of his films. In 1918, she made her stage debut in the play Love in a Cottage at the West End's Globe Theatre.
Encouraged by Gerald du Maurier to change her name to Moyna Macgill (which invariably was misspelled as "MacGill" or "McGill", and on at least one occasion, the film Texas, Brooklyn and Heaven, as "Magill"), she became a leading actress of the day, appearing in light comedies, melodramas, and classics opposite Herbert Marshall, John Gielgud, and Basil Rathbone, among others.
Twenty-six-year-old Macgill was married with a three-year-old daughter, Isolde (who later married Sir Peter Ustinov), when she became involved romantically with Edgar Lansbury, a socialist politician, who was a son of the Labour MP and Leader of the Opposition George Lansbury. Her husband, actor Reginald Denham, named Lansbury as co-respondent when he filed for divorce. A year after it was finalized, Macgill and Lansbury married and with Isolde settled into a garden flat in London's Regent's Park.
Macgill temporarily set aside her career following the birth of daughter Angela and twin sons Edgar, Jr., and Bruce (both went on to becomeBroadway producers, but Bruce is better known for his work on television, such as the series The Wild Wild West, Mission: Impossible, and his sister's Murder, She Wrote), although music and dance were prevalent in their upbringing. When they moved into a larger house in suburban Mill Hill, she turned their home into a salon for actors, writers, directors, musicians, and artists, all of whom left an impression on young Angela and were instrumental in directing her interests towards acting.
The above "Wikipedia" entry can also be accessed online here.