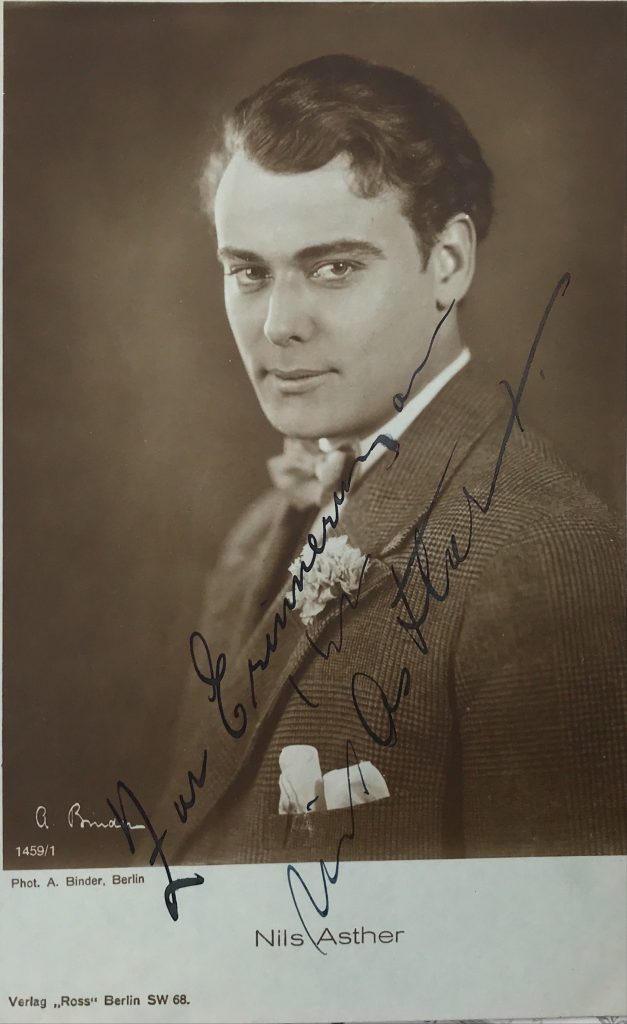 Nils Asther
Nils Asther was born in Denmark in 1897.   He was brought up in Sweden.   He appeared in Swedish and German silent films from 1918 until 1926.   In 1927 he went to Hollywood where he made his first U.S. film "Topsy and Eva".   He made films with Greta Garbo and Joan Crawford.   In 1933 he made "The Bitter Tea of General Yen" with Barbara Stanwyck.   Between 1935 and 1940 he made films in the U.K.   He then returned to Hollywood and made films there until 1949.   In 1958 he returned to Sweden where he died in 1981 at the age of 84.
IMDB entry:
Nils Asther was born in Copenhagen, Denmark, in 1897 and raised in Malmö, Sweden, by his wealthy Swedish parents. After attending the Royal Dramatic Theater School in Stockholm, he began his stage career in Copenhagen. His film debut came in 1916 when the director Mauritz Stiller cast him in the lead role (as an aspiring actor, appropriately enough) in the Swedish film Vingarne (1916). After working with Victor Sjöström in Sweden and Michael Curtiz in Germany, Asther moved to Hollywood in 1927, where his exotic looks landed him romantic roles with co-stars such as Greta Garbo, Pola Negri, andJoan Crawford. Although his foreign accent was a hindrance in "talkies", his Hollywood career continued until 1934 when he was blacklisted for breaking a contract and went to Britain for four years. After his return to Hollywood in 1938, his career declined and by 1949 he was driving a truck. In 1958, he returned to Sweden, where he remained until his death, making occasional appearances in television and on stage.
– IMDb Mini Biography By: Lyn Hammond
The above IMDB entry can also be accessed online here.
TCM Overview:
Dashing, smooth leading man of late silent films and the first decade of talkies, in the USA from 1927. Tall and often mustachioed, Asther proved a capable and attractive romantic lead opposite Greta Garbo in "The Single Standard" (1929) and Barbara Stanwyck in "The Bitter Tea of General Yen" (1933). He continued playing supporting roles into the 1940s.