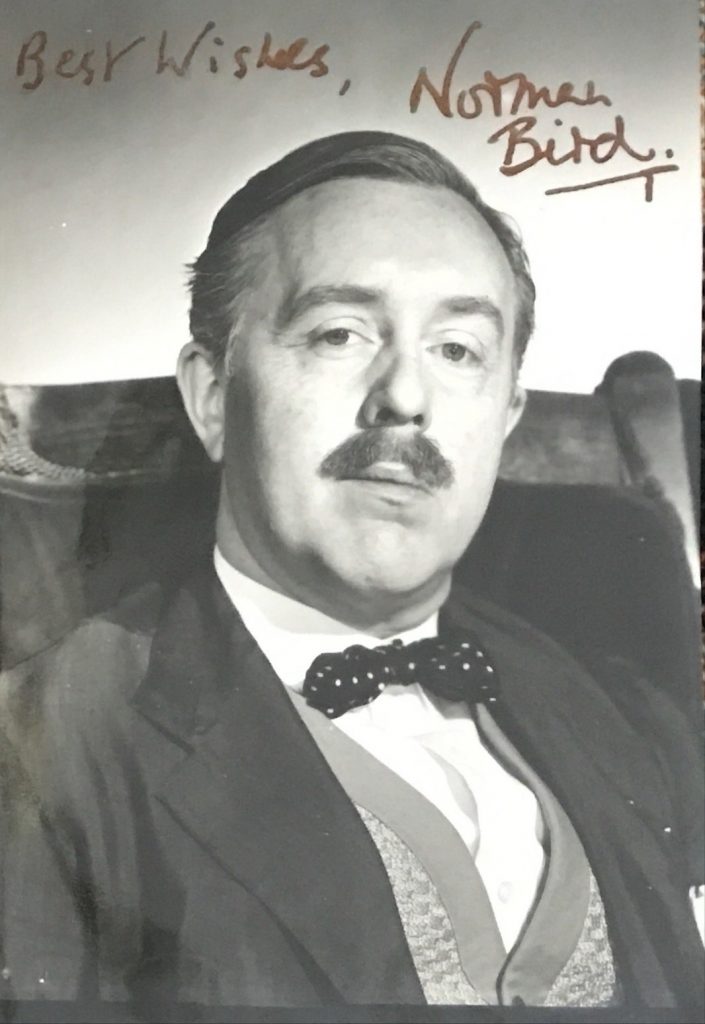 Norman Bird seemed to have cornered the market in British films as nervous fusspots or hen-pecked husbands. Life always seemed such a worry to him. He was born in 1920 in Coalville, England. He made his West End debut in Peter Brook's "A Winter's Tale" in 1951. His many film credits include "The Angry Silence", "Whistle Down the Wind", "Victim" and "Term of Trial". He made over 200 film appearances, the last been "Shadowlands" with Anthony Hopkins in 1993. Norman Bird died in 2005.
Tom Vallance's obituary on Norman Bird in "The Independent":
Norman Bird, actor: born Coalville, Leicestershire 30 October 1920; married 1954 Nona Blair (two daughters); died Wolverhampton, West Midlands 22 April 2005.
One of the British cinema's most reliable character actors, Norman Bird was a moustached, anxious-looking, doleful figure who once described himself as "the man with the cardigan". He excelled at playing working-class men, such as minor officials, sales clerks or henpecked husbands, a body of work succinctly described by Brian McFarlane's Encyclopedia of British Film as "a wonderful gallery of under-achievers."
Two of his best roles were those of factory workers – as a striker in Guy Green's The Angry Silence (1960), and as shop steward Sid Stubbins in the television series Up The Workers (1973). He was memorably effective as the shifty farm labourer in Bryan Forbes's beautiful study of childhood faith, Whistle Down the Wind (1961), and he will also be remembered as Mr Braithwaite (with Megs Jenkins as his wife) in the popular television series Worzel Gummidge (1979/80).
Born in 1920 (some sources say 1924) in Leicestershire, he did office work briefly before enrolling at the Royal Academy of Dramatic Art. He spent the war years in the RAF, then worked in repertory, where he met his wife, Nona Blair, later to be the voice of Joan Hood on The Archers. In 1950 he joined John Gielgud's company to be an understudy in Christopher Fry's The Lady's Not for Burning, and he toured the United States with the play. The following year he made his London stage début in The Winter's Tale, directed by Peter Brook.
He made his first appearance on screen in Guy Hamilton's An Inspector Calls (1954), playing a factory foreman in this adaptation of J.B. Priestley's play starring Alastair Sim. It was the first of over 60 film roles, and he was even more prolific on television, claiming to have made over 200 appearances.
While at Rada, he had formed a lifelong friendship with Richard Attenborough and Bryan Forbes, and his second film was their production League of Gentlemen (1959), directed by Basil Dearden. In this delightful caper movie (the sixth biggest UK box-office hit of its year) he was the former bomb disposal officer who was responsible for the deaths of four men in his unit while drunk on duty. Now living with a nagging wife who dotes on her senile father, a TV soap-opera addict, he is a willing recruit into a team of former military men who apply their wartime skills to bring off an elaborate heist.
Next came The Angry Silence (1960), the first film to be made by Beaver Films, a production company formed by Attenborough and Forbes, and Bird played in several other films directed by Forbes, including Whistle Down the Wind, The Wrong Box (1966), The Raging Moon (1970) and The Slipper and the Rose (1976). He was also in Attenborough's Oh! What a Lovely War (1969) and Young Winston (1972) and his last screen role was that of a taxi-driver in Attenborough's Shadowlands (1993).
Other notable roles included a closet homosexual being blackmailed in Basil Dearden's ground-breaking drama Victim (1961), the commandant of a military stockade in Sidney Lumet's The Hill (1965), and he was the voice of Bilbo Baggins in Ralph Bakshi's animated version of Lord of the Rings (1978).
His television roles included Z Cars, The Saint, The Avengers (a 1966 episode titled "Silent Dust"), Dixon of Dock Green, Steptoe and Son, Coronation Street (the role of Joe Hibbert in 1978), Yes, Minister (as another trade union official), and Boon. His last television role was that of a grandfather in the political drama, Crossing the Floor (1996).
In 1992 Bird and his wife, who lived in Middlesex, moved to Bridgnorth, Shropshire, to be near their two daughters and five grandchildren.
Tom Vallance
The above "Independent" obituary can be also accessed online here.