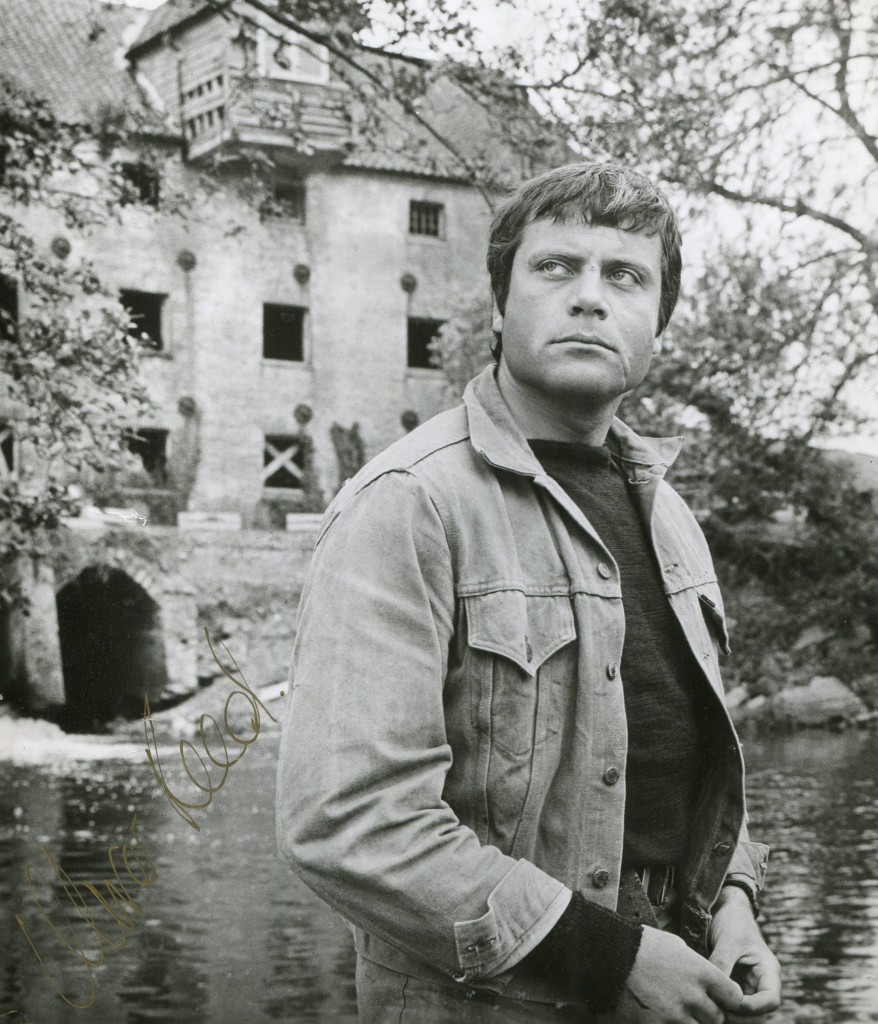 Oliver Reed obituary in "The Independent" in 1999.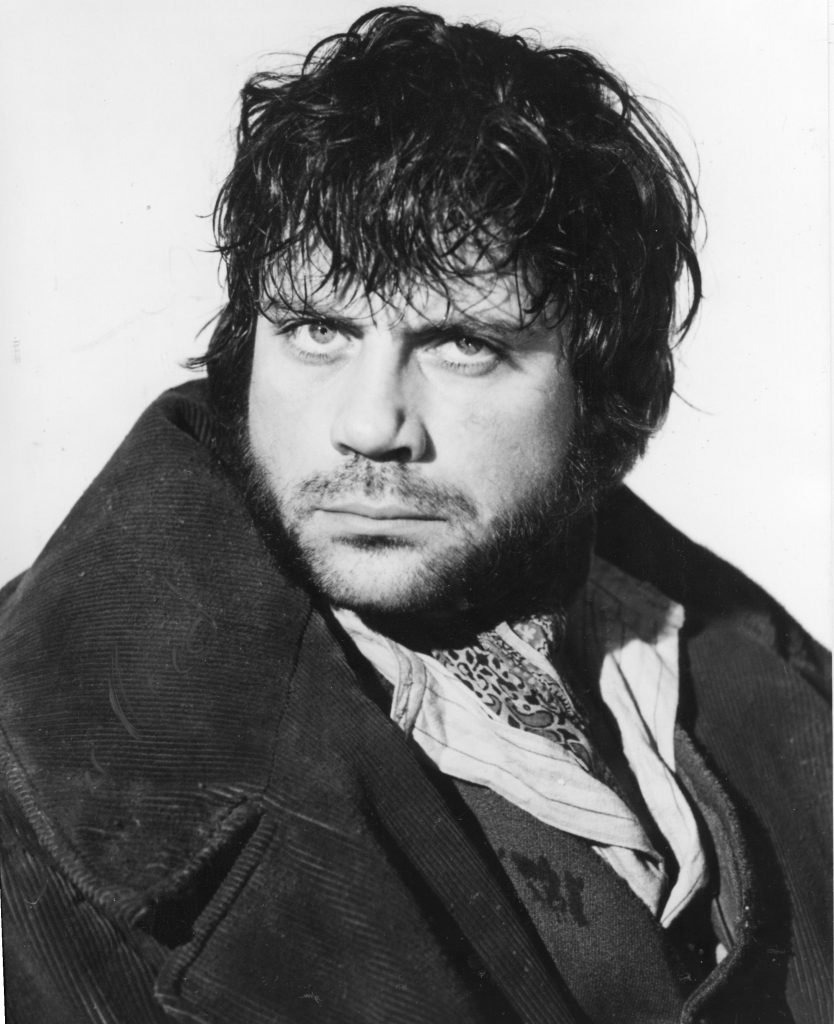 Oliver Reed was a big burly presence on film who was well known for his hard-drinking macho . He was born in 1938 in London and was the nephew of the great film director Sir Carol Reed. He began acting on film in 1958 in the Norman Wisdom comedy "The Square Peg" where he played a menancing thug. He spent a few years in supporting parts and then gained larger roles in Hammer Horror movies. In 1968 his uncle awarded him the plum role of Bill Sikes in the wonderful "Oliver". Reed was excellent in the part and I think the best performance in the film. He went to Hollywood and made several films there and back in Britain. In his later career the quailty of the films diminished somewhat. He had a leading role in the excellent "Gladiator" which he was working on in Malta when he died of a heart attack in 2000. He was buried in Co. Cork Ireland near to his home of several years.
Independent, The (London), May 4, 1999 by Tom VallanceOLIVER REED was something of a rarity among British film stars, a bearish, scar-faced, larger-than-life figure whose off-screen exploits, notably his heavy drinking and the scrapes that it got him into, brought him more fame and notoriety than his acting career.As an actor, he made his strongest impression when playing similarly extrovert figures – such as the tortured heroes of Hammer horror movies or the brutal Bill Sikes in Oliver! Most memorable of all was his work with the director Ken Russell on television (as Rossetti and Debussy) and on film in The Devils, Tommy and their first collaboration, Women in Love, in which the nude wrestling scene between Reed and Alan Bates remains one of the most evocative and remarkable sequences of the Sixties. Russell wrote later: I wonder if people would still be talking about the film today if I hadn't included that particular sequence. . . it wasn't in the original script. I didn't think it would pass the censor and I knew it would be difficult to shoot. I was wrong on my first guess and right on my second. Olly talked me into it. He wrestled with me, ju-jitsu style, in my kitchen, and wouldn't let me up until I said, "OK, OK, you win, I'll do it." Thanks, Olly, we made history.
He was born in Wimbledon, south London, in 1938, grandson of the actor- manager Herbert Beerbohm Tree and nephew of the film director Carol Reed, though he later stated, "I never sought anything but advice from my uncle." He denied as apocryphal the tale that he was expelled from 13 schools ("I left of my own free will") but he did run away from home at the age of 17 to become a bouncer at a Soho strip club. He had a brief career as a boxer ("I won the first fight, lost the next, then decided I didn't like being hit") and worked as a mini-cab driver and mortuary attendant before doing National Service as a member of the Medical Corps. After his two years in the Army were finished, he returned to London determined to be an actor: "When I came out I went to my uncle and he said to go into repertory if I wanted to be an actor. It was good advice, because I ignored it completely. I don't give a damn for the theatre, films is where it's at."
Reed instead took his photograph around to agencies and managed to get bit parts and extra work in British movies including The Captain's Table (1958), Beat Girl (1959, as a teenage loafer), The League of Gentlemen (1960, as a ballet dancer) and The Two Faces of Dr Jekyll (1960, as a bouncer). "Everyone told me not to do horror films," he later stated, "but I wanted to act. I remember standing on a table blowing bubble gum as a child and everyone applauded. I like that."
It was a horror film that gave Reed his first major opportunity. Terence Fisher's Curse of the Werewolf (1961) is considered one of the best of Hammer's output, an earnest attempt to understand folklore which spends almost the entire first half examining the origins of the werewolf myth (its portrayal of 18th-century Spain caused the film to be banned in that country for 15 years). As the young man fighting the beast within himself, Reed gave a performance described by one critic as "mesmerising". Further Hammer films included Joseph Losey's The Damned (1962), in which Reed was the leader of a motorcycle gang, The Pirates of Blood River (1962) and The Scarlet Blade (1963).
In one of Michael Winner's better films, The System (1964), he was a seaside youth who has a way with the ladies – retitled The Girl-Getters, the film did well in the United States. But it was Ken Russell's Monitor television film about Debussy (1965), in which Reed had the title role, that marked what he later referred to as his "intellectual breakthrough". He was now being considered seriously as an actor and had also become one of the British cinema's most potent sex symbols. Reed received some of his best notices for his performance as a primitive fur-trapper who takes an orphaned mute for a bride in Sidney Hayers's The Trap (1966), then worked with Winner again in The Jokers (1967) and I'll Never Forget What's-'is-name (1967), co- starring Orson Welles, who became a close friend. Oliver! (1968), in which Reed brought a menace considered by some to be overly brutish to the role of Bill Sikes, was directed by his uncle and became an Oscar-laden triumph. (Carol Reed, fearful of accusations of nepotism, cast his nephew only when the producer John Woolf insisted that the actor was the best choice.)
Oliver Reed was now reputed to be Britain's highest-paid actor and, after a black comedy, The Assassination Bureau (1968), and Michael Winner's Hannibal Brooks (1968), a popular comedy-drama in which Reed and Michael J. Pollard were prisoners-of-war taking an elephant over the Alps, he made Women in Love (1970), Ken Russell's fine adaptation of the D.H. Lawrence novel. The film won an Oscar for Reed's co-star Glenda Jackson, who commented, Oliver and I had absolutely nothing to say to each other off- screen. As people we are chalk and cheese. What I admire in Oliver is his consummate professionalism. It doesn't matter what state he may be in physically, when they say "Action!" he is ready, and that was the aspect of working with him that I liked. I've worked with him a lot and he is an infinitely better actor than he gives himself credit for. He is also a brilliant comic actor and he's never really explored that in himself.
Reed's off-screen behaviour was by now getting more publicity than his acting, and his heavy drinking began to affect his appearance, which was becoming increasingly bloated, though he had never considered himself handsome ("I've got a face like a dustbin," he commented, "but people are learning that if you kick a dustbin over and rhododendrons drop out, it's glorious.") His next film for Russell was a controversial piece, The Devils (1971), in which Reed's licentious priest provokes sexual hysteria amongst the nuns. In the unpleasant and violent western The Hunting Party (1971), he headed a gang of rapists and killers, and he was effectively insensitive as a bullying sergeant in Michael Apted's The Triple Echo (1972), in which he again co-starred with Glenda Jackson. It was around this time that he told a New York reporter, "Do you know what I am? I'm successful. Destroy me and you destroy the British film industry. Keep me going and I'm the biggest star you've got. I'm Mr England."
In Richard Lester's The Four Musketeers (1974), he was a formidable Athos and in 1975 he gave impressive performances again for Ken Russell in both Tommy and Lisztomania, but he was also making too many pot-boilers, in order to support his penchant for drink and women. In 1970 he had divorced his wife of 10 years, Kate Byrne, by whom he had a son, Mark. He then embarked on a 12-year relationship with the ballet dancer Jacquie Daryl, by whom he had a daughter. He would frequently boast of his appeal for women, and on an aeroplane trip upset the captain by dropping his trousers and asking the hostesses to judge a "prettiest boy" contest. In a hotel in Madrid while filming The Four Musketeers, he stripped during dinner and jumped into a large tank of goldfish. When the police were summoned, Reed shouted, "Leave me alone. You can't touch me – I'm one of the Four Musketeers!"
"I like the effect drink has on me," he once said, "What's the point of being sober?" His exploits were becoming legendary – he is alleged to have spiked the snooker star Alex Higgins's whisky with Chanel perfume, denied head-butting the actor Patrick Mower at a party by explaining, "I leant across the table to give him a kiss", and during a drinking marathon at a rugby club in Doncaster he threw pounds 50 on the bar saying, "Get all these working- class pigs a drink." He once arrived at Galway airport lying drunk on a luggage conveyor, and in 1979 turned a soda siphon on himself and other celebrities at a boxing event in London, then jumped into the ring and did a striptease.
On film sets, however, Reed would still be both professional and courteous. "I like Reed very much," said Michael Winner. "I think he is a very kind and decent person." Ken Russell commented, "For all his macho image, Oliver is a sensitive actor who approaches his craft intuitively."
In 1985 the actor again made news when he married the 21-year-old Josephine Burge, who had been his companion since she was a 16-year-old schoolgirl. The marriage was preceded by a two-day drinking session in which Reed claimed to have consumed 136 pints of beer.
Reed was impressive as the islander who advertises for a wife in Nicholas Roeg's Castaway (1986), but the filming in the Seychelles was marked with incident – Reed was taken to court for allegedly exposing himself to his co-star Amanda Donohoe during the filming, and he was also accused of throwing his stunt double Reg Prince over a balustrade in a drunken bout. Television viewers will not soon forget Reed's appearance on the chat show After Dark in 1991 when the plainly inebriated actor swore, fell over a sofa, then announced, "Right, I'm off to have a slash."
Reed was warned several times by doctors that he would not live long if he did not give up drinking, and he was drinking with friends during a break from filming the Steven Spielberg production The Gladiators when he became fatally ill.
Robert Oliver Reed, actor: born London 13 February 1938;
married 1960 Kathleen Byrne (one son; marriage dissolved 1970), (one daughter by Jacquie Daryl), 1985 Josephine Burge;
died Valetta 2 May 1999.
Source: Tom Vallance, The Independent, May 4th, 1999
URL: http://findarticles.com/p/articles/mi_qn4158/is_19990504/ai_n14233785/pg_1