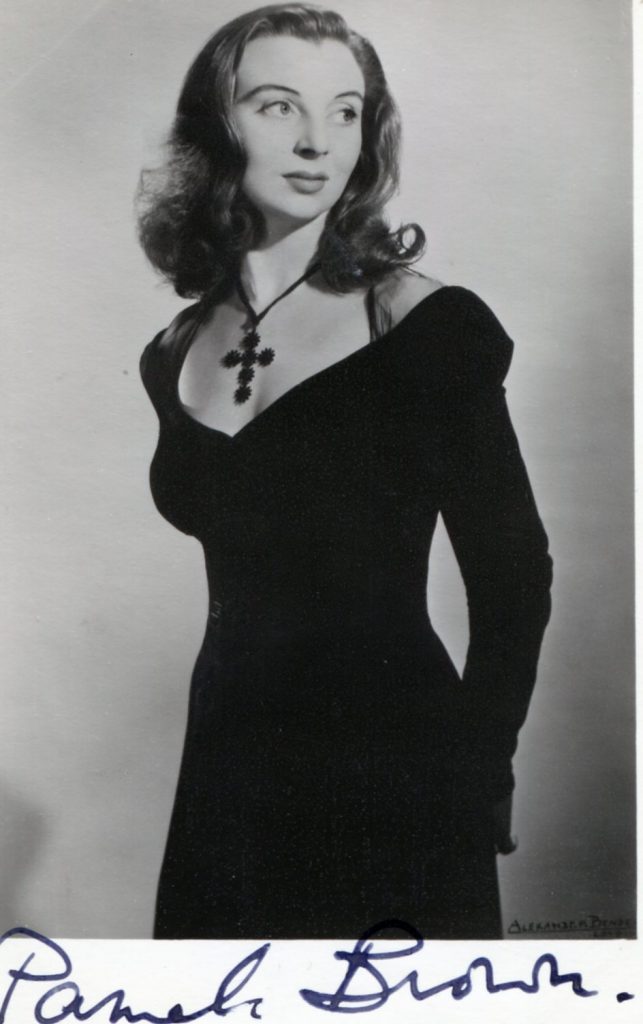 Pamela Brown.
Pamela Brown is best remembered amongst film buffs for her performances in the films of Powell & Pressburger. She was born in 1917 in London. Her first film was "One of Our Aircraft Is Missing" in 1942. She was splendid in "I KNow Where I'm Going" and again in 1951 in "The Tales of Hoffmann" with Moira Shearer. Amongst her later films was "In this Hous of Brede" where both she and Diana Rigg were nuns in an enclosed order. Pamela Brown died in 1975 aged only 58.
IMDB entry:
Pamela Brown trained at the Royal Academy of Dramatic Art (RADA). Her first appearance was as "Juliet" in "Romeo and Juliet" at Stratford-on-Avon in 1936. She followed this with a variety of roles for the Old Vic Company in London. She appeared on Broadway in the 1947 production of "The Importance of Being Earnest" by Oscar Wilde. Her screen debut was in One of Our Aircraft Is Missing (1942) for Michael Powell and Emeric Pressburger. She went on to star in two more of Powell's films and they lived together until her unfortunately early death from cancer. Her memorable face with eyes you can drown in & a resonant voice always made Pamela an actress worth watching. She was often cast as an eccentric or mysterious character which suited her perfectly.
– IMDb Mini Biography By: Steve Crook <steve@brainstorm.co.uk>She spent her last days living with Michael Powell in a secluded cottage. According toColumba Powell, they both loved it dearly but had very little money. (This was afterPeeping Tom (1960) and Michael was finding it very difficult to get work).Pamela suffered from severe arthritis nearly all her life. It first hit her aged 16 and although often controlled by drugs it never really left her.Michael Powell said of Pamela – "She was a witch. Women adored her, men feared her, and for the same reason – she fascinated them."Upon her death, her remains were interred at Holy Cross Churchyard in Avening, Gloucestershire, England. The above IMDB entry can be accessed online here.
Pamela Brown (born in London on 8 July 1917) made her debut as Juliet at Stratford-on-Avon in 1936, after gaining a gold medal from RADA. Her numerous appearances for the Old Vic, and Broadway triumphs (e.g., opposite John Gielgud in Wilde's The Importance of Being Ernest, 1947), were the more remarkable by reason of the debilitating arthritis which she suffered from the age of sixteen.
While her work remained predominantly in the theatre, she also made notable screen appearances, commencing with the part of the Dutch school mistress in Michael Powell's One of Our Aircraft is Missing (1942). Her hauntingly enigmatic face, with the great golden eyes which Powell likened to those of a cat, ensured that she was noticed even in secondary roles such as Nicklaus in The Tales of Hoffman (d. Powell & Pressburger, 1951) and Jane Shore in Olivier's Richard III (1955). She and Powell became lovers, and were living together at the time of her death from cancer in 1975. She was married to Peter Copley.
Brian McFarlane, Encyclopedia of British Film