Pat Boone. TCM Overview.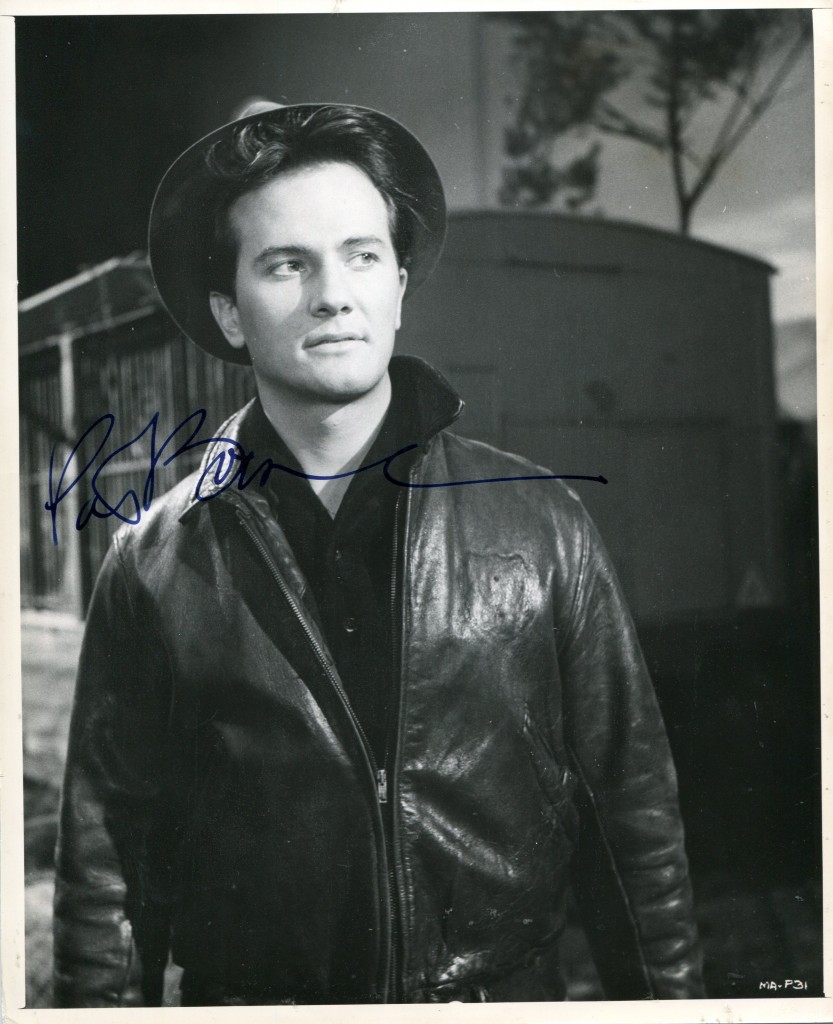 Pat Boone was in the 1950's nearly as popular a recording star as Elvis Presley. He had a string of hits including "Love Letters in the Sand", "Friendly Persuasion", "Moody River"and "Ain't that a Shame". He was also groomed by 20th Century Fox as a movie star. He was born in 1934 in Jacksonville in Florida. His first film came in 1957 with "Bernadine". He went on to make "April Love" with Shirley Jones, "Mardi Gras", "Journey to the Centre of the Earth", "State Fair" and "The Main Attraction". In 1963 he made "Never Put it in Writing" in Ireland. He has continued to perform in concerts all over the U.S. and is still very popular.
TCM Overview:
Though frequently dismissed by critics and music cognoscenti as the ultimate whitebread performer, the undeniable fact remained that Pat Boone was one of the most successful pop music performers of the 20th century, with over 30 Top 40 hits to his name, as well as an actor, television host, philanthropist and businessman. The key to Boone's appeal in the 1950s and early 1960s was his ability to translate R&B and rock songs by black artists into smooth, palatable pop for white audiences, including gently boppy takes on "Tutti Fruitti," "I Almost Lost My Mind" and "Long Tall Sally." Though his versions of the songs lacked the intensity and sexual heat of Elvis Presley's material, both men found their fame from the same material, and though they took completely divergent paths in their careers, both could be ultimately credited for both legitimizing rock and roll for mass audiences and bringing attention to black artists in a period when mainstream radio refused to play their music. Boone's time in the pop spotlight faded with the arrival of The Beatles, but he remained a fixture of Christian music and secular television for the next four decades. No matter what one thought of Boone, his music or his image, the sheer scope of his work as a singer and entertainer was impossible to deny.
Born Charles Eugene Boone in Jacksonville, FL on June 1, 1934, Pat Boone was the oldest of four children by parents Archie Boone, a contractor, and his wife Margaret, who was a registered nurse. Boone was raised primarily in Nashville, TN, where he moved with his family when he was two years old. After graduating from David Lipscomb High School in 1952, he married Shirley Foley, daughter of famed country star Red Foley, and attended David Lipscomb University before transferring to the University of North Texas and later Columbia University, from which he graduated magna cum laude in 1958. Though he was a devout Christian, he as also an avowed admirer of such crooners as Bing Crosby and Perry Como. However, he never considered pursuing music for a career; instead focusing on teaching high school. But after winning a talent contest while at North Texas, he began a long stint on such popular TV and radio talent programs as "The Ted Mack Amateur Hour" (DuMont/ABC/NBC/CBS, 1948-1954) and "The Arthur Godfrey Show" (CBS, 1949-1959).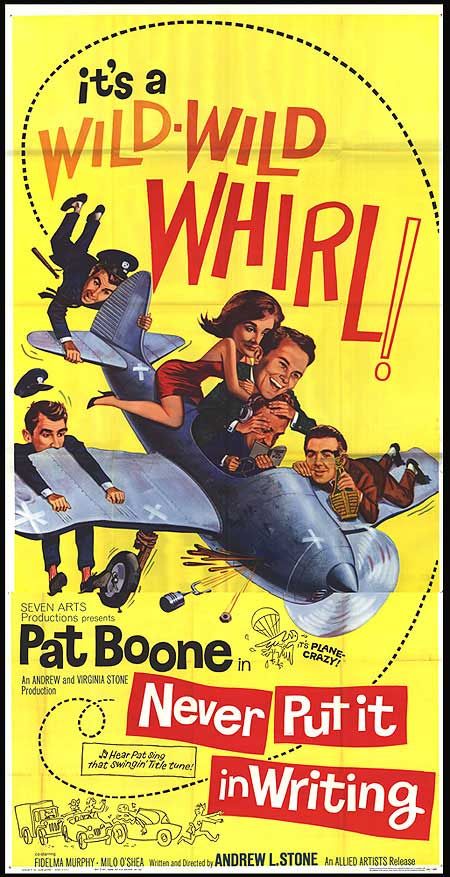 Signed to a contract with the micro label Republic Records, he began his singing career in 1954 with the intent of following in the footsteps of Como. However, he was convinced by Randy Wood, owner of Dot Records, to record covers of songs by popular black artists, who at the time, could not get their material played on mainstream, white-owned radio stations. In 1955, Boone recorded a fairly sedate if poppy take on Fats Domino's "Ain't That a Shame." The record shot to the top spot on the U.S. charts and established Boone – always impeccably dressed in tasteful clothes and a pair of spotless white bucks – as a worry-free artist for both teens and parents to enjoy. Over the next half-decade, Boone would record a handful of other R&B and rock hits including Little Richard's "Tutti Fruitti" and "Long Tall Sally," The Orioles' "It's Too Soon To Know," and Ivory Joe Hunter's venerable "I Almost Lost My Mind," which became his second of many No. 1 hits. Though purists gritted their teeth over his sanitized versions, their popularity was a considerable benefit to the original artists. A famous story about Fats Domino recounted him flashing a massive ring to a concert audience and stating that the royalties from Boone's cover had bought him the bauble, while Hunter enjoyed a career revival thanks to Boone. The covers also did much to legitimize rock and roll as a viable music genre during a period when it was considered an almost criminal action to play or listen to it.
In addition to his rock material, Boone also recorded dozens of ballads, romantic numbers and pop tracks, including "Love Letters in the Sand" and "April Love." By the early 1960s, he had 38 Top 40 hits, and was the second most popular artist of the 1950s, with only Elvis Presley ahead of him in terms of sales and fandom. It was only natural that he would segue into a career in front of the camera, which he began in 1957 as the host of "The Pat Boone-Chevy Showroom" (ABC, 1957-1960), a good-natured variety show that began his long association with General Motors and its Chevrolet line.
At the time, he was only 23 – and still a student at Columbia – which made him the youngest person to ever host a weekly primetime variety series until Donny and Marie Osmond broke his record in 1976. The series remained at the top of the Nielsen charts throughout its network tenure before the Boone family moved to Los Angeles, bringing the show to an end.
That same year, he made his acting debut in "Bernadine" (1957), a harmless romantic comedy-musical that also featured Boone's rendition of the title song. He would go on to play upstanding young men with the purest of intentions in several major films, including "April Love" (1957) and "State Fair" (1962), and held his own opposite James Mason in the science fiction epic, "Journey to the Center of the Earth" (1959).
However, Hollywood and Boone were never a perfect match; Boone refused to participate in romantic scenes, as he felt it would compromise his beliefs about marriage. That stance, when combined with his wholesome offscreen image, made it difficult for him to find substantive parts, despite his campaigns for serious roles like the lead in "The Sand Pebbles" (1962). Only a turn as a cold-hearted father who consigns his son to a draconian military academy on an episode of "Night Gallery" (NBC, 1970-72) broke his typecasting. He ended his film-acting career with a cameo as the angel at the cave where Christ was interred in "The Greatest Story Ever Told" (1967) and as pastor David Wilkerson, who helped reform wayward youth, in the film version of "The Cross and the Switchblade" (1970).
Despite the stalemate in Hollywood, Boone remained an exceptionally popular recording artist and guest star on television series and talk shows. He enjoyed countless Top 40 and 50 hits through 1962, including a massive No. 1 with 1961's "Moody River," and penned the lyrics to "The Exodus Song," Ernest Gold's emotional theme to the 1960 film "Exodus."
Boone also found success as a writer, penning numerous self-help books for his young fans, including Twixt Twelve and Twenty (1958), which provided answers for teenage dilemmas.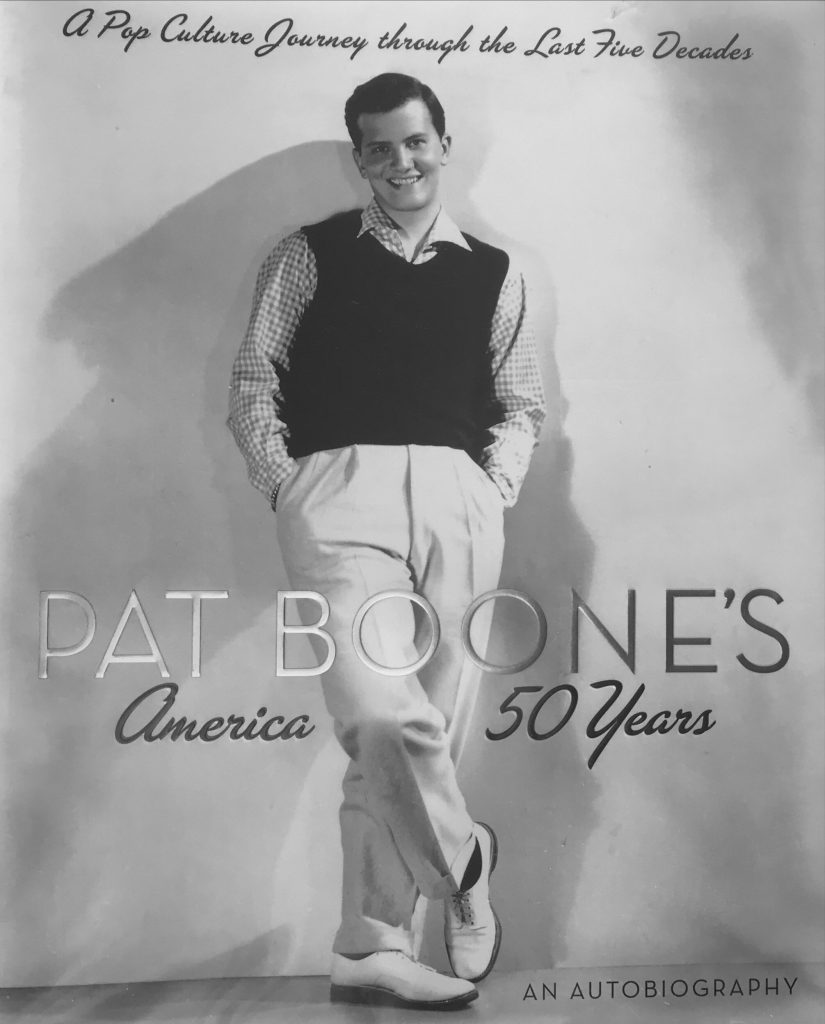 His pop music career eventually became one of the many casualties of the British Invasion, so he moved successfully into gospel and country songs, while diversifying in a number of directions, including head of the Christian label Lamb and Lion Records, and spokesman for a wide variety of charities, including the March of Dimes and the Easter Seal telethon.
Boone was also the majority owner of the Oakland Oaks, an American Basketball Association team that won the 1969 ABA championship. An ardent supporter of Republican causes, Boone most notably supported Ronald Reagan's campaign for governor of California in 1966 and 1970.
In the 1970s, Boone toured with his daughters Cheryl Lynn, Linda Lee, Laura Gene and Deborah Ann – the latter of whom later scored a substantial No. 1 pop hit with 1977's "You Light Up My Life" before segueing into country and gospel.
Her father continued to record throughout the decade and into the 1980s, while adding television station owner and syndicated radio show host to his ever-expanding résumé. Eventually, he moved away from the music business altogether to concentrate on his business and charitable opportunities.
In 1997, Boone displayed a quirky sense of humor by releasing "No More Mr. Nice Guy," a collection of hard rock and heavy metal tunes done in what could best be described as "Pat Boone style" – ear friendly big band orchestrations. Boone appeared on the American Music Awards that year bedecked in leather, which earned him a dismissal from the Trinity Broadcasting Network's "Gospel America" program.
The 21st century found Boone reaping the rewards of his long and prolific career.,
The above TCM overview can also be accessed online here.