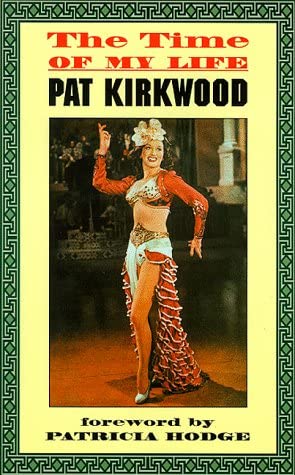 Pat Kirkwood was born in Salford in 1921.   She appeared in many revues and musicals in England from the 1930's onwards.   She became a very popular concert and recording star during World War Two.   She had made her film debut in 1939 in "Save A Little Sunshine for Me".   In 1945 she went to Hollywood to make her only film there "No Leave, No Love" with Van Johnson.   When she returned to England she continued her career in musical theatre with occasional films such as "After the Ball" in 1937.   Pat Kirkwood died in 2007.
Her "Independent" obituary:
During the 1940s and 1950s, Pat Kirkwood starred in West End musicals and several films and she was first female to have her own television series on the BBC. In 1950, Noël Coward specifically requested that she star in his new musical, Ace Of Clubs, and Cole Porter allowed her to introduce the song "My Heart Belongs To Daddy" to British audiences. Kirkwood herself tired of journalists commenting on her looks and her shapely legs and especially on an alleged affair with the Duke of Edinburgh, which she strenuously denied.
Patricia Kirkwood was born, the daughter of a shipping clerk, in Pendleton, about three miles from Manchester's city centre, in 1921. Whilst on holiday with her parents in the Isle of Man, she took part in a talent contest and as a result, was asked to sing on the BBC's Children's Hour. In 1936, she played variety at the Hippodrome, Salford where she was billed as "The Schoolgirl Songstress". The following year, she played Dandini in Cinderella in a West End pantomime.
Kirkwood's potential was obvious to all: she could act, dance and sing; she spoke well; and she had a gorgeous figure. She appeared with success in the films Save A Little Sunshine (1937) and Me And My Pal (1938) and made her first record, "Hurry Home".
Her first prominent role was in 1939, alongside George Formby in his horse-racing comedy Come On, George! Formby's possessive and overbearing wife, Beryl, considered Kirkwood a threat and refused to let her sing with him. Kirkwood herself refused to perform a scene in which a wind machine would blow her skirt over her head, a controversial exploit which would have predated Marilyn Monroe's iconic pose by several years.
With the director Anthony Kimmins exercising little control, Beryl insisted that Kirkwood's hair be cropped, her make-up minimal, and her clothes dowdy. Even so, her beauty shone through and towards the end of the film, when Beryl was called away for a bogus telephone call, the director got Kirkwood to give Formby a long kiss. "Ayee! What a to-do," comments Formby, clearly mixing his character with real life.
The comedy duo Arthur Askey and Richard Murdoch were happy to allow Kirkwood to sing, look lovely and shine in their film of Band Waggon (1940). It led to her being described as Britain's Betty Grable but she hated references to her million-pound legs, "It did make me cross. They are simply things to walk around on. I never thought anything more of them than that."
In 1939, Kirkwood opened to tremendous reviews in the revue Black Velvet at the London Hippodrome; in the show she introduced British audiences to Cole Porter's "My Heart Belongs To Daddy". One critic called her personality "as inescapable as sheet lightning" and likened her voice to Deanna Durbin's.
She was the queen of a new universe in the London Palladium extravaganza Top Of The World in 1940, with Tommy Trinder and the Crazy Gang. The rehearsals took place while the Luftwaffe was bombing London and the director requested an audience of servicemen for the dress rehearsal. Mistakenly, the invitation went to the International YMCA so few of the audience could speak English and hence, laugh at the humour.
The show continued despite falling bombs. One evening Bud Flanagan took a taxi to the theatre, but fear overcame him and he told the cabbie to drive him to Blackpool instead. Kirkwood later recalled standing on the roof of the Palladium one night with buildings burning on all sides.
Kirkwood worked hard during the war. She was involved in making films, records, personal appearances and with her own radio series, A Date With Pat Kirkwood. She also appeared before George VI at a Command Performance at Windsor Castle.
In 1944, she was offered a contract, allegedly worth 250,000, with MGM in Hollywood. She and her mother flew to America shortly after the war ended and she appeared alongside Van Johnson in the romantic No Leave, No Love, (1946) directed by Charles Martin. She sang three songs in the film including "Love on a Greyhound Bus". The poor reviews plus the strict diet and fitness regime of the studio led to a breakdown and an attempted suicide, and she returned home.
Kirkwood had a West End hit with Starlight Roof in 1947 and some record success with one of its songs, "Make Mine Allegro". Noël Coward was impressed and wrote to his agent, "I should like to get Pat Kirkwood. You might make discreet enquiries about her." As a result she appeared in Coward's 1950 musical Ace Of Clubs, but it was an old-fashioned operetta that was lucky to make 250 performances. Encouraged by Coward, she also played a successful season at the Desert Inn, Las Vegas. She had further West End success in Leonard Bernstein's Wonderful Town (1955) with Shani Wallis and a musical comedy, Chrysanthemum (1958), which co-starred her then husband Hubert Gregg.
above "Independent" obituary can also be accessed online here.
There was much unwanted publicity when it was suggested that Kirkwood had had an affair with the Duke of Edinburgh. She had met him in 1948 and reporters had seen them dancing and having breakfast. She totally denied any impropriety but said, "He was so full of life and energy. I suspect he felt trapped and rarely got a chance to be himself. I think I got off on the right foot because I made him laugh."
She became the first female to have her own television series with The Pat Kirkwood Show in 1954 and also appeared in various TV plays. In Our Marie (1953) she played the music hall star Marie Lloyd; she also appeared in Pygmalion (1956) and The Great Little Tilley (1956) as another music hall star, Vesta Tilley, which was directed by Hubert Gregg and subsequently became the film After The Ball (1957). In 1953, she was reunited with George Formby on the panel of What's My Line but was seen on screen feeding Formby questions to ask the contestants.
In the 1960s, Kirkwood and Gregg moved to Portugal and she told reporters, "I never play my old records or look at my cuttings. I've retired." She was to write her autobiography, The Time Of My Life, in 1999.
Kirkwood made several stage appearances in the 1970s, often in pantomime, and she had success in a revival of Pal Joey at the Edinburgh Festival in 1976 and touring in The Cabinet Minister with Dulcie Gray and Michael Denison in 1978. She married for the fourth time in 1981 and settled down to a life in Yorkshire. Occasionally, she performed her one woman show, An Evening With Pat Kirkwood, and appeared in revivals of Noël Coward and Cole Porter's works.
Spencer Leigh
The