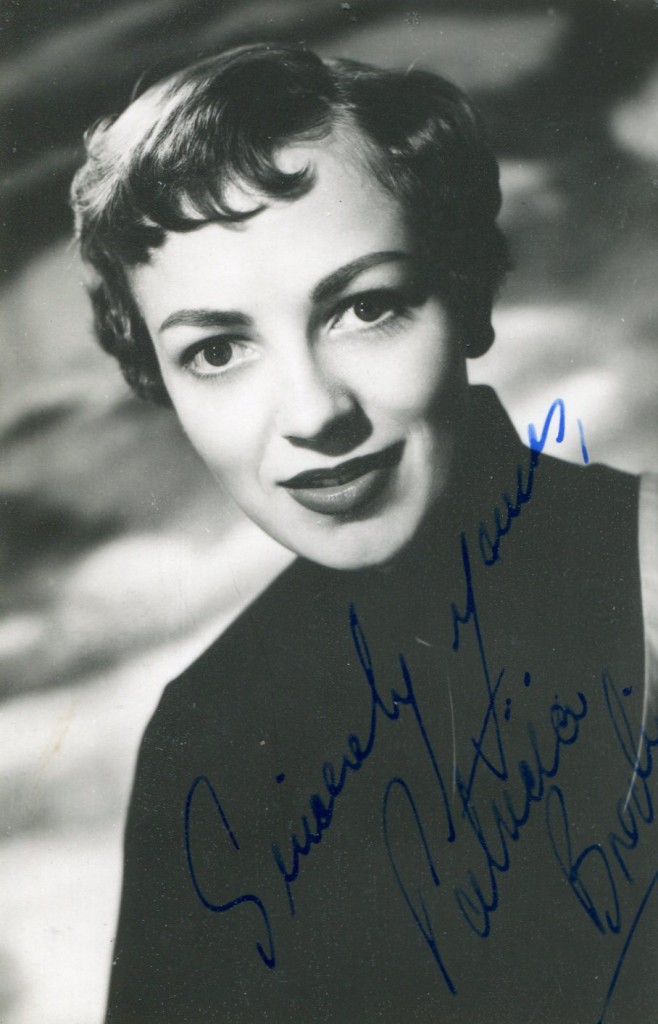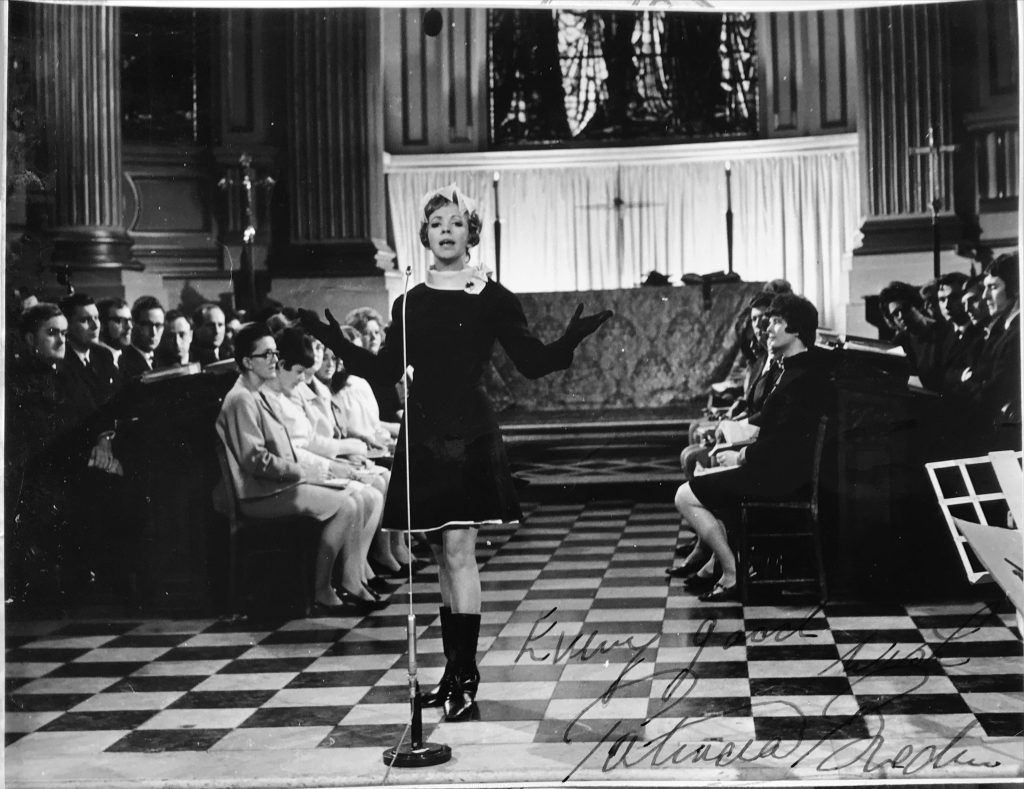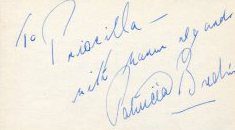 Patricia Bredin. (Wikipedia)
Patricia Bredin was born in 1935, in Swansea) is a British actress and one-time singer from Hull, England, who was best known as the very first United Kingdom representative in the Eurovision Song Contest. She took part in the 1957 contest, held in Frankfurt, and finished in seventh place out of ten entries with the song "All", the first ever song sung in English at the Eurovision. At 1:52, this was for a long time the shortest performance in the history of the contest.
However, this record was beaten in 2015 when Finland selected Pertti Kurikan Nimipäivät to represent them in the 2015 edition of the contest. Their entry "Aina mun pitää" was only 1:27 long.
She took the part of Molly, the island girl, in the original cast of the musical Free as Air in 1957. In 1959, she starred in the British comedy film Left Right and Centre with Ian Carmichael. This saw British exhibitors vote her one of the most promising British new stars along with Peter Sellers and Hayley Mills. On Boxing Day in 1959 she also appeared in the BBC TV's long running variety show The Good Old Days, which was rescreened on Boxing Day 2016 on BBC4 as part of the BBC's celebration of the programme.
The following year she had a leading part in another film, the period adventure The Treasure of Monte Cristo, and starred with Sid James in Desert Mice.
Bredin had the distinction of succeeding Julie Andrews as Guenevere in the Broadway production of Camelot.
She played the role from 16 April 1962 until she was replaced by Janet Pavek three months later.
In 1964, she married singer Ivor Emmanuel. but they had no children, and divorced within two years.
On her second marriage, she married the Canadian businessman Charles MacCulloch and became Patricia Bredin-McCulloch, but he died on their honeymoon. She built up a herd of cows on their estate and looked after them for almost ten years before financial complications brought her cow-womanship to an end.
She published some entertaining reminiscences about this period of her life in My Fling on the Farm (1989).
The Telegraph obituary in August 2023.
Patricia Bredin, singer and actress who was Britain's first entrant in the Eurovision Song Contest – obituary
She took over the role of Guinevere from Julie Andrews in Camelot on Broadway and became good friends with her co-star, Richard Burton
ByTelegraph Obituaries15 August 2023 • 2:29pm
Patricia Bredin, who has died aged 88, was a singer who became the UK's first representative in the Eurovision Song Contest, in 1957 in Frankfurt; she was 22 when she was spotted singing at the Savoy Hotel in London and was asked by BBC executives: "Would you like to be on TV?"
At eight seconds shy of two minutes her song, All, held the record until 2015 for the song contest's shortest entry, and as it was never recorded, it had no chance to make the charts. Patricia Bredin finished seventh out of 10, and the UK would not win until Sandie Shaw with Puppet on a String in 1967.
Patricia Bredin was born on February 14 1935 in Hull, where she attended Newland School for Girls, and began her singing career with the Hull Operatic Society, performing at the City Hall. She began singing in London, where she was talent-spotted at the Savoy.
https://youtube.com/watch?v=xo0eJlq8J2Y%3F
Though she greatly enjoyed her appearance in Frankfurt – "they had a 60-piece orchestra. It was like being on clouds" – she was less enamoured of her conductor, Eric Robinson, "a bumptious fellow".
"He came on from the other side of the stage and we met at the top, and he brushed past me and ran down in front of me," she recalled. "I thought, 'What a moron', but I also thought, 'He's not going to upset me'."
Though she only finished seventh in Frankfurt – she described All as "that terrible little song" – her appearance won her a part in the musical Free as Air at the Savoy Theatre. Film roles followed, and in 1959 she starred as a Labour candidate in the comedy film Left Right and Centre, a gentle political satire about a small-town by-election, opposite Ian Carmichael as her Tory counterpart (perhaps inevitably, the rivals fall in love).
https://youtube.com/watch?v=4MR9i6fdoYE%3F
Her performance led to her being picked out by British film exhibitors as one of the country's most promising talents, alongside Hayley Mills and Peter Sellers, and in the same year she had a small part in the Geordie-inspired Bill Travers vehicle The Bridal Path, a cameo as herself in Make Mine a Million and a part alongside Sid James and Dora Bryan in the comedy about ENSA acts, Desert Mice.
Her highest-profile role came in 1962 when she took over Guinevere from Julie Andrews in Camelot on Broadway. She became good friends with her co-star, Richard Burton, and his wife Elizabeth Taylor, even more so when she married the Welsh singer Ivor Emmanuel.
Though she remained discreet over her relationship with them, a friend of hers, Angie Mansfield, told BBC radio Humberside: "Patricia invited us to stay at her house in Battersea. I was sitting opposite Ivor, who said: 'we've just had Richard Burton here, after another row with his wife again.' Liz Taylor always used to run to Pat when they had an argument and Richard used to run to Ivor."
Patricia Bredin divorced Emmanuel in 1966 – they had no children – and she met a Canadian construction mogul, Charles McCulloch. In the early 1970s they were on holiday on a Caribbean island, sitting on the beach.
"Do you like it here?" McCulloch asked her. "Does a fish swim?" she replied. "Well, I've bought it for you," he told her. They went on to marry in 1975, but McCulloch died on their honeymoon on a cruise ship on its way to the South Pacific, expiring while dancing the cha-cha-cha.
Patricia Bredin went on to establish a herd of cattle on their estate near Halifax, Nova Scotia, which she managed for nearly a decade. She chronicled her experiences in her 1989 memoir My Fling on the Farm. "There's nothing worse than the headache you get from having 60 cows to muck out," she wrote. "It was a form of insanity which lasted eight years. I suddenly came to my senses and gave them all away."
Patricia Bredin remained in Nova Scotia for the rest of her life.
Patricia Bredin, born February 14 1935, died August 14 2023