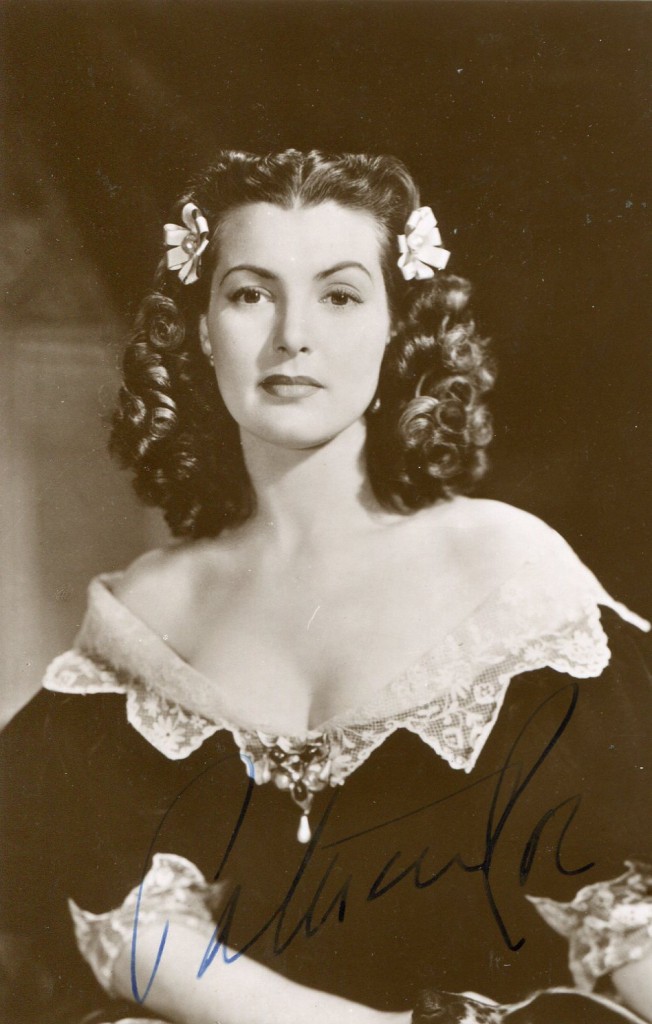 Patricia Roc obituary in "The Telegraph".
Patricia Roc was born in London in 1915. She became famous as one of the four Gainsborough girls, four actresses who appeared in Gainsborough costume melodramas during World War Two. They achieved huge fame in Britain and in the British Commonwealth. The other ladies were Margaret Lockwood, Phyllis Calvert and Jean Kent. The melodrama she appeared in during this time include "The Wicked Lady", "Jassy" "Madonna of the Seven Moons", and "Love Story". Her other major fims include"Johnny Frenchman", "Millions Like Us" and "The Brothers". In 1946 she went to Hollywood to make a Western "Canyon Passage" with Dana Andrews and Susan Hayward. It is now regarded as a cult classic. I wrote to her at her home in Locarno, Switzerland and she kindly wrote back discussing her films. We had occasional correspondence until her death in 2003. Patricia Roc has a very respectable number of good films to her credit, thankfully many of them are available on DVD.
Patricia Roc, who died yesterday aged 88, was the home-grown glamour girl of the British screen, whose sex appeal was nevertheless curiously unerotic; unlike her contemporaries, Margaret Lockwood and Jean Kent, it was impossible to imagine her in a wicked role.
"I was the bouncy, sexy girl next door that mothers would like their sons to marry," she reckoned, "and the sons wouldn't have minded, either." Whether they would have known what to do with her is more debatable; Patricia Roconce received a fan letter from a teenager who wanted to invite her down to Devon for the weekend. "If it's fine," he wrote, "we could cycle into Exeter on Saturday afternoon. It's only 15 miles." She was born to play costume parts and looked so fetching in decollete in such films as The Wicked Lady (1945) and Jassy (1947) that the US censor called for retakes to de-emphasise her cleavage. Not that she exploited it. She was always cast in virginal roles, leaving Lockwood to get on with the seduction scenes. Roc played working girls, loyal wives and "bright young things" and was unfailingly "nice" in every film. She seldom landed big parts, settling instead for second leads. Neither she nor J Arthur Rank, to whom she was under contract at the height of her career, showed any inclination to extend her range. It limited her as an actress, which may be why her career was relatively short. She first caught the public eye in 1943 with Millions Like Us but by 1952, with Something Money Can't Buy, her British career was practically over. Married to a Frenchman, she became a virtual exile, continuing to appear infrequently in Continental films, which achieved only limited distribution in Britain. I
Patricia Roc was born Felicia Miriam Ursula Herold, the daughter of a paper merchant. While still an infant, however, she was adopted by a Dutch-Belgian stockbroker, Andre Riese, and grew up believing him to be her real father. Publicity material gave her date of birth as June 7 1918, but in 1995, as she prepared to celebrate her 80th birthday, she admitted that her agent had trimmed three years off her age and that she had actually been born in 1915. She attended Francis Holland School at Regent's Park and then Bartram Gables School at Broadstairs. After briefly attending Rada, she went to France for a test at the Joinville studios. Though she spoke fluent French, the film was shelved and she returned to England crestfallen. But her luck changed after a chance meeting with the impresario Sydney Carroll led to a West End role in the play Nuts in May, where she was spotted by one of Alexander Korda's casting directors. It was to be her only stage experience.
Her screen career was launched in 1938 in The Rebel Son, based on Taras Bulba, and then in The Gaunt Stranger, from Edgar Wallace's story The Ringer. After a brief marriage to a doctor, Murray Laing, in 1939, Patricia Roc embarked on her career in earnest and between 1939 and 1943 she churned out more than a dozen films, including a version of Eden Philpotts's play The Farmer's Wife (1941) and We'll Meet Again (1943), with Vera Lynn. The breakthrough came with Millions Like Us (1943), written and directed by Frank Launder and Sidney Gilliat and widely regarded as the best film made during the war about the home front. Patricia Roc played one of the many young women who contributed to the war effort by working on factory lines. Married to a young airman (Gordon Jackson) who is killed in action, she had the most sympathetic role in the picture and it made her a star overnight.
It was an ensemble piece, with a large cast of popular players of the time, including Anne Crawford and Joy Shelton. Director Frank Launder followed it with another all-star picture, Two Thousand Women (1944), about an attempt to rescue British women from a concentration camp in France. Patricia Roc shared the acting honours with Phyllis Calvert, Flora Robson, Renee Houston, Anne Crawford and Jean Kent. Love Story (1944) was the first of several pictures in which she played second fiddle to Margaret Lockwood. Roc was cast as the fiancee of Stewart Granger, a pilot losing his sight, who is stolen from under her nose by the terminally-ill Lockwood. The film, featuring the popular Cornish Rhapsody, was a big hit, but Lockwood had the plum part.
This was also true of The Wicked Lady (1945), with Lockwood as a highway robber and Roc cast as a ninny whose fiance she steals, and of Jassy (1947), where Lockwood again had the juiciest role as a gypsy girl suspected of murder.
It was becoming a pattern, with Roc relegated to supporting roles. In Madonna of the Seven Moons (1944), it was Phyllis Calvert rather than Lockwood who stole her thunder as a sober young woman whose gypsy blood drives her to acts of frantic abandon with Stewart Granger.
Patricia Roc was loaned to Ealing studios for Johnny Frenchman (1945), a tale of the rivalry between Cornish and Breton fishermen, and to Hollywood for Canyon Passage (1946), neither of which was a critical or popular success.
While in Hollywood she was romanced by Ronald Reagan, and they had a brief affair. But Patricia Roc was beginning to suspect that her Rank contract was holding her back and turned down Cardboard Cavalier realising that she would simply have been a stooge to the comedian Sid Field. In 1947, she played an orphan girl in The Brothers, a melodramatic tale of superstition, jealousy and heavy breathing among Skye fisherfolk at the turn of the century, and a North country lass in So Well Remembered. In 1948, there were thankless roles in When the Bough Breaks as a London shop girl and in One Night with You. The following year she appeared in The Perfect Woman, a leaden farce in which her uncle invents a robotic woman modelled on her and, through a chapter of accidents, she takes its place.
It was a year of retrenchment in the British film industry and her contract with Rank, which still had three years to run, was terminated by mutual consent. She had just married the French cameraman Andre Thomas and moved with him to France, where she attempted to forge a new career.
Patricia Rochad a small role in The Man on the Eiffel Tower (1949), one of Georges Simenon's Inspector Maigret thrillers, starring Charles Laughton and shot in Paris, and she played opposite Louis Jouvet in an episode of the portmanteau picture Retour a la Vie (also 1949).
Captain Black Jack (1952) was a feeble smuggling yarn in which Patricia Roc had fourth billing behind George Sanders, Agnes Moorehead and Herbert Marshall. In Italy, she appeared in The Widow in 1955, but it was never released in Britain.
She made three trips back to England: for the indifferent thriller Circle of Danger (1951), with Ray Milland; for Something Money Can't Buy (1952) opposite Anthony Steel, a comedy about a couple who start a catering and secretarial agency; and for Bluebeard's Ten Honeymoons (1960), about the mass-murderer Landru (George Sanders), who throws her under a train.
It was Patricia Roc's last film (though she ventured out of retirement in 1980 for the stage presentation Night of 100 Stars, at which she received a standing ovation).
After her marriage to Andre Thomas, it transpired that her husband was unable to have children and during the making of Something Money Can't Buy Patricia Roc embarked on an affair with her co-star, Antony Steel (the Rank Organisation's "Mr Beefcake") which resulted in the birth of a son, Michael.
Thomas, though aware of the truth, accepted paternity, but collapsed and died of a stroke when the boy was only two.
In 1964 she married Walter Reif, a Viennese businessman, and the couple moved to the Swiss resort of Minusio, overlooking Lake Maggiore, in 1976. Reif died in 1986.
Patricia Roc is survived by her son.
Patrica Roc's Telegraph obituary can be accessed on-line here.
BFI Screen on Line
Patricia Roc (born Felicia Riese in London on 7 July 1915) began her screen career in the late 1930s with The Gaunt Stranger (d. Walter Forde, 1938) and The Rebel Son (UK/France, d. Adrian Brunel, 1939). However, wartime saw her gain prominence as one of the most popular contemporary stars of the era. After appearing in John Baxter's Let the People Sing(1942), she became a 'People's War' heroine in Millions Like Us (d. Frank Launder and Sidney Gilliat, 1943) before featuring in Gainsboroughmelodramas.
Although Roc became associated with 'nice girl' roles in Madonna of the Seven Moons (d. Arthur Crabtree, 1944) and The Wicked Lady (d. Leslie Arliss, 1945), she could also do more complex, tougher females as Love Story (d. Arliss, 1944), The Brothers (d. David Macdonald, 1947) and Jassy (d. Bernard Knowles, 1947) revealed. In The Brothers, she combined femme fatale and 'wronged woman' characters in her performance. Roc provided a perfect complement to Margaret Lockwoodin Gainsborough melodramas. She also played herself in a cameo in Holiday Camp (d. Ken Annakin, 1947) as well as performing a dual role as human and robot in the silly comedy The Perfect Woman (d. Bernard Knowles, 1949).
Unlike Lockwood's sensual performances, Roc usually represented the normal, unthreatening aspect of the attractive sincere British female stereotype in her films. Her acting potential seen in The Brothers was never developed. Like Phyllis Calvert she found Hollywood wasted her talents as Canyon Passage (US, d. Jacques Tourneur, 1946) and The Man on the Eiffel Tower (US, d. Burgess Meredith, 1950) both revealed. She returned to British films performing different variations of her sincere star persona before retiring after playing 'first wife' to George Sanders in Bluebeard's Ten Honeymoons (d. W.Lee Wilder, 1960).
Tony Williams, Encyclopedia of British Film