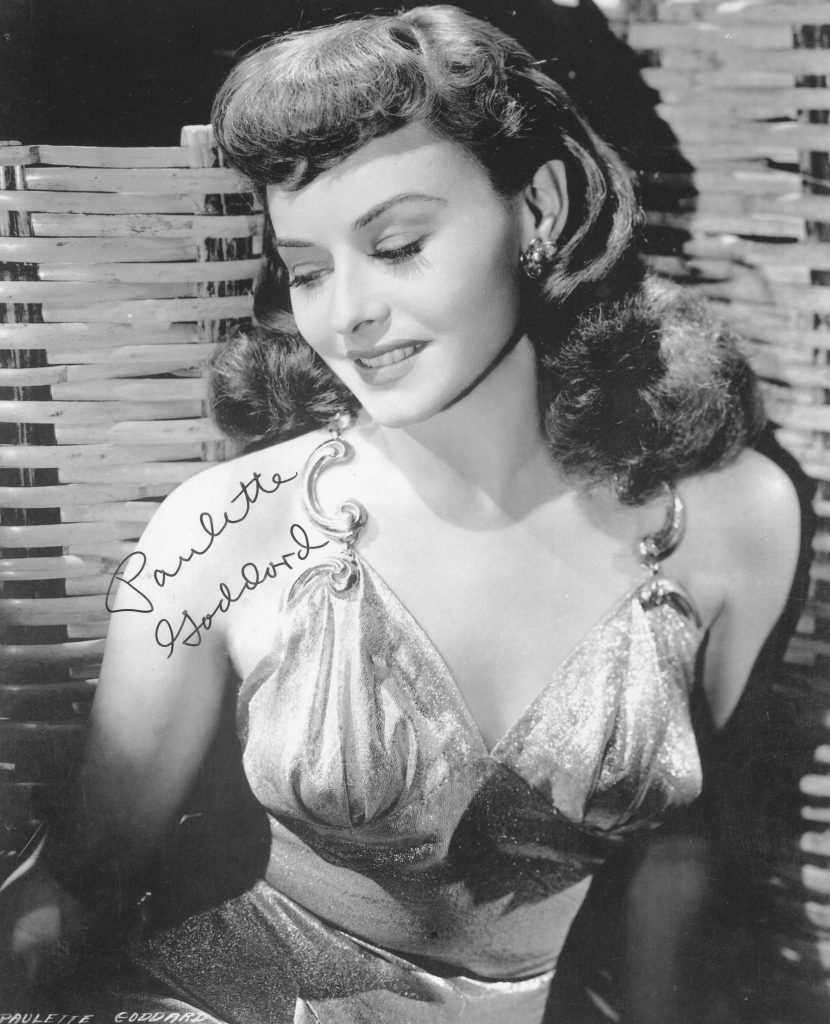 Paulette Goddard was born in 1910 in Queens, Long Island.   In 1932 she met Charles Chaplin and she starred with him in the classic "Modern Times" in 1936.   The final scene in the film when they walk jauntily arm-in-arm and chins held high is one of the iconic scenes on celluloid.   Paulette Goddard was the firm favourite to win the part of Scalet O'Hara in "Gone With the Wind" but lost the role to Vivien Leigh at the last hurdle.   She did though star in many fine films in the 1940;s including "Hold Back the Dawn", "So Proudly We Hail" and "Unconquered".   She married the novelist Erich MariaRemarque (All Quiet At the Western Front) in 1958 and retired to live in Switzerland where she died in 1990.
TCM Overview:
Amiable, effervescent leading lady, in Hollywood from 1929 but virtually unknown until she very touchingly played a waif opposite second husband Charles Chaplin in "Modern Times" (1936). Goddard was one of the final contenders for the much sought-after role of Scarlett O'Hara in "Gone with the Wind" (1939) but ultimately lost out to Vivien Leigh. (One story has it that a possible scandal surrounding her marital status with Chaplin may have kept her from getting the role.) Goddard, an extremely pretty and vivacious brunette, nevertheless became a popular favorite in comedy and period melodrama, remaining a top star at Paramount throughout the 1940s. She is best known as part of George Cukor's all-star distaff ensemble in the riotous "The Women" (1939) and as Bob Hope's co-star in the enjoyable horror comedies "The Cat and the Canary" (1939) and "The Ghost Breakers" (1940).
A link to a blog on Paulette Goddard and her connection to Charles Chaplin can be accessed here.
"New York Times" obituary :
Paulette Goddard, a vivacious film actress adept at playing both sophisticated comedy and sultry melodrama, died of heart failure yesterday at her home outside the Swiss resort of Ronco overlooking Lake Maggiore. Her age was usually listed as 78.
Miss Goddard, a Hollywood star of the 1930's, 40's and 50's, was also publicized for her friendships with many notable figures; her marriages to Charles Chaplin, Burgess Meredith and Erich Maria Remarque, and her glamorous life style.
The actress, a former fashion model and showgirl, made her first major screen appearance in 1936 as a waterfront waif befriended by a forsaken assembly-line worker (played by Chaplin) in "Modern Times," the last silent comedy feature.
Hollywood quickly took notice, and Miss Goddard earned leading comedy roles as an adventuress in "The Young in Heart," as a battling wife seeking a Reno divorce in "The Women," and as Bob Hope's pert romantic foil in "The Cat and the Canary" and "The Ghost Breakers."
Other early roles included a put-upon laundress in Mr. Chaplin's "Great Dictator" (1940); Fred Astaire's partner in "Second Chorus" (1941), in which she gamely struggled to keep up with him in the dance "I Ain't Hep to That Step, But I'll Dig It," and a lusty Southern belle singing a suggestive sea chanty to a party of prudes in the 1942 adventure "Reap the Wild Wind."
The last of these roles was a consolation prize for the major disappointment of her acting career: losing the coveted part of Scarlett O'Hara to Vivien Leigh in the final round of the "Gone With the Wind" competition. At the time Miss Goddard said she "cried her eyes out," but years later she said she recalled the episode as only "like a game."
Miss Goddard, an energetic and articulate woman, was a close friend of a wide range of artists, including the composer George Gershwin, the Mexican muralist Diego Rivera and the artist Andy Warhol. She was wealthy, both from her Hollywood salaries and her husbands, but in later years she sold many costly artworks at auction, including her collection of Impressionist art, which was sold in 1979 for $2.9 million.
At the time, she said her reason for selling was no secret. "It's because I don't want the responsibility any longer for this movable feast," she said, explaining that she was tired of carting the art from Switzerland to California and New York when she changed residences. Coincidentally, more than 20 items in her extensive jewelry collection are being sold today as part of an auction at Sotheby's in New York.
The actress was known for her philanthropies as well as her art and gems. In the last 12 years, she awarded more than $3 million in scholarships to 300 theater and film students at New York University's Tisch School of the Arts. She had previously given the university the diaries, manuscripts and personal library of Remarque, who died in 1970. In a statement yesterday, John Brademas, the university's president, hailed the "vision and continued generosity" of "this remarkable actress."
Miss Goddard's acting also inspired tributes. The writer Robert Benchley praised her as "a woman who could charm a rock," and Ray Milland, a frequent co-star, hailed her as "the most honest actress I ever knew; she gave it all she had."
A celebrated Goddard role was a witty social-climber in "The Diary of a Chambermaid," directed in 1946 by Jean Renoir. She said she preferred such roles to "sweet, boring" parts and that moviegoers also favored "adventuruous characters because 90 percent of the public is good." When an interviewer called her glamorous, she defined glamour as "a spell of charm," adding: "I don't want to be a phony. I want to be real."
The actress could also be blunt. When several of her friends were accused of being Communists by members of Congress in 1947, she remarked, "If anyone accuses me of being a Communist, I'll hit them with my diamond bracelets."
Paulette Goddard was born Marion Levy in Great Neck, L.I., on June 3, 1911, according to major film refererence works. However, news agencies yesterday quoted municipal employees in Ronco as giving her birth year of record as 1905. Her parents separated in her childhood, and she later chose her mother's maiden name, Goddard.
She left school early and became a Powers model and then a Ziegfeld Girl. She was briefly married to Edgar W. James, a lumber industrialist, and soon sought fame in Hollywood. She played a series of chorus and other bit parts, joined the Hal Roach stock company and met Mr. Chaplin, from whom she became inseparable.
Miss Goddard's later film roles included "North West Mounted Police" (1940), "Nothing But the Truth" (1941), "So Proudly We Hail" (1943), "Kitty" (1946), "Unconquered" (1947) and "Anna Lucasta" (1949).
Her roles in the 1950's were disappointing, and, except for a 1964 Italian film, "Time of Indifference," she lived in retirement with Mr. Remarque from the time of her marriage to the novelist in 1958 until his death. Her other marriges ended in divorce.
There are no immediate survivors.
The above "New York Times" obituary can also be accessed online here.