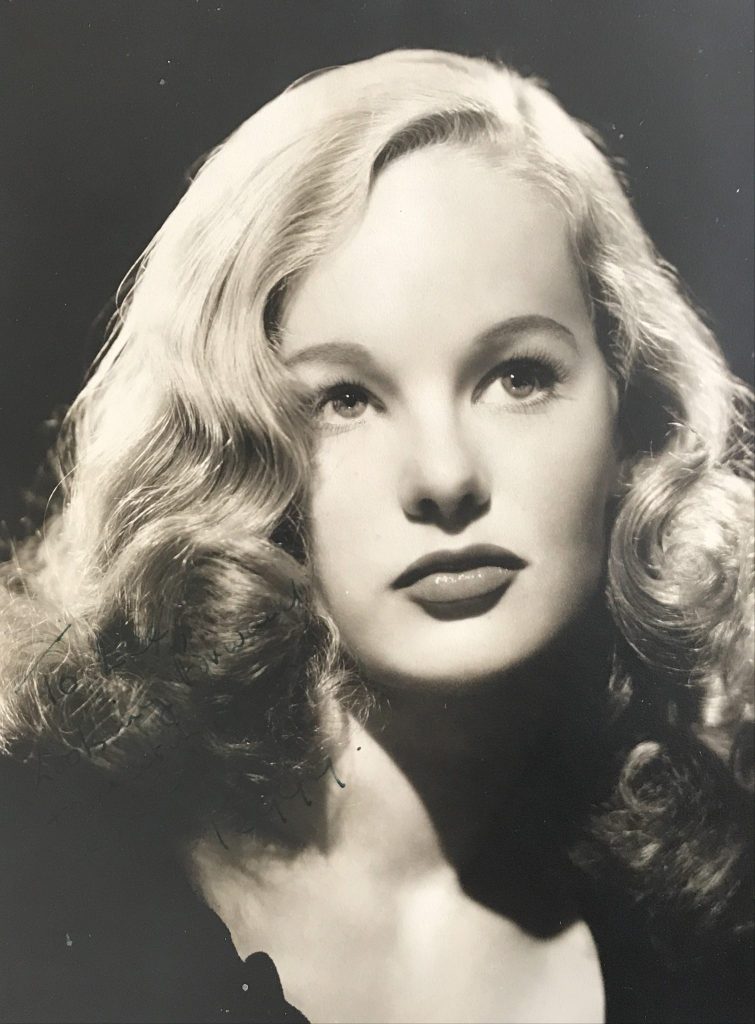 Peggy Cummins obituary in "The Guardian" in 2017.
Peggy Cummins was educated in Dublin but then left for London where she acted on stage and had some minor roles in British films. She was brough to Hollyood to make the film "Forever Amber"in 1945. However she photographed very young and innocent for the part and was replaced by Linda Darnell. Nevertheless she made several films in the U.S.. In 1949 she made "Gun Crazy" which is one of the absolute film noirs and has acheived cult status. The following year she returned to England and resmed her career in British films. She made two further excellent films, "Night of the Demon" with Dana Andrews and "Hell Drivers" with Stanley Baker. She retired from the screen in 1961 and from television in an episode of "The Human Jungle" in 1965.
Peggy Cummin's obituary in "The Guardian" by Michael Freedland in 2018:
The British actor Peggy Cummins, who has died aged 92, was discovered by the Hollywood mogul Darryl F Zanuck when she was a teenager and almost immediately given the lead in his big film of the age, Forever Amber, based on the historical romance by Kathleen Winsor. In 1946 she began filming the part of Amber St Clare, a young beauty making her way in 17th-century England, shooting opposite Vincent Price as Almsbury. Hundreds of stills were shot of her in period costume. But then the director was sacked, filming started all over again – and Cummins was replaced (as was Price).
A career that had promised so much for Cummins was reduced to small parts in big films and big parts in small pictures. Among these, her best known performance was in Gun Crazy (1950), directed by Joseph H Lewis, a film about a gun-toting couple, Annie Laurie Starr (Cummins) and Bart Tare (John Dall), on the run – he wants to go straight, she pushes him further in to a life of crime. Based on a short story by MacKinlay Kantor, and with a script co-written in secret by the blacklisted Dalton Trumbo, it went on to become a revered B-movie film noir, cited as an inspiration for Nouvelle Vague directors and deemed an important forerunner of Bonnie and Clyde. "Until Gun Crazy I'd played pretty blonde types, so I loved the idea of this character," Cummins said. "This was a meaty part I'd been hoping fo.
Daughter of a mother who did a little acting and a father who was a newspaper editor, Cummins was born in Prestatyn, north Wales, but spent her childhood in Dublin, where she had dancing lessons at the Abbey School of Ballet.

She made her first stage appearances as a child, often playing young boys, at the Gate theatre in Dublin. She did well enough to be invited at the age of 13 to London, where she landed a role in the 1938 revue Let's Pretend.
She was a big hit and film producers queued up to offer her roles. The first, in 1940, when she was 15, was a part in a British drama set in Ireland, Dr O'Dowd, which was followed in 1944 by Her Man Gilbey (also known as English Without Tears). But the part that seemed to herald a remarkable career was the lead in the West End version of an American play, Junior Miss, in 1943. Zanuck, who had come to London to study British war propaganda, was in the audience and asked her: "How would you like to go to Hollywood?"The search for an Amber had begun to resemble the quest for a Scarlett O'Hara in Gone With the Wind. Whether Zanuck immediately had Cummins in mind for the part, no one could afterwards be sure. It was announced first that she would appear with Charles Boyer and Jennifer Jones in Cluny Brown (in a role that was eventually taken by Helen Walker). There were appearances in The Late George Apley and Moss Rose, both released in 1947 and neither a really important movie. By then, Zanuck had decided that Cummins was the Amber he was looking for.
The part was racy, and low-cut dresses had already been designed. The costume department took one look at Cummins, decided these would not do at all, and scrapped them at great cost. This was just the first problem. Halfway through production, Zanuck saw the rushes and decided that the director, John Stahl, had to go. He was replaced by the autocratic Otto Preminger, who decided to start again from scratch – his first decision was to sack Cummins. The early stages of the film itself, he said, looked "hopelessly old-fashioned". As for Cummins, he declared: "She's not up to it. She is amateurish and looks too young." The polite explanation given to the public was that she did not have "costume experience".
The critic Dilys Powell commented: "The fact is that in its present stage of development, Hollywood simply doesn't want the beautiful, grave, classical actor, any more than it wants natural vivacity, and that individual dual charm, the young talented actress with a notion to use her talent."
The disappointment for Cummins, replaced by the US actor Linda Darnell, was palpable: "Maybe I wasn't the right kind of sexy," she told Barbara Roisman Cooper for the book Great Britons of Stage and Screen in Conversation (2015). "Maybe I was too young. Maybe I wasn't voluptuous enough.
I don't know if there's even anybody alive today who knows the real story. If I had begun in Hollywood with Cluny Brown I think my career would have been very different." She went on making films, but everything after that seemed like an anticlimax.
Escape (1948), in which she appeared opposite Rex Harrison, received moderate reviews and every now and again pops up at film festivals. One of her best films was My Daughter Joy (also known as Operation X, 1950), with Edward G Robinson as a millionaire businessman who spoils his young daughter (Cummins). Gun Crazy was her last film in the US.
Later, Cummins returned to Britain and made a well received comedy, To Dorothy a Son (1954), which starred Shelley Winters as a US divorcee trying to prevent her ex from starting a new family. Hell Drivers (1957) was notable not for Cummins's participation but for an early appearance by Sean Connery.
The horror film Night of the Demon (1957), directed by Jacques Tourneur and adapted from an MR James story, starred Cummins as Joanna, inquisitive niece of a professor (Maurice Denham) who dies in mysterious circumstances being investigated by Dr John Holden (Dana Andrews). She ended her film career in a Pinewood romp, In the Doghouse (1962), about the life of a London vet, Jimmy Fox-Upton (Leslie Phillips) – Cummins played half of a woman-and-chimp act.
In 1950 she had married the businessman Derek Dunnett, and together they ran a sheep farm in East Sussex. Cummins continued to make occasional stage and TV appearances, and was a regular at film screenings and conventions.
Derek died in 2000. She is survived by their son and daughter.
• Peggy Cummins, actor, born 18 December 1925; died 29 December 2017 Topics

IMDB entry:
Peggy Cummins was born on December 18, 1925 in Prestatyn, Denbighshire, Wales as Augusta Margaret Diane Fuller. She is an actress, known for Gun Crazy (1950), Curse of the Demon (1957) and Green Grass of Wyoming (1948). She was married to Derek Dunnett until his death and has two children.Her two best known films are known by alternate titles: Gun Crazy (1950) (aka "Gun Crazy") and Curse of the Demon (1957) (aka "Curse of the Demon").On June 14th, 2006 she appeared as guest of honour at a special screening of Curse of the Demon (1957) in Borehamwood, Hertfordshire, UK. Looking slim and elegant and nowhere near her age, Peggy answered some questions from the audience before viewing the film for the first time.She went to America for the role of Amber in Forever Amber (1947), but production was suspended after a month for script work, during which time it was decided that she wasn't well known enough to play the lead. She was replaced by Linda Darnell. Brian McFarlane's entry in "Encyclopedia of British Film":In films as a teenager, Cummins is now most famous for two American roles, one she was imported to play but in the event, did not "Forever Amber"and the other as a widly sensual young tearaway in "Gun Crazy" in 1949, a classic film noir. Nothing else in her career can touch this. She could have used some of it's tough sexiness in "Hell Drivers" in 1957 an otherwise admirable British noir. She is though, always acceptable company in mild comedies like "English Without Tears" in 1943, the glamour arm of a con-team "Always A Bride" and "The Captain's Table" made in 1958 when she still looked 18.
For interview in Hollywood in 2012, please click here.