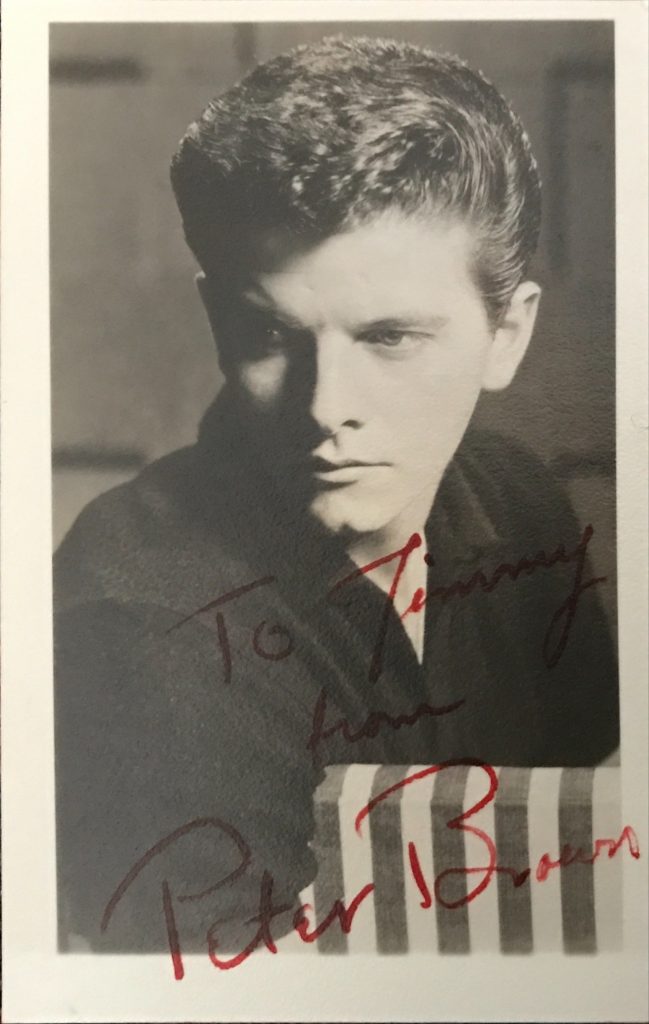 Peter Brown was born in 1935 in New York City. During his U.S. Army Service in Alaska be became involved in writing and acting. In the late 1950's he was signed by Warner Brothers on contract and made "Red Nightmare" and "Darby's Rangers". His first television series was "Lawman" which ran from 1958 until 1962. He made some films for the Walt Disney Studios and was then given the lead in the popular Western series "Laredo". He died in 2016.
Hollywood Reporter obituary:
Peter Brown, who starred as the eager young deputy Johnny McKay on the 1958-62 ABC series Lawman, has died. He was 80. Brown, who played a Texas Ranger on NBC'sLaredo, another TV Western, died Monday at his home in Phoenix as a result of Parkinson's disease, his wife, Kerstin, told The Hollywood Reporter.
In Foxy Brown (1974), the boyishly handsome actor portrayed a bad guy who is castrated by men hired by the revenge-seeking title character (Pam Grier), with his severed genitals being presented to his girlfriend (Kathryn Loder). From 1972-79, Brown played Dr. Greg Peters on NBC's Days of Our Lives and later worked on other soap operas such as The Young and the Restless, Loving, One Life to Live and The Bold and the Beautiful. On Lawman, one of several series that Warner Bros. had on the air at the time, Brown starred as Johnny, an orphan in the 1880s who gets the job as deputy under Marshal Dan Troop (John Russell) in Laramie, Wyo.
The role "came naturally to me," he once said. "My character was not a big stretch; he was a pretty nice kid who was adept at what he did and was eager to learn. Johnny liked girls and guns and all the things Peter Brown liked." Brown returned to the Western genre on the hourlong action comedy Laredo, playing the clever Chad Cooper for two seasons (1965-67). The show's pilot was an episode of The Virginian.
Born in Manhattan, Brown moved with his family to the West Coast, and he studied acting at UCLA. As the story goes, he met studio chief Jack Warner while working at a gas station, and that led to a contract at Warner Bros. He had small roles in such films at the studio as Too Much, Too Soon (1958), Darby's Rangers(1958), Onionhead (1958), Marjorie Morningstar (1958) and The Young Philadelphians (1959) before landing his Lawman gig. After leaving Warners, Brown signed with Universal Studios and made three films in 1964: A Tiger Walks, Kitten With a Whip, starring Ann-Margret, and Ride the Wild Surf. Brown also appeared in such films as Summer Magic (1963), Chrome and Hot Leather (1971),Piranha (1972), The Messenger (1986) and The Wedding Planner (2001) and on TV shows including Wagon Train, Mission: Impossible, The Bob Newhart Show, Police Woman, Dallas, Knight Rider and JAG.
Brown married Kerstin, his fifth wife, in 2008. Survivors also include his children Joshua, Matt and Christi, their spouses and three grandchildren.
The above "Hollywood Reporter" obituary can also be accessed online here.
Website on Peter Brown here.