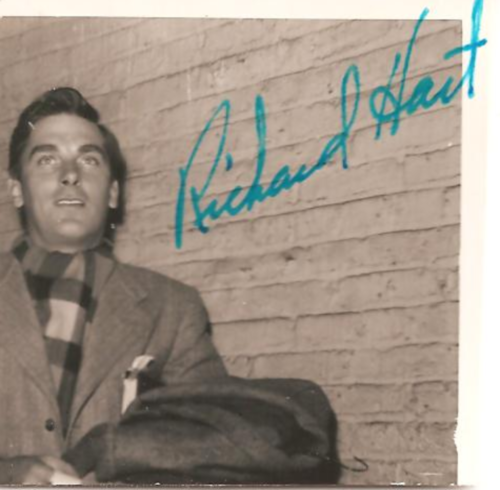 Richard Hart acted mainly on the stage but for a brief time he was a leading man in Hollywood.   He was born in 1915 in Providence, Rhode Island.   In 1945 he had a success on Broadway with "Dark of the Moon".   He was spotted by a talent scout from MGM and offered a contract.   He appeared opposite Lana Turner and Donna Reed in the big budget "Green Dolphin Street" and with Greer Garson in "Remember Me".   Unhappy in Hollywood he left and returned to New York to the stage.   He was in two successes, "Goodbye My Fancy" and "The Happy Time".    He died suddenly from a heart attack at the age of 35 in 1951.
IMDB Entry:
While he had a short life and very short film career, sleekly handsome actor Richard Hart, with his dark and virile looks, demonstrated much promise in those few years, especially on Broadway and in TV's "Golden Age." It all ended quickly, however, with his sudden demise at age 35.
Born Richard Comstock Hart, in Providence, Rhode Island on April 14, 1915, the middle child of a prominent local lawyer, Henry Clay Hart. His grandfather, Richard Comstock, was also a lawyer. Following education at the Quaker-run preparatory Moses Brown School, he majored in English and psychology upon entering Brown University. After attaining his degree, his interest changed and he took journalism classes and had a brief job at Gorham, the silver company, and also took journalism classes before pursuing acting.
A summer stock job in nearby Tiverton, Rhode Island, decided things for Hart and he moved to New York City to pursue a professional stage career. Wife (and high school sweetheart) Eugenia did not adjust to the Manhattan life style and returned to Providence with son Christopher in tow. They abruptly divorced. Following his Broadway debut in "Pillar to Post" in December of 1943, he then went out on tour with Constance Bennett in "Without Love." A superb performance in a repertory production of "Dark of the Moon," led to him being cast in the Broadway version, winning a Theatre World Award in the process and continuing on the national tour. He met second wife, theatre actress Louise Valery, during the run of the show.   MGM saw the dark-haired actor with the trimmed mustache as potential leading man material after seeing his stage success and, with no film training at all, signed Richard and gave him the chance to perform in three prominent movies. In Desire Me (1947) he replaced Robert Montgomery as the man who takes Robert Mitchum away from Greer Garson. In Green Dolphin Street (1947) he was the love interest of both Lana Turnerand Donna Reed. In B.F.'s Daughter (1948) he loses Barbara Stanwyck to Van Heflin. A terrible experience in the first picture mentioned (numerous rewrites, retakes, added scenes and director changes in Desire Me (1947)) disillusioned Hart in pursuing career film work. Not helping was his rather diffident performances on film and a burgeoning alcohol problem.
Following a dismal MGM loan-out opposite Arlene Dahl in Reign of Terror (1949) [aka The Black Book], Hart asked for a release from his contract. Returning to New York, he replaced Sam Wanamaker in the 1949 production of "Goodbye, My Fancy" and co-starred with Charlton Heston and Coleen Gray in the short-lived "Leaf and Bough" which closed the next day. He then enjoyed a major success in "The Happy Time" with Eva Gabor, Leora Dana and Claude Dauphin the following year.   Hart also found a valuable medium in TV, appearing in numerous live productions of Fireside Theatre, NBC Presents, Ford Theatre Hour and Studio One. He also returned to his "Dark of   Moon" stage success on TV for a Phico-Goodyear Television Playhouse presentation and appeared in such classics as "Hedda Gabler" and "Julius Caesar" (as Marc Antony). In 1950 he became the first Ellery Queen on TV, appearing in the low budget Dumont series "The Adventures of Ellery Queen."
On January 2, 1951, Hart died suddenly of a coronary occlusion, possibly triggered by his proliferate alcohol intake. He was divorced once and estranged from his second wife at the time he died. He left a son, Christopher, from his first marriage; two daughters from his second; there is also a debate about another possible son, Richard Lee Hart, from an out-of-marriage relationship to Phyllis Buswell.
– IMDb Mini Biography By: Gary Brumburgh / gr-home@pacbell.net
  HIs IMDB website page here.