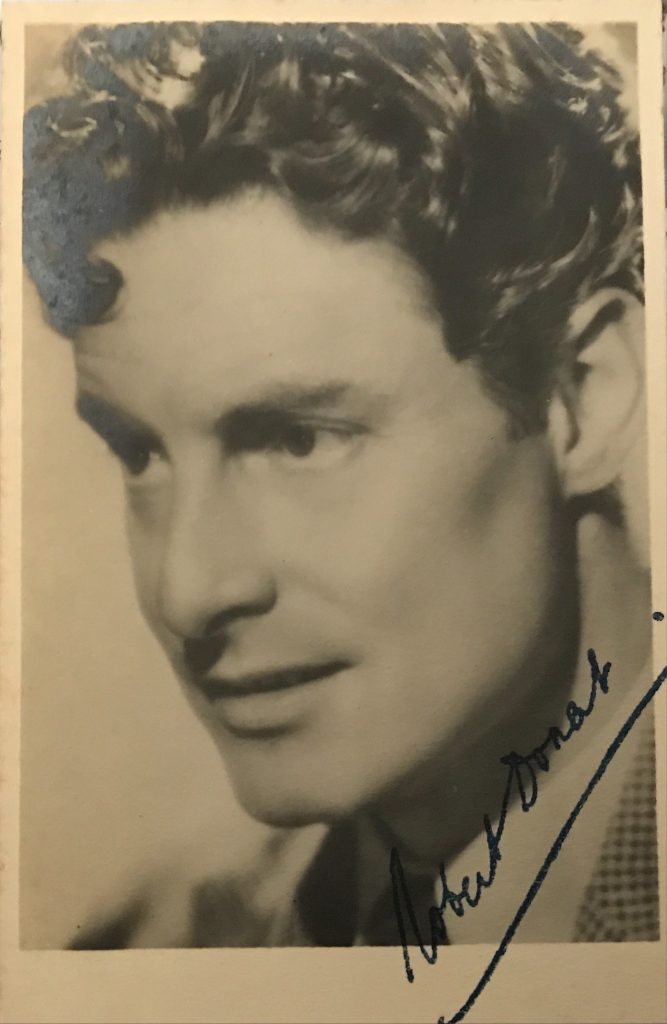 Robert Donat was born in 1905 in Manchester.   His stage debut came in 1921 and the following year made his first film "Men of Tomorrow".   He suffered from asthma which restristed his career.   Although his film career is not extensive , his films are choise.   They include "The Ghost Goes West" in 1935, "The Private Lives of Henry 8th".   He went to Hollywood to make one film "The Count of Monte Cristo" in 1934.   He won an Academy Award for his performance opposite Greer Garson in "Goodbye Mr Chips".   His last film was in 1958 in "The Inn of the Sixth Happiness" with Ingrid Bergman in 1958.   He died the same year at the age of 53.
TCM Overview:
One of Britain's biggest stars from the Golden Age of movies, handsome Manchester native Robert Donat established himself as a formidable stage performer via one of Britain's leading Shakespearean companies and made a splash in "The Private Life of Henry VIII" (1933), which also proved to be a major success abroad. A well-respected star in his homeland, Donat also built a following in America, but in the wake of "The Count of Monte Cristo" (1934), he opted to work only in England, which allowed him to continue appearing on the London stage. In between those engagements, he graced some of England's best films of the 1930s, including Alfred Hitchcock's "The 39 Steps" (1935), "Knight Without Armour" (1937), "The Citadel" (1938) and "Goodbye, Mr. Chips" (1939), which earned him a well-deserved Academy Award for Best Actor. Unfortunately, chronic asthma hindered Donat for much of his life, forcing him to take long periods of convalescence; by the time he appeared in "The Inn of the Sixth Happiness" (1958), he was forced to have an oxygen cylinder nearby at all times. Although poor health curtailed his career and forced Donat to turn down a number of potentially interesting roles, he managed to achieve a degree of respect and popularity with British audiences that matched such formidable contemporaries as Laurence Olivier.
Robert Donat was born Friedrich Robert Donat in Withington, Manchester, England on March 18, 1905. Intrigued by the prospect of being either a stage or screen actor, Donat first needed to overcome a pronounced stammer, which he was able to eventually do with the assistance of an elocutionist, who also helped him adopt a more neutral accent. In the wake of this speech therapy, Donat was revealed to possess a superb speaking voice and he left Central High School for Boys at age 15 in order to pursue an acting career. He made his stage debut a year later in a production of "Julius Caesar" and Donat's proficiency with the Bard's writings helped to establish him as an up-and-coming stage performer. He spent 1924 through 1928 as a member of Sir Frank Benson's Company, appearing in such Shakespeare standards as "Merchant of Venice," "King Lear" and "Hamlet."
After honing his craft for several years with the Benson players and the Venner Repertory Company, Donat began to perform regularly in London. He soon acquired a positive reputation, but sought to appear in movies in order to help support himself and his wife. Donat first graced the silver screen in the crime drama "That Night in London" (1932), with his first notable part coming in "The Private Life of Henry VIII" (1933) as Thomas Culpeper. The picture was a notable critical and financial success, particularly in the United States, which led to an invitation from Hollywood for him to star in "The Count of Monte Cristo" (1934). As the unjustly besmirched Edmund Dantes, Donat made for a dashing, charismatic hero and the film proved to be a rousing and visually pleasing adaptation that satisfied both critics and the public.
Although he seemed on the verge of making a big splash in America, and was considered for the title role in "Captain Blood" (1935) that eventually went to Errol Flynn, Donat decided that he preferred working in England and returned home, where he was recruited to star in one of his most famous films, Alfred Hitchcock's "The 39 Steps" (1935). Playing a man unjustly suspected of murder, Donat exuded great charm in his scenes with female lead Madeleine Carroll and added greatly to the movie, considered to be among its director's best early efforts. Donat essayed a dual part in the delightful fantasy-comedy "The Ghost Goes West" (1935), as both an American businessman and his ancestral ghost, whom he unknowingly brought back home with him after moving the family's castle in Scotland across the ocean. Critics were less impressed than ticket buyers, but it went on to be the top grossing British motion picture upon its general release the following year. Donat also displayed excellent chemistry with Marlene Dietrich in "Knight without Armour" (1937), a lavish tale of espionage set during the Russian Revolution. In the wake of these hits, he was put under contract by the British arm of the prestigious Hollywood studio, MGM.
Donat's career was progressing wonderfully. He had become extremely popular with movie audiences, while also being able to continue his stage work in plays like "Romeo and Juliet" and "The Devil's Disciple." Unfortunately, these successes were dampened by a continuing problem with asthma attacks, which first began to afflict him earlier in the decade and caused production of "Knight Without Armour" to be halted for a month. His initial film for MGM was "The Citadel" (1938) and Donat received an Oscar nomination for his turn as a doctor who selflessly devotes himself to treating the poor, but has his ideals tested upon relocating to London and being exposed to the upper class. He was honored with a Best Actor Academy Award statue for "Goodbye, Mr. Chips" (1939), in which Donat portrayed a beloved English schoolmaster from age 25 through 83. In one his best remembered performances, Donat demonstrated remarkable range, beautifully conveying the breadth of the character's life with both subtlety and dignity.
It would be three years before Donat returned to movies by essaying the title role in "The Young Mr. Pitt" (1942), with the historical biopic about the 19th century leader designed as a morale booster for war-weary English viewers. "The Adventures of Tartu" (1943) was a WWII thriller in the same vein, with Donat cast as a British soldier ordered to destroy a poison gas plant in occupied Czechoslovakia. That year, he also took over management of the Westminster Theatre, where he staged "The Cure for Love" and worked on radio. Donat was well matched with the lovely Deborah Kerr for the wartime romance "Perfect Strangers" (1945), though his real-life marriage to first wife Ella Annesley Voysey came to an end the following year. He appeared briefly as famous Irish politician Charles Parnell in "Captain Boycott" (1947) and enjoyed one of his best latter career parts in "The Winslow Boy" (1948), a superb adaptation of Terence Rattigan's play concerning a naval cadet falsely accused of theft.
Donat expanded his motion picture credentials via the film version of "The Cure for Love" (1949), which he also wrote, produced and directed. Audiences adored the Lancashire-set comedy, but it was too local in nature to earn much international release and would be largely forgotten in later years. Remembered somewhat more widely, "The Magic Box" (1951) found Donat playing William Friese-Greene, the purported inventor of the movie camera and projector. The production's claim of Britain deserving said honor was widely disputed, but Donat's compelling performance more than compensated. By that point, Donat's asthma issues (which he felt were psychosomatic) had hindered his career to an even greater degree, but he forged ahead. In 1953, the actor wed his second wife, actress Renée Asherson, and appeared at the Old Vic in "Murder in the Cathedral," his final stage turn. Donat's talents provided the best reason to watch the drama "Lease of Life" (1954), his first feature after a three-year absence, but by the late 1950s, Donat's health had disintegrated to the point where he required steady access to an oxygen tank and the shooting of "The Inn of the Sixth Happiness" (1958) proved to be a difficult ordeal. He died on June 9, 1958, a brief time after the movie wrapped. His acting in "Sixth Happiness" took on an extra level of poignancy as Donat's character was also on the verge of death. He was posthumously awarded a star on the Hollywood Walk of Fame in 1960.
By John Charles
The above TCM overview can also be accessed online here.