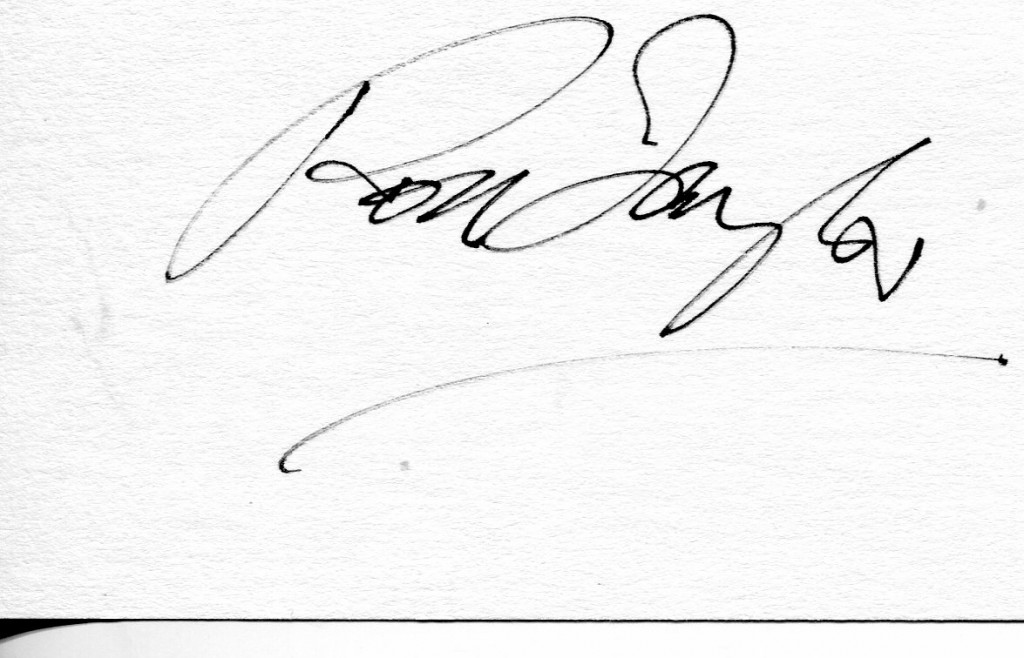 "Handsome and brawny, Rod Taylor has nevertheless played comedy with some finesse and drama with considerable sensitivity, but he seems less to want to act than to blaze away as the beefy, breezy hero of what "Variety" called 'middle-budget action pictures. While the fan magazines refer to him as a 'Tough Guy', critics call him 'underrated'. The public likes him. He says he waits for parts that interest him, then adds that he has little patience with stars who sits around demanding the earth in exchange for their services. If I get the rate for the job, I'm satisfied'. Perhaps this is what has kept him from reaching that area here all the best parts are offered around" – David Shipman in "The Great Movie Stars – The International Years" (1972).
Rod Taylor has enlivened many adventure films and is one of my favourite actors. He was born in Sydney, Australia in 1930. He began his career there on radio and in film. In 1954 he went to Hollywood and soon began appearing in supproting parts in such films as "Giant" and "The Catered Affair". In 1960 he had his own series on U.S. television "Hong Kong" and had also the lead in the classic "The Time Machine". In 1962 Alfred Hitchcok cast him in "The Birds" with Tippi Hedren and Suzanne Pleshette. In the 1960's he was at the height of his fame with films such as "Sunday in New York" with Jane Fonda. "Fate is the Hunter", "Young Cassidy" with Maggie Smith and Julie Christie and "Hotel" with Merle Oberon. In 1970 he starred in an excellent TV series "Bearcats". He has continued working regularly over the years but he is under appreciated and his career is ready for reevaluation. It was great to see Quentin Tarentino cast him in "Inglorious Bastards" as Winston Churchill. Sadly he passed away in 2015. To view the Rod Taylor website, please click here.
"Daily Telegraph" obituary:
Rod Taylor, who has died aged 84, was an early pioneer in what would much later become a flood of talented actors from Australia taking on leading roles in Hollywood.
By the time Alfred Hitchcock cast him opposite Tippi Hedren in The Birds (1963), Taylor had long cast off his Aussie vowels for an American twang as he played a ruggedly handsome hero convincingly menaced, along with the rest of the human cast, by a homicidal avian horde.
It was the sort of role that would have been played in Hitchcock's earlier films by Cary Grant or James Stewart; but the director admitted that because of the necessarily inflated special effects budget he could not on this occasion afford a bigger star. The screenwriter on the film, Evan Hunter, amusingly described Taylor's performance as "so full of machismo, you'd expect him to have a steer thrown over his shoulder".
Not that Taylor was exactly a stranger to Hollywood when Hitchcock picked him for what will probably remain the actor's most enduring credit across a long career in film and on television. Three years earlier he had played H G Wells's intrepid time-traveller in The Time Machine (1960) – a film remade more than 40 years later with Guy Pearce. It was the first of many leading roles which had clearly beckoned ever since Taylor had first been signed to the traditional seven-year "slave" contract by MGM in 1956.
As a result of that contract he was given small roles in some extremely high-profile studio productions such as Giant (1956), Raintree County (1957) and Separate Tables (1958). But with star-laden casts that included the likes of Elizabeth Taylor, Montgomery Clift, James Dean, Rock Hudson, David Niven, Wendy Hiller and Deborah Kerr, his "supporting" contributions were effectively invisible. However, after The Time Machine and The Birds, as well as a warm-hearted "voice" performance as Pongo in Disney's animated canine classic One Hundred and One Dalmatians (1961), Taylor was to become swiftly translated to "above the title" status.
The son of a steel contractor and a children's book writer, Rodney Sturt Taylor was born in Sydney on January 11 1930 and attended Parramatta High School and East Sydney Technical and Fine Arts College. He trained first as a commercial artist before deciding on a career as an actor after seeing various productions, notably Richard III, during Sir Laurence Olivier's trailblazing Old Vic tour of Australia in 1948.
Work in radio – he played both the intrepid British air ace Douglas Bader in an adaptation of Reach for the Sky and Tarzan – and on stage followed. He then landed his first film roles, as an American in the people-smuggling thriller King of the Coral Sea (1954), and, in the same year, portraying Israel Hands in Long John Silver, a sequel to Treasure Island, the film that had launched a thousand impressions of the peg-legged, be-parroted pirate played by eye-rolling Robert Newton.
It was, however, Taylor's prowess on the airwaves that led him to quit his native Australia in the 1950s, after winning a radio talent contest. Part of the prize was an air ticket to Los Angeles and London. Taylor stopped off in LA on the first leg – and never really left.
Once he had cemented his stardom in Hollywood, his roles – mostly of the virile, action-man variety – came thick and fast, notably in three films directed by Jack Cardiff, the British film-maker better known for his great cinematography. There was Young Cassidy (1965), as the aspiring Irish playwright Sean O'Casey; The Liquidator (1966), one of the earliest and best of the James Bond spoofs; and The Mercenaries (1968), a bloodily violent adaptation of Wilbur Smith's Congo-set bestseller, Dark of the Sun, with Taylor as a hard-nosed but well-meaning major caught up in the heart of darkness.
Later in his career Taylor occasionally returned to Australia to make home-grown films such as The Picture Show Man (1977), as a travelling projectionist in the pre-talkies 1920s, and Welcome to Woop Woop (1997), chewing up the scenery as a foul-mouthed, small-town tyrant in the Outback. In these Taylor was able, unusually, to play in his native accent.
He had grabbed that rare opportunity with both hands in Anthony Asquith's comedy-drama The V.I.P.s (1963), opposite Elizabeth Taylor, Richard Burton, Louis Jordan and Margaret Rutherford, as an Australian tycoon giving his secretly adoring assistant Maggie Smith, in a scene-stealing early screen role, a hard time as he tries to seal a last-minute deal.
Urged out of retirement by Quentin Tarantino in 2009, his final showy cameo was, almost unrecognisably, as a cigar-smoking Winston Churchill in Tarantino's revisionist Second World War thriller romp Inglourious Basterds.
Taylor was thrice married. He is survived by a daughter from his second marriage, Felicia, a reporter for CNN, and by his third wife, Carol, whom he married in 1980.
Rod Taylor, born January 11 1930, died January 7 2015
His IMDB mini biography:
Suave and handsome Australian actor who came to Hollywood in the 1950s, and built himself up from a supporting actor into taking the lead in several well-remembered movies. Arguably his most fondly remembered role was that as George (Herbert George Wells), the inventor, in George Pal's spectacular The Time Machine (1960). As the movie finished with George, and his best friend Filby Alan Young seemingly parting forever, both actors were brought back together in 1993 to film a 30 minute epilogue to the original movie! Taylor's virile, matinée idol looks also assisted him in scoring the lead of Mitch Brenner in Alfred Hitchcock's creepy thriller The Birds (1963), the role of Jane Fonda's love interest in Sunday in New York (1963), the title role in John Ford's biopic of Irish playwright Sean O'Casey in Young Cassidy (1965), and a co-starring role in The Train Robbers (1973) with John Wayne. Taylor also appeared as Bette Davis future son-in-law in the well-received film The Catered Affair (1956). He also gave a sterling performance as the German-American Nazi Major trying to fool James Garner in 36 Hours(1965). Later Taylor made many westerns and action movies during the 1960s and 1970s; however, none of them were much better than "B pictures" and failed to push his star to the next level. Aditionally, Taylor was cast as the lead in several TV series including Bearcats! (1971), Masquerade (1983), and Outlaws (1986); however, none of them truly ignited viewer interest, and they were canceled after only one or two seasons. Most fans would agree that Rod Taylor's last great role was in the wonderful Australian film The Picture Show Man (1977), about a traveling side show bringing "moving pictures" to remote towns in the Australian outback.
– IMDb Mini Biography By: firehouse44
This IMDB page can also be accessed online here.