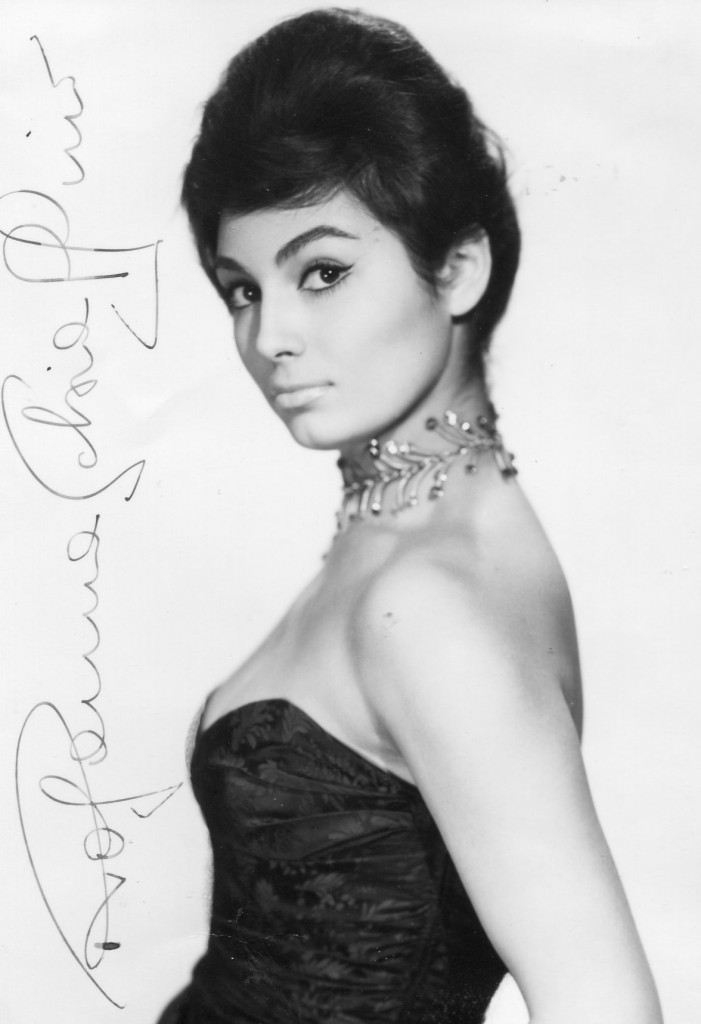 Rosanna Schiaffino obituary in "The Guardian" in 2009.
Rosanna Schiaffino who has died aged 69, was one of those Italian beauty queens who began a promising acting career in the post-neorealist cinema of the 1950s. She gave up the cinema in the 1970s and married the handsome playboy and steel industry heir Giorgio Falck. Their marriage and, a decade later, their break-up and divorce, had overtones of melodrama more piquant than the content of any of the 45 films in which Schiaffino had starred.
She was born in Genoa, in north Italy, into a well-off family and, although her father wanted her to pursue studies as a surveyor, her mother encouraged her showbusiness ambitions, helping her to study privately at a drama school and then to take part in beauty contests, which she usually won. These led to modelling jobs, with photographs in important magazines, including Life.
At the age of 27, she was offered her first film roles, which brought her to the notice of the producer Franco Cristaldi, who launched many of the stars and directors of that era. He paired her with Marcello Mastroianni in Un Ettaro di Cielo (A Hectare of Heaven, 1959), shown at the Brussels and Edinburgh festivals. More significant was her second film for him, La Sfida (The Challenge), directed by Francesco Rosi, which was well received at the 1958 Venice festival, where Schiaffino was much admired for her powerful but sensitive performance as a Neapolitan girl, inspired by a real-life character. On the day of her wedding to the young man with whom she has been having a passionate affair (the part was played by the Spanish actor José Suarez), he is killed by the Camorra, which he has been trying, ingenuously, to outwit for control of the fruit market.
In 1959, she starred in Mauro Bolognini's La Notte Brava, one of the first films co-scripted by Pier Paolo Pasolini, who was not too happy about the casting of French actors such as Laurent Terzieff and Jean-Claude Brialy to play his Roman toughies, but approved of the choice of the actresses, Elsa Martinelli and Schiaffino. In 1962 she appeared in Vincente Minnelli's Two Weeks in Another Town. But though the publicists had tried to launch Schiaffino as an "Italian Hedy Lamarr", she was unlucky. She would have been more appropiately heralded as the new Italian sex goddess after Gina Lollobrigida and Sophia Loren, but in the early 1960s that role was passing to Claudia Cardinale, who would later marry Cristaldi, with whom Schiaffino still had a contract. Indeed, in 1960 Schiaffino was to have played Paolina Borghese in a new Abel Gance film about Napoleon, but Cristaldi, who was co-producer, secured the role for Cardinale.
Schiaffino found another producer interested in her career, Alfredo Bini, whom she would marry. In Bini's 1963 production RoGoPaG (named after its four directors, Roberto Rossellini, Jean-Luc Godard, Pasolini and Ugo Gregoretti), although Pasolini's episode La Ricotta would be most remembered, Schiaffino showed her mettle in Rossellini's Illibatezza (Chastity). She gave credibility and humour to the role of an air hostess who succeeds in shaking off the advances of an American PR guy looking for the perfect chaste girl for an advertising campaign, by turning herself into a vampish glamourpuss.
A more explicitly erotic role for her was that of Lucrezia, the heroine of one of the most salacious plays of Renaissance theatre, Niccolò Machiavelli's masterpiece La Mandragola (The Mandrake), banned for centuries by the Vatican, which Alberto Lattuada adapted into an over-the-top Italian comedy in 1965, with the comedian Totò, with whom Rosanna had played in an earlier film, as the cunning priest who convinces her to accept an artful stratagem for cuckolding her husband. Schiaffino won the only acting honour of her career for this performance.
In 1966 she played a lead role in two international productions set up by Bini, neither of which would give lustre to their careers. One was a biopic, El Greco, filmed in Toledo with Mel Ferrer in the title role, made by a director, Luciano Salce, who was more at home with satirical comedy. The other was an adaptation of Joseph Conrad's The Rover, directed by Terence Young, in which Schiaffino co-starred with Anthony Quinn and Rita Hayworth.
After another 15 films, none of them particularly notable, in 1976 she decided to give up the cinema and divorced Bini, with whom she had had a daughter. She began a new life with the jet set, and during the summer of 1980, in Portofino, met Falck, who had also just divorced. Their affair was big news for the gossip columnists. In 1981 she gave birth to their son, Guido, and in 1982 they were married in Milan's city hall by the mayor. Their marriage and its gradual decline after she had been diagnosed with breast cancer in 1991, and the subsequent divorce, led to unpleasant recriminations on both sides over the custody of their son and the inheritance, but they came to an agreement before Falck died in 2004.
Schiaffino is survived by her daughter, Antonella, and her son.
• Rosanna Schiaffino, actor, born 29 November 1939; died 17 October 2009
The above "Guardian" obituary can also be accessed online here.
Tribute
2014
Seductive, dark-haired Italian beauty Rosanna Schiaffino never quite made the big time, but she co-starred in an array of features from both Europe and Hollywood, working with some of the finest directors along the way. A talented actress, she brought glamour and flair to a host of European adventures and popular Art-house features.
Born in Genoa, Italy on November 25th 1939, Rosanna was a teenage beauty queen, then model before being propelled into movies and dubbed the 'Italian Hedy Lamarr'. A promising start came in Francesco Rosi's realistic drama 'The Challenge', where Rosanna gave a sensitive portrayal of a real-life Neapolitan whose husband is murdered by the Mafia on their wedding day. Schiaffino impressed again the following year in Pier Paolo Pasolini's 'The Big Night' ('59), as an aimless teenager on a wild trip through the streets of Rome. A sword and Sandal flick followed with 'Romulus and the Sabines' ('61), which was an early vehicle for Roger Moore, in which Rosanna played the beautiful goddess Venus.
In 1962 Rosanna got her Hollywood break with a small ingénue role in Vincente Minnelli's 'Two Weeks in another Town', starring Kirk Douglas and Edward G. Robinson. She was then Vince Edwards' love interest in Carl Foreman's epic war drama 'The Victors' ('63), and Sidney Poitier's wife in Jack Cardiff's colourful adventure 'The Long Ships' ('64), starring Richard Widmark. A black-comedy followed with Ken Hughes 'Drop Dead Darling' ('66), playing the target of Tony Curtis's lady-killer, which featured a standout turn from Lionel Jeffries as Curtis's valet. Back on home turf Rosanna had the starring role in the interesting Nunsploitation picture 'A Nun at the Crossroads' ('67), as the beleaguered Sister Maria, battling an uprising in the Belgium Congo alongside John Richardson's caring doctor.
A good role followed when she appeared alongside Anthony Quinn in Terence Young's high seas adventure 'The Rover' ('67), playing an unstable girl pursued by Quinn's stranded sailor. Rosanna was excellent in the obscure 1969 drama 'Check to the Queen' (aka 'The Slave'), as an actress and model who takes in a young assistant (a cute Haydée Politoff) who secretly harbours perverse desires. Both actresses look stunning and the movie is a very good tale of decadence among the high-classes. A sex flick followed with the bawdy comedy 'In Love, Every Pleasure Has Its Pain' ('71), which starred popular Italian lead Nino Manfedi as a peasant who agrees to help his friend marry his ideal woman (Schiaffino) on condition that he can share her once they're wed.
After playing a nymphomaniac in Enzo G. Castellari exploitation piece 'Hector the Mighty' ('72), Rosanna co-starred with Richard Crenna and Stephen Boyd in the under-rated western 'The Man Called Noon' ('73), as a damsel-in-distress who falls for Crenna's amnesiac gunslinger. Rosanna then top-lined and even stole the show, in the cult mystery 'The Killer Reserved Nine Seats' ('74), a neat giallo with a supernatural twist. By now Schiaffino's career was in a steady decline, and she was now taking supporting roles in exploitation fare such as Jorge Grau's silly sex comedy 'Back of the Store' ('75).
In 1976, after ten years of marriage to film producer Alfredo Bini, Schiaffino left her husband and quit the movies after beginning an affair with playboy heir Giorgio Enrico Falck. Now happy among the jet-set and with a newborn son, the couple married in 1982. Personal problems and Rosanna's cancer diagnosis in 1991, led to their breakdown and later divorce, before Falck died in 2004. Sadly, Rosanna later died after her long battle with breast cancer, in Milan on October 17th 2009, aged 69.
A capable actress, Rosanna Schiaffino was also a tabloids dream who adorned the covers of Life magazine around the world. A sensual beauty who was prone to scandal and who could be difficult on set, she nevertheless livened up a number of classy productions in a wide variety of roles.
Favourite Movie: Check to the Queen
Favourite Performance: The Killer Reserved Nine Seats