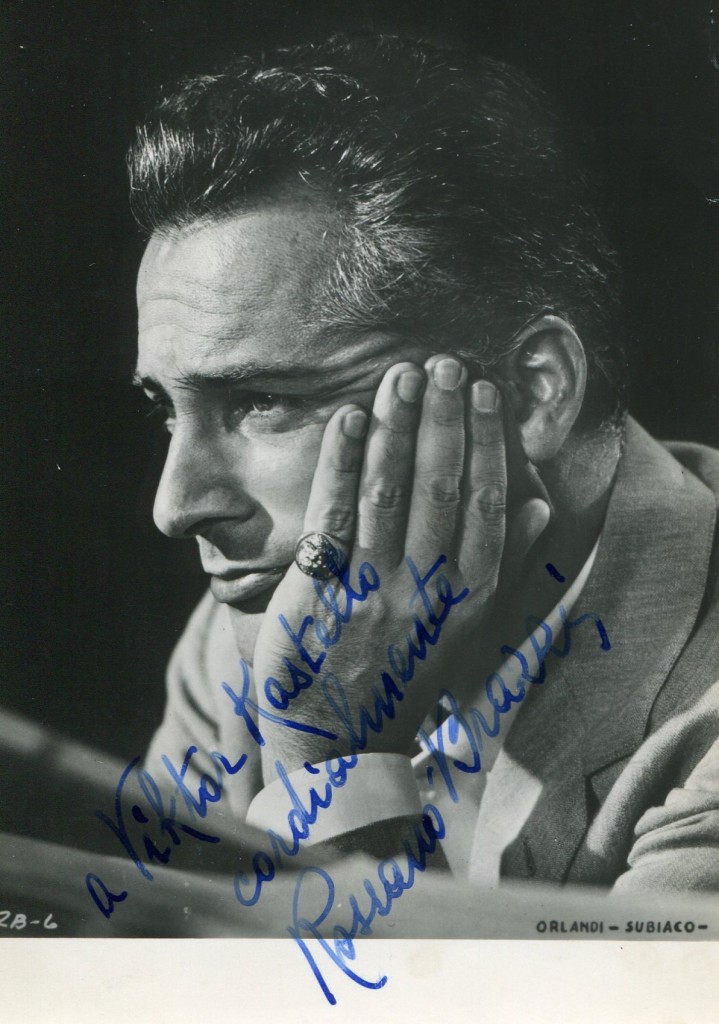 Rossano Brazzi was born in Bologna, Italy in 1916. He was raised in the city of Florence. He began his career in Italian films in 1938 with "Il destino in tasca". In 1949 he went to Hollywood to make "Little Women" with June Allyson, Margaret O'Brien and Elizabeth Taylor. He returned to Italy shortly thereafterand resumed his career in Europe. In 1954 he starred in "Three Coins in the Fountain" and thus began twelve years of high profile films including "South Pacific" with Mitzi Gaynor perhaps his most wekk known role. He starred opposite some of the great ladies of the silver screen including Katharine Hepburn, Olivia de Havilland, Deborah Kerr, Maureen O'Hara, Joan Fontaine and Suzanne Pleshette. He died in 1994 at the age of 78.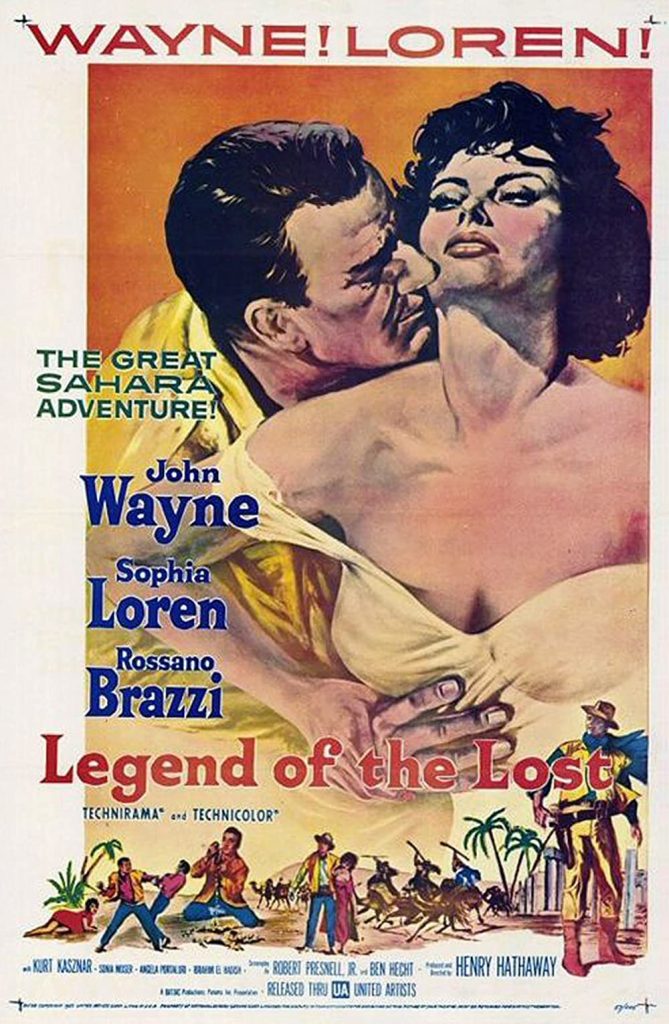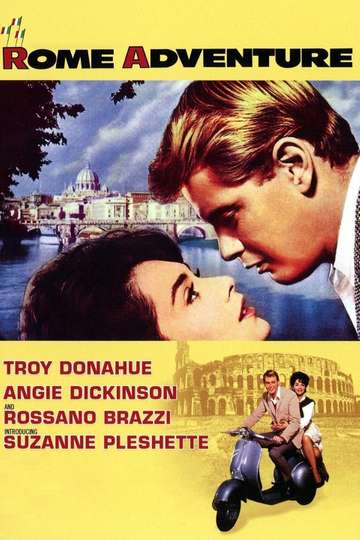 Rossano Brazzi's obituary from "The Independent" newspaper by David Shipman:
As Hollywood's enormous audience decamped to television in the 1950s the American film industry looked to Europe to help it out. The movie stars of Germany, France and Italy were imported in the hope that their American films would attract large audiences in their native countries. Sophia Loren made it big in the United States after a shaky start. Vittorio Gassmann, arguably the most versatile of the Italians, found it hard to find his niche in America. So for several years Rossano Brazzi was Hollywood's favourite Italian male, a romantic figure, impeccably groomed and doubtless planning seduction over a candle-lit dinner for two in a Roman trattoria.
This was a role Brazzi played several times – if more successfully in the US than in Italy. After a short stage career Brazzi entered films in 1939, but his only Italian movie of this period to have entered the international repertory is La Tosca (1940),started by Jean Renoir but finished by Carl Koch after the French embassy had advised Renoir to leave the country as more and more Germans poured into Rome.
Given the subject – Rome at the time of Napoleonic invasion – the analogy could not have been lost on Renoir, or on Renoir's compatriot Michel Simon, who stayed to complete his role as Scarpia. Imperio Argento, a popular actress of her day, was miscast as Tosca, but Brazzi fared better as her Cavaradossi.
La Tosca was not seen in the US until 1947, the third of Brazzi's pictures to appear there almost simultaneously, attracting the attention of Mervyn Le Roy at MGM, who chose Brazzi to play the professor to June Allyson's Jo in the second sound version ofLittle Women (1949). He was both strong and sympathetic in the part, qualities little in demand in most of his other English-language movies.

He did not, in fact, return to Italy until 20th Century-Fox filmed John H. Secondari's novel about three American girls involved in amorous adventures while working in Rome, Three Coins in the Fountain (1954), directed by Jean Negulesco. One of the women was played by Jean Peters, who gets Brazzi sacked because the staff aren't supposed to fraternise with the locals: but because he isn't exactly pleased when she thinks she's pregnant by him the role hardly showed him in a pleasant light.
Nor did that in The Barefoot Contessa (1954), Joseph Mankiewicz's analysis of a movie star – Ava Gardner, playing someone very much like herself. Brazzi was the Italian aristocrat who confesses after marriage to her that he's impotent. Mankiewicz thoughtthe film weakened because he himself did not have the courage to carry out his original intention of making the count homosexual.
The two films typecast Brazzi as a Latin lover likely to be not all what he seems. In David Lean's Summer Madness (1955) he is the Venetian antiquarian attracting a middle-aged spinster secretary from the mid-West, played by Katharine Hepburn. He may be her first and last fling; she bites her lip on realising that she is only the latest in a long line of adulteries.
In Interlude (1957), he is again married, again seducing an American working in Europe, June Allyson; in The Story of Esther Costello he is a seedy but suave con man who tries to rape the orphan charge of his wife, Joan Crawford. In his third film that year, Legion of the Lost, he journeys into the Sahara with his true love, Sophia Loren, but deserts her when she refuses to let him have his way with her, later trying to kill John Wayne as he digs for water.
This was hardly a CV likely to qualify him for one of the most important movie roles available in 1958. On Broadway, South Pacific had been a triumph for Rodgers and Hammerstein and for Joshua Logan, who directed and who had written the book with Hammerstein.

Brazzi was cast for the film version as the ageing French Polynesian planter who captures the heart of an American nurse, though his singing voice was dubbed Giorgio Tozzi; but even among all the niceness Brazzi's character remained somewhat dubious, having fathered two children by local women.
The film's huge success was of no benefit to Brazzi. He continued to work, but chiefly in supporting roles. There were two notable exceptions: Negulesco's Count Your Blessings (1959), in which he was a French playboy incapable of fidelity to Deborah Kerr, and The Battle of the Via Favorita (1965) as the widower whose re-marriage – to Maureen O'Hara – shocks their children
. He also directed himself in the Italo-American The Christmas That Almost Wasn't (1965) and, under the pseudonym Edward Ross, SalvareLa Faccia (1969), a.k.a. Psychout for Murder. He also appeared in US teleseries such as Hawaii Five-O, Charlie's Angels and Hart to Hart.
David Shipman
The "Independent" newspaper obituary can also be accessed here