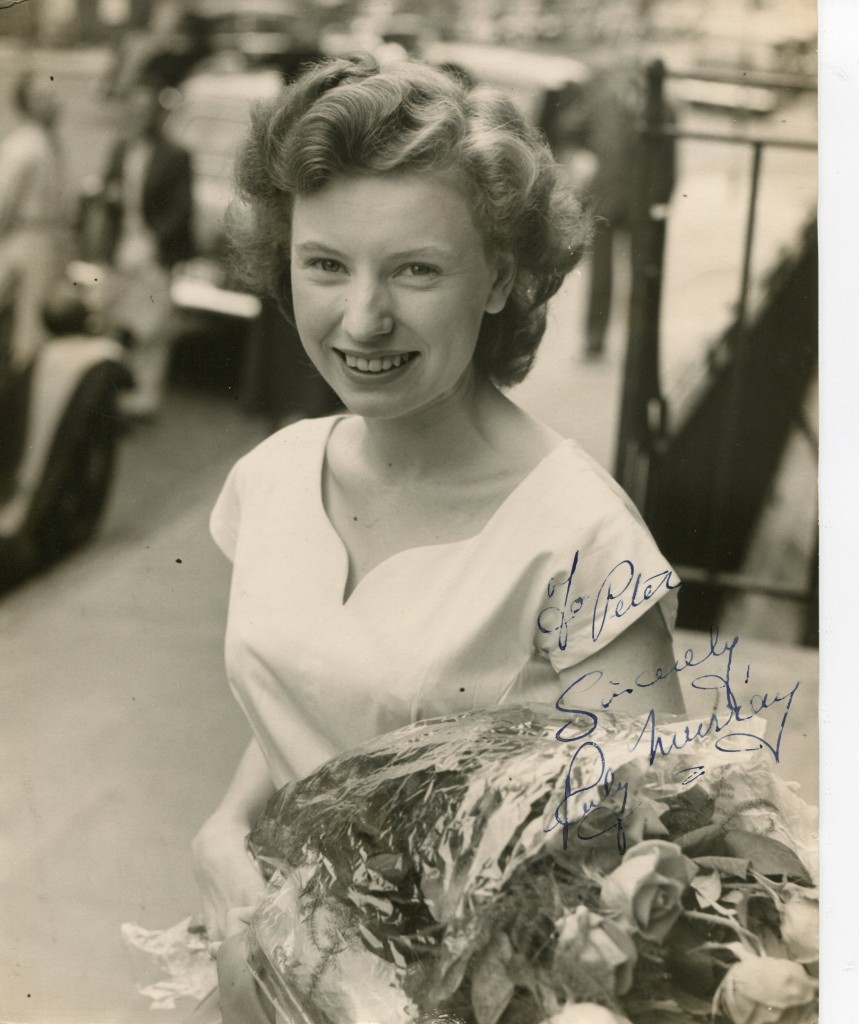 Ruby Murray was born in Belfast in 1935. She was one of the singing sensations on the British popular music scene in the mid-1950's. In 1955 she had five Top Twenty Hits in the British charts at the same time. Her most famous song was "Softly, Softly". Ruby Murray was known as the girl with a tear in her voice. She was the leading lady to comedian Frankie Howard in the film "The Runaway Bus". It did not lead on to a film career of any consequence. She died at the age of 61 in 1996. In rhyming cockney slang a "Ruby Murray" means a curry.
Roby Murray's obituary by Tom Vallance:
Ruby Murray's huskily girlish voice, its plaintive tunefulness enhanced by an involuntary catch in the throat, took the pop world by storm in the mid-Fifties and made the young Irish singer one of the most successful stars in the history of British popular music.
Her hesitant, shy quality gave her that touch of amateurism which the British public loves, while the intimate huskiness of her delivery added sex appeal. She set a pop-chart record by having five hits in the Top Twenty at one time (a feat equalled only by Elvis Presley and Madonna), while her name has entered British folklore as rhyming slang for "curry". Her private life, though, was not happy and blighted by the chronic alcoholism that caused her death.
Born in 1935 in Belfast to a Scottish father and an Irish mother, Murray had an operation for swollen glands when she was six weeks old which left her with an unusually husky voice. A childhood visit to see the minstrel performer G.H. Elliott at the music-hall inspired her to join a children's choir, and soon she was performing solo. When she was 12 she made her professional debut on Irish television and two years later, with her mother as chaperone, she was touring in variety.
Over the next five years she appeared in revues throughout Ireland and Scotland. When her touring show Yankee Doodle Blarney played at the Metropolitan Music Hall in London in 1954, the television producer Richard Afton, who had been responsible for her Irish television appearance as a child, spotted her again and signed her to succeed Joan Regan as resident singer in his television series Quite Contrary.
Murray's first appearance on the show prompted the record producer Ray Martin to give her a contract with Columbia Records. Her second release, "Heartbeat", went to No 2 in the charts, and was followed by the song which was to become her signature tune, "Softly, Softly" (by Pierre Dudan, Paddy Roberts and Mark Paul), a No 1 hit and a sensational success. While these two songs were in the Top Twenty, three more hits followed in rapid succession, "Happy Days and Lonely Nights", "If Anyone Finds This, I Love You", and "Evermore". The same year (1955) readers of the New Musical Express voted her Britain's favourite female vocalist (she received over 1,000 votes more than her nearest rival Alma Cogan), Bernard Delfont signed her to co-star with Norman Wisdom at the London Palladium in the revue Painting the Town, and she appeared in the Royal Variety Show.
The following year she was heard on screen singing "You Are My First Love" in It's Great to be Young, had an acting role as a chambermaid in the Frankie Howerd comedy A Touch of the Sun, and made the first of two successful tours of the United States. Though she was to have two more modest record hits, "Goodbye, Jimmy, Goodbye" (1959) and "Change Your Mind" (1970), and continued to headline variety bills in the provinces for another two decades, her career was never to reach such a peak again, while problems in her personal life plus the stresses of her career prompted addiction to both alcohol and valium.
She married her first husband, Bernard Burgess, of the close harmony group the Jones Boys, in 1957, and in 1962 they started a year-long tour of Britain in Snow White and the Seven Dwarfs. When Murray fell in love with the comedian Frank Carson, who was both married and a Roman Catholic, the stresses it put on her marriage increased her reliance on alcohol. She joined Alcoholics Anonymous and twice spent time in a psychiatric hospital after nervous breakdowns. When she and Burgess divorced in 1977, he alleged that she was prone to physical violence and he was awarded custody of their two children Julie and Tim (now the singer Tim Murray).
The same year Murray began living with Ray Lamar, a theatrical manager for Bernard Delfont, and in 1993 they were married. Though it was a loving relationship, the chronic alcoholism persisted, despite repeated attempts by Murray to stop. (When she did stop, she would smoke 80 cigarettes a day.) In 1982 she was arrested and fined for being drunk and disorderly – she spent a night in a cell and is alleged to have entertained the police with her hit songs. Still fondly remembered, she received a standing ovation in 1985 when she appeared in the concert Forty Years of Peace in the presence of Princess Anne, but her final London appearance, at Brick Lane Music Hall in March 1993, revealed a frail, halting performer.
For the last two years she had totally given up drinking, but her liver had become irreparably damaged and for the eight months until her death she was a patient in a nursing home. The LBC broadcaster Lee Stevens, her manager for 12 years, said, "She gave happiness to millions of people, but sadly she never found real happiness herself."
Ruby Florence Campbell Murray, singer: born Belfast 29 March 1935; married 1957 Bernard Burgess (one son, one daughter; marriage dissolved 1977), 1993 Ray Lamar; died Torquay, Devon 17 December 1996.