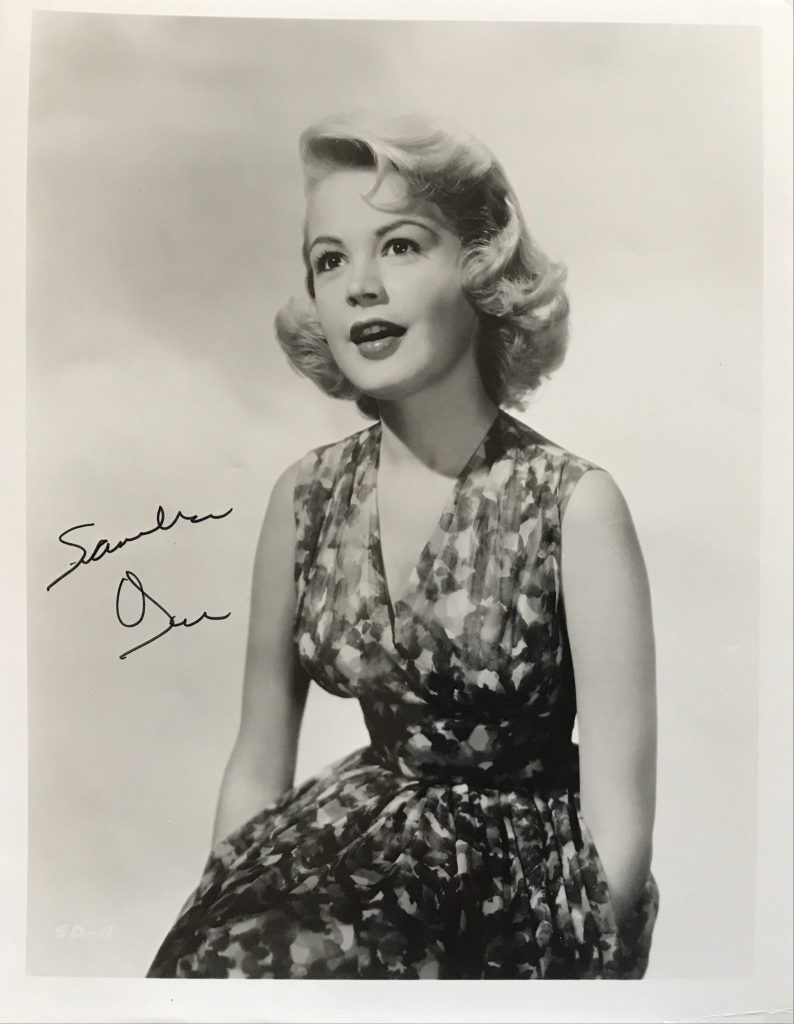 Sandra Dee obituary in "The Guardian" in 2005.
In the nostalgic musical Grease (1978), about growing up in a fantasised America of the 1950s, there is an appropriately evocative song called Look At Me, I'm Sandra Dee.
Pert, petite blonde Sandra Dee, who has died aged 62 of kidney disease, was the sweetheart of the teen set from the late 50s to the mid-60s. Born Alexandra Zuck, in New Jersey, she became a model while still at school and appeared in television commercials, which led her to Hollywood. (Many years later, she revealed that she had been the victim of a sexually abusive stepfather and a domineering mother, who pushed her into films).
Her screen debut, aged 14, was in Until They Sail (1957), followed by the title role in Vincente Minnelli's The Reluctant Debutante (1958), based on the West End hit by William Douglas Home, in which the very American Dee played the very English Rex Harrison's daughter.
This implausibility was explained in the script by a prior transatlantic misalliance on the part of Harrison's Lord Broadbent. According to the producer, Dee was cast "for the sake of the US teenage public". However, having been coached in diction and demeanour, she got through the part with surprising poise.
In 1959, the 5ft 5ins tall Dee was seen to embody the wholesome, all-American ideal in Gidget (a nickname meaning "girl midget"). Despite not measuring up to the bikinied girls on the beach, she is courted by the two grooviest surfers in town, Moondoggie (James Darren) and Kahoona (Cliff Robertson). The film set the tone for the "beach party" movies of the 1960s.
Most important for Dee was her contract, in 1959, with Universal Studios, where her image of a budding beauty was polished. First, there was Douglas Sirk's ripe remake of Imitation Of Life (1959), in which Dee, feeling neglected by her glamorous acting mother (Lana Turner), falls in love with her mother's boyfriend (John Gavin).
Then there was The Wild And The Innocent (1959), a western with 54-year-old Gilbert Roland and 35-year-old Audie Murphy panting after 17-year-old Dee.
Max Steiner's insistent theme from A Summer Place (1959) had Dee and her blond male equivalent, Troy Donahue, making love to its strains on the Maine coast. The film came at the start of the sexually permissive era, and consists of Dee complaining about the "cast-iron girdle" her mother buys to hide her burgeoning curves.
In 1960, Dee met pop idol Bobby Darin in Portofino, Italy, while they were appearing together in Come September (1961), and they were married soon after. In the film, the couple represented the younger generation up against oldsters Rock Hudson and Gina Lollobrigida. Dee and Darin, now fan magazine favourites, co-starred as newly weds in If A Man Answers (1961).
Dee made a rather pale replacement for Debbie Reynolds in Tammy Tell Me True (1961) and Tammy And The Doctor (1963), but was well cast as the daughter of the American ambassador in love with the Russian ambassador's son in Peter Ustinov's Romanoff And Juliet (1961), and as conservative James Stewart's rebellious daughter in Take Her, She's Mine (1962).
After the breakup of her marriage to Darin in 1967, however, she found there was not much work for an ageing teenage star. She did get to play Rosalind Russell's granddaughter in Rosie (1967), and appeared in The Dunwich Horror (1969), as a student lured away from college by a crazed Dean Stockwell, who attempts to sacrifice her to the devil. But then she turned to pills and alcohol, admitting she was drinking more than a quart of whisky a day as her weight fell to 80lbs. (She was anorexic for most of her life.)
Dee became a recluse in Los Angeles for some years, until encouraged to stop drinking by her son Dodd Darin, who, in 1994, wrote a book about his parents, Dream Lovers: The Magnificent Shattered Lives Of Bobby Darin And Sandra Dee. Kevin Spacey's recent biopic of Darin, Beyond The Sea, with Kate Bosworth playing Dee, sparked a renewed interest in her life.
She is survived by her son.
· Sandra Dee (Alexandra Zuck), actor, born April 23 1942; died February 20 2005
Her Guardian" obituary by Ronald Bergan, please click here for online.