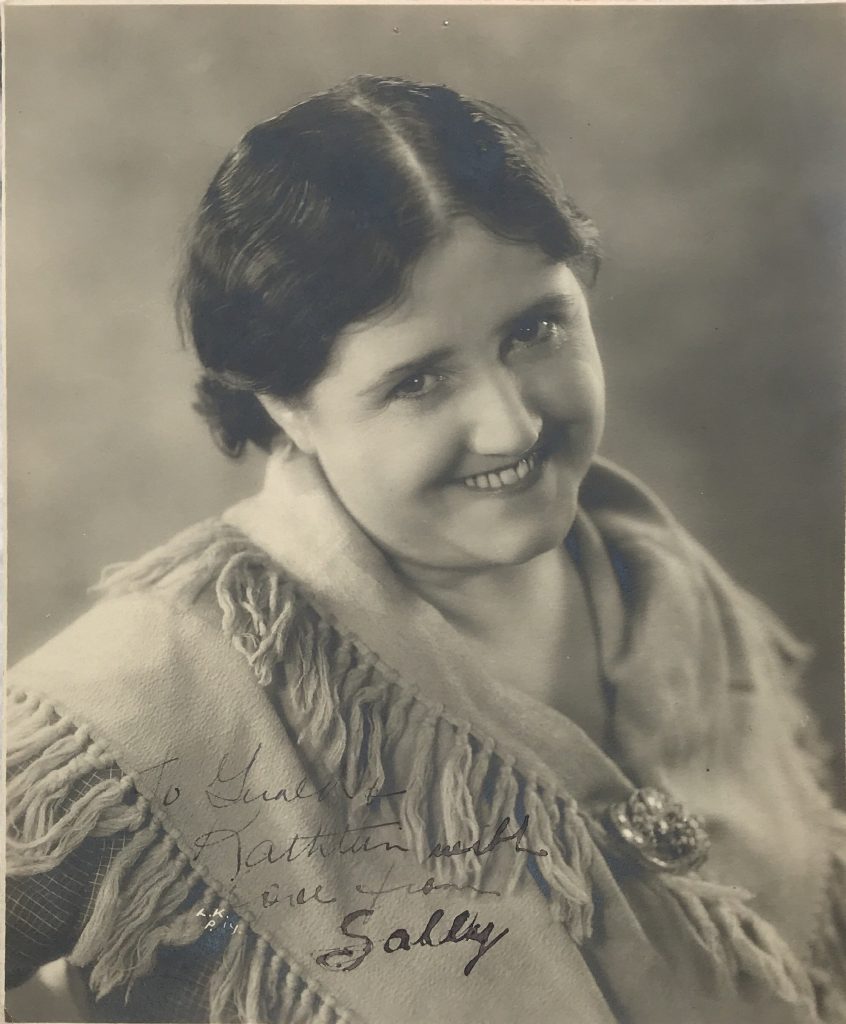 Sara Allgood. IMDB.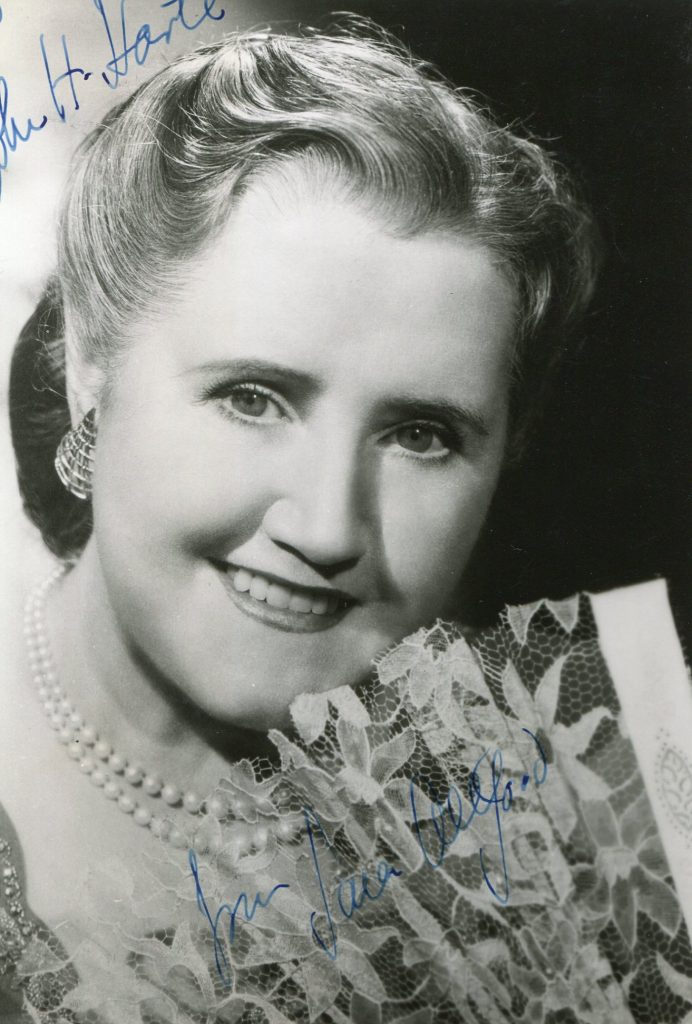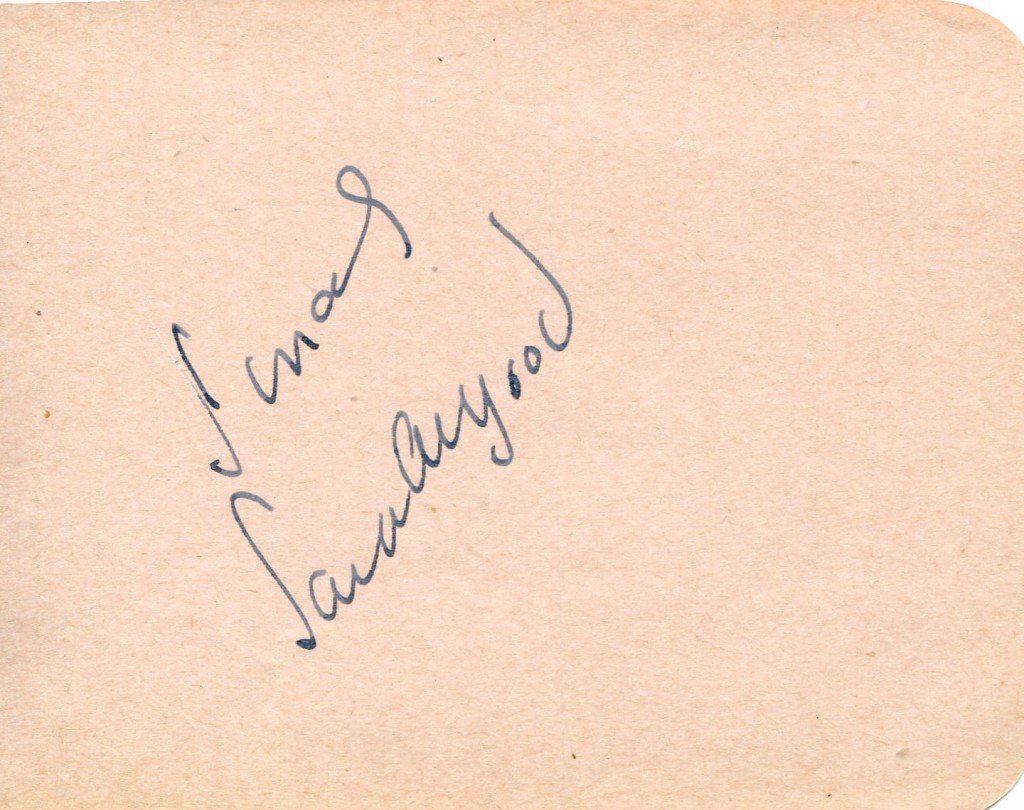 Sara Allgood was one of Ireland's greatest actresses. She was a member of the Abbey Theatre Players and the first person to play Pegeen Mike in "The Playboy of the Western World in 1904. She was born in 1879 in Dublin. Her sister was the actress Marie O'Neill, the love of John Millington Synge. Sara Allgood made her film debut in 1929 in a leading role in Alfred Hitchcocks "Blackmail" which was made in Britain. In 1940 she went to Hollywood where she became one of it's most profilic character actresses. She was nominated for an Oscar for her peformance in John Ford's "How Green Was My Valley" in 1941. Other films of note are "Lady Hamilton", "Kitty", "Cluny Brown", "Between Two Worlds" and "The Spiral Staircase". Sara Allgood died in 1950 at the age of 70.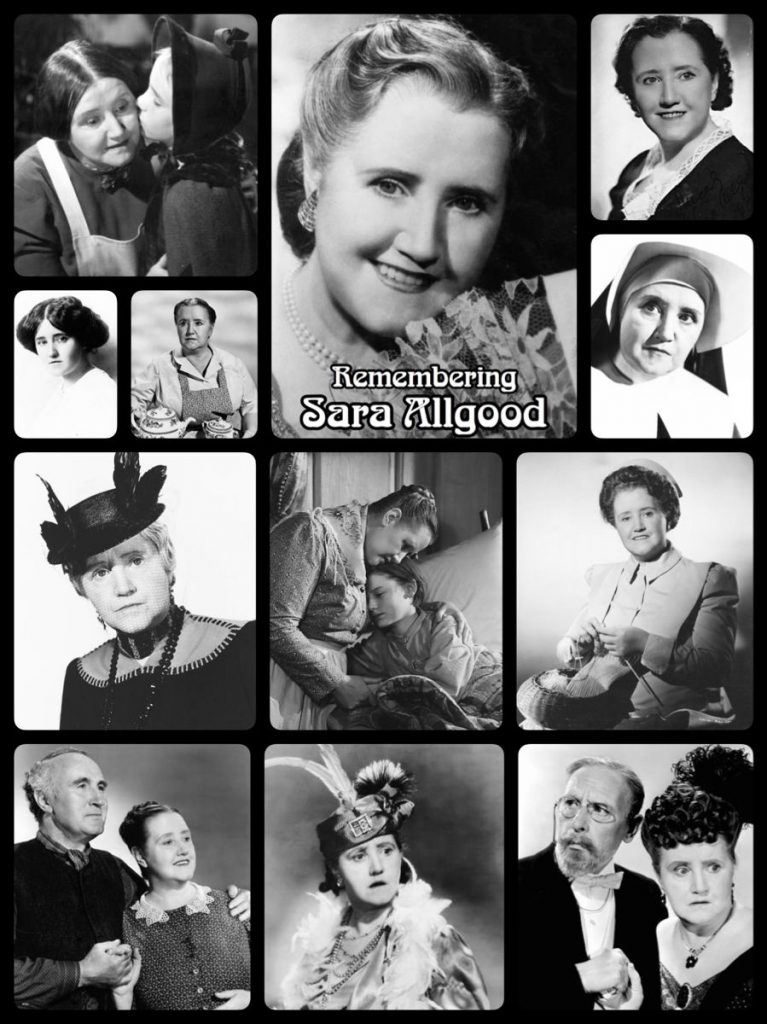 Sara Allgood features extensively in Adrian Frazier's "Hollywood Irish".
"Short, rotund, apple-cheeked and extremely Irish, Sara Allgood joined Dublin's Abbey Players in 1904 but it was nearly 40 years before she was asked to come to Hollywood. Once there she immediately made an impression as the strong and loving matriarch of the Welsh coal mining family in 'How Green Was My Valley'. The role won her an Oscar nomination and led to a career as a busy character player. TheM majority of her work was at 20th Century Fox, where she performed in 'Roxie Hart' as a prison matron and 'Jane Eyre' as a kindly housekeeper, to name but two of her assignments." – Barry Monush in "The Encyclopedia of Hollywood Film Actors" . (2003).
IMDB entry:
Dublin-born Sara Allgood started her acting career in her native country with the famed Abbey Theatre. From there she traveled to he English stage, where she played for many years before making her film debut in 1918. Her warm, open Irish face meant that she spent a lot of time playing Irish mothers, landladies, neighborhood gossips and the like, although she is best remembered for playing Mrs. Morgan, the mother of a family of Welsh miners, in How Green Was My Valley (1941), for which she was nominated for an Academy Award for Best Supporting Actress. Her sister Maire O'Neill was an actress in Ireland, and famed Irish poet William Butler Yeats was a family friend. Sara Allgood died of a heart attack shortly after making her last film, Sierra (1950).
– IMDb Mini Biography By: frankfob2@yahoo.com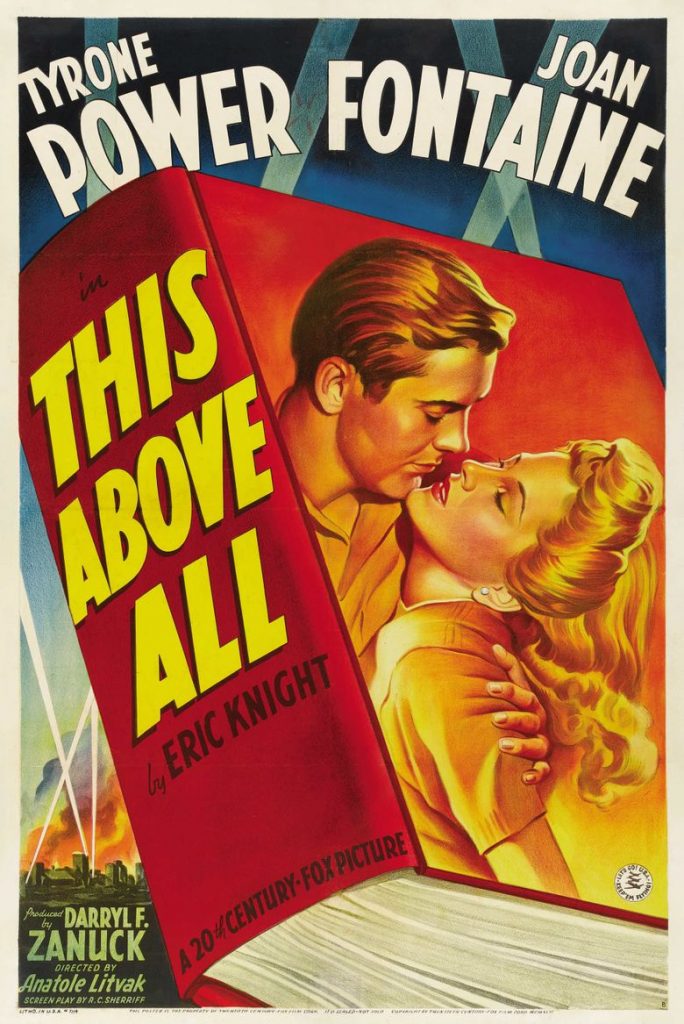 Allgood joined Inghinidhe na hÉireann ("Daughters of Ireland"), where she first began to study drama under the direction of Maud Gonne and William Fay. She began her acting career at the Abbey Theatre and was in the opening of the Irish National Theatre Society. Her first big role was in December 1904 at the opening of Lady Gregory's Spreading the News. By 1905 she was a full-time actress, touring England and North America.
In 1915 Allgood was cast as the lead in J. Hartley Manners' comedy Peg o' My Heartwhich toured Australia and New Zealand in 1916. She married her leading man, Gerald Henson, in September 1916 in Melbourne. She played the lead role opposite her husband in J. A. Lipman's 1918 silent film Just Peggy, shot in Sydney. Her happiness was short lived. She gave birth to a daughter named Mary in January 1918, who died just a day later, then her husband died of the flu in the outbreak of 1918 in November of that same year. After her return to Ireland Allgood continued to perform at the Abbey Theatre. Her most memorable performance was in Seán O'Casey's Juno and the Paycock in 1923. She won acclaim in London when she played Bessie Burgess in O'Casey's The Plough and the Stars in 1926.
Allgood was frequently featured in early Hitchcock films, such as Blackmail (1929), Juno and the Paycock (1930), and Sabotage(1936). She also had a significant role in Storm in a Teacup (1937).
After many successful theatre tours of America she settled in Hollywood in 1940 to pursue an acting career. Allgood was nominated for a Best Supporting Actress Academy Award for her role as Beth Morgan in the 1941 film How Green Was My Valley.
She also had memorable roles in the 1941 retelling of Dr. Jekyll and Mr. Hyde, It Happened in Flatbush (1942), Jane Eyre (1943), The Lodger (1944), The Keys of the Kingdom (1944), The Spiral Staircase (1946), The Fabulous Dorseys (1947), and the original Cheaper by the Dozen (1950).
Allgood became a United States citizen in 1945 and died of a heart attack in 1950 in Woodland Hills, California.