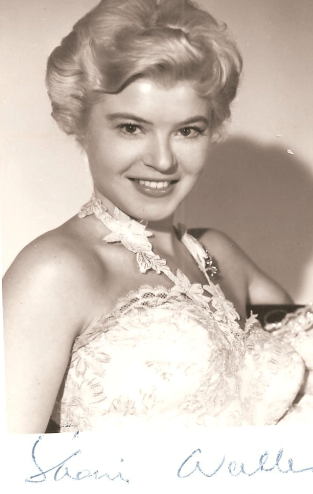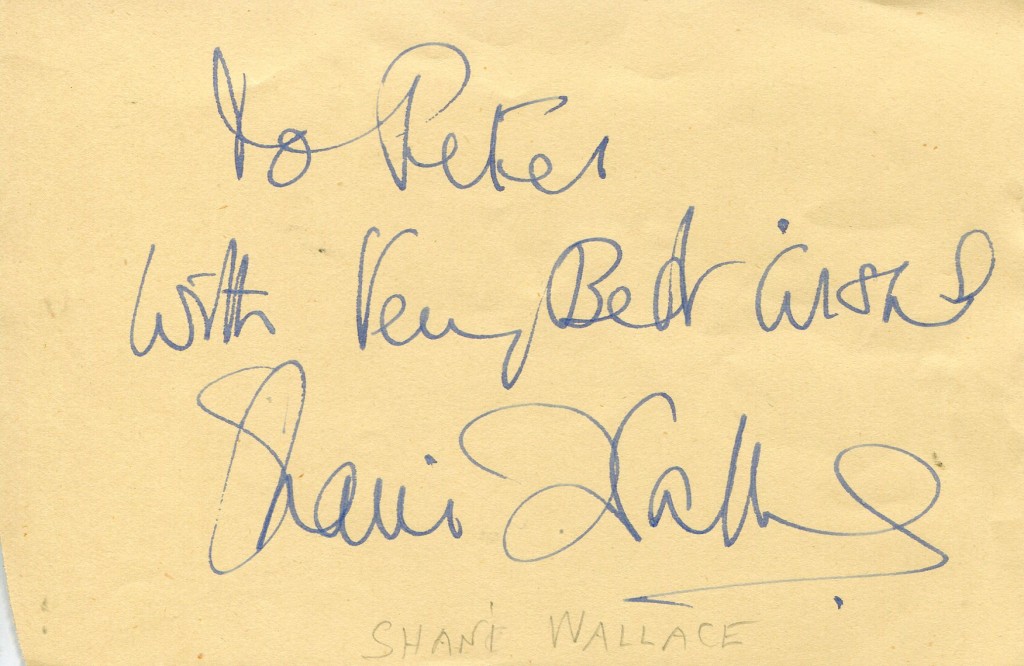 Shani Wallis IMDB
Shani Wallis was born in Tottenham, London in 1933. She was avery popular singer in he 1950's who made a few films at the time including "A KIng in New York" and "The Extra Day". Surprisingly in 1968 she won the coveted role of Nancy opposite Oliver Reed as Bill Sykes in the musical "Oliver" directed by Carol Reed. Despite the huge success of the film, it did not lead to major roles in film musicals and Shani Wallis since then has concentrated on the U.S. stage with occasional roles on television. She has lived in the U.S.A. for many years. Video interview from 2013 with Shani Wallis here.
Gary Brumburgh's entry:
A popular musical name noted on film for one delightfully feisty Cockney lass, Shani Wallis was born in 1933 in Tottenham (North London), England, and initially studied at the Royal Academy of Dramatic Art on a scholarship. On stage from age 4 and performing in repertory as an early teen, she became one of the brighter young singing voices of her day. She made her West End musical debut at age 18 with "Call Me Madam" at the Coliseum in 1952, and immediately established herself in the role of Princess Maria, the leading ingénue. Following other starring roles in the mediocre musicals "Happy as a King" and "Wish You Were Here," she scored again in "Wonderful Town" (1955) playing a comic soubrette, and as another spirited ingénue in "Finian's Rainbow" (1958). In between were a number of musical revue shows. In 1960 she replaced Tony-winnerElizabeth Seal in the title role of "Irma La Douce" at London's Lyric Theatre. After the show closed, few offers seemed to come her way so she decided to try her luck in America.
She went about rebuilding her name on the cabaret, concert and club circuits, and added more musical roles such as "South Pacific," "The King and I" and "Bells Are Ringing" to her credits. She finally made it to Broadway in 1966, co-starring with the legendaryTessie O'Shea in "A Time For Singing," a musical version of "How Green Was My Valley." Backed by three strong numbers, she had a chance to shine in the Maureen O'Haracolleen role, but the show closed after a disappointing run of 41 performances.
A few inconsequential film roles had come her way earlier in England, including The Extra Day (1956) and Ramsbottom Rides Again (1956), not to mention a minor singing bit inCharles Chaplin's A King in New York (1957). Other than assorted variety show appearances and a televised performance supporting Carol Burnett in Once Upon a Mattress (1964), she found only a modicum of on-camera work. All the more astounding then when she nabbed the role of a lifetime as the ill-fated Nancy in the Oscar-winning picture Oliver! (1968). Successfully replacing the seemingly irreplaceable Georgia Brown, Shani made a durable marquee name for herself while giving her all in the rousing "Oom-pah Pah" number and putting her own indelible stamp on the show-stopping "As Long As He Needs Me," now considered her signature song. Having never played the part before, she went on to perform Nancy on the theatre stage as well.
Shani was seen only sporadically in films following this breakthrough, including the horror opus Terror in the Wax Museum (1973), for the live stage was still her first love. Over the years she has gamely performed in a number of musical staples, including "42nd Street" and "Follies," and toured with Liberace for five years during the 1980s. Lately she is a regular on the day-time soap The Young and the Restless (1973) as a nanny type. Long married to agent and former actor Bernard Rich, their daughter Rebecca Rich is a costume designer.
– IMDb Mini Biography By: Gary Brumburgh / gr-home@pacbell.net