Shirley Eaton (Wikipedia)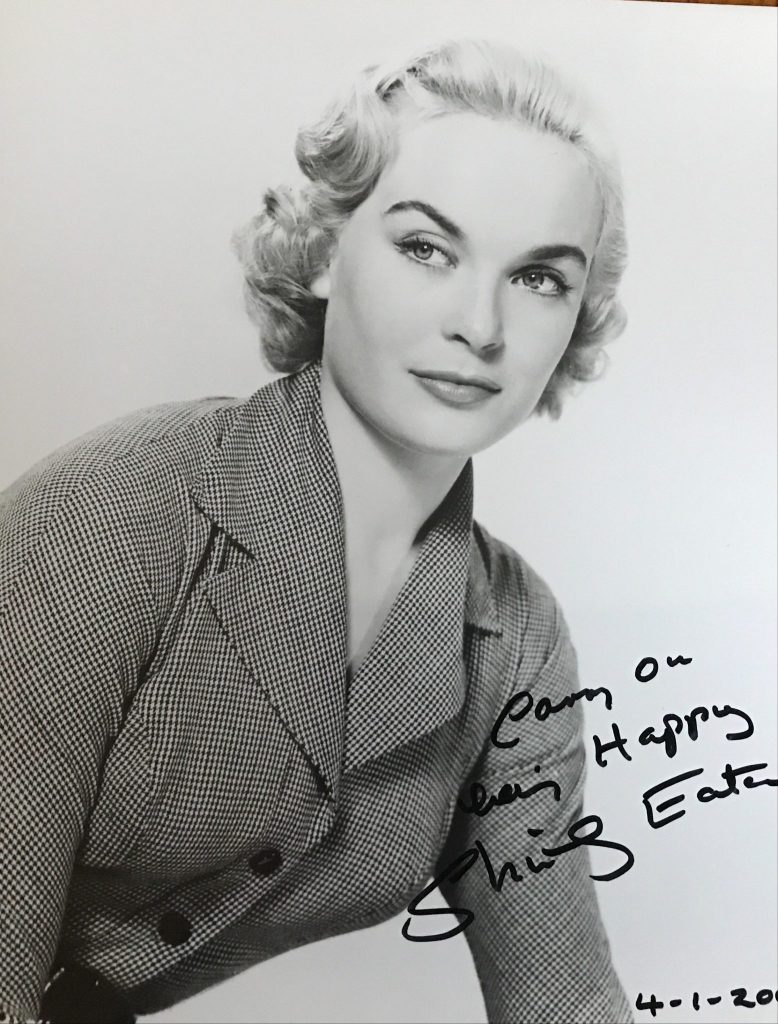 Shirley Eaton had a very busy career from the 1950's. She seemed to be in every other British film and then suddenly in the late 1960's her film career came to an end when she decided to spend time with her family and moved to live in the South of France. She was born in 1937 in London. By the late 50's she was making her mark in such films as "Doctor in the House", "Sailor Beware" and "Doctor at Large". She starred in the first three of the "Carry On" series. In the early 1960's she starred in several comedies. In 1964 she gained huge fame as Jill Masterson the girl painted gold in the Jame Bond movie "Goldfinger". After her success in "Goldfinger" she went to Hollywood to make "Around the World Under the Sea" and "Eight on a Lam" in which an old Bob Hope amazingly was her boyfriend. Recently she has appeared at retrospectives for the "Carry On" series, looking as engaging and attractive as ever.
Gary Brumburgh's entry:
Long before Bea Arthur, Estelle Getty and company showed up in 80s TV households, Hollywood had, in effect, its own original "Golden Girl"…literally…in the form of stunning British actress Shirley Eaton. Although she found definitive cult stardom in 1964 with her final golden moment in a certain "007" film, Shirley was hardly considered an "overnight success".
For nearly a decade, she had been out and about uplifting a number of 1950s and early 1960s British dramatic films and slapstick farce. Shirley became quite a sought-after actress internationally but, by the end of the decade, the dark-browed blonde beauty intentionally bade Hollywood and her acting career a fond and permanent farewell. She has never looked back.
Born in Edgeware, Middlesex, England on January 12, 1937 (some references incorrectly list her birth year as 1936), Shirley Jean Eaton began on stage as a youth, making her debut at age 12 in "Set to Partners" (1949) and following it up the following year withBenjamin Britten's "Let's Make an Opera". Her first on-camera work was on TV in 1951, but it didn't take long before the pretty teen began to provide fleeting, decorative interest on film.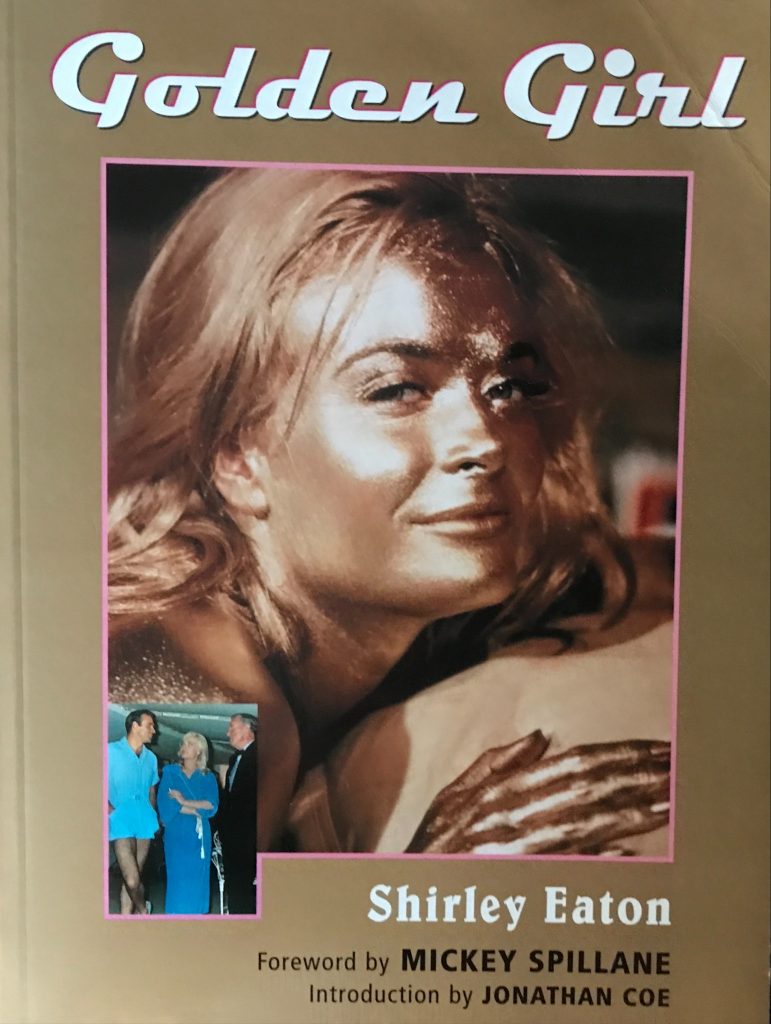 Under contract to Alexander Korda in her early career, she found an encouraging break with minor parts in such comedies as Doctor in the House (1954) andThe Love Match (1955). She quickly rose to co-star status in the droll features, Panic in the Parlor (1956), Three Men in a Boat (1956), Your Past Is Showing (1957) and Doctor at Large (1957), while appearing opposite such top stars as Peter Sellers and Dirk Bogarde, among others.
Upon Korda's death in 1956, Shirley briefly joined the Rank Organization. Every once in awhile, she relished playing a fetching villainess in a drama, such as in The Girl Hunters(1963) when not playing it straight as the beautiful foil caught up in some of Britain's finest madcap farces, which included the highly popular "Carry On" movies. Trained also in ballet and voice, Shirley was afforded a great chance to sing and dance with the film,Life Is a Circus (1960), and managed to grace the BBC as well in a few of their musical formats of the 1950s.
Shirley's career hit international status, of course, when she played "Jill Masterson", one of a bevy of beauties linked to titular archvillain Gert Fröbe in the film, Goldfinger (1964). And like many of the Bondian girls before and since, her character dearly paid for her furtive romantic clinches with Sean Connery's magnetic "James Bond". Shirley's memorable 24-karat gold death scene (she was found by Bond, painted head to toe in gold paint, and had "died of skin suffocation"), became the eye-catching draw for the movie.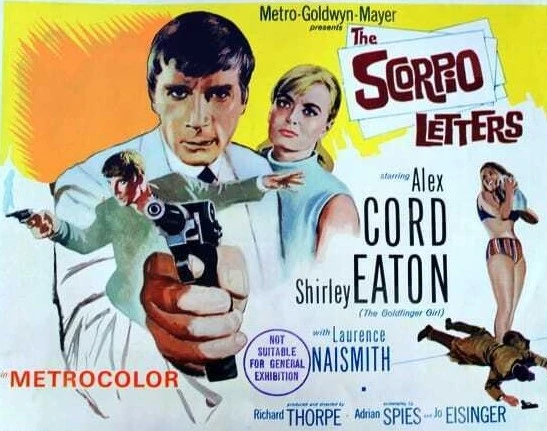 The image was splattered everywhere — on movie posters, in press junkets and in publicity campaigns. Despite the formidable attention the movie received in the form ofHonor Blackman's high-kicking "Pussy Galore" character and Shirley Bassey's famous rendition of the title song playing the airwaves, it was Eaton's gilded visuals that became THE iconic image of not only the movie but the whole "007" phenomena.
In its wake, Hollywood beckoned and Shirley immediately won a number of female leads in melodrama, crime yarns, war stories and rugged adventures. Adding to the mesmerizing Ivan Tors scenery in such movies as Rhino! (1964) and the underwater epic,Around the World Under the Sea (1966), she appeared opposite some of Hollywood best-looking and talented leading men, including Harry Guardino and Robert Culp of the afore-mentioned Rhino! (1964), and Hugh O'Brian in the classic whodunnit, Agatha Christie's 'Ten Little Indians' (1965). During this highly productive time, her co-stars ranged from comedy legend Bob Hope in Eight on the Lam (1967) to horror icon Christopher Lee inThe Blood of Fu Manchu (1968). Shirley's film career ended with her participation as "Sumuru", the ambitious leader of an all-woman's society called "Femina", in both The Million Eyes of Su-Muru (1967) and Rio 70 (1969). Many of her movies remain interesting to the public today as they are a product reflective of their times, and a number of them, like she, have achieved cult status.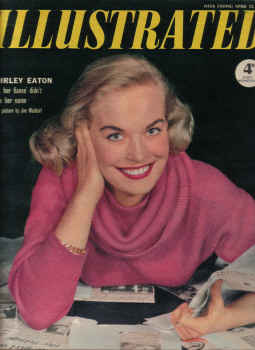 After Shirley's self-imposed retirement, she, first and foremost, dedicated herself to her family. The widow of building contractor Colin Rowe (they were married in 1957; he died in 1994), she has two sons, Grant and Jason, and is the proud grandmother of five. She also developed a special knack for writing and, in 1999, published her autobiography entitled "Golden Girl". In 2006, she marketed an "intimate diary" of poems. These days, the spectacular Shirley can be glimpsed from time to time at film festivals that very much appreciate her cult celebrity. She also enjoys painting and has made a return to the stage in recent years.
– IMDb Mini Biography By: Gary Brumburgh / gr-home@pacbell.net
For Shirley Eaton's website, please click here.
T