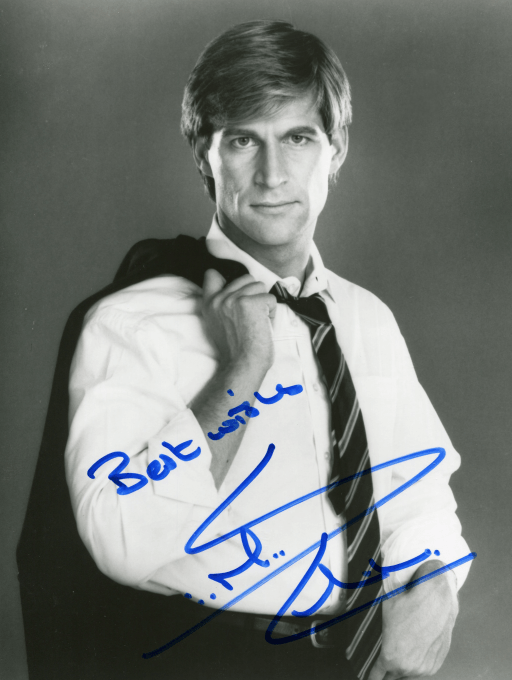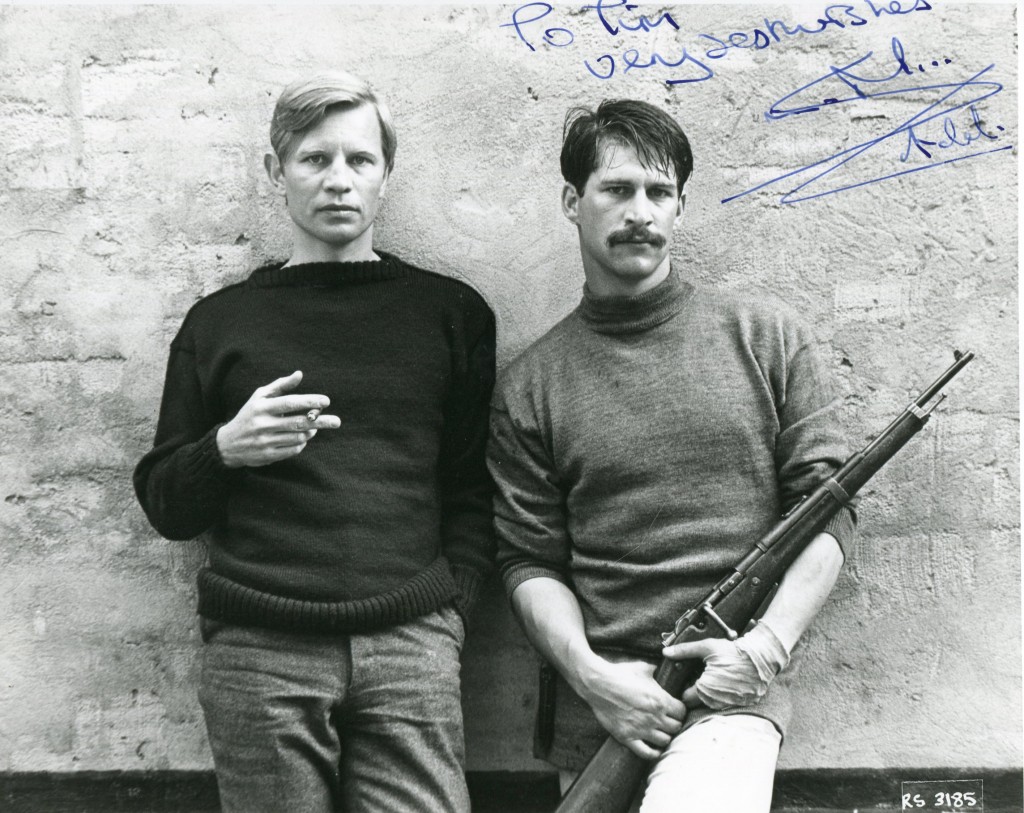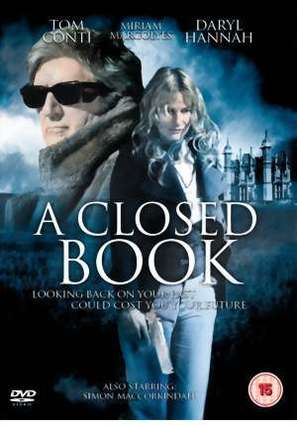 Simon McCorkindale was born in 1952 in Ely in Cambridgeshire. His father was a Group Captain in the Royal Air Force and he hoped to follow in his father's footsteps but he was shortsighted and unable to enlist. He made his West End stage debut in "Pygmalion" with Sir Alec MacCowan and Dame Diana Rigg. His film breakthrough came with the higly popular "Death on the Nile" where he was caught in a love triangle with Mia Farrow and Lois Chiles. He went to Hollywood where he made the TV series "Manimal" which was not a success. He was then part of the cast of "Falcon Crest" with Jane Wyman. After some years he returned to the UK and was cast in the long running "Casualty" as clinical lead consultant Harry Carpenter. Simon MacCorkindale died in October 2010. He was long married to actress Susan George.
His "Guardian" obituary by Ronald Bergan:
In common with his contemporaries Jeremy Irons, Michael York and Hugh Grant, the actor Simon MacCorkindale, who has died of cancer aged 58, on screen projected the very English persona of an ex-public schoolboy. But unlike them, MacCorkindale never made it big in films. Nevertheless, his "posh" accent, his suave demeanour and patrician good looks made him a natural for roles in television soap operas, from the opulent mansions of Falcon Crest (1984-1986), to the hospital corridors of Casualty (2002-2008). In the latter, he played the autocratic clinical consultant Harry Harper, who ran Holby City hospital's emergency department. A doctor of the old school, he sweeps through the wards, advising, cajoling, admonishing and seducing colleagues and patients alike.
In 2007, having already been diagnosed with bowel cancer, MacCorkindale learned that it had spread to his lungs and that he had no more than five years to live. It was cruelly ironic that he continued to play Harry Harper, sometimes being required to inform patients that they had an incurable disease. "I don't want people to think that I'm pale, losing my hair, losing weight and on the way out," he commented in 2009. "I'm not. I'm as active as I've ever been."
Immediately after leaving Casualty, and refusing to let his illness interfere with his work, MacCorkindale toured in the strenuous part of Andrew Wyke in Sleuth, took over the role of Captain Georg Ludwig von Trapp in the London Palladium production of The Sound of Music, as well as appearing in a couple of films and television plays. This stoicism may be put down to his upbringing.
MacCorkindale was born in Ely, Cambridgeshire, the son of Scottish parents. He spent much of his early childhood moving around because his father, a group captain and a station commander in the RAF, had postings at various bases in Britain, Germany and Belgium. Eventually, Simon was sent to Haileybury school, Hertfordshire, where he played rugby and was head boy. His desire to follow his father into the RAF was thwarted when he failed an eyesight test, so he decided to train for the stage, despite his father's conviction that it was "not a sensible job".
While in his early 20s, MacCorkindale started to get small parts on stage ("a sarcastic bystander" in Pygmalion, 1974) and on television (Paris in Romeo and Juliet; Lucius in I, Claudius, both 1976). But his breakthrough came with the role of the charming cad Simon Doyle in Death on the Nile (1978), in which he was in no way outshone by the starry cast of murder suspects under the scrutiny of Peter Ustinov's Hercule Poirot. The following year, MacCorkindale appeared as an astronomer in The Quatermass Conclusion, co-starring with John Mills, a hero of his, and in The Riddle of the Sands, based on Eskine Childers's adventure novel, wherein he and Michael York were two British yachtsman who foil a German plot to invade Britain in 1901.
In 1982, following his divorce from the actor Fiona Fullerton, to whom he had been married for six years, MacCorkindale went to live in California. There, along with Joan Collins in Dynasty, MacCorkindale found himself in the first wave of British stars to make an impact in American television shows. After appearances in one episode each of Hart to Hart and Dynasty, he was given the lead in Manimal (1983), which had the rather absurd conceit of having MacCorkindale as a British college professor at New York University who has the unusual ability to transform himself into any kind of animal in order to help the police battle crime. Not surprisingly, despite some clever special effects, the show ran only eight episodes. Fortunately, MacCorkindale, who always refused to Americanise his accent, got the part of Greg Reardon, a conniving British lawyer employed by Angela Channing (Jane Wyman), the equally conniving matriarch who runs the family winery in the glossily extravagant Falcon Crest.
However, after a few more soaps, he and the actor Susan George, whom he had married in 1984, decided to return to Britain, where he set up a production company called Amy International Artists, named after the character his wife had played in the controversial Straw Dogs (1971). In 1995, they bought and took over a 45-acre stud-farm on Exmoor, where they bred Arabian horses. Then came the six-year run in Casualty, which required a relatively more realistic acting style than in American soap operas.
MacCorkindale is survived by his wife.
• Simon MacCorkindale, actor, born 12 February 1952; died 14 October 2010
The "Guardian" obituary can also be accessed online here.