Simone Simon obituary in "The Guardian" in 2005.
Almost two decades before Brigitte Bardot, the epithet "sex kitten" could have been applied even more appropriately to Simone Simon, who has died aged 94.
Jean Renoir described the character Simon played in La Bête Humaine (1938) thus: "Severine is not a vamp. She's a cat, a real cat, with a silky coat that begs to be caressed, a short little snout, a big, slightly beseeching mouth and eyes full of promises." To add to the analogy, Simon is first seen in the film at a window, gently stroking a white kitten.
But her most famous role was in Cat People (1942) as Irene, a Serbian-born fashion artist living in New York, who is haunted by the fear that she is descended from a race of cat-women who turn into panthers when sexually aroused. "Kiss me or claw me!" read the ads.
Simone Simon, the daughter of a French engineer and an Italian mother, was born in Béthune and brought up in Marseilles. At 19, she went to Paris, where she worked briefly as a fashion designer, a model and cabaret singer, before making her screen debut as a singer in Le Chanteur Inconnu (1931). It was her fourth film, Lac Aux Dames (1934), directed by Marc Allégret, that made her a star. In the Colette screenplay, Simon is a mysterious child of nature called Puck, who entrances Jean-Pierre Aumont, the swimming instructor at a mountain lake resort.
It led to a contract with 20th Century Fox, who exploited her child-woman sensuality. In her Hollywood debut, Girls' Dormitory (1936) she played a student at an Alpine finishing school who falls for Herbert Marshall, the headmaster, even though he is old enough to be her father. At the end of this Lolita-esque tale, Simon (actually 25) steps aside for an older woman.
In the redundant remake of the Janet Gaynor-Charles Farrell silent melodrama Seventh Heaven, Simon is a woman with a shady reputation, whom Parisian sewer-worker James Stewart has given shelter in his slum apartment. "Diane, don't ever leave me, or like a candle, I'll go out," he says. This was followed by Love And Hisses (1937), in which she actually sang the Bell Song from Delibes' Lakmé in what the New York Times described as "a thin, inexpressive little voice". She then took the title role in a bit of fluff called Josette (1938), being fought over by Don Ameche and Robert Young.
No wonder she found herself in conflict with Fox, both over the material and her salary, and she arrived back in France on August 8 1938, 10 days before shooting began there on La Bête Humaine. For the role of Severine, who persuades her lover Lantier (Jean Gabin) to murder her husband, the producers originally suggested Gina Manès, then pushing 43, who had played various femme fatale roles. Renoir refused vehemently: "I claimed, and still claim, that vamps have to be played by women with innocent faces. Women with innocent faces are the most dangerous ones! Also, you don't expect it, so there is an element of surprise! I insisted we use Simone Simon, which we did, and I don't think we were sorry." (Curiously, Manès was seriously injured by a tiger in a circus in 1942, when Simon was filming Cat People.)
Following the glowing reviews Simon received for her performance – a teasing mixture of innocence, perversity and sensuality – she asked for 800,000 francs on Renoir's next film, La Règle Du Jeu, almost one third of the projected budget, much more than the producers were willing to pay. She was offered a better deal by RKO in Hollywood, returning to play, literally, a vixen from hell in the Faustian All That Money Can Buy (1942). Then came Cat People, in which she portrayed, with sensitivity and restraint, a tortured creature, as terrifying to herself as others.
Although RKO advertised The Curse Of The Cat People (1944) with the legend "The Beast Woman Haunts The Night Anew!", it was not strictly speaking a horror film. In it, Simon again played Irene, now seemingly back from the dead to become an adviser and friend to the lonely six-year-old daughter of her ex-husband. Only seen by the little girl, she drifts through the film in an ethereal manner.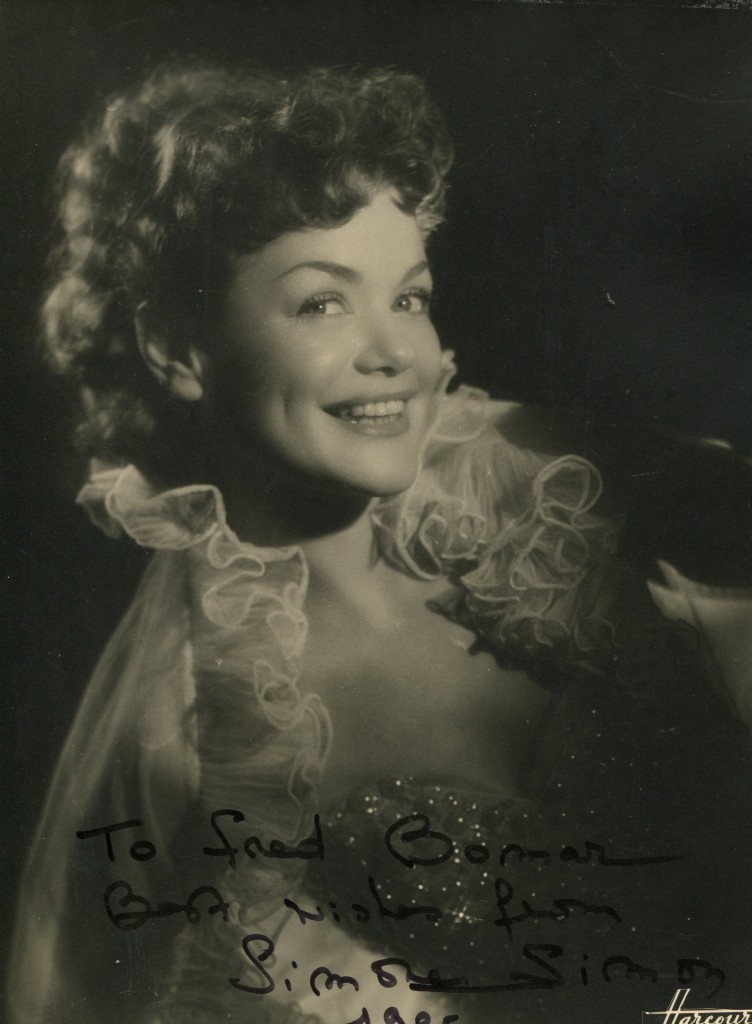 Simon's last American film was Mademoiselle Fifi (1944), a hymn to French resistance, though set during the Franco-Prussian war of 1870. Based on Maupassant's Boule De Suif, the title role was in fact, the nickname given to a sadistic Prussian officer occupying a small French village, and Simon is the laundress with whom he meets retribution.
The war over, Simon returned to Europe, playing a mercenary showgirl in the British-made Temptation Harbour (1947), and the chambermaid in Max Ophuls' La Ronde (1950), who, after being seduced by a soldier, seduces a student.
Jacqueline Audrey's Olivia (1951) was full of hothouse emotions and lesbian undertones with Simon and Edwige Feuillère as sisters who run a girls' boarding school, dividing the establishment into two factions.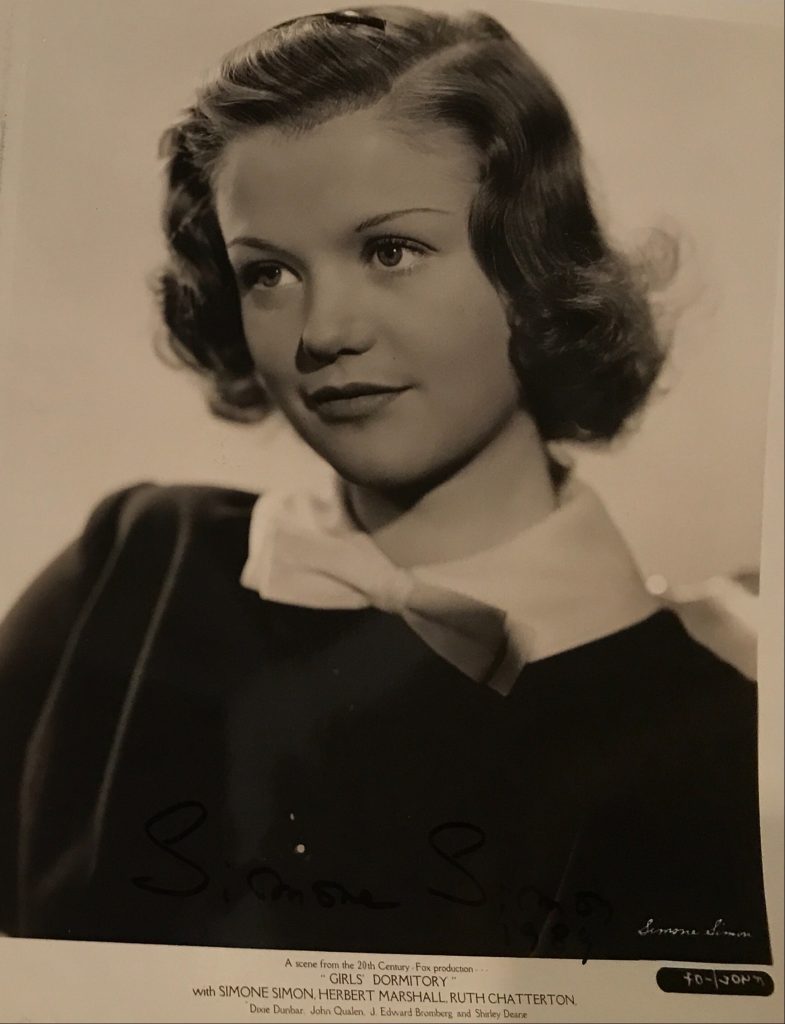 For Ophuls again, she appeared in another Maupassant tale, Le Plaisir (1952), as the model and mistress of an artist whom she forces to marry her out of sympathy when she cripples herself attempting suicide. Simon retired after The Extra Day (1956), a British picture in which she played a French film star.
A few years ago, during the making of the Omnibus TV documentary on Jean Renoir, Simone Simon was asked for an interview. She refused, saying that she did not want to appear on camera as she was "a very old woman". Perhaps it was a wise decision, as she has left us with a vision of a lovely, young woman.
· Simone Simon, actor, born April 23 1910; died February 22 2005.
Her Guardian obituary can also be accessed on line here.