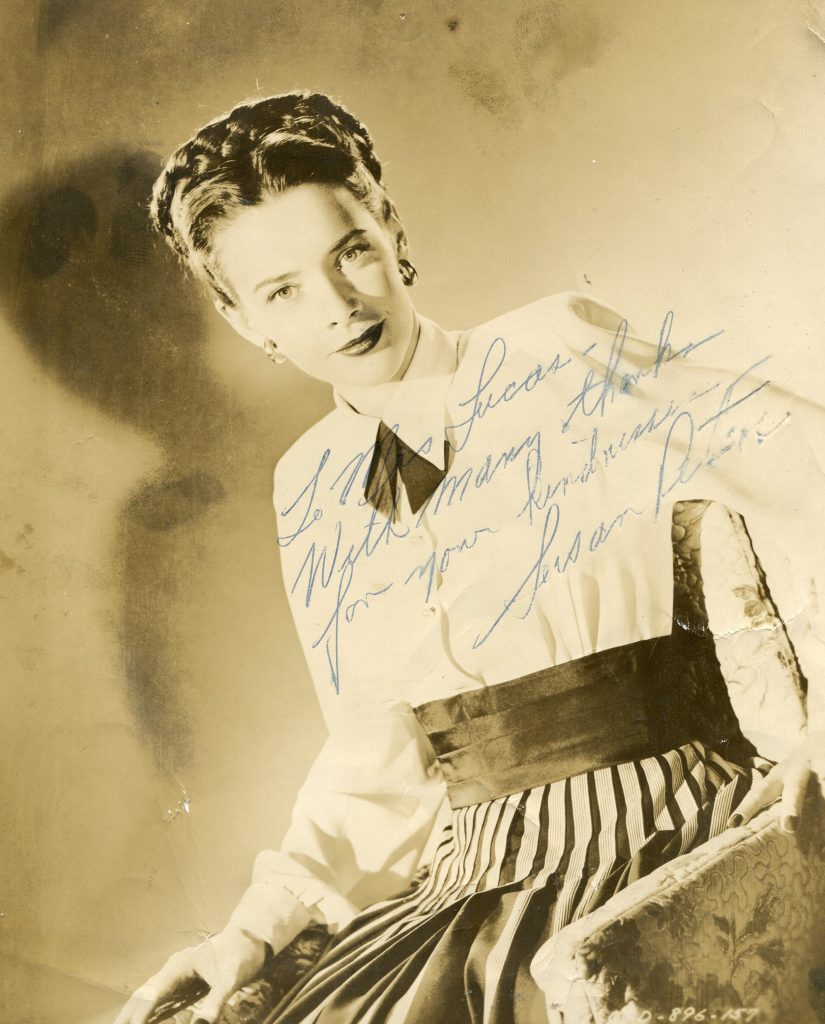 Susan Peters. IMDB.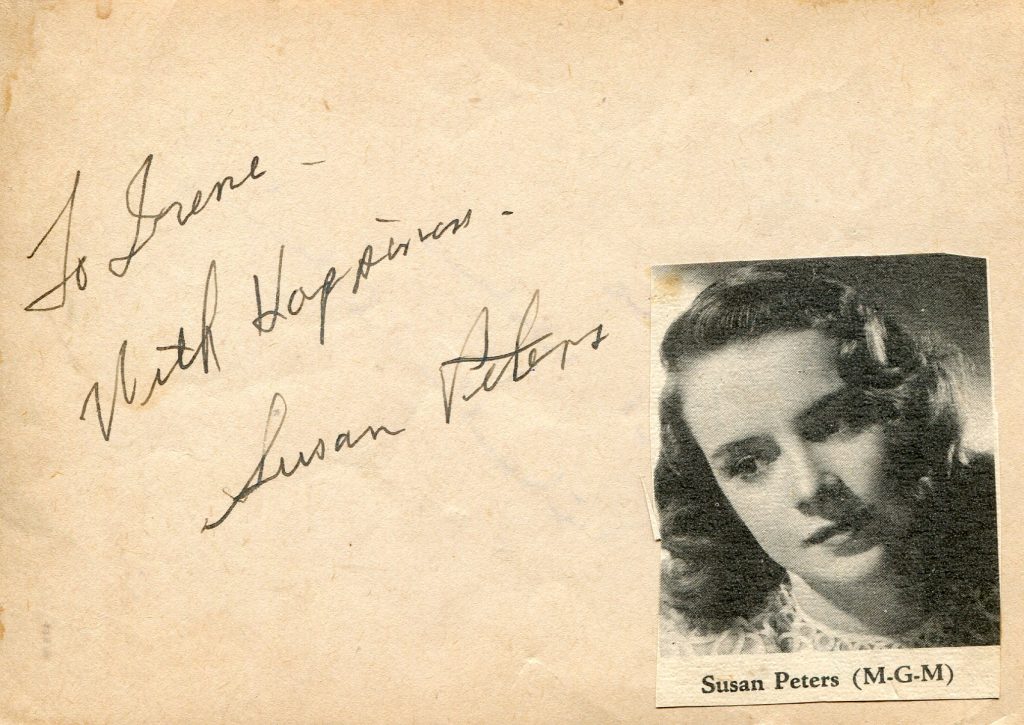 Susan Peters was born in 1921 in Spokane, Washington. She was signed to a contract with MGM and was featured in a good role in "Random Harvest" with Ronald Coleman and Greer Garson. She was nominated for an Oscar for her performance. Other roles included "Song of Russia" and "Keep Your Powder Dry". In 1945 she suffered spinal injuries while duck hunting, when a gun went off and a bullet lodged in her spinal cord. She was confined to a wheelchair which had a limiting effect on her career. Her last major film role was in "Sign of the Ram" in 1948. She starred in a TV series, "Miss Susan" in 1951 but died the following year, aged only 31.
Gary Brumburgh's entry:
War-era MGM had a lovely, luminous star in the making with Susan Peters. She possessed a creative talent and innate sensitivity that would surely have reigned as a leading Hollywood player for years to come had not a tragic and cruel twist of fate taken everything away from her.
She was born Suzanne Carnahan in Spokane, Washington on July 3, 1921, the eldest of two children. Her father, Robert, a construction engineer, was killed in an automobile accident in 1928, and the remaining family relocated to Los Angeles to live with Susan's grandmother. Attending various schools growing up, she excelled in athletics and studied drama in her senior year at Hollywood High School where she was spotted by a talent scout. Following graduation, she found an agent and enrolled at Max Reinhardt's School of Dramatic Arts. While performing in a showcase, she was spotted by a Warner Bros. casting agent, tested and signed to the studio in 1940.
Making her debut as an extra Susan and God (1940), she saw little progress and eventually became frustrated at the many bit parts thrown her way. Billed by her given name Suzanne Carnahan (known for possessing a zesty stubborn streak, she had refused to use the studio's made-up stage name of Sharon O'Keefe), Susan was barely given a line in many of her early movies. She did test for a lead role in Kings Row (1942) but lost out to Betty Field. Susan's first big break came with the Humphrey Bogart potboiler The Big Shot (1942), where she was fourth-billed and had the second female lead. Dropped by Warners, MGM picked up her contract and adopted a new stage name for her, Susan Peters. In the Marjorie Main vehicle Tish (1942), Susan earned a co-starring part and met actor Richard Quine on the set. Quine played her husband in the film. The couple also appeared together in the film Dr. Gillespie's New Assistant (1942), and married in real life in November of 1943.
Susan won the role of Ronald Colman's sister's teenager stepdaughter (and a potential love interest of the Colman character) in the profoundly moving film Random Harvest(1942) and earned an Academy Award nomination for "Best Supporting Actress" for her efforts. Her potential in that film was quickly discovered and she continued to offer fine work in lesser movies such as the WWII spy tale Assignment in Brittany (1943), the slight comedy Young Ideas (1943) and the romantic war drama Song of Russia (1944), in which she touchingly played Nadya, a young Soviet pianist who falls for Robert Taylor. For these performances, Susan was named "Star of Tomorrow" along with Van Johnsonand others.
Then tragedy struck a little more than a year after her wedding day. While on a 1945 New Year's Day duck-hunting trip in the San Diego area with her husband and friends, one of the hunting rifles accidentally discharged when Susan went to retrieve it. The bullet lodged in her spine. Permanently paralyzed from the waist down, MGM paid for her bills but was eventually forced to settle her contract. Susan valiantly forged on with frequent work on radio. In 1946 Susan and Richard happily adopted a son, Timothy Richard, but two years later she divorced Quine — some say she felt she was too much of a burden.
Appearing with Lana Turner as a demure soldier's wife in Keep Your Powder Dry (1945), which was filmed before but released a year after her accident, Susan made a film "comeback" with The Sign of the Ram (1948), the melodramatic tale of an embittered, manipulative, wheelchair-bound woman who tries to destroy the happiness of all around her, but audiences were not all that receptive. She also turned to the stage with tours of "The Glass Menagerie," in which she played the crippled daughter Laura from a wheelchair (with permission from playwright Tennessee Williams), and "The Barretts of Wimpole Street" opposite Tom Poston, wherein she performed the role of poet and chronic invalid Elizabeth Barrett Browning entirely from a couch.
In March of 1951 she portrayed an Ironside-like lawyer in the TV series Martinsville, U.S.A. (1951) but the show ran for less than one season, folding in December of that year. After this, the increasingly frail actress, who was constantly racked with pain, went into virtual seclusion. Suffering from acute depression and plagued by kidney problems and pneumonia, she finally lost her will to live and died at the age of 31 on October 23, 1952, of kidney failure and starvation, prompted by a developing eating disorder (anorexia nervosa). It was a profoundly sad and most unfortunate end to such a beautiful, courageous spirit and promising talent.
– IMDb Mini Biography By: Gary Brumburgh / gr-home@pacbell.net
TCM overview:
A lovely and promising actress who worked her way up the ranks at MGM, Susan Peters' career was cut short by one of the worst tragedies to affect the Hollywood acting community during the 1940s. After an unpromising start, the Spokane native had her first substantial part in the MGM film "Tish" (1942) and soon became a regular player for the studio. Her most famous credit was the celebrated drama "Random Harvest" (1942), where Peters impressed greatly in a supporting capacity. With an Oscar nomination now on her résumé, she demonstrated further promise in such productions as "Song of Russia" (1944), in which she essayed the female lead role opposite Robert Taylor. In a tragic turn of events, Peters was crippled in a hunting accident, but within a few months, she had resumed acting via radio assignments and was determined to move forward. Her movie days were over after only one more picture, but Peters earned praise for stage performances in travelling revivals of "The Glass Menagerie" and "The Barretts of Wimpole Street," and she also headlined her own television series for a time. Unfortunately, the strain of dealing with her condition caused Peters to plunge into depression and anorexia nervosa, both of which sapped her will to live and contributed to her premature death at age 31. Although the final years of her life were heartbreaking, Peters displayed considerable courage and the praise for her acting, both before and after the tragedy, was well-deserved.
Susan Peters was born Suzanne Carnahan on July 3, 1921 in Spokane, WA, but her formative years were spent predominantly in Portland, OR and Los Angeles. She gained her first acting experience in plays at Hollywood High and came to the attention of Lee Sholem, a talent scout and future B-movie director. After acting classes and further stage work, Peters was offered a contract with Warner Brothers. Her first film appearance came with an uncredited bit in the Joan Crawford vehicle "Susan and God" (1940) and she graduated to more screen time and actual billing in the Errol Flynn/Olivia DeHavilland Western "Santa Fe Trail" (1940). After a few more virtually anonymous turns, Peters began to receive bigger opportunities, first in such B-pictures as "Scattergood Pulls the Strings" (1941) and "Three Sons o' Guns" (1941), and then somewhat more promising fare, like the Humphrey Bogart crime drama "The Big Shot" (1942).
However, it soon became clear that Warner was not interested in doing much with Peters and the studio opted not to renew her contract. Fortunately, she had come to the attention of MGM, which cast Peters in the Marjorie Main dramedy "Tish" (1942). The fitfully entertaining production came and went without much notice, but proved important for Peters: she fell in love with co-star Richard Quine and the pair married the following year. "Tish" had also provided Peters with her first part of any real substance and, impressed with the results, MGM offered her a contract. It was soon decided that she would be the best choice for a role in their romantic drama "Random Harvest" (1942) and it was that film that finally brought Peters notoriety. Cast as the step niece of Ronald Colman Peters' poignant performance earned an Academy Award nomination for Best Supporting Actress.
Now busy at Metro, Peters' career followed the usual path for a young contract player on the way up. She was utilized in the franchise entry "Andy Hardy's Double Life" (1942), as well as B-movies like "Assignment in Brittany" (1943) and "Young Ideas" (1943). Peters was also the female lead of the more prominent production "Song of Russia" (1944), which gained unwanted attention a few years later when it ran afoul of the House Un-American Activities Committee for its pro-Russia sympathies. Sadly, Peters' life changed forever on Jan. 1, 1945. While out on a family hunting excursion, she picked a rifle up off the ground only to have it discharge and lodge a bullet in her spine. The accident left Peters completely paralyzed from the waist down. After a month in hospital, she recovered enough to be discharged. Peters' last effort prior to the accident, the Lana Turner "gals in uniform" war drama "Keep Your Powder Dry" (1945), was released in the months that followed and while MGM had been paying her medical bills, Peters asked to be released from her contract.
To her considerable credit, Peters determined that she would not let the condition limit her. After spending some of her initial recovery time writing, she was back working that September in a radio staging of "Seventh Heaven" opposite Van Johnson. She was also able to soon maneuver around effectively in her home and in a specially designed car with hand controls which allowed Peters to drive. In a further extension of her resolve to lead a regular life, Peters also decided to become a mother. In 1946, she and Quine adopted boy whom they named Timothy. Peters also returned to movie screens as the star of "Sign of the Ram" (1948), where she played a wheelchair-bound woman who uses her paralysis as a way of manipulating family members. Unfortunately, it was not a success and no more film offers were forthcoming. During this time, she and Quine also divorced. This was done at Peters' request, in an apparent attempt to release him from any obligation to care for her.
Peters next turned her attentions to the stage and received good notices for revivals of "The Glass Menagerie" and "The Barretts of Wimpole Street." In both cases, Peters proved up to the challenge and continued her work in each when they went on tour. Television also offered Peters a new opportunity with the daytime series "Miss Susan" (NBC, 1951). Staged live in Philadelphia, the 15-minute legal serial starred the actress as an Ohio attorney who continues on with her obligations, despite having been disabled in a car accident. However, after production of "Miss Susan" came to an end, Peters sank into a deep depression and spent time in a sanitarium. Although she regained her health sufficiently to do some more stage acting, Peters' remaining years were spent in a downward spiral of psychological problems and anorexia nervosa. Those conditions, coupled with pneumonia and kidney issues, brought about her passing on Oct. 23, 1952. Peters was posthumously awarded a star on the Hollywood Walk of Fame in 1960.
By John Charles