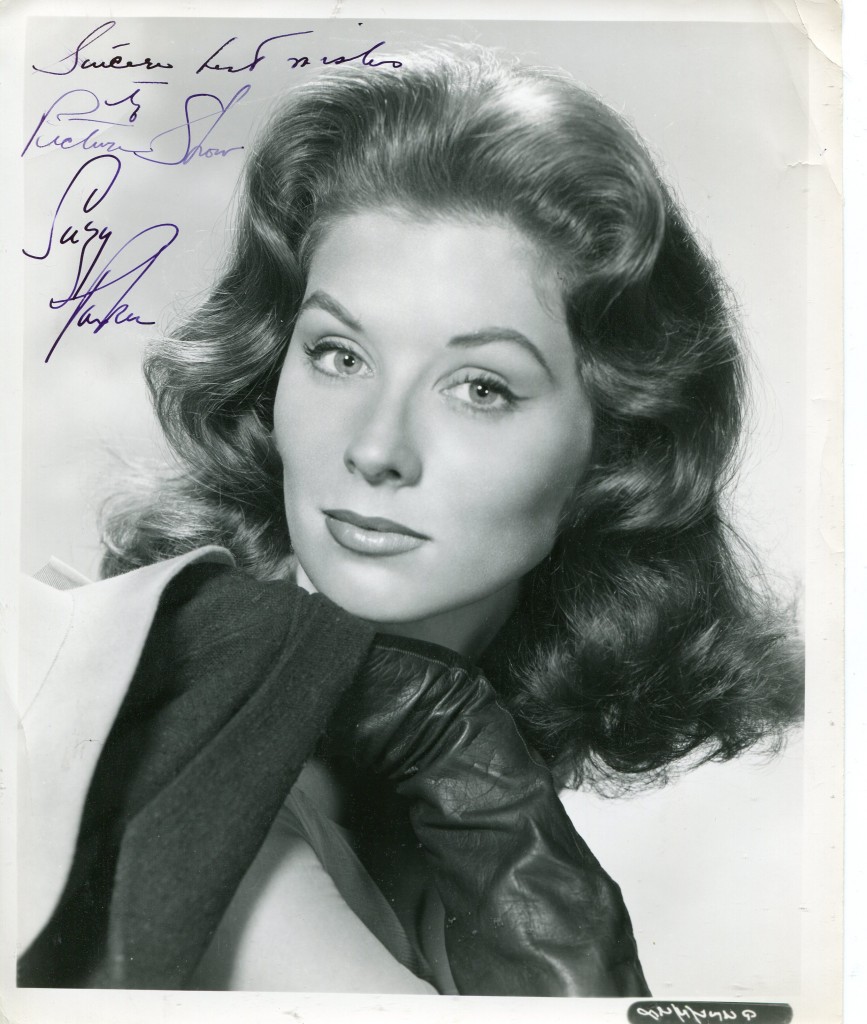 Suzy Parker obituary in "The Daily Telegraph" in 2003.
Suzy Parker who died on Saturday aged 69, was once said to be the highest-paid model in the world, earning more than £30,000 a year in the 1950s; she later embarked on a brief career as an actress in Hollywood.
Blessed with excellent bone structure, copper-coloured hair and seaweed-green eyes, Suzy Parker enchanted the great names of fashion in the 1950s. Christian Dior called her the most beautiful model in the world; she became the "signature" face for Coco Chanel and was photographed by Richard Avedon and Milton H Greene.
She was born Cecilia Anne Renee Parker on October 28 1933. Her elder sister was the model Dorian Leigh, who had been a magazine "cover girl" since the 1940s; and it was she who introduced the future Suzy Parker to modelling when she was a girl of only 14, taking her to see the modelling agent Eileen Ford. The agent's initial impression was not favourable: she insisted that the teenager was, at 5 ft 9 ins, too tall to be a successful model.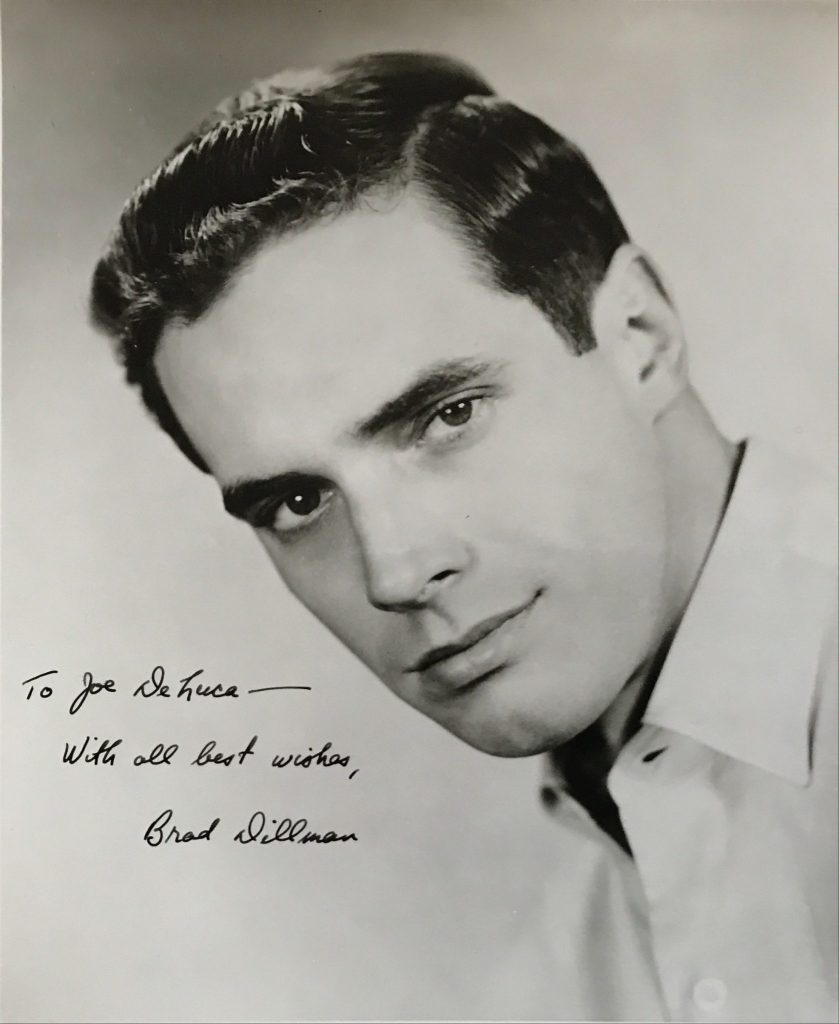 But Diana Vreeland, the fashion editor at Harpers Bazaar for 25 years and editor-in-chief of Vogue, disagreed; the influential arbiter of style and elegance immediately offered to use the 14 year old in fashion shoots. Suzy Parker soon became one of the most recognisable faces of the 1950s, and a forerunner of today's "supermodels".
It was perhaps inevitable that she should turn to Hollywood, and in 1957 Suzy Parker made her film debut in the musical Funny Face, which starred Fred Astaire and Audrey Hepburn – Hepburn was to become a good friend. Suzy Parker danced in a number called Think Pink, a send-up of editors such as Diana Vreeland.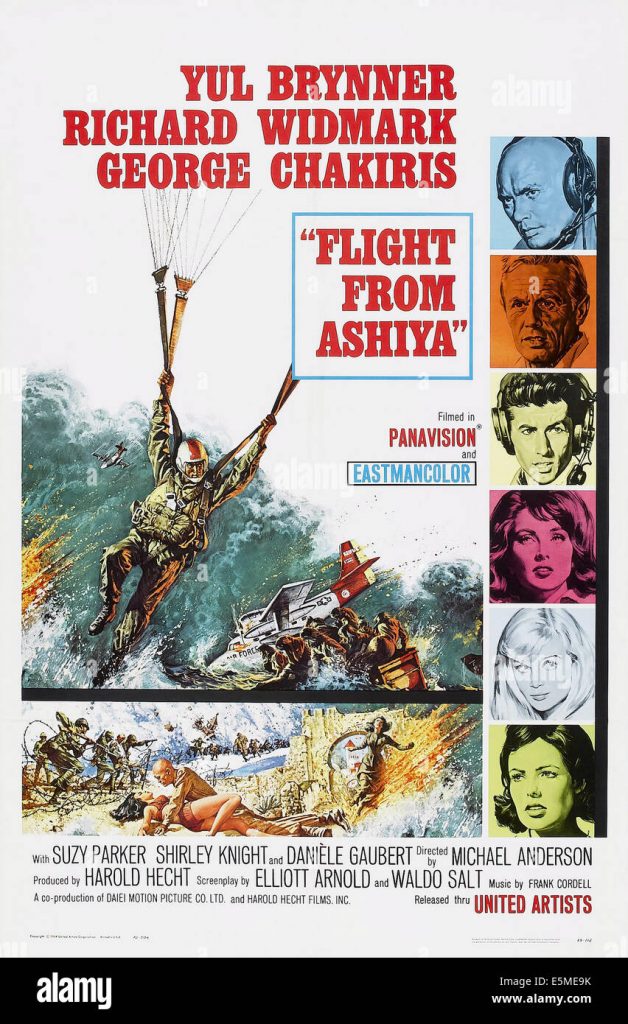 Further films followed. Also in 1957, Suzy Parker appeared opposite Cary Grant in Kiss Them for Me; the next year she was seen in Ten North Frederick, starring Gary Cooper. She appeared in The Best of Everything (1959); Circle of Deception (1961); The Interns (1962); andChamber of Horrors (1966).
There were also roles on the television screen, including parts in Tarzanand The Twilight Zone – in one episode of The Twilight Zone in 1963, entitled "Number Twelve Looks Just Like You", she played six different characters.
In the film Circle of Deception, a spy thriller, she found herself playing opposite Bradford Dillman. They fell in love, and in 1963 they were married on board an ocean liner by the ship's master. Five years later, she and Dillman abandoned the glamour of Hollywood for a more down-to-earth existence at Montecito, California. For the remainder of her life, the woman who had been one of the world's most famous models shunned the limelight, preferring to be known as Suzy Parker Dillman.
Suzy Parker's marital status, before her union with Dillman, had been somewhat mysterious. In 1958 she had broken both her arms, and her father had been killed, when the car in which they were travelling collided with a goods train at Saint Augustine, Florida.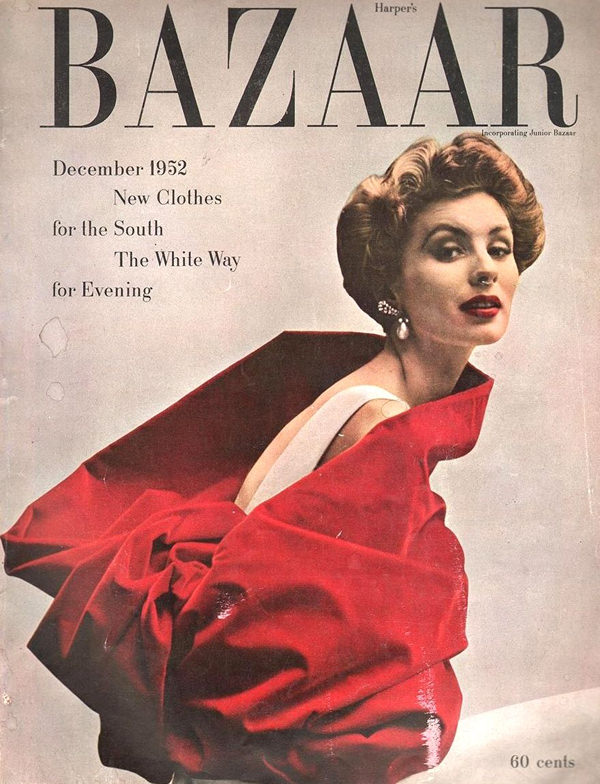 It then emerged that Suzy Parker had been secretly married, since 1955, to a French journalist and novelist called Pierre La Salle. It did not last, however, Suzy Parker telling one interviewer: "Being married to a Frenchman is interesting – you hardly ever see your husband." They divorced in 1961.
It also emerged that, at 17, Suzy Parker had eloped from high school to marry a childhood sweetheart, Charles Staton, apparently to escape going to college.
She is survived by Bradford Dillman, four children and two stepchildren.
Her Telegraph obituary can be accessed on-line here.
Tribute to Suzy Parker by Mike McCrann in "LA Frontiers":
The days of the "supermodel" have pretty much disappeared. Today we have celebrities hawking everything from watches to perfumes. The models used in today's high-fashion ads are mostly anonymous girls with little or no personality.
In the old days, there were legendary models like Jean Shrimpton, Twiggy, Cheryl Tiegs, etc. But there was one beauty who transcended all the rest. Her name was Suzy Parker, and she ruled the '50s as the most gorgeous icon of them all. Suzy Parker also became a movie star—very briefly—before retiring to Santa Barbara with her last husband, actor Bradford Dillman.
Suzy Parker's older sister was another famous model, Dorian Leigh. Leigh was pretty famous too, but I must say I can't figure out why, looking at her photos. But kid sister Suzy (born Cecilia Ann Parker in 1932) came to New York to visit Dorian, and this led to the Ford Modeling Agency signing the young beauty to a contract.
Suddenly the 5'10" carrot red head was as famous as any beauty of her day. She was The Revlon Girl. Her face was on every magazine in the world. Suzy became legendary photographer Richard Avedon's muse. (Years later, Parker said "The only joy I ever got out of modeling was working with Dick Avedon.") Suzy Parker became the highest paid model in the world, earning over $100,000 a year—a fortune in those days.
Suzy Parker went to Hollywood hoping to become a movie star. Her first film was Kiss Them For Me with Cary Grant and the buxom Jayne Manfield. The movie was pretty bad, and Suzy was upstaged by Jayne's two assets. A good supporting role followed in Ten North Frederick, where she played the young girl who falls in love with married man Gary Cooper. Parker was lovely in this part, and the last scene in the movie is a great wedding scene when Cooper's daughter happily realizes that Suzy is the girl that had brought her father the only happiness at the end of his life.
Finally, in 1959, Suzy Parker got the one great role of her career in the fabulous melodrama The Best of Everything. This study of career girls in New York (from the novel by Rona Jaffee) is a cult classic. With Hope Lange, Diane Baker and Joan Crawford, The Best of Everything gives the most glamourous role to Parker. She plays gorgeous Gregg Adams, an aspiring actress who runs around New York in sexy gowns and dark glasses. Greg is wildly in love with Louis Jordan, and most of her scenes are with him and Joan Crawford. When Jordan dumps Greg, she goes off the deep end, spying on him, going through his trash and finally tumbling from his fire escape. Suzy Parker was so gorgeous that she stole the film from her more experienced co-stars.
Superstardom was predicted for Suzy Parker, but life has a funny way of not following the script. After two divorces, plus the death of her father in a car accident (with Suzy also injured), Suzy Parker had enough of fame and empty adulation. She had met actor Bradford Dillman (Compulsion, The Way We Were) while co-starring in 1960's Circle of Deception. Parker married Dillman and retired. She had four children (three with Dillman) and apparently was quite happy just being a mother. Bad health plagued the former super model, and she died in 2003 at age 70.
Most of the supermodels of the '50s and '60s are names attached to bygone eras—faded magazine covers and advertisements. But Suzy Parker's glorious beauty and talent are permanently on display in the few films she made. If you want to see gorgeous Suzy at the peak of her radiance, rent or buy The Best of Everything. The film is a campy time capsule of its era, but Suzy Parker is the real deal. You cannot take your eyes off her when she is on screen. Model or actress, Suzy Parker was a goddess!
The above article can be accessed online at the "LA Frontiers" website here.
New York Times obituary in 2003.
Suzy Parker, the willowy, red-headed beauty whose elegant poses on scores of magazine covers defined glamour in the 1950's and paved the way for the supermodels to follow, died on Saturday at her home in Montecito, Calif. She was 69.
Her husband, the actor Bradford Dillman, said she had suffered from a number of serious ailments over the last six years.
In the period just after World War II, models were becoming celebrities. Fashion's influence was inexorably expanding from high society to society at large, and Suzy Parker, along with other models like Dovima and Lisa Fonssagrives, signified a postwar world of stylish promise for all. When Miss Parker posed in one of fashion's first bikini shots, America noticed.
Miss Parker was the first model to make more than $100 an hour and $100,000 a year, said Eileen Ford, the doyenne of modeling agents. She also worked as a professional photographer and editor, and she appeared in lead roles in movies with Cary Grant and Gary Cooper.
Ms. Ford said she was simply staggered when the famed model Dorian Leigh, Miss Parker's oldest sister, introduced her to Suzy, then 15.
"She was the most beautiful creature you can imagine," Ms. Ford said. "She was everybody's everything."
Miss Parker's trademark in photographs and later on the movie screen was icy sophistication, often likened to that of Grace Kelly, but in person she exuded a girl-next-door prettiness and a sort of wacky loquaciousness. Audrey Hepburn's role in "Funny Face," as a fast-talking beatnik who somewhat unwillingly becomes a world-famous model, was inspired by her, and she made a cameo appearance in the film, her first movie role.
Miss Parker adored slouch hats of the sort favored by Garbo and collected Coco Chanel's classic designs for herself. Richard Avedon, the photographer, called her "my most challenging and complicated of muses."
Cecilia Ann Renee Parker was born in San Antonio on Oct. 28, 1933. While still in high school in Jacksonville, Fla., she modeled in the summers for Ford Models, and after graduation went to work full time for the agency. In a silent profession Miss Parker was outspoken.
"Suzy Parker didn't stop talking when I first tried to take her picture," Horst, the photographer, said. "I said, 'You keep talking,' and I left. When she got into the movies, I joked that maybe she would do for the movies what she would never do for me — hold still."
She publicly condemned drinking and smoking and said marriage killed romance. The New York Daily News reported her lecturing a French economist about the French economy. She said she talked too much for most men.
Her often-quoted remark that she could love a man more when she was not married to him exploded in headlines when it turned out she was secretly married.
That marriage, to Pierre de la Salle in 1958, was actually her second; she had been briefly married to a high school sweetheart. She and Mr. de la Salle, from whom she was later divorced, had a daughter, Georgia, of Paris, who survives her.
In 1963 she married Mr. Dillman, who survives her, along with their daughter, Dinah Kaufman of Irvine, Calif.; their sons Charles, of Los Angeles, and Christopher, of Encinitas, Calif.; and four grandchildren.
Her sisters Dorian Leigh of Paris and Florian Boice of Annapolis, Md., also survive her.
Miss Parker said she looked in the mirror each day and thanked God for her cheekbones. But she insisted that she modeled only for money and had other professional ambitions. In the mid-1950's she temporarily abandoned being a cover girl for several years to be a photographer herself, apprenticing with Henri Cartier-Bresson in Paris and working for the French edition of Vogue.
It was through Mr. Avedon that Miss Parker parlayed her modeling fame into a movie career. As visual consultant in the movie "Funny Face," Mr. Avedon selected her for a brief but conspicuous appearance. Written by Leonard Gershe and directed by Stanley Donen, the 1957 film depicted a high-fashion photographer not unlike Mr. Avedon, played by Fred Astaire. Miss Parker was the inspiration for Audrey Hepburn's character in the film, a somewhat kooky intellectual and free spirit.
Hepburn, in turn, became such a cheerleader that Miss Parker called the actress her "Hollywood press agent."
Miss Parker was cast opposite Cary Grant in "Kiss Them for Me" in 1957, getting bad reviews. She appeared with Gary Cooper the next year in "Ten North Frederick." This time, Bosley Crowther in The New York Times said she underplayed her part "neatly."
She appeared in 1959 in "The Best of Everything," based on Rona Jaffe's novel. In 1961 she played opposite Mr. Dillman in "A Circle of Deception." They wed in 1963.
Miss Parker was in several more movies and became a sought-after television guest in the 1960's. Her most famous television appearance was in a 1963 episode of "Twilight Zone" in which she played six different parts.
She retired from acting in the mid-1960's and moved with Mr. Dillman to the Santa Barbara area.
In his book "Cover Girls and Supermodels, 1945-1965" (Marion Boyars, 1996), the French journalist Jean-Noël Liaut said Miss Parker had escaped the unhappy outcomes of other stellar models.
He wrote, "She became a perfect housewife, even to the extent of baking her own bread