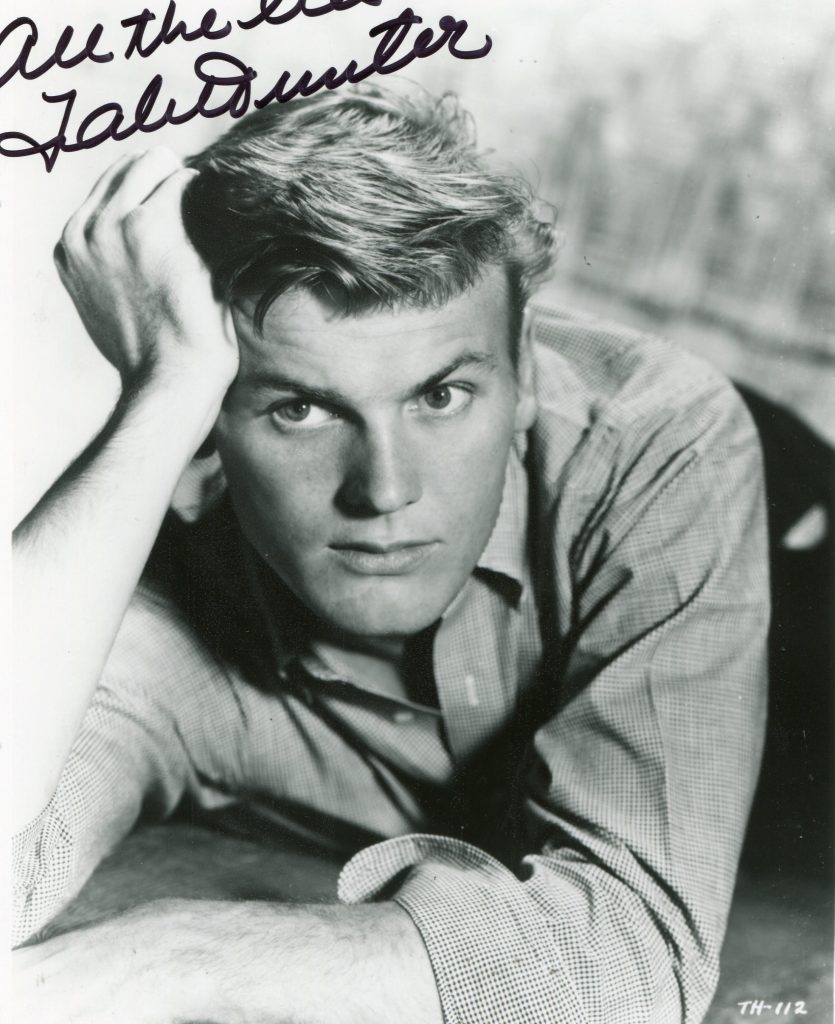 Tab Hunter. IMDB
Tab Hunter was born in New York in 1931 of German parents. His first film in 1952 was "Island of Desire" opposite Linda Darnell. By the mid-50's he was a teenage favourite in the U.S. He won acclaim for his performance as a marine in "Battle Cry". He starred in the musical "Damn Yankees". He had a world wide No 1 Hit Selling Song in 1957 with "Young Love". From the mid-60's onwards he also acted on stage and on television. He published his autobiography in 2005 entitled "Tab Hunter Confidential".
Gary Brumburgh's entry:
Dreamy Tab Hunter goes down in the film annals as one of the hottest teen film idols of the 50s era. With blond, tanned, surfer-boy good looks, he was artificially groomed and nicknamed "The Sigh Guy" by the Hollywood studio system, yet managed to continue his career long after his "golden boy" prime. He was born Arthur Kelm in New York City on July 11, 1931, the younger of two sons of Charles Kelm and Gertrude Gelien. His childhood was marred by an abusive father and, following his parents' divorce, his mother moved the children to California, changing their last names to her maiden name of Gelien. Leaving school and joining the Coast Guard at age 15 (he lied about his age), he was eventually discharged when the age deception was revealed. Returning home, his life-long passion for horseback riding led to a job with a riding academy. His fetching handsomeness and trim, athletic physique eventually steered the Californian toward the idea of acting.
An introduction to famed agent Henry Willson had Tab signing on the dotted line and what emerged, along with a major career, was the stage moniker of "Tab Hunter." Willson was also responsible with pointing hopeful Roy Fitzgerald towards stardom under the pseudonym Rock Hudson. With no previous experience Tab made his first, albeit minor, film debut in the racially trenchant drama The Lawless (1950) starring Gail Russelland Macdonald Carey. His only line in the movie was eventually cut upon release. It didn't seem to make a difference for he co-starred in his very next film, the British-madeIsland of Desire (1952) co-starring a somewhat older (by ten years) Linda Darnell, which was set during WWII on a deserted, tropical South Seas isle. His shirt remained off for a good portion of the film, which certainly did not go unnoticed by his ever-growing legion of female (and male) fans. Signed by Warner Bros., stardom was clinched a few years later with another WWII epic Battle Cry (1955), based on the Leon Uris novel, in which he again played a boyish soldier sharing torrid scenes with an older woman (this timeDorothy Malone, playing a love-starved Navy wife). Thoroughly primed as one of Hollywood's top beefcake commodities, the tabloid magazines had a field day initiating an aggressive campaign to "out" Hunter as gay, which would have ruined him. To combat the destructive tactics, Tab was seen escorting a number of Hollywood's lovelies at premieres and parties. In the meantime he was seldom out of his military fatigues on film, keeping his fans satisfied in such popular dramas as The Sea Chase (1955), The Burning Hills (1956) and The Girl He Left Behind (1956)–the last two opposite the equally popular Natalie Wood.
At around this time Hunter managed to parlay his boy-next-door film celebrity into a singing career. He topped the charts for over a month with the single "Young Love" in 1957 and produced other "top 40" singles as well. Like other fortunate celebrity-based singers such as Shelley Fabares and Paul Petersen, his musical reign was brief. Out of it, however, came the most notable success of his film career top-billing as baseball fan Joe Hardy in the classic Faustian musical Damn Yankees! (1958) opposite Gwen Verdon andRay Walston, who recreated their devil-making Broadway roles. Musically Tab may have been overshadowed but he brought with him major star power and the film became a crowd pleaser. He continued on with the William A. Wellman-directed Lafayette Escadrille(1958) as, yet again, a wholesome soldier, this time in World War I. More spicy love scenes came with That Kind of Woman (1959), an adult comedy-drama which focused on soldier Hunter and va-va-voom mistress Sophia Loren demonstrating some sexual chemistry on a train.
Seldom a favorite with the film critics, the 1960s brought about a career change for Tab. He begged out of his restrictive contract with Warners and ultimately paid the price. With no studio to protect him, he was at the mercy of several trumped-up lawsuits. Worse yet, handsome Troy Donahue had replaced him as the new beefcake on the block. With no film offers coming his way, he starred in his own series The Tab Hunter Show (1960), a rather featherweight sitcom that centered around his swinging bachelor pad. The series last only one season. On the positive side he clocked in with over 200 TV programs over the long stretch and was nominated for an Emmy award for his outstanding performance opposite Geraldine Page in a Playhouse 90 episode. Following the sparkling film comedyThe Pleasure of His Company (1961) opposite Debbie Reynolds, the quality of his films fell off drastically as he found himself top-lining such innocuous fare as Operation Bikini(1963), Ride the Wild Surf (1964) (1965), City in the Sea (1965) [aka War-Gods of the Deep], and Birds Do It (1966) both here and overseas. As for stage, a brief chance to star on Broadway happened in 1964 alongside the highly volatile Tallulah Bankhead inTennessee Williams's "The Milk Train Doesn't Stop Here Anymore." It lasted five performances. He then started to travel the dinner theater circuit.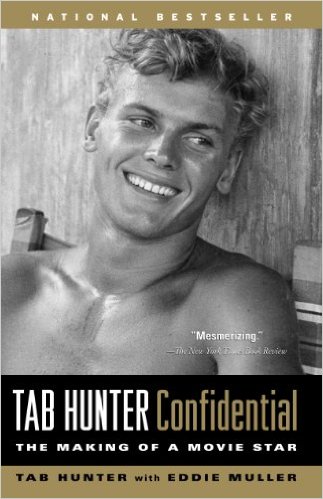 Enduring a severe lull, Tab bounced back in the 1980s and 1990s — more mature, less wholesome, but ever the looker. He gamely spoofed his old clean-cut image by appearing in delightfully tasteless John Waters' films as a romantic dangling carrot to heavyset transvestite "actress" Divine. Polyester (1981) was the first mainstream hit for Waters and Tab went on to team up with Allan Glaser to co-produce and co-star a Waters-like western spoof Lust in the Dust (1985). He is still working as a film producer at age 70+ in Southern California. Tab also "came out" with a tell-all memoir on his Hollywood years in October of 2005.
– IMDb Mini Biography By: Gary Brumburgh / gr-home@pacbell.net