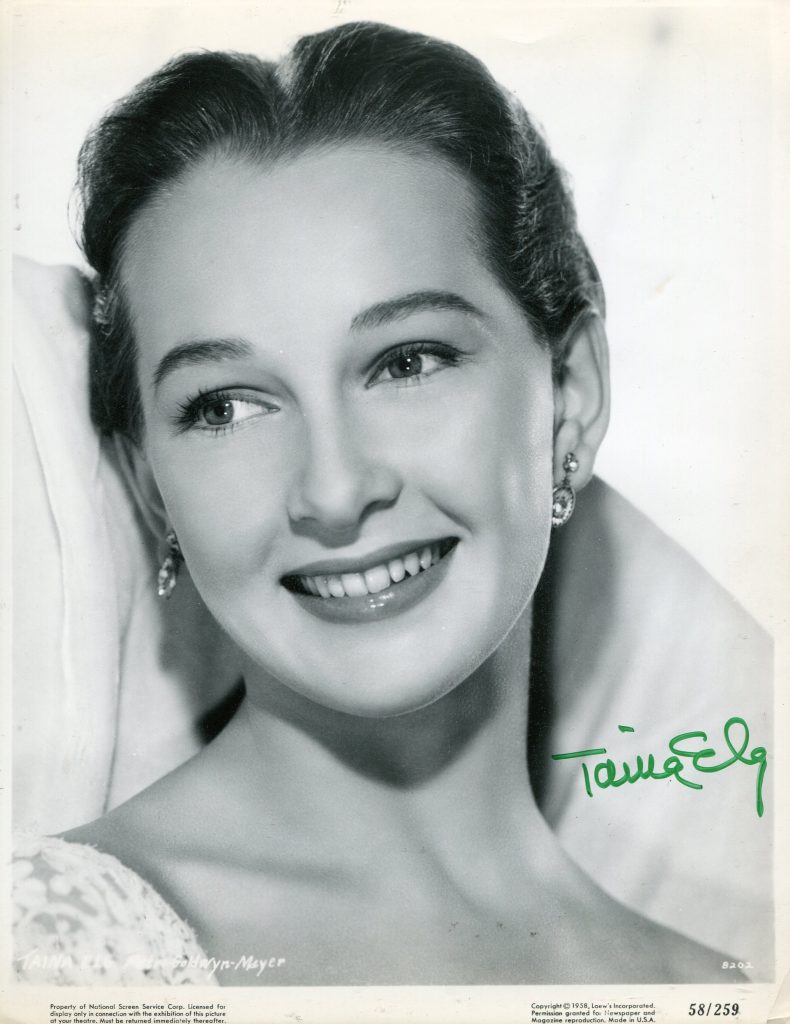 Taina Elg (Wikipedia)
Taina Elg is one of the few actresses who hail from Finland to star in Hollywood films. She was born in Helsinki in 1930. She trained originally as a ballet dancer. She joined the Sadler Welles Ballet company in London. She was noticed by an American film producer and offered a Hollywood contract. Her first U.S. film was "The Prodigal" with Edmund Purdom and Lana Turner in 1955. She made a number of other films for MGM including "Gaby" and "Diane". She went on to star with Kay Kendall, Gene Kelly and Mitzi Gaynor in "Les Girls" amusical with songs by Cole Porter. She then went to Britain to film the remake of "The 39 Steps" with Kenneth More. Her film career waned somewhat during the early 1960's and she acted more frequently on stage and on television. Her son is the famous jazz guitarist Raoul Bjorkenheim. Interview with Taina Elg on "Finland Center" website here.
Gary Brumburgh's entry:
One of her country's most celebrated performers, Finnish actress and dancer Taina Elg was born in 1931 in Impilahti, in Southeastern Finland (located near the Finnish/Russian border). Her home later became a target during the Finnish-Soviet wars between 1939 and 1944 and when it became part of the Soviet Union, the family was forced to leave.
At a very young age, she began her training in ballet and acting. When the family moved to Helsinki, Taina continued with her dance and acting training and eventually was invited to join the Finnish National Ballet. She appeared in a few homeland movies as early as age 10 and found a couple of obscure film roles as a teenager, one in which she danced.
Taina's international reputation began to grow when she joined the famed Sadler's Wells ballet dance company (The Royal Ballet) in London and then the Grand Ballet du Marquis de Cuevas, in Paris. A serious injury forced her to rethink her dancing career. Fortunately, she was discovered in London by American film producer Edwin H. Knopf and, on the heels of the spectacular Hollywood success fellow Scandinavian Anita Ekberg was having, MGM decided to sign Taina for a seven-year Hollywood contract.
She made her American debut for MGM with the secondary role of Elissa in the Lana Turner biblical costumer The Prodigal (1955). The following year MGM utilized her acting talents in their films Diane (1956), again starring Ms. Turner, and Gaby (1956) withLeslie Caron. For the afore-mentioned work she was honored with a Golden Globe award for female "foreign newcomer".
Taina was subsequently handed her best all-around opportunity by MGM to display her sublime dancing, sexy figure and comedic acting skills when asked to portray Angèle Ducros in Cole Porter's musical Les Girls (1957) opposite Gene Kelly and alongside fellow dazzlers Mitzi Gaynor and Kay Kendall. Receiving her second consecutive Golden Globe (tying with Kendall) for "Best Actress" in a musical, Les Girls (1957) also won the Golden Globe for "Best Picture – Musical" and an Oscar for its costume design.
More films came her way with Imitation General (1958) starring Glenn Ford and Red Buttons; the remake of the classic The 39 Steps (1959) opposite Kenneth More; the African adventure Watusi (1959) with George Montgomery and David Farrar and the war story Mission of Danger (1960), which was actually culled from a few TV episodes. None, however, could match the quality of Les Girls (1957).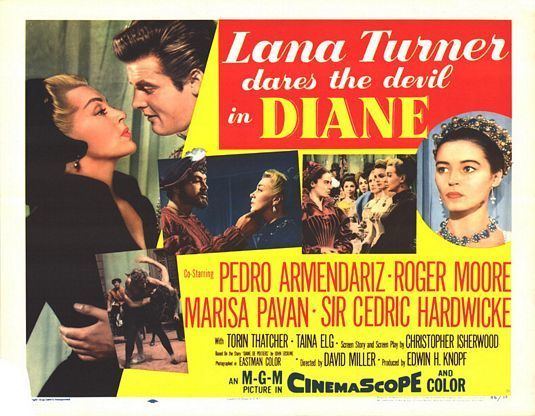 Ms. Elg's Hollywood film career went into a steep decline at this juncture and she began focusing on TV projects, foreign films and especially theatre roles. Appearing on stage in such 1960s productions as "Redhead," "Silk Stockings," "Irma La Douce," "West Side Story," "The Sound of Music" and "There's a Girl in My Soup," she finally made her Broadway debut with the musical "Look to the Lilies" in 1970, which was based on the Oscar-winning film Lilies of the Field (1963).
She never found a strong footing again in films and has appeared in less than a handful since. Other than the 1961 Italian spectacle Bondage Gladiator Sexy (1961), she showed up in the musclebound Arnold Schwarzenegger's vehicle Hercules in New York (1969),Liebestraum (1991), and the Barbra Streisand feature The Mirror Has Two Faces (1996).
Her love for the stage was obvious and she remained as colorful than ever gracing such musicals as Sondheim's "A Little Night Music" (1973) in which she sang the haunting "Send in the Clowns." She also returned to Broadway in later years with the musicals "Where's Charley?", for which she earned a Tony nomination, "Nine" and "Cabaret". She appeared in the national tour of the musical "Titanic" in 1998-1999. On the non-musical stage she had strong roles in "Uncle Vanya," "I Hate Hamlet" "O Pioneers!" and, more recently, "Requiem for William" and Memory of a Summer" (both 2003).
In 2004, the actress received a special honor from her native Finland, when she was knight by the Order of the Lion of Finland. She is a naturalized American citizen.
The jazz guitarist Raoul Björkenheim is Taina's son from her first marriage (1953-1958) to Carl "Poku" Björkenheim. In 1985 she was married to Rocco Caporale, an Italian educator and professor of sociology. The couple lived in New York City until his death in 2008.
– IMDb Mini Biography By: Gary Brumburgh / gr-home@pacbell.net