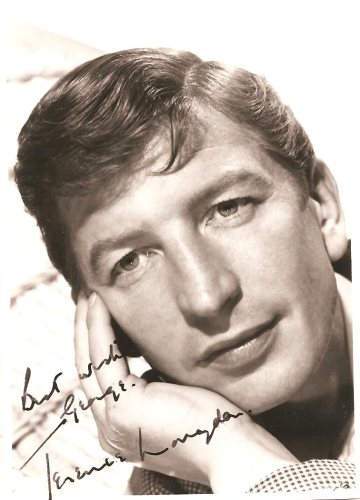 Terence Longdon was born in Newark-on-Trent in 1922. His film debut was in "Appointment in London" in 1952. In 1958 he had a leading role with Lana Turner, Sean Connery and Glynis Johns in "Another Time, Another Place" . He played Drusus, Messala's personal aide in "Ben Hur". He starred in the first Carry On which was "Carry on Sargent" and was featured in three more of the series. His last TV role seems to have been in 2003. He died in 2011.
His obituary in The Guardian" newspaper by Anthony Hayward:
Terence Longdon, who has died of cancer aged 88, was a character actor whose parted hair and thick-set face – though not his name – were familiar for several decades. Only once did he step into the spotlight at the top of the bill, when he starred as the title character in the television series Garry Halliday (1959-62). The almost-forgotten BBC children's adventure programme, based on books by Justin Blake, perfectly fitted Longdon's educated, smooth, well-mannered persona – and a man who had flown with the Fleet Air Arm during the second world war. The actor played a Biggles-like commercial airline pilot, with Terence Alexander as his co-pilot, Bill Dodds. Posing a constant threat to the Halliday Charter Company was "The Voice", an arch-villain who sat behind a two-way mirror and shone a light into the faces of his gang members, keeping his own in darkness.
Longdon was then happy to return to the shadows himself, rejecting the chance to become a regular in the long-running Carry On comedy films. In the first, Carry On Sergeant (1958), he played a woman-chasing layabout among the bunch of reprobates that an army sergeant (played by William Hartnell) tries to turn into a champion platoon. After being cast in Carry On Nurse (1959), Carry On Constable (1960) and Carry On Regardless (1961), he was offered a contract. "I discussed it with my agent for hours but eventually decided to turn it down because I didn't want to be confined to one particular line of movies," he said.
He was born Hubert Tuelly Longdon in Newark, Nottinghamshire, where his father owned businesses connected with the wool industry. He boarded at Minster school, Southwell, where he excelled as a choral scholar. On leaving, aged 17, Longdon planned to sit an entrance exam for the civil service, but war intervened, the exam was cancelled and he worked as a bank clerk and in other jobs until joining the Fleet Air Arm in 1940, becoming a pilot protecting Atlantic convoys during hostilities.
Later in the war, he moved to a naval base near Blackpool and was cast in a show that was staged there. Douglas Hurn, an actor, spotted his potential and encouraged him to take it further. Longdon successfully auditioned for Rada (1946-48) and made his first TV appearance with a walk-on part when the BBC screened the drama school's live production of Stephen Phillips's play Paolo and Francesca (1947).
He then joined the Lyceum, Sheffield, as an assistant stage manager and made his theatrical debut there as Robin in French for Love (1948), a light comedy by Marguerite Steen and Derek Patmore. After three months, Longdon was heading for London's West End, taking up a contract with the theatre chain HM Tennent. He played a soldier carrying a spear for John Gielgud in Medea (Globe, 1948), then another Greek soldier, alongside Stanley Baker, and understudied Paul Scofield in Adventure Story (St James's, 1949), before progressing to the lead juvenile role of Philip Ryall in Treasure Hunt (Apollo, 1949).
Later West End roles included the plotting Peter Marriott in The Sound of Murder (Aldwych, 1959), the illicit lover Colin in The Sacred Flame (Duke of York's, 1967), more than 1,000 performances as John Brownlow in The Secretary Bird (Savoy, 1968-71) and Charles Straker in The Sack Race (Ambassadors, 1974). Longdon also consolidated his classical credentials during a three-year stint (1951-54) at the New Shakespeare Memorial theatre, Stratford-upon-Avon, where his parts included Prince Hal in Henry IV, Part I, Oliver in As You Like It and Cassio in Othello.
By then, film roles were forthcoming and he became a staple of the B-movies that kept up the quota of domestically made productions in British cinemas. Many were war dramas, as was the main feature Angels One Five (1952), in which he played an RAF pilot. Then came the Carry On pictures and the roles of Patroclus, meeting an untimely death in a chariot, in Helen of Troy (1956), and Drusus in the epic Ben-Hur (1959).
Following his exposure in Garry Halliday, Longdon became more in demand on TV, taking character roles in the series No Hiding Place (1963), Danger Man (1964), The Avengers (1968), The Return of Sherlock Holmes (1986) and Victoria Wood: As Seen On TV (1986 and 1987). There was also a short run in Coronation Street (1982) as Wilf Stockwell, a sales rep and business associate of Mike Baldwin who briefly left his wife for Elsie Tanner.
Longdon's 1953 marriage to the actor Barbara Jefford was dissolved in 1960. He is survived by his second wife, Gillian Conyers, whom he married in 2004, after they had lived together for 16 years.
• Terence Longdon (Hubert Tuelly Longdon), actor, born 14 May 1922; died 23 April 2011
The Guardian obituary can be accessed on-line here.