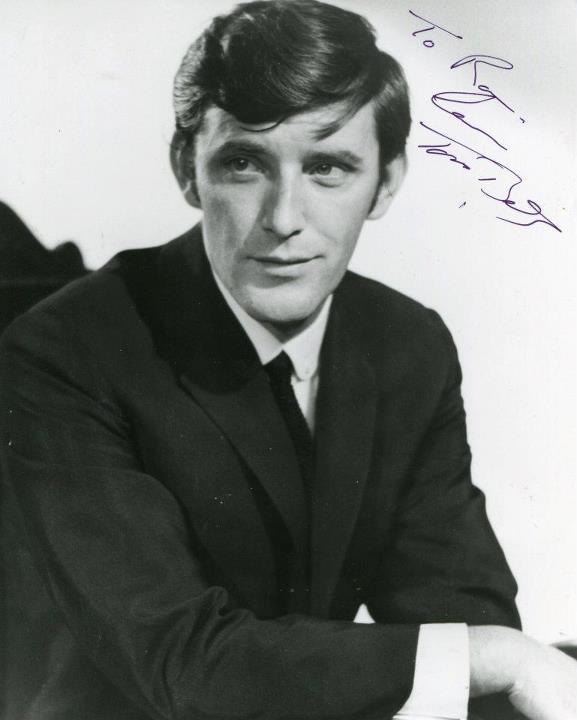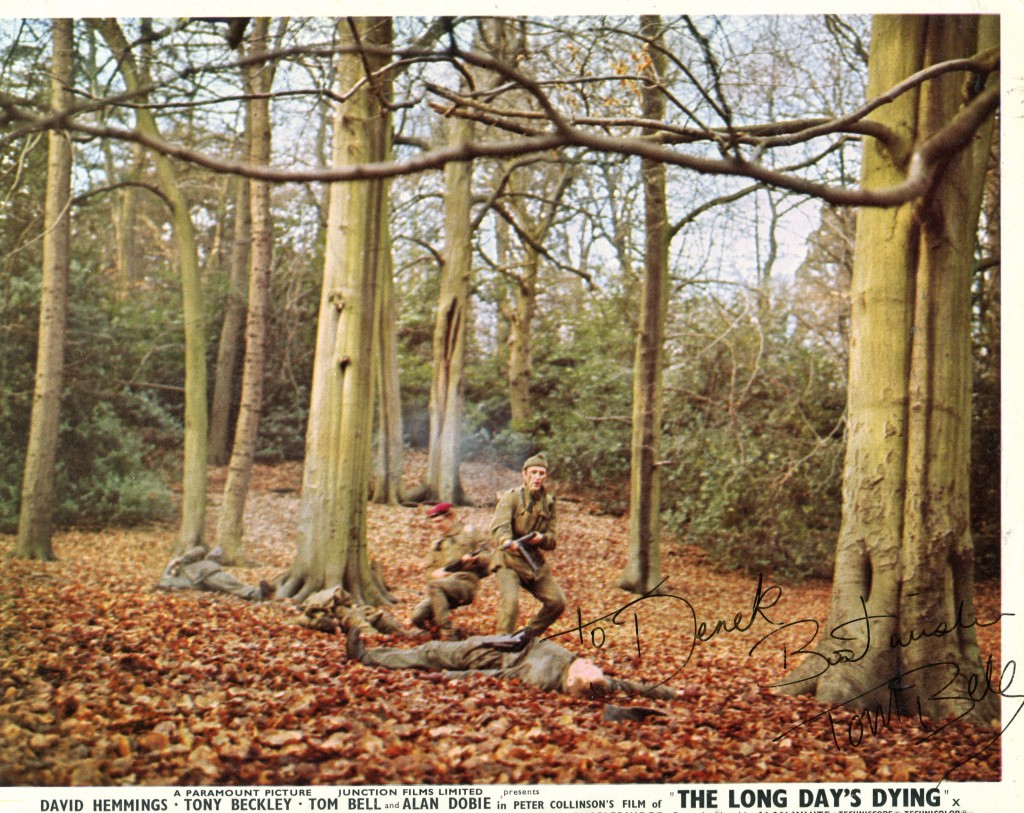 Tom Bell is one of my favourite actors. He carved out a distinguished career in stage, screen and television. This lean, long-faced actor was born in 1933 in Liverpool. He was tipped for major stardon after his performance with Leslie Caron in "The L Shaped Room" in 1962. However after an awards cermony in London where he was perceived to be rowdy, he found his cinema career stalled. After a number of years he excelled himself on television in a number of groundbreaking series such as "Holocaust", "Out" and "Prime Suspect". Sadly this great actor died in 2006.
Tom Bell obituary by Michael Coveney:
Tom Bell, who has died aged 73 after a short illness, was a naturally gifted and unusually reserved leading actor who never fulfilled the star promise of his breakthrough success as the unpublished writer in Bryan Forbes' 1962 movie, The L-Shaped Room. Whereas Albert Finney (Saturday Night and Sunday Morning, 1960), Alan Bates (A Kind of Loving, 1962) and Tom Courtenay (The Loneliness of the Long Distance Runner, 1962) all went on to careers in the new British cinema, and theatre, Bell drifted into television, where he became a fixture in the 1970s and 80s. But although his glory days were long gone, he never stopped working; he took a leading role in last night's episode of Ancient Rome: The Rise and Fall of an Empire on BBC1.
Tom Bell enjoyed huge popularity in his signature role of armed robber Frank Ross in the late 1970s TV series Out, written by Trevor Preston and produced by Euston Films. As a single-minded avenger, lately released from prison, he cut a terrific swathe through the villains and bent policemen who put him away. Tough, good-looking, uncompromising, he was one of the great characters of British television in this period, and he cemented his relationship with the viewing public as the sneering Detective Sergeant Bill Otley in Prime Suspect, for which he was nominated for a Bafta, and as the unbending father of Clive Owen in Chancer (1990).
Tom Bell was famous for not mincing his words, and there are many who felt he scuppered his film career by heckling the Duke of Edinburgh at an awards dinner shortly after his first success. "Make us laugh, tell us a joke," he cried, to the dismay of industry bigwigs such as John Mills and Richard Attenborough. Very much his own man, he even managed to get out of national service a fortnight after being called up. And he often compelled writers to cut long speeches with which he was loath to bore the audience.
With this week's West End revival of Martin Sherman's Bent, it is poignant to recall Bell's performance in the original 1979 production at the Royal Court theatre, one of his rare, later stage appearances, in which he played Horst, the grimly saturnine companion to Ian McKellen's Max in Dachau; the illicit sexual liaison between the two prisoners in the stone-breaking compound brought a whole new meaning to the phrase "getting one's rocks off". Bell's quiet, mesmeric brand of acting was the perfect foil to McKellen's more demonstrative emotional quivering.
The director Peter Gill, who joined the Swansea Rep when Bell, then in his mid-20s, was the leading man, said he represented a 1960s type before they existed. "In the theatre, Terry Stamp was the first, but Tom Bell had a Paul Newman quality that was rare – and still is – on the British stage. He had allure, and it was no wonder that he soon became the darling of the television producers of Armchair Theatre and so on. He was a troubled, smooth-skinned Liverpool boy, a more wholesome sort of John Lennon without the glasses."
Bell was born into a large family, the son of a merchant seaman he hardly knew. As a child evacuee during the war, he lived with three different families in the Morecambe area. Tom Bell attended Euston Road secondary modern school in Morecambe, worked on the pier as a photographer during the holidays and later trained as an actor in Bradford with the legendary Esme Church, whose pupils then included Robert Stephens and Billie Whitelaw. After that, he went into weekly rep, with a fit-up, or temporary, company in Ireland and Britain, before becoming part of the "kitchen sink" movement in the 1960s, firstly as Paul in the film of Arnold Wesker's The Kitchen.
One unlikely brush with Hollywood put him off the bright lights for good – "a total madhouse," he told this newspaper in 1987, in a staccato style that was patently tongue-in-cheek: "Kept trying to get me laid, brought these girls with big tits up to my room. No way, couldn't relate to it at all." In that same year he played Uncle Philip in a film of Angela Carter's The Magic Toyshop, exuding a livid streak of self-righteousness that improved even on Carter's character.
In 1978 he had come to worldwide attention as Adolf Eichmann in the Emmy award-winning series The Holocaust, but many viewers will also treasure performances such as Walter Morel in Trevor Griffiths' television adaptation of DH Lawrence's Sons and Lovers (1981), or Jack "the Hat" McVitie in Peter Medak's film The Krays (1990). It is the sort of career that needs a season at the National Film Theatre to do it justice, for Tom Bell never gave a performance that was not instilled with truth and a rare sort of inner beauty.
Although he did, in fact, play the Finney role in Saturday Night and Sunday Morning in the theatre, he never envied his friend's move to the National: "I wouldn't want to work there," he said in 1978, "Albie climbs mountains there. I'd rather think in terms of films. I photograph quite well." Indeed he did.
Tom Bell is survived by his son, Aran, from an early marriage, and by his partner of 30 years, the costume designer Frances Tempest, with whom he had a step-daughter, Nellie, and a daughter, Polly.
· Tom Bell, actor, born August 2 1933; died October 4 2006.
To also view "The Guardian" Obituary on Tom Bell, please click here.
Article on Tom Bell in "Tina Aumont's Eyes" website:
Serious and thoughtful looking, Tom Bell was one of the UK's finest actors to emerge in the early Sixties. Dark-haired and wiry with a rebellious streak and an unpredictability, he sadly never achieved the fame he could have once had.
Born in Liverpool on August 2nd 1933, Bell began in repertory before making his movie debut in Joseph Losey's realistic prison drama 'The Criminal' ('60), starring Stanley Baker and Sam Wanamaker. A showy role soon followed in the exciting heist flick 'Payroll' ('61), as a loose-cannon crook, and he was then a brutal seaman in the Alec Guinness-Dirk Bogarde adventure 'HMS Defiant' ('62). A strong role came in Bryan Forbes' excellent boarding house drama 'The L-Shaped Room' ('62). In it Bell played a young writer who briefly romances Leslie Caron's lonely pregnant French girl. A big hit it garnered various awards including a Bafta, and an Academy Award nomination for Caron's touching performance.
After playing an alcoholic in the Ray Charles drama 'Ballad in Blue' ('64), Tom had the lead role of a cat-burglar, in Charles Crichton's interesting drama 'He Who Rides a Tiger' ('65) with Judi Dench. Later, Bell was very good as disillusioned IRA member Sean Rogan, who's recruited by Ed Begley's mastermind to blow up a British electronics factory, in Don Sharp's 'The Violent Enemy' ('68). A rare comedy role followed when he played a sex-starved sailor in the bawdy farce 'Lock Up Your Daughters!' ('69). My favourite Tom Bell performance came in Gerry O'Hara's excellent drama 'All the Right Noises' ('69), as a married electrician who falls for Olivia Hussey's 15 year old actress. He gave a sensitive performance in what could have so easily been a sleazy picture, but was actually a nicely acted and engaging drama. Another interesting project was 'Quest for Love' ('71), a romantic Sci-fi sleeper which saw Tom as a physicist stuck in a parallel universe and falling in love with Joan Collins, who appeared in dual roles.
After playing a boutique owner in Hammer's uneven shocker 'Straight On till Morning' ('72), Bell had a supporting role as one of Oliver Reed's henchmen, in Richard Lester's star-laden romp 'Royal Flash' ('75). This was followed by a strong turn in Jack Gold's melodrama 'The Sailor's Return' ('78), as a sailor returning home to the West Country, only to find himself ostracized by his community for marrying an African girl. It was a good performance in an interesting yet little-seen production. That same year Bell gained some worldwide exposure when he played Nazi chief Adolf Eichmann in the acclaimed mini-series 'Holocaust', alongside such stars as Meryl Streep, Michael Moriarty and James Woods. Another barely seen production was 'Summer Lightning' ('84), a mood piece which provided a rare screen outing for acclaimed actor Paul Scofield, but very few saw it.
A big hit came in 1987 with David Leland's period comedy-drama 'Wish You Were Here', playing a dirty old man who sleeps with his friend's bored young daughter (Emily Lloyd). A Falkland's drama followed when Tom played the father of David Thewlis's returning soldier in Paul Greengrass's 'Resurrected' ('89). A real-life gangster part came next when Bell was cast as Jack "The Hat" McVitie, in Peter Medak's violent biopic 'The Krays' ('90), which starred Gary and Martin Kemp as the notorious twins Ronald and Reggie Kray, with a standout turn from Billie Whitelaw as their beloved mum Violet.
Much seen on television, Bell had a good role opposite Helen Mirren in 'Prime Suspect' ('91), as Detective Sergeant Otley, and the part earned Tom a Bafta nomination in the third series. For cinema, Bell would play another Detective Sergeant that year, in the powerful and moving true-life drama 'Let Him Have It' ('91). The next few years saw fewer appearances although Tom did crop up in a handful of interesting productions, notably 'Feast of July' ('95) with Embeth Davidtz, a cameo in the Daniel Day-Lewis starrer 'The Boxer' ('97), and 'Dead Man's Cards' (2006), a violent underworld flick with Paul Barber.
After a diverse 50 year career, Tom Bell died in Brighton, England on October 4th 2006, aged 73. A bit of a hell raiser in his time, he gave some powerful performances in a host of offbeat productions and, although I always see Tom as this unsmiling and serious character, I like the fact that he never took the easy route and was never afraid to be controversial.
Favourite Movie: 'Let Him Have It'
Favourite Performance: 'All the Right Noises'
The above article can aso be accessed online here.