Tom Courtney (Wikipedia)
Acting chameleon Sir Tom Courtenay, along with Sirs Alan Bates and Albert Finney, became front-runners in an up-and-coming company of rebel upstarts who created quite a stir in British "kitchen sink" cinema during the early 60s. An undying love for the theatre, however, had Courtenay channeling a different course than the afore-mentioned greats and he never, by his own choosing, attained comparable cinematic stardom.
The gaunt and glum, fair-haired actor was born Thomas Daniel Courtenay of modest surroundings on February 25, 1937, in Hull, East Yorkshire, England, the son of Thomas Henry Courtenay, a ship painter, and his wife Anne Eliza (née Quest). Graduating from Kingston High School there, he trained in drama at London's Royal Academy of Dramatic Arts. His reputation as an actor grew almost immediately with his professional debut in 1960 as Konstantin in "The Seagull" at the Old Vic. Following tours in Scotland and London with the play, Tom performed in "Henry IV, Part I" and "Twelfth Night" (also at the Old Vic) before assuming the title role of Billy from Albert Finney in the critically-acclaimed drama "Billy Liar" at the Cambridge Theatre in 1961. The story, which tells of a Yorkshire man who creates a fantasy world to shield himself from his mundane middle-class woes, was the initial spark in Tom's rise to fame.
The recognition he received landed him squarely into the heap of things as a new wave of "angry young men" were taking over British cinema during the swinging 60s. Singled out for his earlier stage work at RADA, he was eventually handed the title role in the war film Private Potter (1962), but it was his second movie that clenched stardom. Winning the role of Colin Smith in The Loneliness of the Long Distance Runner (1962), Courtenay invested everything he had in this bruising portrayal of youthful desolation and rebellion. As a reform school truant whose solitary sentencing for robbing a bakery leads to a reawakening and subsequent recognition as a long distance runner, he was awarded a "Promising Newcomer" award from the British Film Academy, It was Courtenay then, and not Finney, who recreated his stage triumph as Billy Fisher in the stark film version ofBilly Liar (1963). British Film Academy nominations came his way for this and for his fourth movie role in King & Country (1964). Vivid contributions to the films King Rat(1965), the ever-popular Doctor Zhivago (1965), which earned him his first Oscar nomination, and The Night of the Generals (1967) followed.
Despite all this cinematic glory, Courtenay did not enjoy the process of movie-making and reverted back to his first passion — the theatre — beginning in 1966. Displaying his versatility with roles in such classic works as "The Cherry Orchard," "Macbeth" (as Malcolm), "Charley's Aunt," "The Playboy of the Western World," "Hamlet," "She Stoops to Conquer," "Peer Gynt" and "Arms and the Man," he still found scattered work in films, including The Day the Fish Came Out (1967), A Dandy in Aspic (1968) and Otley (1968), but none matched his earlier brilliance. In 1971 he took a self-imposed, decade-long sabbatical from filming.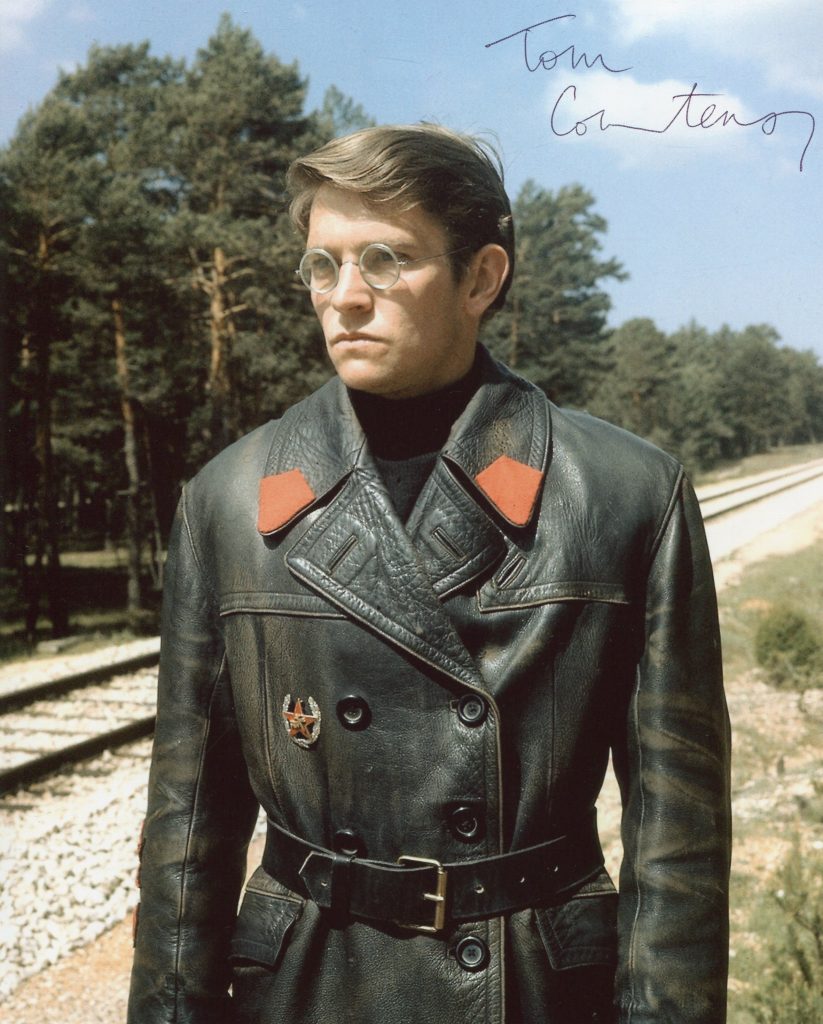 Forming a sturdy association with the Royal Exchange Theatre in Manchester that would last over a decade, he continued to impress with lead roles in "The Rivals" and "The Prince of Homburg". Following his huge success as the libidinous Norman in "The Norman Conquests" in London, he made his Broadway debut with "Otherwise Engaged" (1977) and earned a Tony nomination and Drama League Award in the process. It was his second Tony-nominated triumph in "The Dresser" in 1980-1981, however, that lured Courtenay back to films when he was asked to recreate the role for the large screen. The Dresser (1983) co-starred Tom as the mincing personal assistant to an appallingly self-destructive stage star played by Albert Finney (Paul Rogers played the role with Tom on Broadway) who struggles to get the actor through a rigorous performance of "King Lear". Both British actors received Oscar nominations but lost the 1984 "Best Actor" award to American Robert Duvall.
Since then Tom has appeared on occasion in TV and film roles — usually in support. A few standouts include the films Let Him Have It (1991), Whatever Happened to Harold Smith? (1999), Last Orders (2001) and Nicholas Nickleby (2002), and the TV mini-seriesA Rather English Marriage (1998), for which he earned a British Television Award, andLittle Dorrit (2008).
Over the years Sir Tom has excelled in solo stage shows as well. As a chronic alcoholic in "Moscow Stations," he won the 1994 London Critics Circle Theatre and London Evening Standard Theatre awards for "Best Actor". In 2002, he wrote the one-man show "Pretending To Be Me," based on the letters and writings of poet Philip Larkin. In the past decade he has continued to distinguish himself on both the classical ("King Lear," "Uncle Vanya") and contemporary ("Art") stages.
Courtenay's marriage to actress Cheryl Kennedy lasted about a decade (from 1973 to 1982). In 1988 he married Isabel Crossley, a stage manager at the Royal Exchange Theatre in London. He has no children from either marriage. In 1999, Sir Tom Courtenay was awarded an honorary doctorate from Hull University and in 2000 published his memoir "Dear Tom: Letters From Home", which earned strong reviews. Knighthood came a year after that.
– IMDb Mini Biography By: Gary Brumburgh / gr-home@pacbell.net