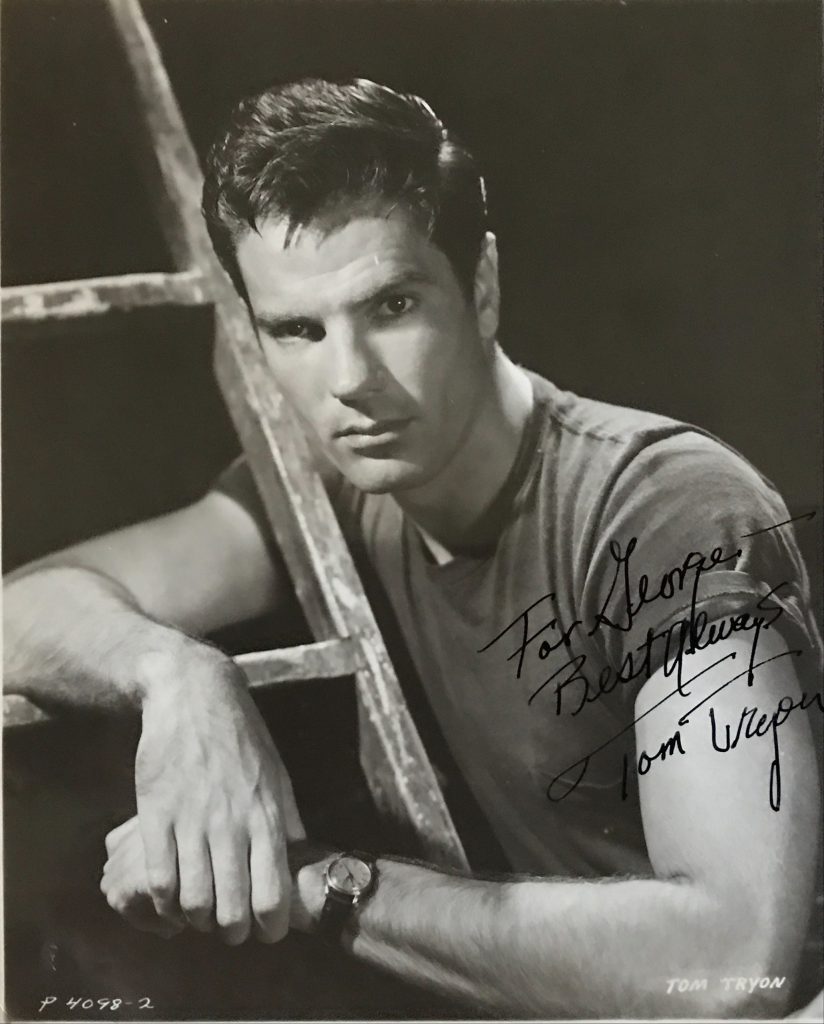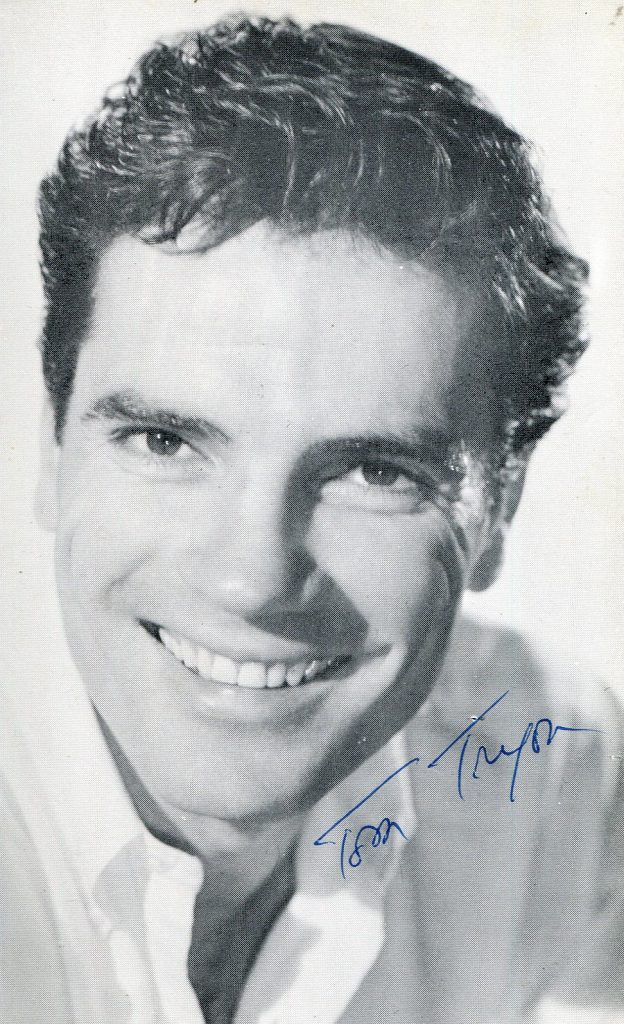 Tom Tryon TCM Overview
Tom Tryon had a successful career in film when he decided to retire from movies and he became a very popular author of best-sellers. He was born in 1925 in Hartfort, Connecticut. His first film was "The Scarlet Hour".
He was very effective opposite Diana Dors in "The Unholy Wife" in 1957. He starred in many Westerns including "Three Violent Men", "Texas John Slaughter", "The Glory Guys" and "Winchester 73".
He also became identified with the cult classic "I Married a Monster from Outer Space". In 1963 Otto Preminger surprisingly chose him to play the lead in the big-budget movie "The Cardinal".

He also starred in Preminger's "In Harm's Way". Preminger a difficult taskmaster made film making difficult for Tryon.
His interest in acting waned and he took up a new and extremely successful career as a writer. His books include "The Other", "Harvest Home" and "Fedora", all of which were subsequently filmed.

Tom Tryon died in 1991 in Los Angeles.Tall, ruggedly handsome leading man of the 1950s and 60s who after a 16-year career gave up acting in 1971 to write the best-selling novels "Crowned Heads" and "Harvest Home"
. After beginning in a stock theatre company as a set painter and assistant manager, and later becoming a production assistant with NBC-TV, the Yale-educated Tryon entered film in 1955 with "Scarlet Hour".
He appeared in mostly forgettable fare including "I Married a Monster from Outer Space" (1958) (as a stone-faced alien), and as the title character in the 1958 Walt Disney TV series "Texas John Slaughter". The height of his acting career was the starring role in Otto Preminger's "The Cardinal" (1963). In 1971, Tryon wrote the highly popular, supernatural thriller "The Other", which he adapted to the screen the following year, and then switched full time to his eventually more successful writing career.
His novel "Harvest Home" was made into a 1978 TV movie "The Dark Secret of Harvest Home", and his "Crowned Heads" was adapted in part for the 1978 Billy Wilder film, "Fedora".
The above TCM overview can also be accessed online here.
TCM Overview:
Blog on Tom Tryon:
It was Noel Coward's partner, Gertrude Lawrence, who encouraged Tom to try acting. He made his Broadway debut in 1952 in the chorus of the musical "Wish You Were Here." He also worked in television at the time, but as a production assistent. In 1955 he moved to California to try his hand at the movies, and the next year made his film debut in "The Scarlet Hour" (1956). Tom was cast in the title role of the Disney TV series "Texas John Slaughter" (1958) that made him something of a household name.
He appeared in several horror and science fiction films: "I Married a Monster from Outer Space" (1958) and "Moon Pilot" (1962) and in westerns: 'Three Violent People' (1956) and 'Winchester '73' (1967). He was part of the all-star cast in 'The Longest Day' (1962), a film of the World War II generation, credited with saving 20th Century Fox Studios, after the disaster of 'Cleopatra." He considered his best role to be in 'In Harm's Way'(1965), which is also regarded as one of the better films about World War II.
While filming the title role in 'The Cardinal' (1962), Tom suffered from Otto Preminger's Teutonic directing style and became physically ill. Nevertheless, Tom was nominated for a Golden Globe award in 1963. He appeared with Marilyn Monroe in her final film, "Something's Got to Give" (1962), but the studio fired Monroe after three weeks, and the film was never finished. That experience, along with the "Cardinal" ordeal, left Tom wary of studio games and weary at waiting around for the phone to ring.
After viewing the film "Rosemary's Baby" (1968) Tom was inspired to write his own horror novel, and in 1971 Alfred Knopf published "The Other." It became an instant bestseller and was turned into a movie in 1972, which Tom wrote and produced. Thereafter, despite occasional film and TV offers, Tom gave up acting to write fiction fulltime. This he did eight to ten hours a day, with pencil, on legal-sized yellow tablets. Years later, he graduated to an IBM Selectric.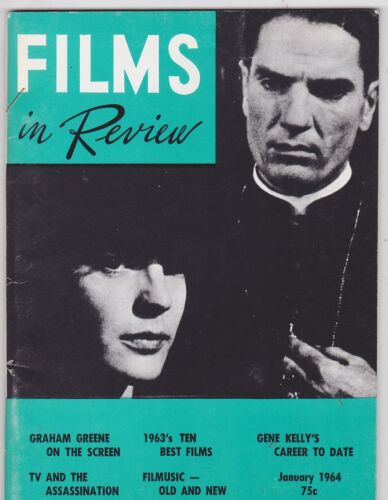 The Other was followed by Lady (1975) which concerns the friendship between and eight-year-old boy and a mysterious widow in 1930s New England. His book Crowned Heads became an inspiration for the Billy Wilder film "Fedora" (1978), and a miniseries with Bette Davis was made from his novel Harvest Home (1978). All That Glitters (1986), a quintette of stories about thinly disguised Hollywood greats and near-greats followed. Night of the Moonbow (1989), tells of a boy driven to violence by the constant harassment he endures at a summer camp. Night Magic, about an urban street magician with wonderous powers, written shortly before his death in 1991, was posthumously published in 1995. The dust jackets and end papers of Tom's books, about which he took unusual care, are excellent examples of his gifts as an artist and graphic designer, further testimony to the breadth of his talents.
Blog can be accesssed online here.