Tony Doyle obituary in "The Guardian" in 2000.
Tony Doyle was born in 1942 in Roscommon in Ireland. He began acting on television in 1963 and a few years later he played Fr Sheehy in the long running Irish drama "The Riordans". In 1967 he made his first film, an adaptation by Joseph Strick of James Joyce's "Ulysses". Other fims included "Quackser Fortune has a Cousin in the Bronx", "Who Dares Win" and "A Love Divided". He starred in many very popular television dramas including "Between the Lines" and "Ballykissangel". He delivered a stunning performance in "Amongst Women". Tony Doyle died suddenly in 2000 at the age of 57.
His "Guardian" obituary:
The sudden death of the actor Tony Doyle, at the age of 57, has deprived Ireland of one of its greatest dramatic talents. Although best known to television audiences as Brian Quigley, the scheming local businessman in the BBC1 series Ballykissangel, his acting credits cover an extraordinary range of work on stage, radio, film and television in Britain and Ireland.
Tony was born in Frenchtown, Roscommon, on the Sligo-Leitrim border, where his father was a police sergeant. Later, the family moved to Churchtown, Dublin, when his father was stationed there in the late 1950s. He went to University College, Dublin, and later, took acting courses with Brendan Smyth in Dublin, while working briefly with a US oil company based in Dublin.

He began his acting career with small independent groups in Dublin, before moving to London where he played a number of roles in fringe theatre. I vividly recall him, dressed in a silver suit in a small theatre in Islington, singing Stewart Parker's pastiche of a 1970s Eurovision Contest song, Der Zig Zag Zong, in the play Catchpenny Twist. It stole the show.
Tony was passionate about the theatre and loved working on the stage. There were a number of roles at the Royal Court, London, including an exceptional performance in Ron Hutchinson's Rat In The Skull, and at the Abbey Theatre, Dublin, where his performance in The Gigli Concert was an emotional tour-de-force.
His television curriculum vitae lists no fewer than 81 titles. They include films such as The Hen House and The Nightwatch, directed by Danny Boyle, and his first major series role as the complex policeman John Deakin in the BBC crime drama, Between the Lines.
He was also a brilliant radio actor. Only last week BBC Radio 4 audiences had the pleasure of hearing him read a series of ghost stories. I understand from the young producer who worked with him that Tony's kindness to inexperienced raido producers had remained unchanged since I first worked with him in the late 1970s.
Outside his dedication to acting, it was clear that Tony's family and close friends were the most important things to him. He rarely took breaks from work but, when he did, it was often to spend time with his artist wife Sally in their house in France. He had three children from his first marriage – one of whom, Susannah, played the secretary, Joy, in Channel 4's Drop The Dead Donkey – and three from his second.
Tony's strength as an actor came from his qualities as a man. He had a natural authority, warmth, humour and intelligence, which informed all the roles he played. Anyone who worked with him recognised his uncanny ability to find something oddly heroic in all the manifestations of human weakness. Even when the characters he portrayed were cruel, ruthless or pathetic, one sensed they had an equal capacity for humour and tragedy. Perhaps this explains the exceptional range of the parts he played.
His creation of Quigley in Ballykissangel, justifying a lucrative franchise for confessionals containing fax machines on moral grounds, was funny because he somehow managed to show hypocrisy as something ludicrous, self-revealing and deeply human.
His portrayal of Michael Moran, in the BBC adaptation of John McGahern's Amongst Women, achieved the almost impossible feat of making us feel sympathy for a tyrannical patriarch who would otherwise have appeared merely a monster. It was a role that brought Doyle much deserved acclaim, including many major awards and nominations.
He was about to star in a pilot for a series that had been specially written for him – McCready and Daughter. He would have been great in it; in Tony's hands, a part didn't look like acting. On film-sets, his presence assured stability and integrity. His friendship was hugely valued.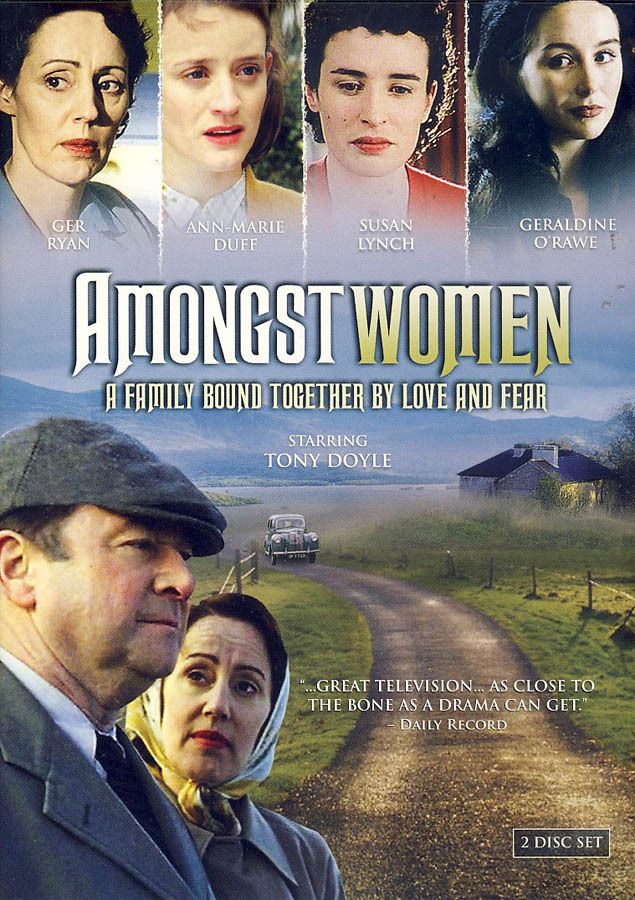 Tony Garnett writes: Some deaths are unsurprising, even expected. Tony Doyle's was like a kick in the stomach. We were just doing the deal with his agent for his sixth outing as Brian Quigley, in Ballykissangel. Tony was the Jack Nicholson of British actors. A tough man to deal with – he knew his worth – but once done, the most consummate professional.
However warm, convivial (and late) the night before, he was always on the set on time, spruce, bright-eyed and ready, without temperament or side. In an age when some young actors mistake tabloid celebrity for talent, his impeccable professional manners were an example. You didn't mess with him. Who would want to? He always delivered.
In the 1990s, I was a privileged colleague through three years of Between The Lines and five of Ballykissangel. The roles were very different, but his subtlety, quiet authority and tart comedy timing were the same. As the bent detective and Machiavellian fixer, Deakin, he was cold and cynical, a man who believed in nothing, but enjoyed life as a game of bluff and double bluff. As Quigley, the entrepreneurial fixer, he brought warmth and an understanding of human weakness to the character. Rarely can a villain have been so loved by so many. Quigley playing with his grandson are scenes of great tenderness.
Tony was my kind of actor. Less was more, and you could never catch him doing it. He had presence. It will take a long time to fade.
Tony Doyle, actor, born 1942; died January 28 2000
This "Guardian" obituary can also be accessed online here.
Dictionary of Irish biography:
Doyle, Michael Anthony ('Tony') (1935–2000), actor, was born 21 July 1935 in Ballyfarnan, near Boyle, Co. Roscommon, youngest among four children of James Doyle, garda, and his wife Nora. His father was later stationed in Frenchpark, Co. Roscommon, and in the mid 1950s in Churchtown, Dublin. Tony was educated at Frenchpark national school and Belcamp College, Raheny, Dublin, before proceeding to St Patrick's in Carlow to study philosophy and to UCD to study commerce. At college he became involved in the Dramatic Society and decided on the stage as a career. He spent time on the Dublin fringe, especially at the Pike Theatre, till a musical he was appearing in, James MacKenna's 'The scatterin', transferred to London in 1962 and he decided to stay on. Although he lived principally in London for the rest of his life, work often took him to Ireland. His role as Fr Sheehy (who caused a furore by advising women to use contraception), in the long-running RTÉ soap opera 'The Riordans', made him a household face in Ireland in the 1960s and 1970s.
Doyle was briefly back in Dublin in the early 1970s to take on part-management of the Eblana Theatre, in premises under the central bus station. In March 1971 he produced Tom Gallacher's 'Mr Joyce is leaving Paris' for the Dublin theatre festival, but had to take to the stage half an hour into the first performance to announce an injunction against the play by the trustees of Joyce's estate. The following year he had a television appearance in another play based on Joyce's work, Hugh Leonard's 'Stephen D' (BBC 1972) as Dedalus's friend Cranly, and in 1973 he appeared with John Hurt in a Tom Gallacher play, 'The only street', at the Dublin theatre festival. In England he took leading parts in acclaimed new Irish plays including Hugh Leonard's 'Da' (Islington, 1977) and Brian Friel's 'Translations' (Hampstead Theatre Club, 1981), but he was not typecast as an Irish actor and appeared in Pinter's 'The birthday party' (Shaw Theatre, January 1975) as the sinister gangster McCann. The Times (9 Jan. 1975) commended him as a 'tense, immobile figure, occasionally springing a swift, economical gesture'. He became associated with brooding and bullying parts – as the Unnamed Irishman in Tom Murphy's 'The Gigli concert', performed in the Gate (19 March 1991) before transferring to the Almeida, London, the following year, he was critically acclaimed for playing 'a dangerous bully, whose fist is as clenched as his smile' (Guardian, 9 Jan. 1992).
Doyle's screen characters also carried frequent undertones of aggression and menace; he excelled at villains. In the BBC series 'Crossfire' (1988) he was a Provisional IRA chief and in Murder in Eden (1991) he was a publican with a drink problem, who had killed two people. For the BBC police serial 'Between the lines' (1992–4) he played the seemingly incorruptible John Deakin, who turns out to be the villain. This was a breakthrough role and finally brought Doyle widespread renown; for the last six years of his life he was among the most acclaimed and sought-after actors in Britain. In the hard-hitting ITV drama about prostitutes, 'Band of gold' (1995–6), he was George Ferguson, cleaning-business boss and another menacing figure. His portrayal of brooding, dangerous characters reached its apogee in 'Amongst women' (1998), a four-part BBC drama based on John McGahern's (qv) book, with Doyle as Moran, the tyrannical widower and war of independence veteran, who brings up his children in a climate of fear. The role is based on McGahern's father, a Leitrim garda, whom Doyle's father, stationed in the neighbouring county, had known; Doyle said that the culture was familiar to him. He brought intensity and vulnerability to the part, which won him an IFTA and a Monte Carlo TV Silver Nymph award and is generally considered his master role. His on-screen tough-guy persona was matched by his off-screen reputation – Tony Garnett called him 'the Jack Nicholson of British actors. A tough man to deal with, but once done, the most consummate professional. You didn't mess with him. Who would want to? He always delivered' (Guardian, 29 Jan. 2000).
However, his best-known part was light-hearted. He was originally unimpressed by the 'Ballykissangel' script but (after pressure) agreed to take on the part of Brian Quigley, a brash, wheeler-dealer businessman. The heart-warming comedy, set in a fictional village in Co. Wicklow, was an unlikely success and ran from 1996 to 1999. Showcasing Doyle in a straight comic role, it proved his versatility as an actor.
Although primarily a small-screen actor, Doyle was, towards the end of his life, offered an increasing number of film roles and appeared in Louis Malle's Damage (1992); in Pat O'Connor's Circle of friends (1995); as the gangster godfather, Tom French, in Paddy Breathnach's I went down (1997); and as the bitter trouble-stirring priest in the 1999 film A love divided (based on the 1957 Fethard-on-Sea boycott; see Seán Cloney (qv)). In 1998 he was awarded a lifetime achievement award by the Film Institute of Ireland. Doyle, a workaholic who had worked consistently throughout his career, took a typically prosaic, modest attitude to his belated success: 'I feel like a very old racehorse who's suddenly found himself on his feet so long that he starts winning' (Irish Times, 29 May 1999). His sudden death in London on 28 January 2000 came as a shock; he was due to begin filming a BBC drama, 'McCready and daughter'. His remains were flown to Dublin and he was buried in Glasnevin cemetery, after removal from Terenure College chapel.
He married first (1967) Susan Courtney, they had a son and two daughters, one of whom, Susannah Doyle, followed him into acting. The marriage ended in divorce (1976). With his second wife, Sally, he had a daughter and two sons