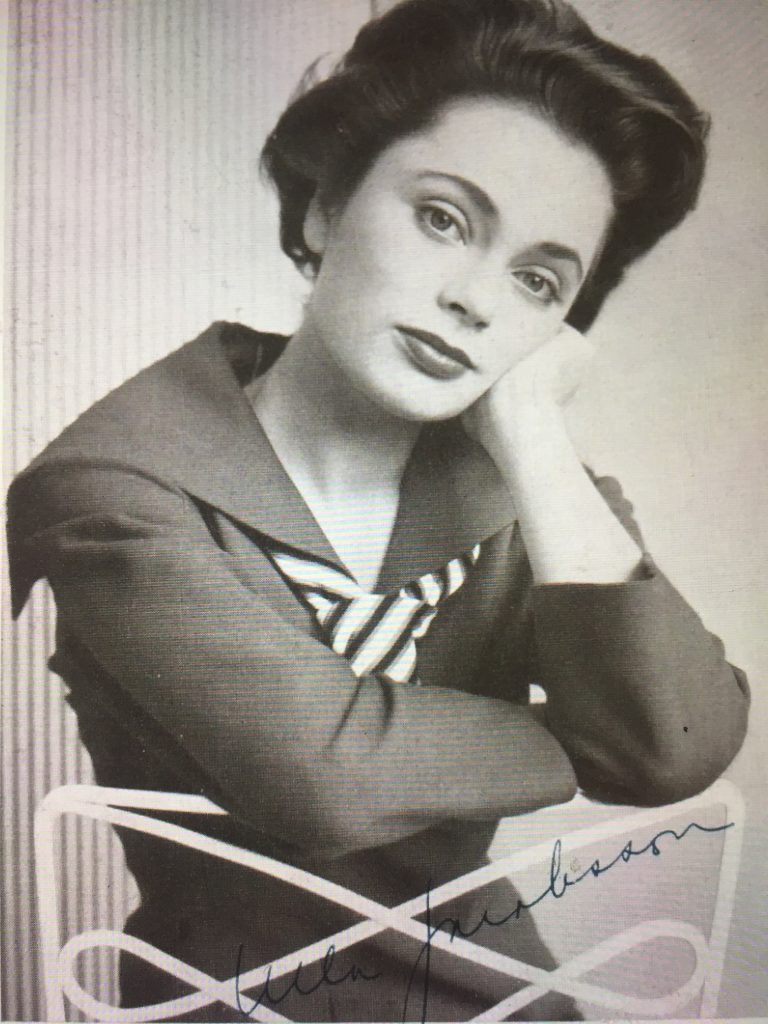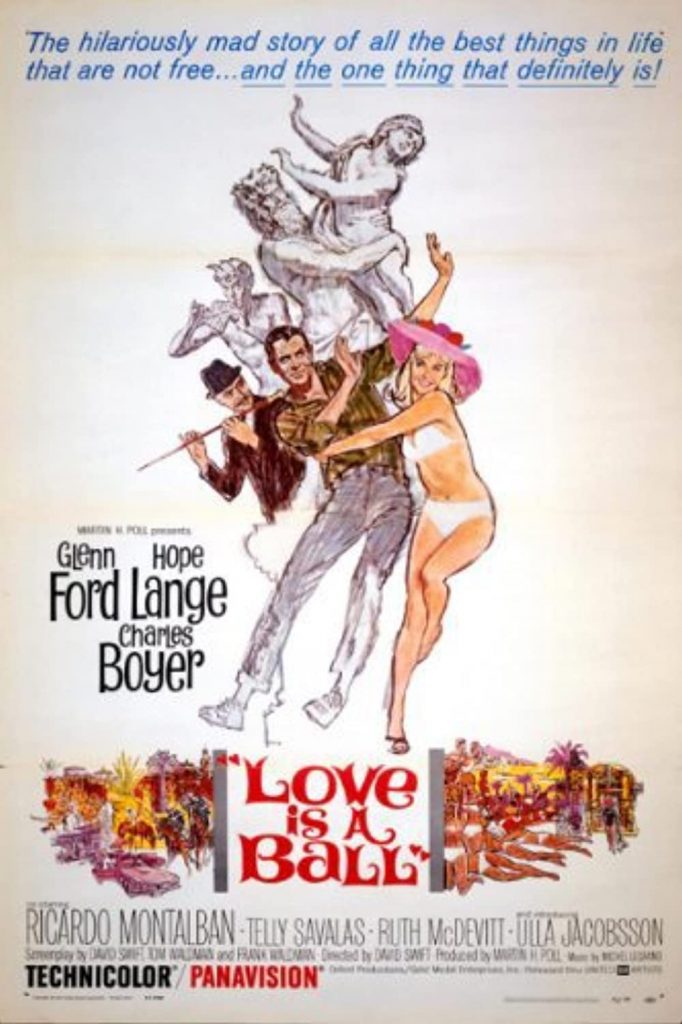 Ulla Jacobsson was born in Gothenburg, Sweden in 1929.   She started her film career working for the great Ingmar Bergman in such films as "Smiles of a Summer Night".   She came on the international scene in the early 60's and appeared opposite Glenn Ford in "Love is a Ball", with Stanley Baker and Michael Caine in "Zulu" and Kirk Douglas and Richard Harris in "The Heroes of Telemark".   She came to the U.S. in the early 60's to guest star in an episode of the classic series "Naked City".   She died in Vienna at the age of 53.
Her obituary in "The New York Times":
Ulla Jacobsson, a Swedish-born film and stage actress, died of bone cancer Aug. 22 in a hospital in Vienna. She was 53 years old. Mrs. Jacobsson began her career in her native Gothenberg and appeared in classical and modern theater roles before turning to film.
She won international acclaim in the Swedish film "One Summer of Happiness," which took the top prize at the Cannes film festival in 1951. She was featured in Ingmar Bergman's Swedish classic, "Smiles of a Summer Night."
"Ulla Jacobsson as the farm girl is a sensitive and expressive young thing who stunningly portrays the capricesand the terrors of an innocent maid in love," wrote Bosley Crowther in The New York Times of her performance in "One Summer of Happiness." Among her other films were "All the Joy of Earth," "Eternal Love" and "Zulu."
Ms. Jacobsson, who was married to an Austrian scientist, lived in Vienna.
From blog:   European Film Stars:
 Ulla Jacobsson was born in Mölndal, a part of the Göteborg (Gothenburg) urban area on the west-coast of Sweden in 1929. After her stage debut in Göteborg's Stadsteater in 1947, she appeared in plays by Kaj Munk,Bertolt Brecht, Jean Anouilh, and William Shakespeare. She made her first film appearance in Bärande hav/The seas we travel (1951, Arne Mattsson) with Alf Kjellin. Her second film with the same director, Hon dansade en sommar/One Summer of Happiness (1951, Arne Mattsson), was presented at the Cannes Film Festival in 1951. Based on the novel by Per Olof Ekstrom, the story revolves around the romance between 19 year old student Goran (Folke Sundquist) and the 17 year old farmer's daughter Kerstin (Ulla Jacobsson). A scene where Goran and Kerstin swim and embrace in the nude caused a sensation and made Jacobsson world-famous. In Cannes the film won a prize for the music and at the Berlin Film Festival the film was awarded with the Golden Bear. Next Jacobsson appeared in such Swedish productions as All jordens fröjd/All the World's Delights (1953, Rolf Husberg), the August Strindberg adaptation Karin Månsdotter (1954, Alf Sjöberg), and Herr Arnes penningar/Sir Arne's Treasure (1954, Gustaf Molander). In Germany she also appeared in films, includingDie Heilige Lüge/Pious Lies (1954, Wolfgang Liebeneiner) with Karlheinz Böhm, and Der Pfarrer von Kirchfeld/The Priest from Kirchfeld (1955, Hans Deppe) with Claus Holm. Another international hit was the comedy of mannersSommarnattens leende/Smiles of a Summer Night (1955, Ingmar Bergman). Bergman's comic masterpiece opens with middle-aged lawyer Frederik Egerman (Gunnar Bjornstrand) again failing to consummate his marriage with the much younger Anne (Ulla Jacobsson). At IMDb, reviewer Clavallie writes: "Charming, light-hearted, delicate, and romantic are not the terms most people think to use when describing Bergman films, and yet Smiles of a Summer Night is all of these. This is one of the most sophisticated romantic movies ever filmed, and a pure delight. It is a clever and witty romance based on the classic elements of French farce. Simply wonderful." The film's success started Jacobsson's international career. In France she starred in Crime et châtiment/Crime and punishment (1956, Georges Lampin), an updated version of Fyodor Dostoyevsky's story about the Nietzchean student Raskolnikov (Bernard Blier). In Germany she appeared with O.E. Hasse and Maximilian Schell in Die Letzten werden die Ersten sein/The Last Ones Shall Be First (1957, Rolf Hansen). That year she moved to Vienna, where she was offered an engagement at the Theater in der Josefstadt.
In the early 1960's, Ulla Jacobsson started appearing in English language films. She made one American film, the light romantic comedy Love Is a Ball (1963, David Swift) starring Charles Boyer. At AllMovie, Hal Ericksonwrites: "the graceful and talented Jacobsson had to withstand an idiotic ad campaign which tried to redefine her as a Swedish 'sex symbol'." Normally she tended to play serious and anxious looking characters. In Great Britain she became better known for her part of the daughter of a missionary (played by Jack Hawkins) in Zulu (1964, Cy Endfield). Filmed on a grand scale, Zulu is a rousing recreation of the 1879 siege of Rorke's Drift in Natal, Africa. An army of 4,000 Zulu warriors had already decimated a huge British garrison; and now threatened the much smaller Rorke's Drift with less than 100 British soldiers. After this film, Jacobsson started hopscotching between Europe and England for the balance of her career. Other notable films include the war film The Heroes of Telemark (1965, Anthony Mann) with Kirk Douglas, and La Servante/The Servant (1970, Jacques-Paul Bertrand) with France Anglade. She won the Deutschen Filmpreis (German Film Award) for Supporting Actress in Alle Jahre wieder/Next Year, Same Time (1967, Ulrich Schamoni) with Sabine Sinjen. She reunited with her first director, Arne Matsson for Bamse/My Father's Mistress (1970, Arne Mattsson). Her last films were Wolfgang Petersen's thriller Einer Von Uns Beiden/One or the Other (1975, Wolfgang Petersen) with Elke Sommer, andFassbinder's Faustrecht der Freiheit/Fox and His Friends (1975, Rainer Werner Fassbinder). The latter was the interesting and heartbreaking story of Fox, a gay sideshow worker (played by Fassbinder himself) who wins the lottery, only to be exploited to the hilt by his upper-class lover (Peter Chatel). Jacobsson played Chatel's mother. Later she only made a few more TV-films, including the miniseries Das Ding/The Thing (1978, Uli Edel). The reason for her retirement was that she had fallen ill. In 1982 she died from bone cancer in a hospital in her hometown Vienna. She was 53. Ulla Jacobsson was married three times. Her first marriage was to the Viennese engineer Josef Kornfeld, with whom she had a daughter, Ditte. Then she was married to Dutch painter Frank Lodeizen, with whom she had a son, Martin. Lodeizen's daughter Rifka Lodeizen from a later marriage is now a well known film actress in the Netherlands. Jacobsson finally married Austrian ethnologist Hans Winfried Rohsmann.