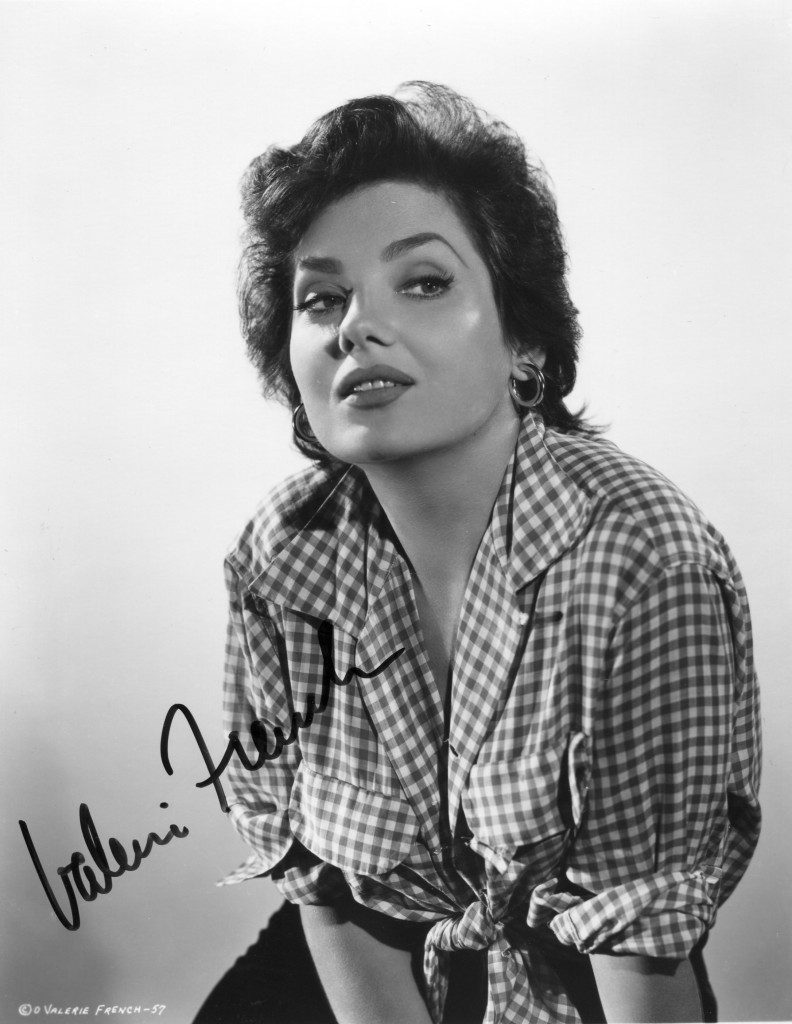 Valerie French was born in London in 1928.   Her first film was the Italian "Maddalena" in 1954.   She subsequently went to Hollywood and made films such as "Jubal" opposite Glenn Ford in and "Decision at undown" with Randolph Scott.   Her last major film was "Shalako" with Sean Connery. Brigitte Bardot, Stephen Boyd and Honor Blackman.   Valerie French died in 1990 at the age of 62 in New York.
"New York Times" obituary:
Valerie French, who began her career as a much-publicized starlet for Columbia Pictures and became a screen, stage and television actress who specialized in playing a diverse collection of English characters, died Saturday at her home in Manhattan. She was 59 years old.   She died of leukemia, said a friend, Tom Seligson, a television producer.   Miss French was born in London and spent her early childhood in Spain, returning to England to attend Malvern Girls' College in Worcestershire and then join the BBC drama department.
After several years in television production, she joined the Theater Royal Repertory Company in Windsor, where she played small parts.   After a screen test and a role in the film "The Constant Husband" in 1955, she went to Hollywood and became a contract actress with Columbia Pictures. She starred opposite Glenn Ford and Rod Steiger in "Jubal" (1956) and with Lee J. Cobb in "The Garment Jungle" (1957).   On Broadway she acted in "Inadmissible Evidence" (1965) and "Help Stamp Out Marriage!" (1966). In "The Mother Lover," at the Booth Theater in 1969, she caused something of a sensation by appearing onstage nude with her back to the audience.
Miss French starred Off Broadway in Harold Pinter's "Tea Party" and "The Basement" in 1968, in a 1980 revival of Noel Coward's "Fallen Angels," and as the mother, Helen, in a production of "A Taste of Honey" in 1981.   Her television credits include roles in "Have Gun, Will Travel," "The Prisoner," "The Nurses," "Edge of Night" and "Brighter Day."
Miss French was twice married and twice divorced. In a 1981 interview she said that she and her second husband, the actor Thayer David, had been planning to remarry when he died in 1978.There are no immediate survivors.
Her obituary in "The New York Times" can also be accessed here.