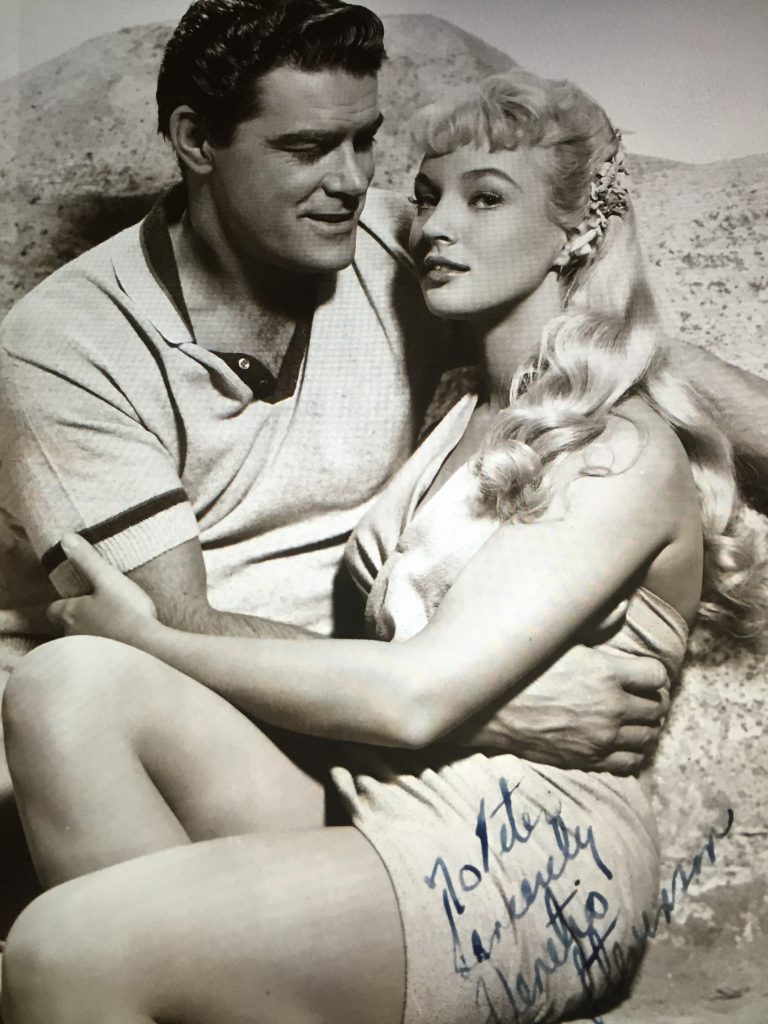 Venetia Stevenson was born in 1938 in London. SShe is the daughter of actress Anna Lee and film director Robert Stevenson. When a child she moved to Hollywood with her parents who worked in U.S. movies. She made her stage debut with her mother in 1955 in "Liliom". In the late 1850's she began acting on film. Her films include "The Day of the Outlaw" and "Dasrby's Rangers". She retired from acting in movies after her marriage to Don Everly, one of The Everly Brothers. Their son is the country singer Edan Everly.
Sultry, glamorous blonde Venetia Stevenson was a British-born starlet of late 1950s Hollywood whose face was her initial fortune. A shapely, lush-lipped knockout, the camera simply adored her and, in her early years, she dotted the covers of several magazines. Her acting talent, however, never measured up and, within a few years, she willingly retired.
Born in London on March 10, 1938, Venetia came from strong entertainment stock. Her mother, actress Anna Lee, was a well-known co-star of the British cinema, and her father, director Robert Stevenson, was well-respected for his directing of such classy Grade "A" motion pictures as Nine Days a Queen (1936), King Solomon's Mines (1937),Back Street (1941) and Jane Eyre (1943). Just prior to the beginning of WWII in Europe, the family moved to Hollywood. By 1944, her parents had divorced and Venetia, eventually, decided to live with her father and new stepmother.
Venetia's photogenic beauty was apparent from the start. As part of the youthful Hollywood scene, she was quickly discovered and moved with ease into junior modeling work. This, plus her parents' obvious connections, led to a natural progression into acting. Self-admittedly, she was never a confidant actress. Making her TV debut playing a corpse on Matinee Theatre (1955), she also appeared with her mother and the husband/wife team of Fernando Lamas and Arlene Dahl in a 1955 Arizona stage production of "Liliom", in order to gain experience. Signed with RKO, Venetia took acting lessons and posed for publicity stills but she made little progress there. Warner Bros. eventually took her on and she made several guest appearances on TV, including that ofRicky Nelson's girlfriend on the popular series, The Adventures of Ozzie & Harriet (1952). Other WB series work included roles on Cheyenne (1955) and 77 Sunset Strip (1958).
Venetia made her film entrance with a decorous, second-lead femme role in the WB war picture Darby's Rangers (1958), starring James Garner, Peter Brown and Edd Byrnes. As part of the Hollywood dating swirl, there were obvious set-ups with such big stars as Tab Hunter, Anthony Perkins and, even, Elvis Presley. Such a set-up led to a 1956 marriage to up-and-coming actor/dancer Russ Tamblyn, but the bloom quickly fell off the rose and the couple divorced a year later.
For the most part. Venetia was cast as a beautiful distraction in action-adventure and crime movies. Her handful of hunky movie co-stars included Jeff Richards and Guy Madison. Such routine roles in Day of the Outlaw (1959), Island of Lost Women (1959),Studs Lonigan (1960), Seven Ways from Sundown (1960), The City of the Dead (1960), which was made in her native England and released here as "Horror Hotel", and The Sergeant Was a Lady (1961), her last, did little to boost her feelings of adequacy or her Hollywood ranking. Mother Anna Lee, who found renewed recognition as a daytime soap doyenne ("Lila Quartermaine" on General Hospital (1963)), appeared in support of her daughter in two films: Jet Over the Atlantic (1959) and The Big Night (1960). Divorced from Tamblyn, Venetia married one of The Everly Brothers, Don Everly, of "Wake Up, Little Susie" fame, in 1962. At this point, she had no qualms about retiring from the ever-competitive acting world and did so. The couple went on to have two daughters and a son. Stacy Everly and Erin Everly both dabbled in acting, and son Edan Everly delved into music as both a singer and guitarist. He also teaches music and produces/writes for other artists.
In later years, Venetia became a script reader for Burt Reynolds's production company and, subsequently, became vice-president of Cinema Group, a production company that made several films in the 1980s. Since her 1970 divorce from Everly, the still-beautiful lady, who enjoys horseback riding, has not remarried.
– IMDb Mini Biography By: Gary Brumburgh / gr-home@pacbell.net