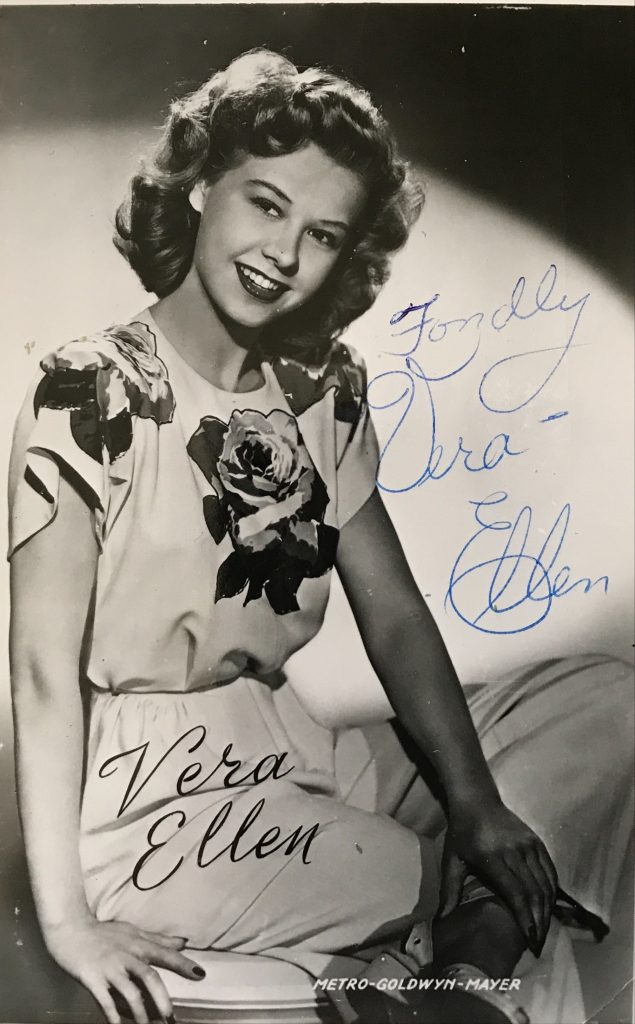 She is fondly remembered for her dancing in "Words and Music" and "On the Town" both with Gene Kelly.   In "Words and Music"  they perform a magnificent dance to the music of "Slaughter on 10th Avenue".   She retired early from the screen in 1957 with the film "Let's Be Happy".   Vera-Ellen died in 1981 at the age of sixty.
Gary Brumburgh's entry:
One of the most vivacious and vibrant musical film talents to glide through Hollywood's "Golden Age" in the 40s and 50s was Vera-Ellen Westmeyer Rohe, better known to her fans simply by her hyphenated first name. Whether performing solo or dueting with the best male partners of her generation, including Fred Astaire, Gene Kelly and Donald O'Connor, Vera-Ellen gave life to some of the most extraordinary dance routines ever caught on film. Sadly, out-and-out stardom eluded her, and she never did quite earn the recognition or accolades that were bestowed upon many of her musical peers and co-stars.
Born of German descent in Cincinnati, Ohio on February 16, 1921 (some sources incorrectly indicate 1926), the only child of a piano tuner, she was painfully shy and frail as a youngster and had developed severe health issues by age 9. Using dance as both physical and emotional therapy, what was once recreational became a soulful and burning passion, and her talent became obvious nearly from the onset. As a teen she appeared in nightclub acts and became one of the Rockettes' youngest members, quickly graduating to the "Great White Way" for work. Vera-Ellen made her Broadway debut with "Very Warm for May" at age 18 in 1939, which also featured another young hopeful, June Allyson. She then segued into "Higher and Higher" (1940), which also had Allyson in the cast, "Panama Hattie" (1940) which starred Ethel Merman, "By Jupiter (1942) with Ray Bolger, and a revival of "A Connecticut Yankee" (1943).
Blessed with a sweet, apple blossom appeal and elfin charm, Vera-Ellen's movie career started to take shape in 1945. Supposedly her mother thought that since her daughter looked much younger than she was, it might be wise to shave five years off of her age in order to promote the dancing teen sensation image. Her first two films were musical vehicles for the up-and-coming Danny Kaye. Wonder Man (1945) and The Kid from Brooklyn (1946) were both hits and people soon fell in love with the lovely lady's fresh-faced innocence. A hard-working, uncomplicated talent, she paired famously with Gene Kelly in MGM's Words and Music (1948) in which their "Slaughter on Tenth Avenue" number was a critical highlight. The landmark musical On the Town (1949), in which she played "Miss Turnstiles" and the apple of Kelly's eye, served as the pinnacle of her dancing work on film. The versatile and acrobatic Vera could be counted on now to perform any kind of dancing requested — tap, toe, jazz, adagio — whether solo or with partners and/or props. She became the woman of a thousand dance moves. Her light singing voice, however, was usually dubbed by a more capable song stylist (Carol Stewart, Anita Ellis, Carol Richards, etc.).
Vera-Ellen went on to appear twice with Fred Astaire albeit in two of his lesser vehicles,Three Little Words (1950) (choreographed by Hermes Pan) and The Belle of New York(1952), where their formidable dance numbers outshined the flimsy story. She also shared dance steps with the equally agile Donald O'Connor in Call Me Madam (1953). One of her all-time favorite dances was in this film with O'Connor to the tune of "Something to Dance About," choreographed by the renowned Robert Alton. The warm and fuzzy yuletide favorite White Christmas (1954) is usuallly considered her best-remembered movie in which she played one-fourth of a glamorous quartet consisting ofBing Crosby, Danny Kaye and (sister) Rosemary Clooney.
Musicals went out of vogue by the late 50s and, as Vera-Ellen was practically synonymous with musicals, her career went into a sharp decline. But that was only one reason. A light acting talent, she might have continued in films in dramatic roles, as she had in the movie Big Leaguer (1953) with Edward G. Robinson, but dark, outside influences steered her away altogether. Personal unhappiness and ill health would quickly take their toll on her.
Singing films had lost their fashionable appeal in the late 1950s and Vera's cinematic career ended with the bland British musical Let's Be Happy (1957) co-starring Tony Martinin which she appeared to look gaunt and unhealthy. Variety appearances on such TV showcase shows as "The Colgate Comedy Hour," "Kraft Music Hall" and "The Dinah Shore Chevvy Show" dominated the late 1950s career of Vera-Ellen. She also decided to star in a 1955 Las Vegas dancing revue, which wound up highly successful.
Vera's career died down in the late 1950s once filmed musicals lost their fashion. It was later discovered that, due to the dancer's compulsive dieting obsession, she had silently battled anorexia throughout much of the 50s before anyone was even aware or doctors had even coined the term or devised treatments. Moreover, she had developed severe arthritis which forced an early retirement. In order to combat it, she reverted back to taking dance lessons again. The worst blows suffered, however, was in her personal life. On top of of two two failed marriages, she lost her only child, Victoria Ellen Rothschild, to Sudden Infant Death Syndrome (SIDS) in 1963. With one unhappy and tragic event compounded by another, she became a virtual recluse.
Little was heard for decades until it was discovered that she had died on.
– IMDb Mini Biography By: Gary Brumburgh / gr-home@pacbell.net
Article about Vera-Ellen's later years can be found here.