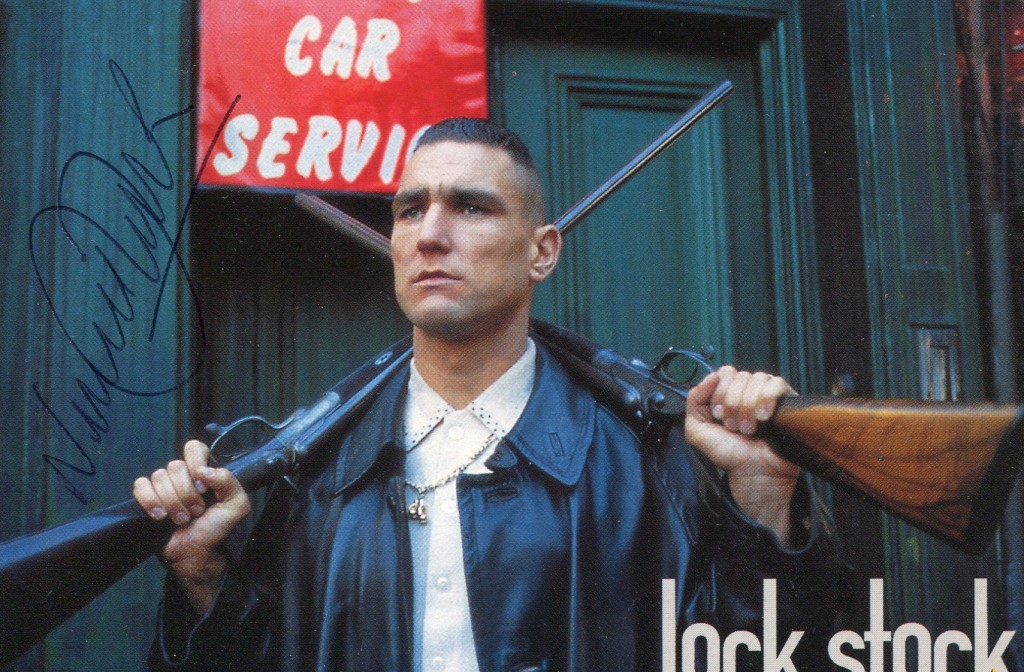 Vinnie Jones was born in 1965 in Watford. He was a reknowned footballer and played for Leeds United and Chelseaamong others. In 1998 he made his feature film debut in "Lock, Stock and Two Smoking Barrels" directed by Guy Ritchie. Other films include "Snatch", "Gone in 60 Seconds" and "X-Men".
TCM Overview:
One of the toughest of England's "hard men" of football, Vinnie Jones parlayed his notoriety as a talented if ruthless player for championship teams into a career as a supporting actor and occasional lead in films on both sides of the Atlantic. Jones' movie roles rarely asked him to do more than provide a physically imposing presence, but from time to time – most notably in Guy Richie's "Lock, Stock and Two Smoking Barrels" (1998) – he displayed a knack for comic delivery as well. He also successfully parodied his two-fisted soccer persona in a string of popular television ads in England, making him a bit of public treasure in his homeland.
Born Vincent Peter Jones in Watford, Hertfordshire, England on Jan. 5, 1965, Jones' soccer career began with the semi-professional Wealdstone Football Club and the Swedish club IFK Holmsund, before joining the Wimbledon Football Club in 1986. Jones quickly earned a reputation as an aggressive player – he set a still-unbroken record of earning a yellow flag (which cites a second warning from an official and removal from the game) after only five seconds of play, and earned admirers and detractors alike for distracting an opposing player by grabbing his testicles. Despite these and numerous other offenses, Jones helped to earn the Wimbledon team the Football Association Cup – the highest honor in English football – in 1988.
Jones left Wimbledon in 1989 and played for several other teams, including Chelsea and Leeds, before returning to Wimbledon in 1992. During his tenure in Leeds, he proved that he was able to play at the top of his skill set without resorting to dirty tricks. However, after returning to Wimbledon, he solidified his image as a brawler by hosting "Soccer's Hard Men," a direct-to-video compilation of footage featuring Jones and other players getting tough on the field. The Football Association publicly excoriated Jones for his participation and fined him 20,000 pounds.
While completing his final stint with Wimbledon, Jones's record of 384 games and 33 goals earned him a spot on the Wales International Team, for which he played from 1994 to 1997. He eventually brought his professional sports career to a close with a stint as player/coach for the Queens Park Rangers in 1998. He retired from the game a year later after being passed over as the team's manager; instead focusing on the business of living up to his reputation.
First on the docket was an autobiography, Vinnie, which was published in 1998. He quickly followed this with a string of television commercials which played up to his sports persona to great effect. His film career got off to a rollicking start with Guy Ritchie's crime caper romp "Lock, Stock and Two Smoking Barrels," in which he played Big Chris, the stone-faced and brutal debt collector for porn magnate "Hatchet" Harry Lonsdale (P.H. Moriarty). Jones's dry delivery was perfect for the offbeat character, which brought his equally taciturn son with him on collection jobs, and it brought him the first of two Empire Awards; the second came for his reunion with Ritchie on the more star-studded (Brad Pitt, Benecio Del Toro) but less clever "Snatch" (2001).
Jones made his Hollywood debut as a taciturn car thief named "The Sphinx" in Dominic Sena's overblown remake of "Gone in Sixty Seconds" (2000), and quickly settled into a string of roles in mediocre American product that emphasized his imposing figure, including "Swordfish" (2001) and "The Big Bounce" (2004). In his native England, however, Jones got his first chance to play a lead in "Mean Machine" (2001), a remake of "The Longest Yard" (1974), which cast him as an imprisoned former soccer champ who organizes a team from his fellow cons to play against the jail's guards. Jones also cut an album of blues and soul covers titled Respect in 2002, and began a long and lucrative collaboration with Bacardi in spots for UK television. These came to an end in 2003 after Jones was convicted of assaulting a crew member on board a Virgin Atlantic flight.
Jones manfully handled the crooks and cronies he was assigned in a handful of bland action and comedy pictures for most of 2004 and 2005; his sole notable character during this period was, appropriately enough, a berserk soccer hooligan in the otherwise dim teen sex comedy "Eurotrip" (2004), which again gave Jones a showcase for his comic skills. He later proved that he could capably handle a lead role (and even a smattering of romance) in the little-seen Irish crime drama "Johnny Was" (2005), which cast him as a crook attempting to stay straight, despite the temptations of his former mentor (Patrick Bergin) and his girlfriend (Samantha Mumba).
Jones enjoyed another comic turn as a hard-nosed soccer coach in "She's the Man" (2006), a likable teen comedy about a female soccer prodigy (Amanda Bynes) who must dress as a boy in order to play for a prestigious team. That same year, Jones was used to excellent effect as Cain Marko, the unstoppable and flippant mutant known as Juggernaut in "X-Men: The Last Stand" (2006) who makes life difficult for Ellen Page's Kitty Pride in one tense chase scene through walls. Jones reportedly made enough of an impression on the film's producers that his character was spared in the film's room-clearing final assault, and was signed to future related projects.
In 2006, Jones appeared in several UK television ads promoting greyhound racing for the bookmaker company Ladbrokes; Jones was a recognized figure in that sport as both a greyhound owner and racing enthusiast. On the film front, he remained remarkably busy, and if the projects rarely allowed him to show much range, he had established himself as a dependable "type," capable of handling most genres. In his native country, he acquitted himself nicely opposite such acclaimed talents as Vanessa Redgrave and Derek Jacobi in "The Riddle" (2007), a mystery about a sports reporter (Jones) who sets out to solve a murder connected to an unpublished Charles Dickens manuscript. Hollywood, however, continued to cast Jones as pure muscle; he was the most villainous of a group of criminals dispatched to a private island to compete in a televised elimination match in "The Condemned" (2007), a lunkheaded if entertaining exploitation effort that featured World Wrestling Entertainment hero "Stone Cold" Steve Austin in his first starring role. Jones even took to American television to help Austin promote the movie at "No Way Out," a 2007 pay-for-view wrestling event promoted by the WWE.
Jones' schedule was booked solid for most of 2008 and 2009; he was cast as a subway serial killer in the gruesome horror film "The Midnight Meat Train" (2008), which was directed by Japanese cult filmmaker Ryuhei Kitamura and based on a short story by acclaimed novelist Clive Barker. True to form, he then shifted gears to play a Biblical heavy in "Year One" (2009), a Judd Apatow-produced comedy set in ancient times that reunited "Superbad" (2007) stars Michael Cera and Christopher Mintz-Plasse under director Harold Ramis.
TCH Overview on Vinnie Jones can also be accessed online
here.