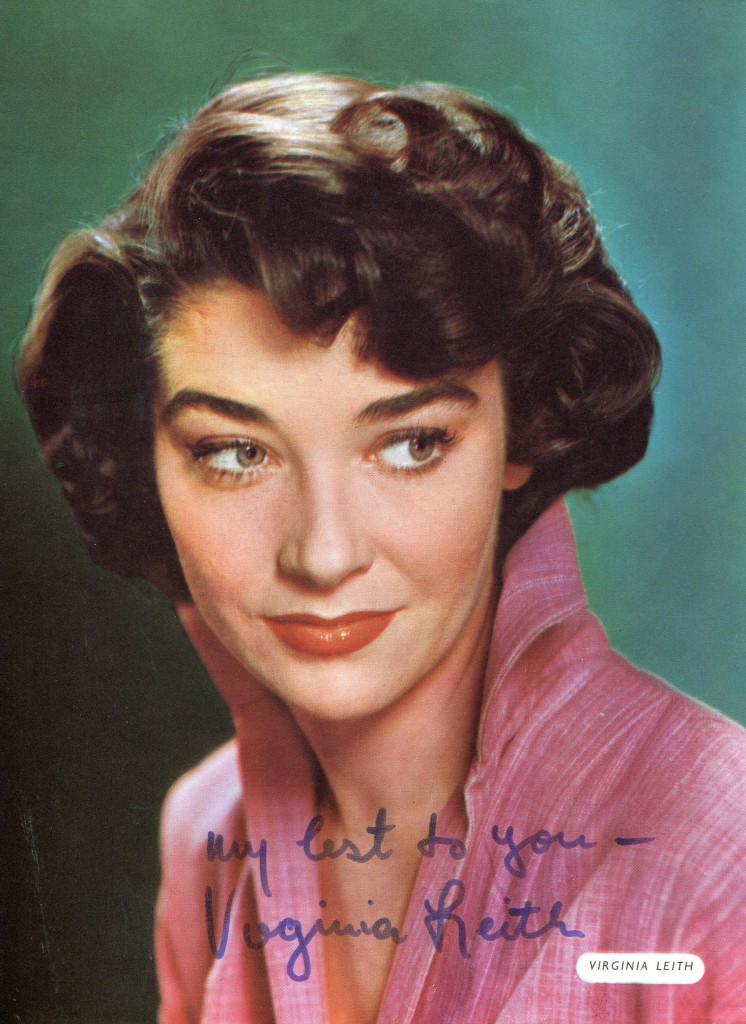 Obituary in Daily Telegraph in 2019.
Virginia Leith, who has died aged 94, was a smoky-voiced model turned actress who began her career under Stanley Kubrick's direction, before featuring in the film noir classics Violent Saturday and A Kiss Before Dying, before achieving sci-fi cult status as the disembodied fiancée in The Brain That Wouldn't Die.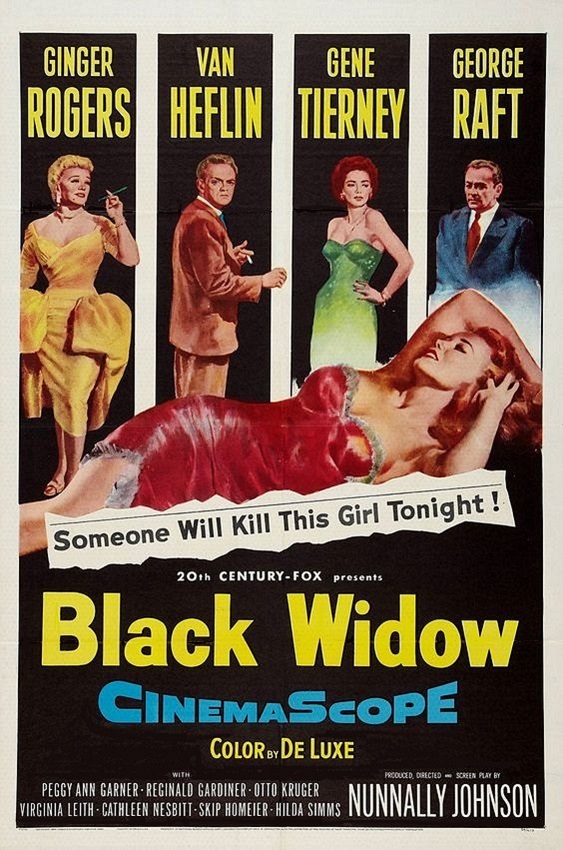 She was born on October 15 1925 in Cleveland, Ohio. After leaving high school, where she had excelled at sports, she worked as a waitress at a drive-in cinema in New York and then combined modelling with work as a hat-check girl in Hollywood.
By 1953 she was modelling full-time, and piqued the interest of Stanley Kubrick, then a photographer for Look magazine, after he shot her for its cover. He cast her in his directorial feature debut, Fear and Desire (1953), which was financed by family and friends.
An anti-war film made towards the end of the Korean conflict – though not set during any specific war – it portrayed four soldiers trapped behind enemy lines who confront their fears and desires when they capture a local girl (Virgina Leith): posters bore the tagline: "Trapped … 4 Desperate Men and a Strange Half-Animal Girl!"
With little success at the box office, and following the death of its distributor Joseph Burstyn, the film faded from view – which suited Kubrick, who was thought to have destroyed the original negative. In 1994, when a screening was arranged, he discouraged people from attending and described Fear and Desire as "a bumbling amateur film exercise". Leith, however, did show up.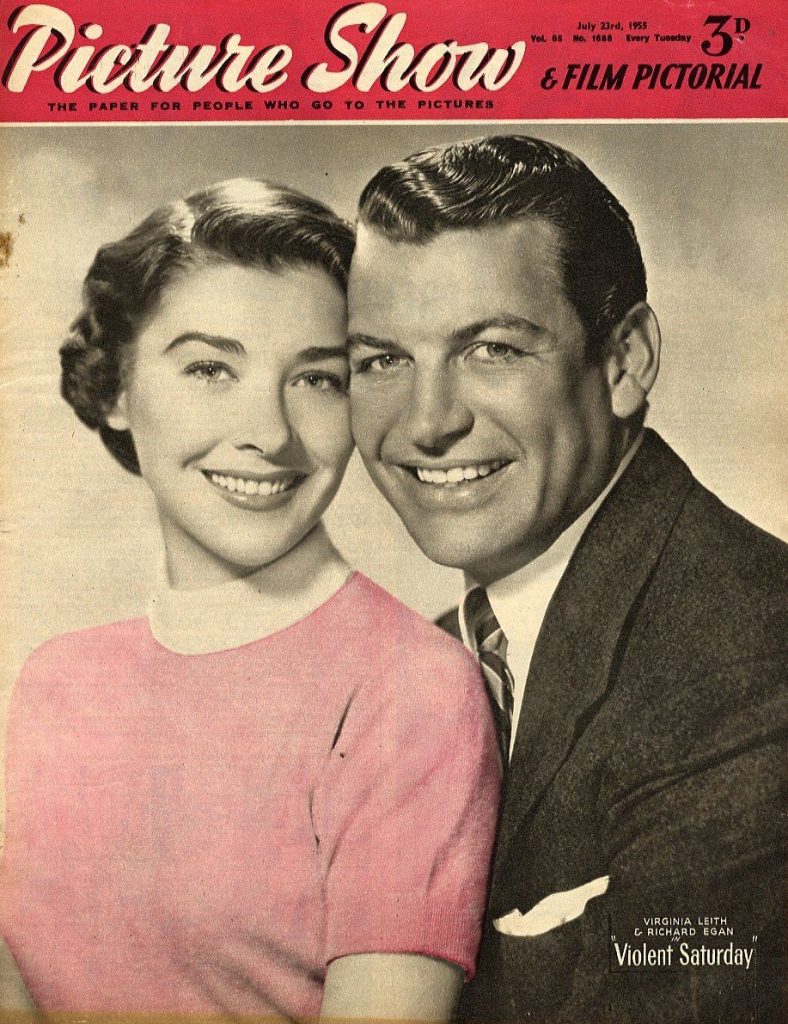 The film led to a contract with 20th Century Fox, and after playing an uncredited chorus girl in the Bob Hope comedy Here Come the Girls, and small parts in the Ginger Rogers noir vehicle Black Widow and the western White Feather, Virginia Leith landed her breakthrough role, as a nurse in Violent Saturday (1955), which chronicles the planning and execution of a bank robbery in a small mining town.
There was an outcry over its violence, with Lee Marvin grinding a young boy's hand into the ground and Ernest Borgnine attacking Marvin with a pitchfork; it was, said The New York Times, "an unedifying spectacle", but it has since been reassessed as one of director Richard Fleischer's best films.
The following year Virginia Leith had her meatiest role, in the noir classic A Kiss Before Dying – based on Ira Levin's award-winning novel – as the sister of a murdered mining heiress (Joanne Woodward) who sets out tracks down her killer. It was, wrote one critic, "an icily acute nightmare".
But her best-known part was as the unfortunate girlfriend in The Brain That Wouldn't Die (shot in 1959 but not released until 1962). It depicted a mad scientist (Jason Evers) experimenting with transplant techniques by keeping alive his fiancee's head after she is decapitated in a car crash, before going on a homicidal hunt to find a svelte new body for her.
She, meanwhile, begins to communicate telepathically with a mutant locked in a nearby cell, the victim of an experiment gone wrong, with fatal consequences. The film gradually acquired cult status and has spawned several musicals, all of them short-lived.
Leith was linked to a string of Hollywood heartthrobs such as Marlon Brando and Frank Sinatra, although she annoyed the celebrated gossip columnist Hedda Hopper by refused to divulge details, earning herself the title of "Hollywood' Most Uncommunicative Actress".
To Leith's surprise, and that of her growing legion of fans, 20th Century Fox cancelled her contract in 1957. She languished in guest roles on television before bowing out of acting when she married the Canadian actor, Robert Harron. They divorced after eight years, and she returned to acting, in series such as Starsky and Hutch.
Virginia Leith is survived by two stepdaughters, one of whom, Mary Harron, director of American Psycho.
Virginia Leith, born October 15 1925, died November 4 2019
She left show business following her 1960 marriage to actor Donald Harron.