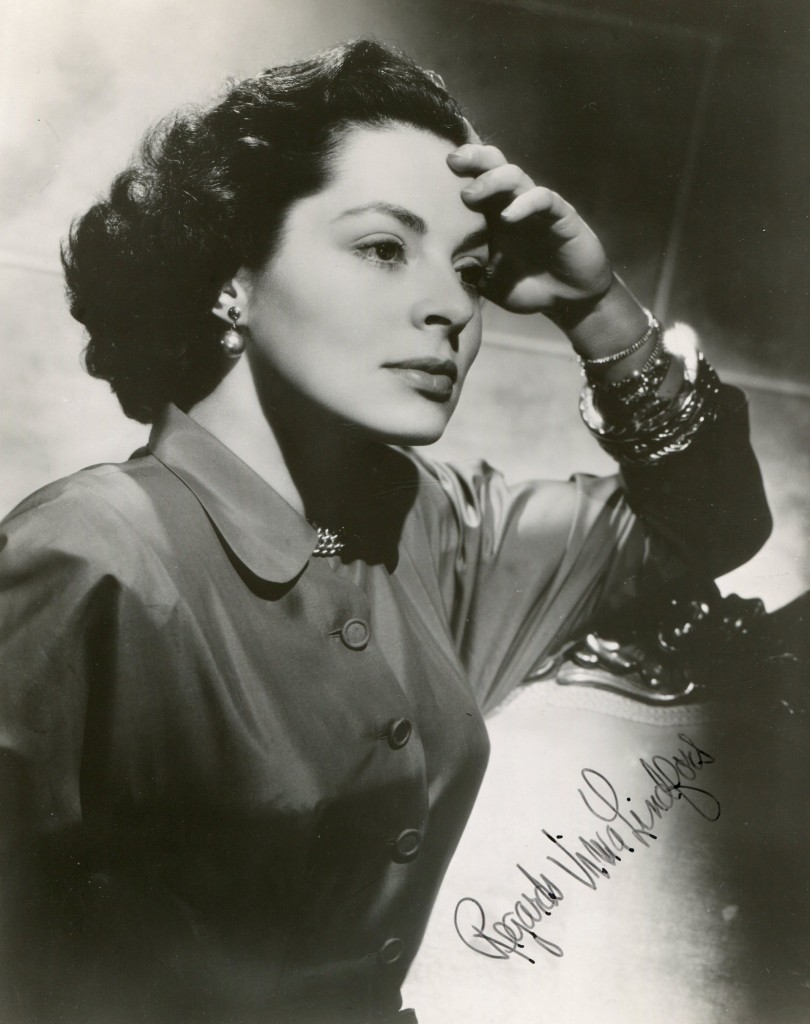 Viveca Lindfors was born in Uppsala, Sweden in 1920. She became a theatre and film star in her native country before coming to Hollywood in 1946. She starred with Ronald Reagan and Virginia Mayo in "Night unto Night", with Margaret Sullavan in "No Sad Songs for Me" and wih Charlton Heston and Lizabeth Scott in "Dark City". By the mid 50's she was make in Europe making films there. She did return on occasion to the U.S. to make films e.g. in 1965 in "Sylvia" with Carroll Baker and in 1973 in "The Way We Were" with Robert Redford and Barbra Streisand. In 1994 she was back in the U.S. again making "Stargate". Viveca Lindfors died in her home town in Sweden in 1995 at the age of 74.
Her "Los Angeles Times" obituary:
Viveca Lindfors, the sultry Swedish screen and stage actress who delighted Hollywood and Broadway with her liberated lifestyle as well as her acting and in her later years became known for her one-woman shows, died Wednesday. She was 74.
Miss Lindfors died of complications from rheumatoid arthritis in her native Uppsala, Sweden, her daughter, Lena Tabori of New York City, told The Times on Wednesday.
Tabori said her mother, who lived in Manhattan, had been in Sweden to do her one-woman production, "In Search of Strindberg." She said Miss Lindfors had regretted being unable to attend the Los Angeles Film Festival for the screening of her most recent film, "Summer in the Hamptons," which is scheduled for release next month. Miss Lindfors appeared in scores of films, plays and television shows over more than half a century, still turning on the charm as her hair grayed.
When the enduring actress toured her one-woman show "I Am Woman" at age sixtysomething, a Times theater critic wrote: "[She] retains a magical, casually battered and untended beauty. When she smiles, the world lights up. There is strength, but also tenderness in the sculptured, kittenish face. Grit, hauteur and dignity are all part of the svelte persona. This is a woman telling us she's been through it all and, my dear, she's still here." Married and divorced four times, Miss Lindfors often earned attention for her sexual politics and lifestyle as well as for her work. She described her colorful life to critical acclaim in a 1981 autobiography, "Viveka . . . Viveca." One of the vignettes in the book humorously describes her, at the age of 54, refereeing a squabble between her 5-year-old granddaughter and a 61-year-old suitor concerning who would get to sleep with grandmother that night. "I was wild. I was ahead of my time in feeling sexual liberation," she candidly told The Times in 1975. "I married my first husband because the gossips said no man would ever want to marry anyone as promiscuous as I was."
The tall and talented brunette beauty, born Elsa Viveca Torstensdotter Lindfors in Uppsala, trained at Stockholm's Royal Dramatic Theater and appeared in several Swedish films and plays before moving to Hollywood in 1946 under contract to Warner Bros. She made her Hollywood debut in "To the Victor" in 1947.
The actress relocated to New York in 1952 for her Broadway breakthrough role as "Anastasia," and because of what became her longest marriage (18 years), to playwright-director George Tabori.
Miss Lindfors commuted between the coasts for decades, never equaling the stardom of her Swedish role models Ingrid Bergman and Greta Garbo, yet always finding producers eager to hire her and audiences willing to enjoy her work. Among her memorable Broadway plays along with "Anastasia" were "Miss Julie" in 1955, "Brecht on Brecht" in 1961, and her later one-woman shows.
She won acting honors at the Berlin Film Festival for the feature films "Four in a Jeep" in 1951 and "No Exit" in 1962. Her myriad other films include "No Sad Songs for Me," "Moonfleet," "The King of Kings," "The Way We Were," "Welcome to L.A.," "Creepshow" and last year's "Stargate." Unlike many beautiful actresses, Miss Lindfors worried little about aging, even when Tabori left her for a much younger woman. "Any qualms I might have had about advancing years were dispelled a long time ago when I decided not to be put down by America's worship of youth," she told The Times on her 53rd birthday.
Miss Lindfors is survived by her daughter; two sons, John Tabori of Washington, D.C., and Kristoffer Siegel Tabori of Los Angeles, and four grandchildren. Memorial services will be planned early next year in New York and Sweden, Lena Tabori said.
The above obituary can also be accessed online
here.