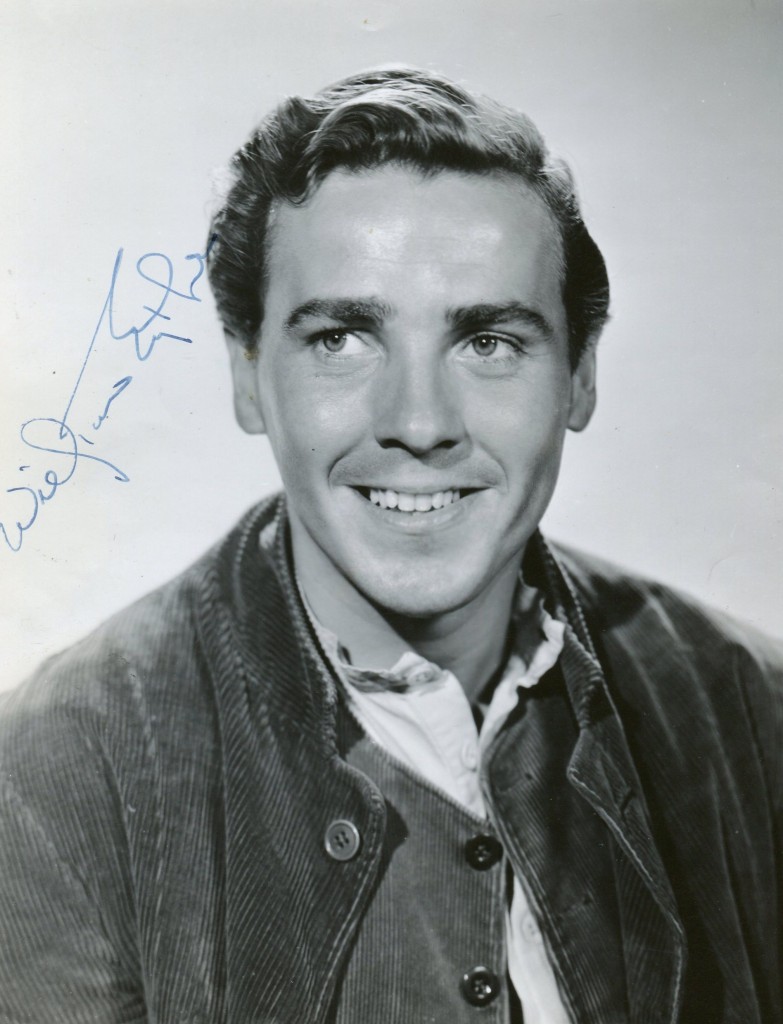 William Eythe had a rather short career as a leading man in Hollywood films of the 1940's. He was born in Pennsylvania in 1918. His first film was "The Ox-Bow Incident" in 1943 with Henry Fonda and Dana Andrews. He then starred opposite Jennifer Jones in the hughly popular "Song of Bernadette". His other films of note include the excellent film noir "The House on 92nd Street" and "Meet Me at Dawn". In 1947 he returned to the stage and died in 1957 at the age of 38.
Gary Brumburgh's entry:
He had the requisite charm and dark, thick-browed good-looks of a Tyrone Power that often spelled "film stardom" but it was not to be in the case of actor William Eythe. Spotted for Hollywood while performing on Broadway, he made nary a dent when he finally transferred his skills to film and is little remembered today. Outgoing in real life, he never found his full range in film and a certain staidness behind the charm and good looks prohibited him from standing out among the other high-ranking leading men. Like Power, his untimely death robbed filmgoers of seeing what kind of a character actor he might have made.
Born William John Joseph Eythe on April 7, 1918, in a small dairy town near Pittsburgh, Pennsylvania, he was the son of a contractor. Developing an early interest in theatrics after appearing in an elementary school play, he put on his own shows as an amateur producer/director. Following high school he applied to the School of Drama at Carnegie Tech where he initially focused on set design and costuming due to a stammering problem (it was corrected while there). He also produced some of the school's musicals in which he also wrote the songs. Graduating from college in 1941, he began leaning towards a professional music theater and started involving himself in musicals and revues in the Pittsburgh era. He appeared in various stock shows in other states as well, including the "borscht circuit", while radio work in the form of announcing came his way. Following a failed attempt at forming his own stock company, he was discovered by a 20th Century-Fox talent scout while performing impressively on Broadway in "The Moon Is Down" and moved west when the show closed in the summer of '42.
Benefiting from the fact that many major Hollywood male stars were actively serving in WWII, Eythe. who had "4-F status, was handed an enviable film debut as the wavering son of a lynch mob member in the superb The Ox-Bow Incident (1943). More quality films ensued with The Song of Bernadette (1943) and Wilson (1944) although he didn't have much of a chance to shine. He received his best Hollywood top-lining assignments as the rural WWII soldier who has telepathic capabilities in The Eve of St. Mark (1944) and as a German-American double agent in the taut espionage drama The House on 92nd Street(1945). When Fox star Tyrone Power turned down the lead role opposite Tallulah Bankhead in the plush costumer A Royal Scandal (1945), Eythe inherited the part. Naturally Tallulah's histrionics dominated the proceedings and Eythe, though sincere and quite photogenic, was completely overlooked. This happened in other movies as well, and while he was a talented singer/dancer, the only musical film he ever appeared in required minor singing in Centennial Summer (1946). Adding insult to injury, he was dubbed.
Eythe never conformed easily to the strictest of rules that studio head Darryl F. Zanuckimposed and it proved a detriment to his career in the long run. He was either suspended or (in one case) farmed out to England to do a "B" film as punishment for his rebellious nature. A close "friendship" with fellow actor Lon McCallister had to be carefully dampened, and, out of concern, an impulsive marriage in 1947 to socialite and Fox starlet Buff Cobb was the result. It may have ended rumors for a spell but, not unsurprisingly, the couple divorced a little over a year later. Ms. Cobb later married veteran TV newsman Mike Wallace.
In the post-war years, Fox began to lose interest and Eythe was seen with less frequency. He flatlined film-wise in his last two "C" movies that were made by other studios: Special Agent (1949) and Customs Agent (1950). To compensate for the waning of interest, he formed his own production company and appeared on stage in such fare as "The Glass Menagerie" in the showy role of son Tom. He also enjoyed seeing one of his early revues, "Lend an Ear", revamped by Charles Gaynor and given a Broadway run in 1948. Eythe was one of the show's producers and singing stars. The musical is best remembered for putting co-star Carol Channing on the map. In addition, Eythe replaced baritone Alfred Drake in "The Liar" a couple of years later. In 1956 he and McAllister, along with Huntington Hartford, produced a musical revue with the hopes of it reaching Broadway but it closed in Chicago. Uninspired TV work did little to alter his decline.
Depression eventually set in and he turned heavily to drink with an unfortunate series of tabloid-making arrests resulting. His health in rapid deterioration, he was rushed to a Los Angeles hospital one day for treatment of acute hepatitis and died ten days later, at age 38, on January 26, 1957. For someone so promising, his untimely death merely left another tainted impression of the downside to Hollywood stardom.
– IMDb Mini Biography By: Gary Brumburgh / gr-home@pacbell.net