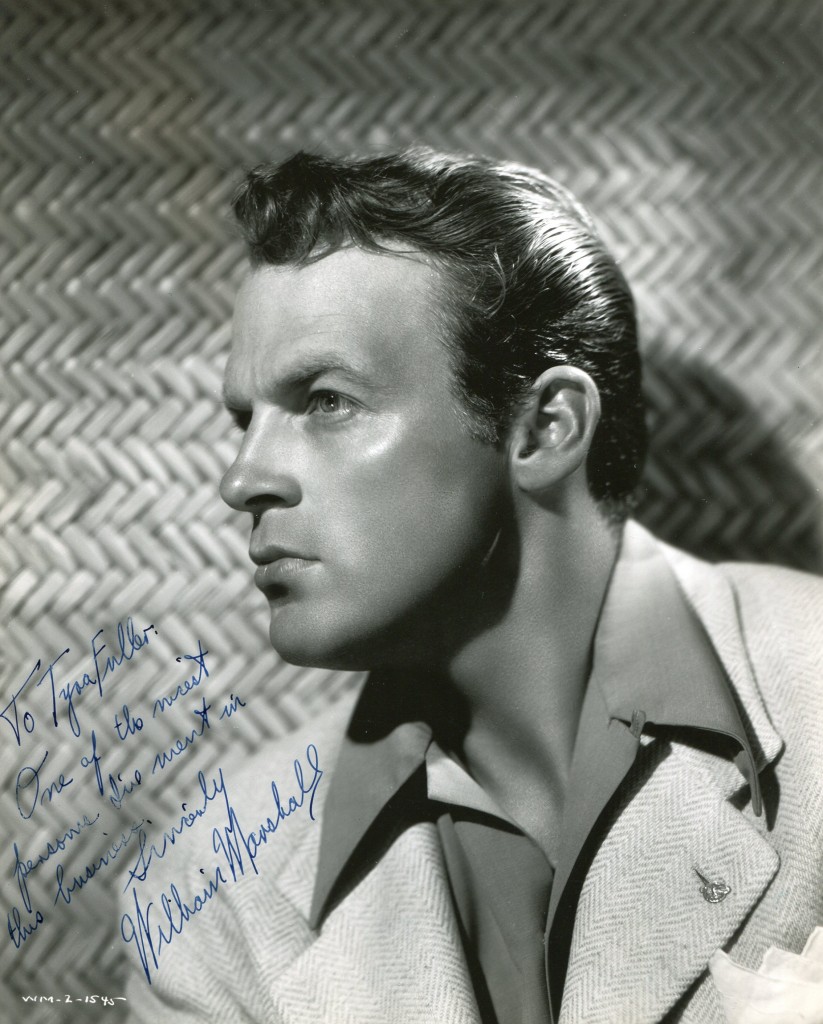 William Marshall was born in 1917 in Chicago. His first film was "Money and the Woman" in 1940. His films include "State Fair" in 1945, "Murder in the Music Hall", "Blackmail" and "The Impure Ones". He was married to three beautiful actresses, Michele Morgan, Micheline Presle and Ginger Rogers. He died in Paris in 1994.
His obituary in "The Los Angeles Times":
G. William Marshall, an American actor and producer whose marriages to film stars probably made him better known than his dramatic career, has died, it was reported Saturday. Marshall, whose four wives included Ginger Rogers and Michele Morgan, died Wednesday, according to a legal notice placed by his family in the Parisian newspaper Le Figaro. The place and cause of death were not announced. He was believed to be 76. Other information was not available. The announcement was placed by Mike Marshall, his son by Morgan, his first wife, and Tonie Marshall, his daughter by his second wife, actress Micheline Presle.
The onetime vocalist with the Fred Waring orchestra was also married to Rogers and actress Corinne Aboyneau and was a friend of Clark Gable, Errol Flynn and Marilyn Monroe. He became Rogers' fifth husband in 1961 in a North Hollywood church ceremony. He recounted his professional and marital life in his 1983 memoirs, "The Sixth Season." Morgan took him to court to have intimate passages about their life together removed from the book. Born in Chicago, Marshall started his career with Waring in 1936. The next year, Marshall was leading his own band, and he began making film appearances in 1940 with "Flowing Gold" and "Santa Fe Trail." His credits are often confused with those of another actor of the same name, who has appeared in films since the early 1950s. Marshall's other acting credits include "Belle of the Yukon" in 1944; "State Fair" in 1945; "Murder in the Music Hall," "Earl Carroll Sketchbook" and "That Brennan Girl," all in 1946, and "Calendar Girl" and "Blackmail" in 1947. Marshall directed and produced "Adventures of Captain Fabian" in 1951, and he directed "The Phantom Planet" in 1961.
This obituary can also be accessed online here.